RECIPE: Confetti Milkshake from Toothsome Chocolate Emporium & Savory Feast Kitchen
Anyone that knows me, knows that I have a MAJOR sweet tooth. And what better way to satisfy that sweet tooth than with some yummy sweetness over at Toothsome Chocolate Emporium & Savory Feast Kitchen. Penelope and Jacques have opened up their recipe vault and shared one of their most popular creations, the Confetti Milkshake. It's easy to prepare at home and perfect for a birthday, milestone moment, a random Tuesday dessert, or dang it, just because you deserve it. Enjoy!
Confetti Milkshake Recipe
Serves: 1 if you're looking to treat yourself, 2 if you like to share
Ingredients:
3 large scoops of vanilla ice cream
¾ cup milk (any kind will work!)
3 teaspoons of rainbow sprinkles, divided
2 slices of rainbow vanilla cake (box mix is great!)
2 teaspoons buttercream frosting (recipe below if you don't have premade)
¾ cup whipped cream
1 jumbo straw!
Directions:
Bake the cake according to box instructions and set aside (cake should be fully cool)
Now, make the buttercream frosting (recipe below) and set aside
Grab a fun cup and spread one teaspoon of frosting on the rim of the glass (bonus points if you have a Toothsome glass!)
Using one teaspoon of sprinkles, rim the frosted glass with sprinkles
Next, grab your blender and place 3 large scoops of ice cream inside
Pour 1 teaspoon of sprinkles, milk and 1 slice of cake into blender
Blend on medium high until everything is mixed and smooth
Pour milkshake into cup and top off with whipped cream
Place remaining slice of frosted cake on top of whipped cream
Garnish with remaining sprinkles and place straw into the shake to ENJOY!
Note: You can follow this recipe and use any combination of ice cream, cake and sprinkles!
Buttercream Frosting Recipe
Yields approximately two cups
Ingredients:
½ cup unsalted butter
2 cups powdered sugar
1 ½ teaspoon vanilla extract
2 tablespoons milk
Directions:
Cream ½ cup of room temperature butter with a hand mixer, paddle attachment of a stand mixer, or a wooden spoon until smooth and fluffy
Gradually mix in 2 cups of powdered sugar until fully incorporated
Mix in 1 ½ teaspoons of vanilla extract
Pour in 2 tablespoons of milk and beat for an additional 3-4 minutes or until everything is smooth and creamy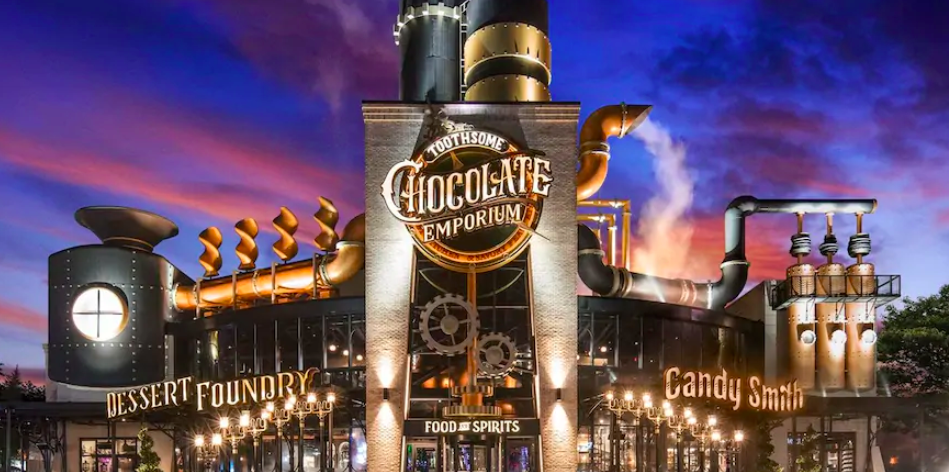 Toothsome Chocolate Emporium is found in City Walk, just outside of the arches to Universal Studios.
Extraordinary foodstuffs abound at this new full-service restaurant, bar and confectionary. Indulge in classic dishes like steak and seafood, as well as an all-day brunch menu featuring crepes and quiches, each with their own novel twist. But save room for the grand finale: Our chefs create culinary alchemy with gourmet chocolates and one-of-a-kind desserts, ranging from artisanal milkshakes to sumptuous sundaes. Flavors like Chocolate Brownie Bark, Bacon Brittle and Salted Caramel Flan might make it impossible to choose just one.
This Steampunk dream is an enchanting eatery topped with towering smokestacks and adorned with intriguing gizmos. It's a fantastic feast for the eyes and the stomach.
Thinking about your next adventure? There are fantastic 2020 bargains to be had and 2021 packages will be available in just a few short months! Fill out our form below to get your FREE, no-obligation quote from Let's Adventure Travel!
Are you ready to start planning your next adventure? Contact me today for your FREE, no obligation quote for a Universal Studios vacation! My planning services are included at no extra cost. Best of all my services are absolutely FREE! Get in touch at 843-288-1130, via email at whitney@letsadventuretravel.com or follow along on Facebook.
Source: Universal Orlando Blog