New Jurassic World Velocicoaster Concept Artwork Released
I have some fun news to share with you today! Universal Orlando has shared new Jurassic World Velocicoaster concept artwork for the highly anticipated attraction. This "new species" of roller coaster is projected to open during Summer 2021. The artist rendering shows two velociraptors poised next to the speeding attraction as it flies by. The guests depicted in the artwork are also shown wearing face masks while enjoying the attraction.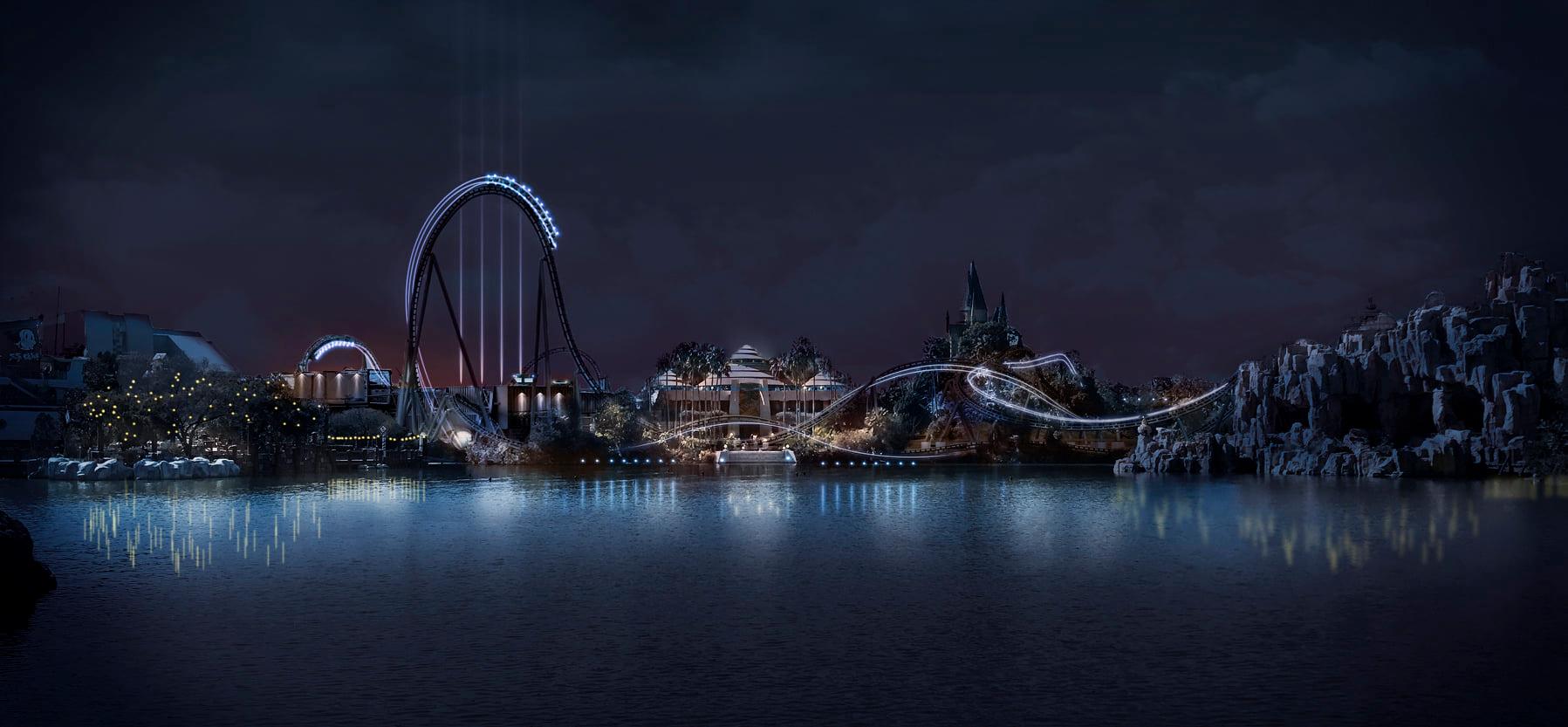 Opening at Universal's Islands of Adventure theme park, Jurassic World VelociCoaster will be the world's first coaster based on the blockbuster franchise, and will feature an original story that expands upon the thrills, dinosaurs and environments fans have seen on the big screen. You'll join the original cast of the films – Chris Pratt as Owen Grady, Bryce Dallas Howard as Claire Dearing and BD Wong as Dr. Henry Wu – as Jurassic World unveils the next evolution of its "carnivore expansion": the VelociCoaster, where riders embark on a high-speed chase and feel the rush of the hunt while racing alongside a nimble Velociraptor pack.
If you've been following along with Universal Parks Blog you'll remember back in September, Universal released this amazing sneak peek:
The Jurassic World VelociCoaster will raise the bar in extreme roller coaster design and become the ultimate experience for coaster enthusiasts and thrill-seekers. Spanning more than 4,700 feet of track and reaching heights of up to 155 feet, the coaster's signature maneuvers will have you twisting and soaring above land, barrel rolling just inches above water, speeding through near-misses and launches within the paddock, and more…with just a lap restraint holding them in place.

The new Jurassic World Velocicoaster will feature the following:
Florida's Fastest Launch Coaster – 2 intense launches: 0 to 50 mph in 3seconds&40 to 70 mph in 2.4 seconds
Face To Face – Enter the Velociraptor paddock and get REAL close to these natural born hunters.
155 feet up and 80 degrees down – Soar 155 feet above the lagoon before plunging 80 degrees (steepest coaster drop at Universal Orlando).
4 Inversions –  Including an Inverted Stall. Upside-down. Weightless. Screaming.
Two Coaster Experiences In One – It starts as a twisting, -turning, high-speed ride through the rocky Velociraptor paddock then roars out over the lagoon where riders pull some serious g-forces.
Jurassic World Velocicoaster Concept Artwork Credit: Universal
Thanks for visiting UniversalParksBlog.com! Want to go to Universal? For a FREE quote on your next Universal vacation, please fill out the form below and one of the award winning agents from Let's Adventure Travel will be in touch soon!
Do you want more help planning your next Universal Orlando vacation? As an Universal Orlando Resort Specialist, my goal is to help you take your vacation to the next level. I'll find you amazing deals, book advanced dining, monitor for new discounts for your vacation, and much much more! Also, did I mention that my services are FREE? Get in touch toll-free at 1-800-454-4501, via email at SPhillips@LetsAdventureTravel.com or follow me on Facebook!