Strawberry Go-Tart Returns Today to Voodoo Doughnuts!
Breakfast nostalgia gets an adult- upgrade with this delicious bite from Voodoo Doughnuts at Universal CityWalk! The Strawberry Go-Tart Returns Today.
We love delicious doughnuts and we love Voodoo Doughnuts even more! The popular location already has an amazing assortment of delicious doughnuts and specialty treats. Amazing textures and flavor combos! It definitely makes starting your day easier (and tastier).
And we are super excited for the return of this fan-fave! Let's check it out!
Strawberry Go-Tart Doughnut
Strawberry filling? Creamy vanilla frosting? Colorful candy sprinkles? Count me in! Reminiscent of your favorite childhood breakfast treat, this doughnut is soft, rich, and sweet!
This is the perfect way to start your day! Or it would make a sweet snack to satisfy that sweet tooth. Want to end your day with a little dessert? This donut is a perfect option!
New Year means New Doughnuts
Voodoo Doughnuts officially announced 4 new (limited-edition) doughnuts to kick off the new year. Not all options are available at the CItyWalk location.
The  flavors announced include Mango Ginger Kiss, Lemon Cannolo, and a Sweet cream Cannolo. This would be a perfect option to try out if you find yourself at one of Voodoo's other awesome locations.
Voodoo Doughnuts
Voodoo Doughnuts is located on the main level of CityWalk ad features over 50 doughnuts daily at Universal Orlando.
The popular doughnut shop has a cult-like following and it is easy to see why! The mouth-watering and exclusive delights are flavorful and unique!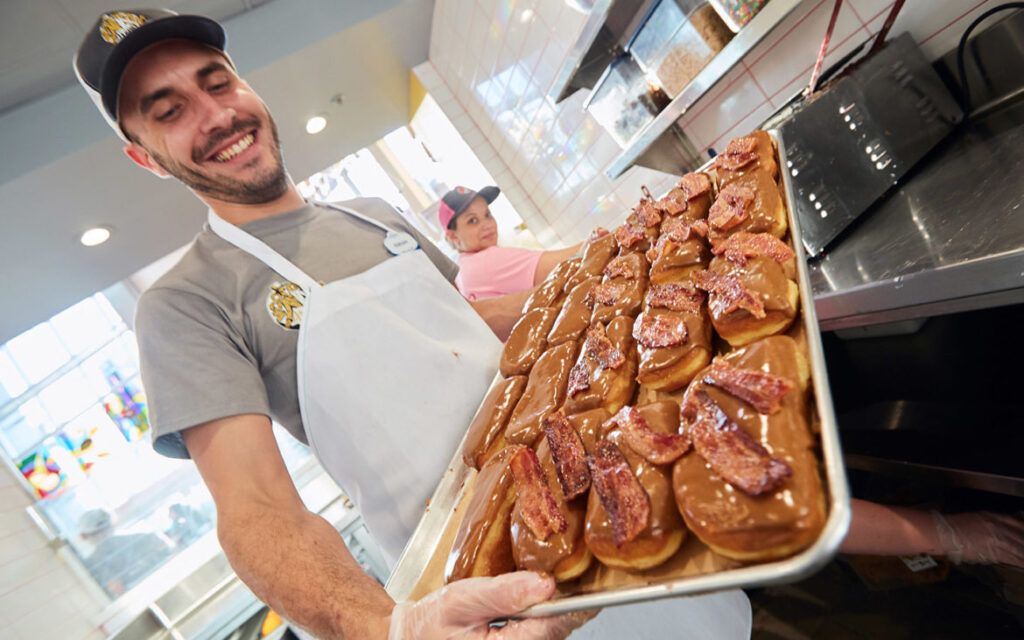 Everything from a sweet apple fritter to the original Bacon Maple Bar to the new strawberry go tart is available. And there are plenty of options in between. They even offer an amazing selection of vegan donuts.
Be sure to check out the Strawberry Go-Tart today!
Thanks for visiting UniversalParksBlog.com! Want to go to Universal? For a FREE quote on your next Universal vacation, please fill out the form below and one of the agents from Let's Adventure Travel will be in touch soon!
Feature Photo: Photo: Voodoo Doughnuts