Let's Talk about the Best Foods at Halloween Horror Nights
We've covered the houses and what to expect at Halloween Horror Nights 2022. However, there's still one subject left to discuss: the menu!
Let's talk about the food at Halloween Horror Nights 31!
What's on the Menu?
Symmetry is on the menu this year at Halloween Horror Nights (HHN)! Many of the entrees connect to the Houses and mazes on display in 2022.
You'll also find a wider array of vegetarian, vegan, and plant-based dishes as Universal commits to healthier dining options.
Let's start with the place that has earned all the hype this year. The Weeknd: After Hours Nightmare celebrates the musician's After Hours album.
Universal has designed some Insta-worthy cuisine to complement the House.
The star menu item, at least in my opinion, is a dish called Pizza Fries. I have your attention, don't I?
Yes, some mad genius has thrown pepperonis and marinara sauce on top of cheese fries! It's an idea so simple but brilliant that I wonder why I've never seen it before! By the way, you can order seasoned fries instead.
Weeknd fans have their choice of several different cocktails. I suspect you'll order one of two options, though.
Those are Blinding Lights, which comes with glowing ice cubes for effect, or After Hours Nightmare, a fruity tequila that comes with a syringe. Make of that what you will.
The other themed drink is Save Your Fears, a tail-kicking vodka. You can also order various canned cocktails and beers here.
Some Other House Menus
Let's talk about some of the other themed foods and beverages.
I've got three words for ya: Sugar Skull Punch!
Yes, Universal has made every skull fan's dream come true with this skull-shaped mug! Inside, you'll find…you know, it doesn't matter!
You'll spend too much time enjoying the top of the mug. It's cotton candy! When you're at a theme park, that's what you want the most, right?
Fine, I'll tell you about the drink, too. It's a vodka mixed with blue curacao, grenadine, and lemon juice. It looks fantastic, draws attention, and is topped with cotton candy.
You want this in your life! And you'll find it at Dia de Los Muertes Bar.
While there, margarita fans have their choice of a standard one or Muerte Margarita. You're at HHN. You want the Muerte!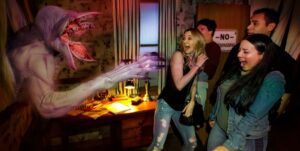 This concoction consists of tequila, grapefruit, cabernet sauvignon (seriously), and some lime flavors.
Meanwhile, Little Cocina will be your go-to place for tacos, tamales, and churros during the event.
Only one of the dishes features a pure Halloween Horror Nights theme, though. That's the Sugar Cookies, which come in the shape of a sugar skull or HHN logo.
The other place that has built a buzz is Jojo's ice cream. This place also sells those Sugar Cookies.
However, what you really want is the Ruijing Popcorn Shake. It dares to combine popcorn, a milkshake, and cotton candy…and I need that in my life.
You'll find several other themed menu items at the various booths.
The most charming ones are the Major Sweets Ice Cream Sandwich at the Dracula Booth and the Tombstone Red Velvet Cake Pop you'll find at a booth near Finnegan's.
My vote for the best plant-based dish is Fried Zombie Brains at Meetz Meats.
However, you'll find several other plant-based menu items available.
Other Universal Dining Options
I'd like to skip to Minions Café because it comes with an important note. Several restaurants are open during HHN, something you may not realize.
These places serve darker versions of menu items you could find during regular park hours.
So, you may not think you'd enjoy a Felonious Float based on the silly name.
Your opinion will change once you realize it's an Icee with banana-flavored yogurt and candy! Again, it sounds insane, but the intense banana flavor may hook you.
This restaurant is the ideal place to go for compromise dining or "normal" food.
After sampling some of the ambitious HHN menu items, you may prefer Loaded Nachos with Chicken or Pulled Pork Grilled Cheese.
Taki fans should also take a chance on Evil Takis Mac n Cheese, which is just what it sounds like. It combines the powerful taki corn flavor with the comfort of mac and cheese.
You can also order a regular grilled cheese here, which I recommend if/when you need to settle your stomach.
At Hollywood & Dine, you'll only find two menu options, but one is Candy Corn Funnel Cake.
I think it sounds like an abomination. Still, I must accept that some people like candy corn.
The safer bet here is the Korean Corn Dog. It looks like a rougher corn dog due to the deep-frying technique and tastes a bit sweeter, too.
Be warned that this entrée also looks like it's covered in maggots. So, yeah.
Finally, you should track down the two novelty popcorn buckets available during the event.
One is the Studio Screamers Frankenstein, while the other is a calavera skull. They're both delightful and would be the star of any shelf in your home.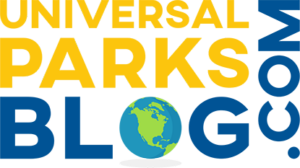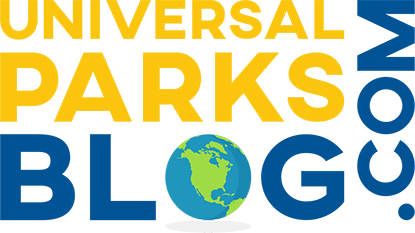 Thanks for visiting UniversalParksBlog.com! Want to go to Universal and experience Horror Nights? For a FREE quote on your next Universal vacation, please fill out the form below and one of the agents from Let's Adventure Travel will be in touch soon!
Feature Photo: Universal