Let's Check Out the New Bites at Avenue Eats in Universal Studios!
Yum! Get ready Universal Orlando foodies!
I don't know about you, but I love checking out the delicious eats and treats available at Universal Orlando Resort. These awesome theme parks have something tasty and delicious for everyone.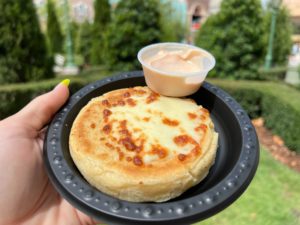 Whether you are looking for sweet, savory, an entrée, or a quick snack – Universal Orlando never disappoints.
And one of our favorite locations has recently re-opened and offers new eats that we had to try. Let's check out the new bites at Avenue Eats in Universal Studios!
Avenue Eats Re-Opens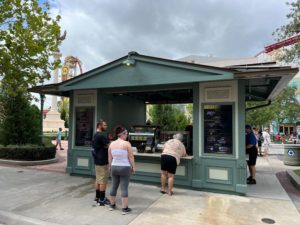 This quick-serve kiosk recently re-opened and is located near the entrance of the Mummy in Production Central.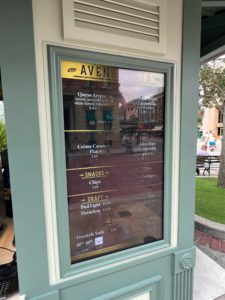 The tasty walk-up counter features a great menu with arepas, empanadas, rice, and flan offerings.
The location also serves beer, snacks, soda, and more. We were super excited to try out some of the delicious bites and our reporter Kayla shared some great insight!
The Chicken and Cheese Empanada- $13.99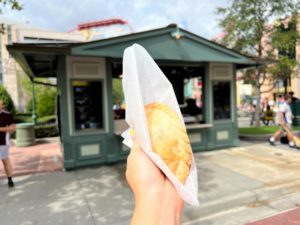 The Chicken and cheese empanada is a delicious bite served piping hot! It is the perfect combo of chicken, spice, and ooey-gooey cheese.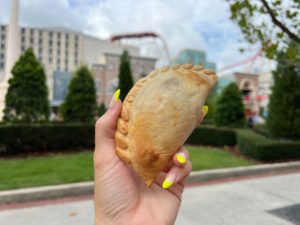 Kayla really enjoyed this great bite!
It's good! There's a good amount of seasoning and a little bit of spice you get in the cheese, but I think the weirdest thing about this was that it if you didn't tell me it was chicken I would not have guessed it -it taste like a beef and cheese empanada, but it's still really good and I will get it again.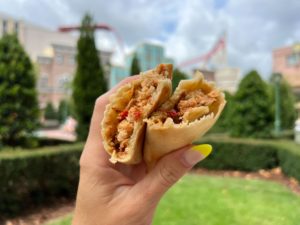 Yum! This enchilada is served as a combo and comes with a side of crispy chips. It is a perfect afternoon snack.
Queso Arepa at Avenue Eats- $8.49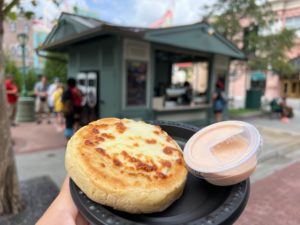 These Arepas feature seared corn cake with white cheese and topped with salsa rosa.
The new eat looks amazing, but out reporter had mixed feelings about the new bite.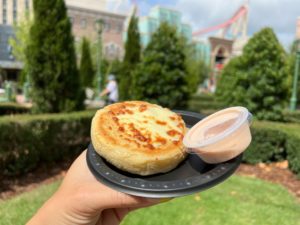 I wanted to love this thinking it would be a good snack, but it's just a really tough bread with a layer of melted cheese on top. The salsa rosa is needed to make this more enjoyable but it's just hard to swallow. I pass on this and say get the empanada instead.
Try it for yourself and let us know your thoughts on the Quest Arepas!
Cool off With a Mango Push Pop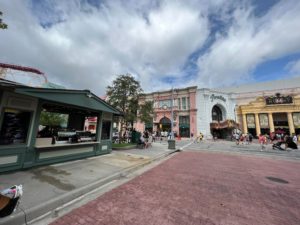 Avenue Eats has a great option to cool off and beat the Central Florida heat! And it is in a sweet, slushy-like Mango push pop.
I really love this, and I highly recommend it. This is great and a good way to cool off.
Thanks, Kayla! We are so excited to check out all of these new offerings at Avenue Eats and are ready to indulge this summer!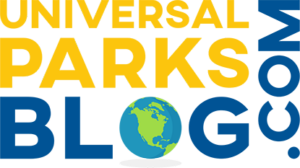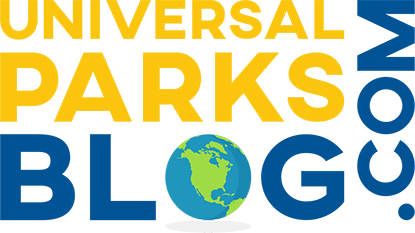 Be sure to try these new amazing bites on your next visit to Universal Studios. And be sure to stay tuned to UniversalParksBlog for exciting Universal news and updates.
Thanks for visiting UniversalParksBlog.com! Want to go to Universal? For a FREE quote on your next Universal vacation, please fill out the form below and one of the agents from Let's Adventure Travel will be in touch soon!