Let's Talk about the New Reveals at Epic Universe
Discussing upcoming theme park projects comes fraught with peril.
On the one hand, all plans remain fluid until theme park operators have finished the trial runs.
So, what the plans call for on paper isn't necessarily how the attractions and amenities will appear once the park opens.
Conversely, when you say too much, you run the risk of alienating those who don't want to be spoiled about what's coming.
Keeping these factors in mind, let's talk about the new reveals at Universal's Epic Universe.
The Dueling Roller Coaster
The world has changed mightily since the last time Orlando gained a massive theme park.
This last happened in the 1990s, a time when boy bands still roamed the land.
Now, we can follow all construction projects via social media and drone photos.
With some of the larger builds, we can even scope in with a digital camera. None of this was viable when Universal's Islands of Adventure opened.
The newfound ability enables us to track projects much more closely. And one of them is impossible to miss.
Universal is currently laying the track for the dueling roller coaster that will comprise the middle of the park's visual centerpiece.
I've known about this project for a while, as it appeared on earlier blueprints.
Now that we've seen the yellow tracks, we can confirm some early rumors/guesses.
Universal is building a launch roller coaster with twin tracks. So, yes, there will be a drag racing element to this ride experience.
You'll enter on one side, while other riders will hop on the ride cart on the other side of the tracks. You will HATE those people and try to beat them!
Standard red light drag race rules apply, but there's a twist here. And I mean that literally.
The tracks intertwine in a way that will have riders on both sides come perilously close to one another, allowing for some quick smack talk.
Since you'll be going around the speed limit at this point, the encounter will be brief, though.
About the Dueling Coaster at Epic Universe
I'm basing my comments based on distant visuals of the structure as well as some magnified pictures.
These visuals suggest that the coaster carts come in close contact. However, there's a chance the visual is a bit misleading.
The gap may be larger in execution than it appears at a vast distance.
Safety concerns would prevent a face-to-face approach, so I'm genuinely curious how close the encounter is.
We also have no idea about the exact velocity yet, but the fastest ride in Florida is currently Iron Gwazi at Busch Gardens Tampa Bay.
That roller coaster reaches a pinnacle of 76 miles per hour. Epic Universe doesn't necessarily need to beat that.
Should Universal take that approach, it'd give the new park Florida bragging rights, though.
At a minimum, Universal probably wants something that bests its current record of 67 miles per hour at The Incredible Hulk Coaster.
Mako at SeaWorld Orlando maxes out at 73 miles per hour. So, if Universal wants to hold the title for Central Florida, it might as well beat Iron Gwazi, too.
I doubt that happens, though. Universal's plan involves more of a themed approach, as the center of the park will take on a celestial appearance.
As I've previously mentioned, the rampant rumor about the dueling coaster is that its name is Starfall Racers.
When you board a coaster, you'll become one of the racers. The interesting part is that Universal owns the Fast & Furious license.
Park officials easily could have turned this into a franchise-based attraction. Instead, they sagely prioritized the look and feel of the entire park.
Speaking of Which…
Universal has also built the framework for its upcoming domed ride, which I have every reason to believe is a spinner flat ride.
The construction of this dome is fascinating in that the piping hints that it could distribute water.
Aerial look across Epic Universe. pic.twitter.com/oNR12s2a2M

— bioreconstruct (@bioreconstruct) July 8, 2023
Some pictures floating around the internet suggest that Universal will operate some fountains here. I'm now inclined to believe those mock-ups.
I didn't believe them because other images from the park suggest a fountain centerpiece elsewhere, one that will remind you of The Bellagio Las Vegas.
Arrows in this aerial photo of Epic Universe near edges where the terrain drops for a water feature.
1 Fountain basin, with rows for guest viewing
2 Dome over a carousel, adjacent a pond
3 Restaurant at water side
4,5 Walkways between water features pic.twitter.com/krmzKE54mW

— bioreconstruct (@bioreconstruct) July 8, 2023
The dome structure resides so close to the circular foundation of that fountain that a second fountain struck me as superfluous. I think that's now the plan, though.
As for the ride itself, the rumored name is Constellation Carousel, which tells the whole story.
Universal is apparently building a visually stunning, modern flat spinner. Is it a true carousel or a modification on that idea?
I've actually heard arguments both ways here. But the patent filing looks like a straightforward carousel, the kind you've known since childhood.
The Orlando Business Journal has posted this filing, with one of the pictures suggesting the theme.
One shows a lion as one of the carousel carts. I don't think it's much of a stretch to presume that the theming involves zodiac symbols.
Presuming that's true, all the ride carts would be signs of the zodiac, such as Aquarius, Scorpio, and Pisces.
This aspect is something we won't know until Universal starts installing the carousel carts, though. So, it could still change.
On the plus side, now that the building blocks are in place at Epic Universe, we can generally tell what's coming, though. And it all looks great!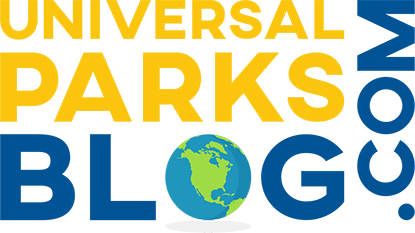 Thanks for visiting UniversalParksBlog.com! Want to go to Universal? For a FREE quote on your next Universal vacation, please fill out the form below and one of the agents from Let's Adventure Travel will be in touch soon!
Feature Photo: Universal