Your Guide To All Things Marvel at Universal Orlando
If you've been following along on our sister site MickeyBlog.com then you know that we are HUGE Marvel fans! But the Marvel Magic isn't limited to Disney! Universal Orlando has an entire island devoted to bringing your favorite comic book characters to life.  Stepping onto Super Hero Island is a bit like stepping into the pages of your favorite comics and here you'll find incredible rides, dining, character interactions and more.
So put those wizarding robes away, grab your capes and let's have an adventure of the Super Hero kind!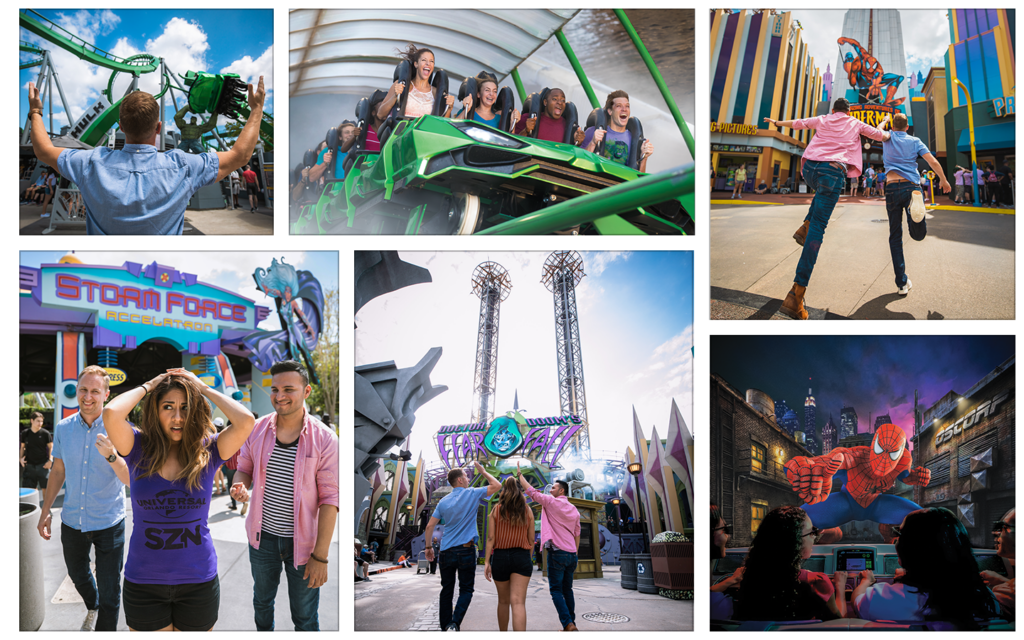 The Rides:
The Marvel-themed rides at Universal Orlando are some of our absolute favorites and are not for the faint of heart. So rustle up some courage and unleash your inner hero as you enjoy the following:
Incredible Hulk Coaster- Reach speeds of up to 67 miles per hour as you bravely volunteer to be a test subject for a life-altering science experiment based on the research of Dr. Bruce Banner. Hulk-like power propels you upside down into a weightless zero-gravity roll, racing faster and faster down the track.
The Amazing Adventures of Spider-Man – Go on a 3D web-slinging adventure with Spidey in a high-flying virtual reality ride. You'll face a cast of Marvel characters as you soar above the streets, scale skyscrapers and battle bad guys left and right. The high-definition 3-D graphics are so vivid that you'll want to watch out for the 400-foot freefall.
Doctor Doom's Fearfall – Doctor Doom has come up with a new invention- a machine that sucks the fear out of people. How? By blasting you 185 feet into the sky and then dropping without even a second to catch your breath!
Storm Force Accelatron – That super baddie Magneto is at it again in his quest for world domination. But Professor Xavier and Storm from X-MEN have a way to thwart his plans.  Storm will harness thunder and lighting to blast him to oblivion. Give them a hand as you spin the wheel as fast as you can. The faster you go, the greater the storm.
Kingpin's Arcade – Serious fun for super games, The Kingpin rules the underworld but he's no match for your gaming skills. Its time for you to beat the machines including an exciting array of options from driving simulations to first-person shooters.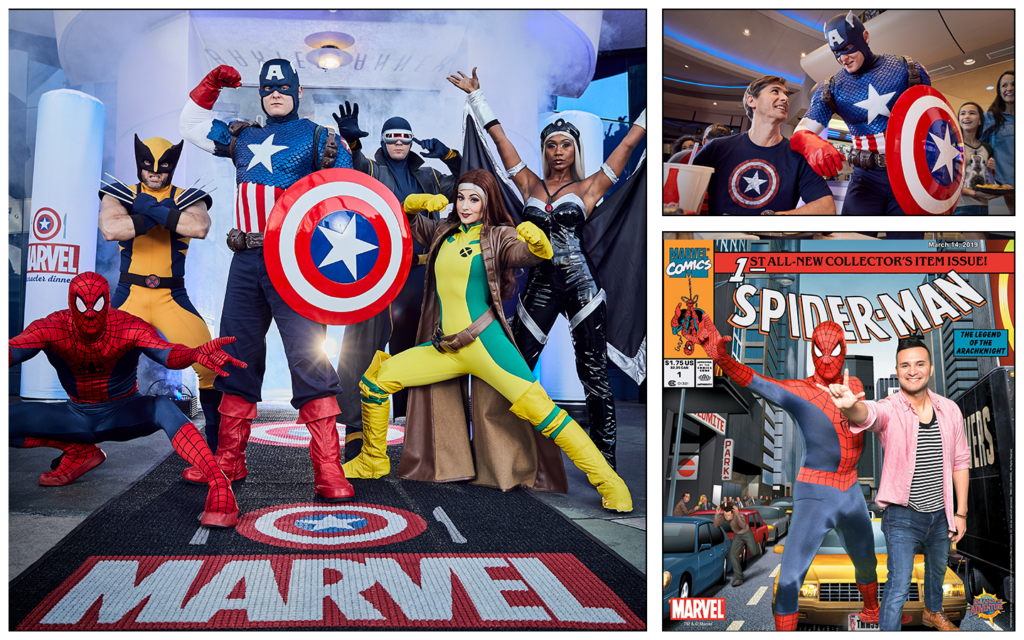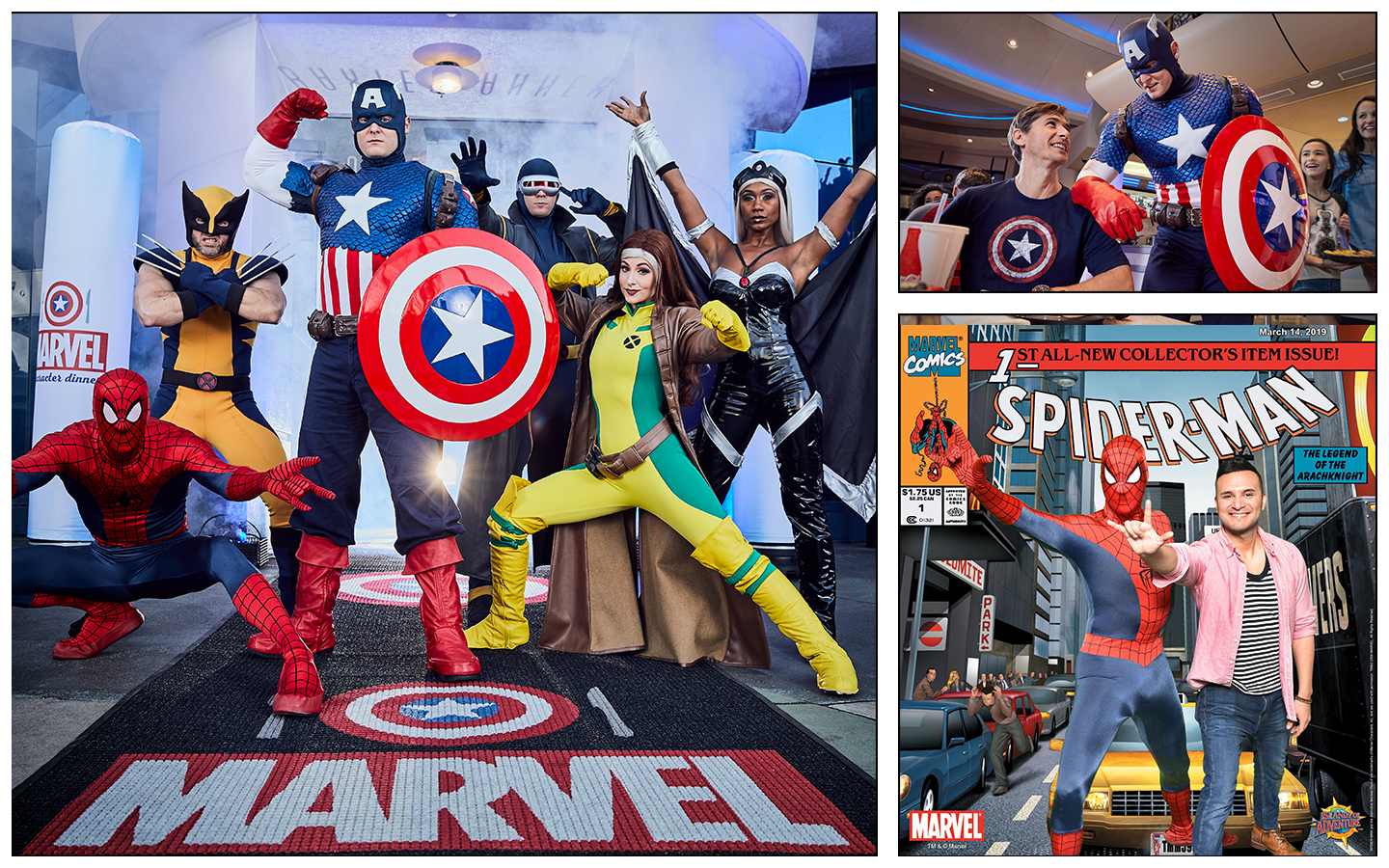 The Characters:
Be sure to take time out from your adventuring to mingle with some of your favorite Marvel friends. Here's a quick run-through of some of the awesome superhero encounters you can have:
Meet Spider-Man and the Marvel® Super Heroes – Allies and enemies assemble!  Don't miss this chance to meet Spider-Man, Captain America, Cyclops, Wolverine, Storm and Rogue, as well as Marvel Villains like Dr. Doom and The Green Goblin.
Marvel Character Dinner – Team-up with your favorite Super Heroes after a long day of adventures and defeat the most formidable foe of all—your empty stomach. Hang out with Captain America, Spider-Man, Wolverine, Storm and Rogue during this one-of-a-kind dinner. Prices start at $24.99 for kids and $49.99 for adults.
Spider-Man at the Marvel Alternative Store- Stop by for some web-slinging and photo-snapping as Spider-Man himself is on hand to meet you and pose for photos.
Meet the Super-Villains – Sure, getting a photo with your favorite Marvel Super Heroes is great, but interacting with Marvel Super-Villains, The Green Goblin and Dr. Doom, makes for an even more interesting photo op.
Guests Should Note: For photos with characters, guests will be positioned in a designated spot that is six feet away from the characters. You will not be able to make physical contact with characters at this time.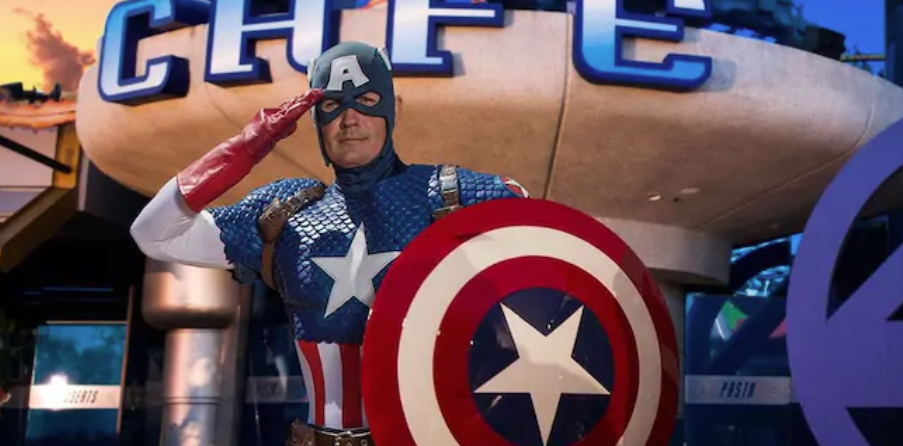 The Food
All this adventuring is sure to give you a superhero sized appetite! But don't worry Super Hero Island has a place for practically every craving you may have!  Here are a few options:
Marvel Character Dinner –  You're dining at Cafe 4™ when in walk Captain America, Spider-Man, Wolverine, Storm and Rogue. This is no ordinary dinner. This is the Marvel Character Dinner, an experience that no true believer can miss. Add to that menu items like speciality pizzas and pasta and you've got a recipe for the fun-filled dining experience.  Cost for this special dining experience is $24.99 for kids and $49.99 for adults.
Cafe 4- Don't feel like doling out for character dining? We still recommend that you stop by Cafe 4 for an awesome feast fit for a superhero! You'll find an impressive variety of pizza here including our favorite the BBQ chicken pizza so be sure to bring your appetites!
Captain America Diner – Vanquish your cravings with some All-American eats including cheeseburgers, chicken sandwiches, chicken fingers, crispy chicken salads and more!
Chill Ice Cream –  Even superheroes need a time out and the cool delicious treats you'll find here are just the ticket. You can't go wrong with sundaes, milkshakes, ice cream floats or even a freshly made waffle cone!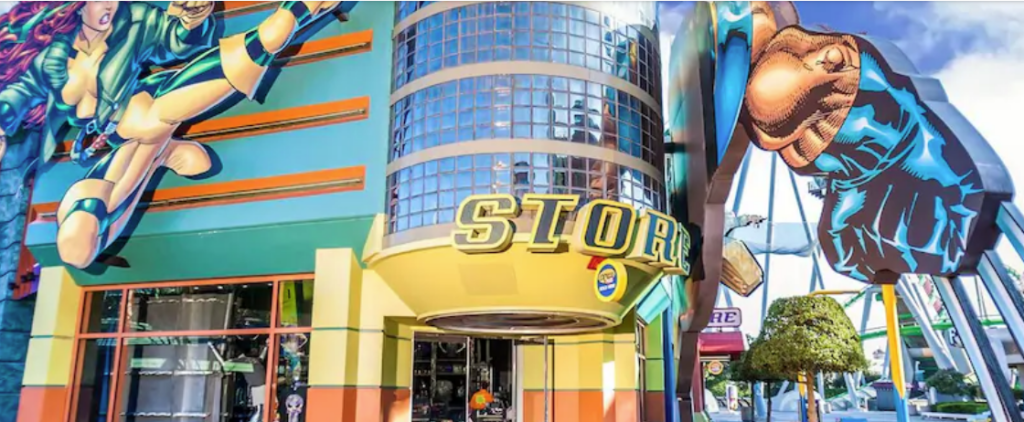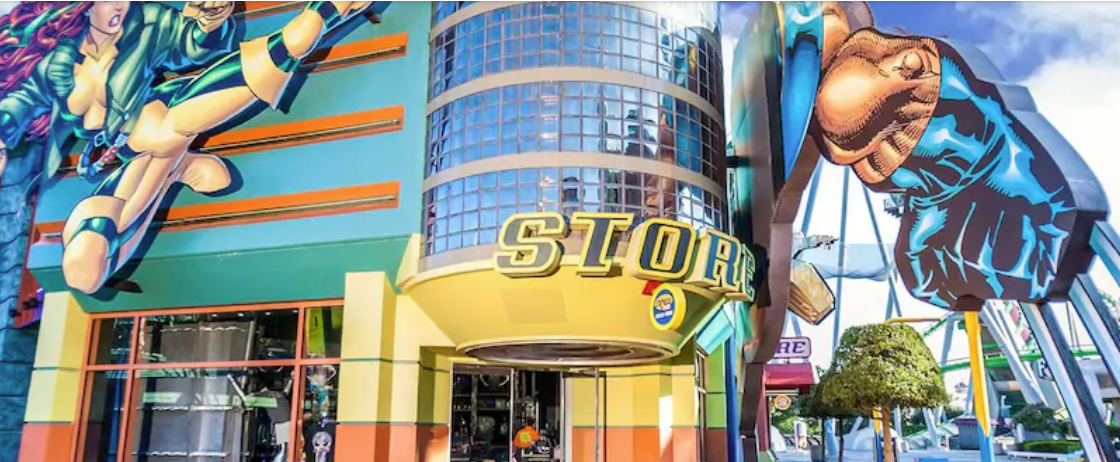 Shopping:
Whether you're looking to update your Super Hero size wardrobe, expand your collection of Marvel figurines or start your very own comic book collection, there's something for everyone and a whole lot more at Marvel Super Hero Island.
Marvel Alterniverse Store – Pop by this shop to stock up on items for your Super Hero closet. Here you'll find character t-shirts, sweatshirts, toys, collectibles, mugs and more!
Comic Book Shop – A Comic Book-lovers paradise, here you'll find comics, posters, apparel, collectable figures and more!
What kind of Marvel Super Hero Island would this be without a Comic Book Shop featuring all of your favorite Marvel characters, posters, apparel, figurines, and more!
Marvel Boutique – For all you Marvel-loving fashionistas, this is the place to be for stylish apparel and accessories featuring your favorite Marvel heroes.
Spider-Man Shop – A shop featuring all things Spidey. Here you'll find toys, action figures, mugs, t-shirts, and more that pay tribute to our favorite web-slinger!
We hope we've inspired you to have a Marvel adventure and are pleased to let you know that Universal Orlando has officially reopened for business. So start planning your getaway today!
Thinking about a visit to Universal Orlando? Getting started is easy! Simply reach out to MickeyTravels today to get your FREE, no-obligation quote. 
Find articles like this helpful? Then why not consider working with an Authorized Universal Vacation Planner? As an agent with Let's Adventure Travels, I'll be on hand to assist you with everything from finding your perfect package to helping you plan lots of special touches to make your visit one you'll never forget  Best of all my services are absolutely FREE.  Get in touch at 1.800.801.4025 via email at mroden@letsadventuretravels.comor follow along on Facebook
Source: Universal