Where Should You Eat at Universal Orlando Resort?
Let's face facts. All the thrill rides at Universal Orlando Resort will cause you to work up quite the appetite.
You'll want to eat regularly at the parks to keep your strength up for that next ride on the VelociCoaster!
Of course, if you're new to the park, you won't know where to go. Here's where you should eat at Universal Orlando Resort!
Universal Studios Florida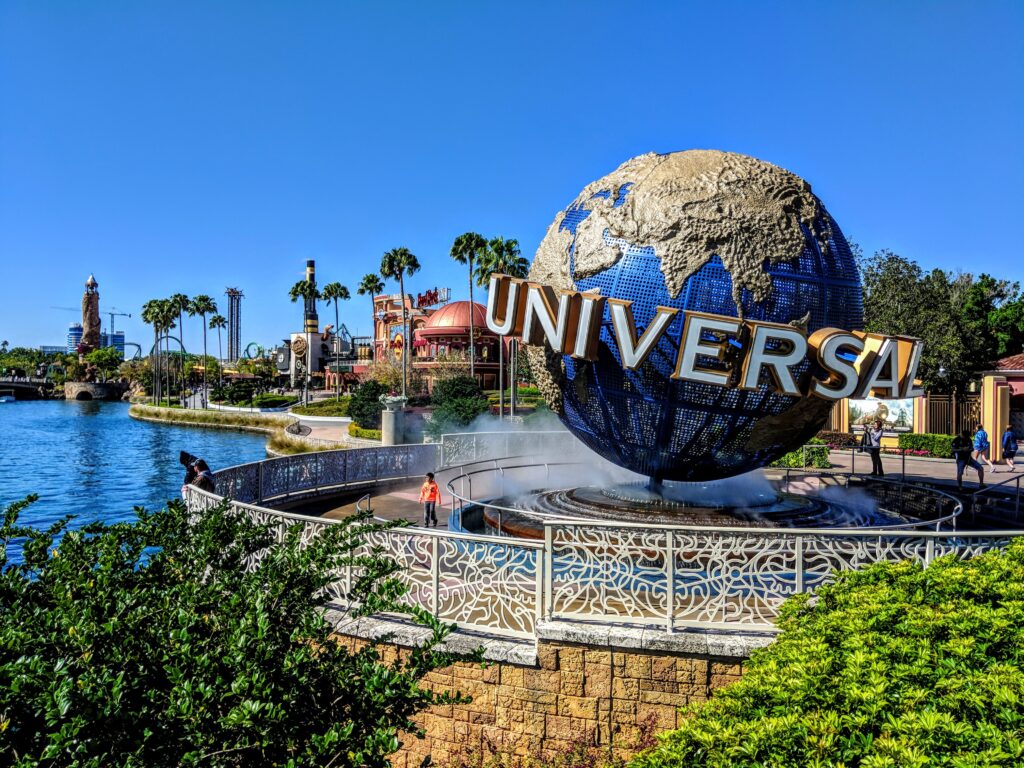 The first thing you should understand about the parks is that the entrances are in the same location.
Conveniently, that spot is right beside Universal CityWalk. As long as you purchase admission that entitles park hopping, you can eat anywhere!
You'll just walk back to the front gate and enter another park or CityWalk when you're hungry! For that matter, you could ride Hogwarts Express, too!
Fast Food Boulevard
You'll have your choice of fine dining experiences vs. grab-and-go counter service restaurants at this park.
Realistically, you'll eat at one of the next three places when you want a heavier meal.
Most of the time, you'll pick Fast Food Boulevard, though. I say this because it's the pride of Springfield and something of an in-joke.
This place combines several gags from The Simpsons in one place. It includes Moe's Tavern, Krusty Burger, Cletus' Chicken Shack, and The Frying Dutchman.
Yes, that's burgers, seafood, chicken, and whatever Moe is generously describing as alcohol.
This place is amazing and the must-eat place for all your fast food needs.
Finnegan's Bar & Grill
You can think of this place as Cheers along with that fancy restaurant above it.
Finnegan's serves beer in decidedly Irish fashion, but its meals prove delectable as well.
Fans of English cuisine rave about the place, and its location in the New York themed land makes it easy to find, too.
The Leaky Cauldron
I have kind of a love/hate relationship with the Harry Potter restaurants in that they're stubbornly authentic to some of the grossest staples of English cuisine.
Unlike Finnegan's, you're not escaping the Cottage Pie and other foods that you may be too American to enjoy.
When you dine here, you're doing so for the ambiance more than the flavors, but that's fun during a park day, too!
Plus, The Leaky Cauldron really lives up to the hype with its theming. You'll totally believe that Harry Potter and other members of Dumbledore's Army could walk in at any second!
Lombard's Seafood Grille
You may not be familiar with this place, but Universal Studios describes it as the "flagship restaurant" for the entire campus. That's high praise indeed.
As you might expect, it's a seafood joint with menu options from fish tacos to lobster bisque. You can find an entrée to fit any budget.
If you can only pick one place to dine at Universal Studios Florida, it's Lombard's, at least when you want a terrific meal.
Islands of Adventure
As the newer theme park of the two, Islands of Adventure focused on its dining options a bit more.
The unquestioned champion of Universal Orlando Resort restaurants is here, no matter how park officials describe Lombard's.
However, the counter service dining isn't quite on a par with Universal Studios Florida's Fast Food Boulevard.
Comic Strip Café
Remember how The Simpsons restaurants offered a little bit of everything?
Toon Lagoon hosts a restaurant with a similarly eclectic menu, one that almost defies description.
Comic Strip Café serves the entrees you'd expect like bacon cheeseburgers and grilled chicken.
However, for some reason, this place also cooks plenty of Asian cuisine like Tofu Ramen, Char Siu Ramen, and Beef Bulgogi Ramen.
Seriously, ramen aficionados will looove this place! Also, it works well as a compromise choice since it serves pizza, too.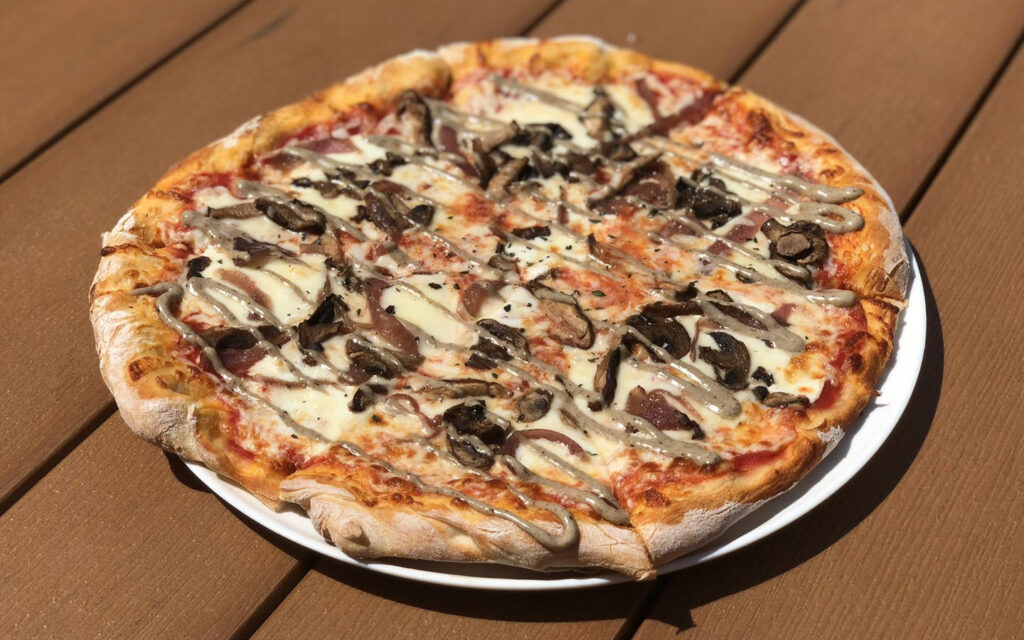 If your party includes anybody who doesn't like at least one of burgers, pizza, chicken, and ramen, you have my blessing to kick them out of the group.
Confisco Grille
Out of the restaurants we're discussing today, Confisco Grille qualifies as the hidden gem of the bunch.
For whatever reason, this place doesn't earn the same acclaim as the others, something I find baffling.
The menu here is really strong and deep. Seriously, how many theme park restaurants can you name that serve a Pork Belly BanhMi Sandwich?
How about a Penne a la Vodka or an Udon Noodle Bowl? You can order a rack of ribs here, too! The restaurant serves a Filipino version of the dish.
Look, one of my favorite things to do at Universal Studios is sit down with someone dining here for the first time. The menu usually blows their mind, and then the quality of the food leaves them smiling the rest of the day.
Mythos Restaurant
Still, as wonderful as Confisco Grille is, it cannot compete with the storied reputation of Mythos Restaurant.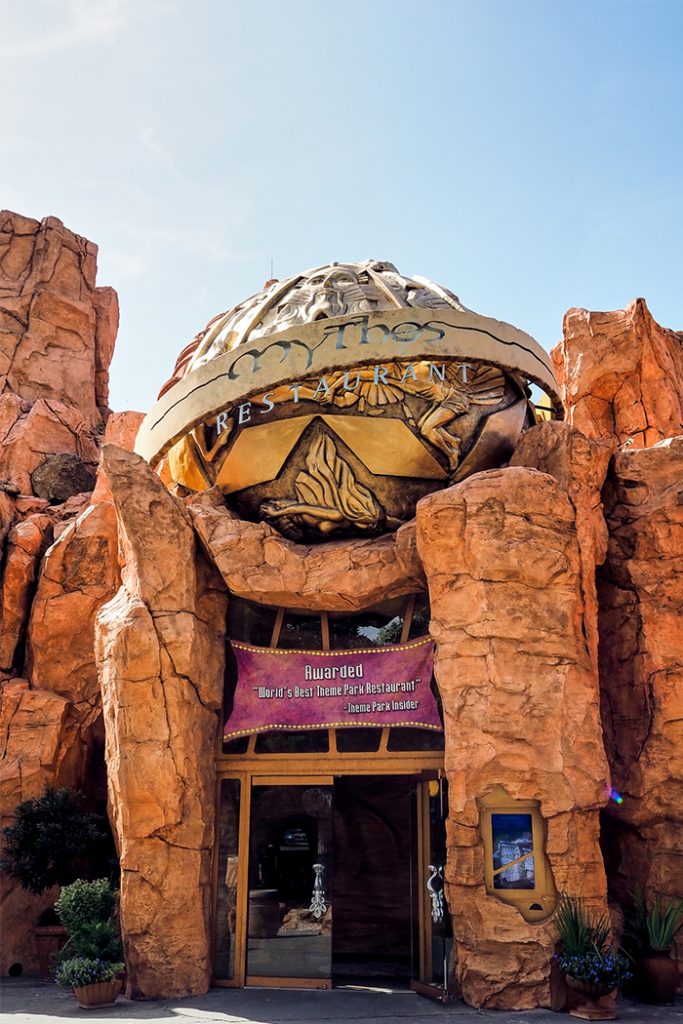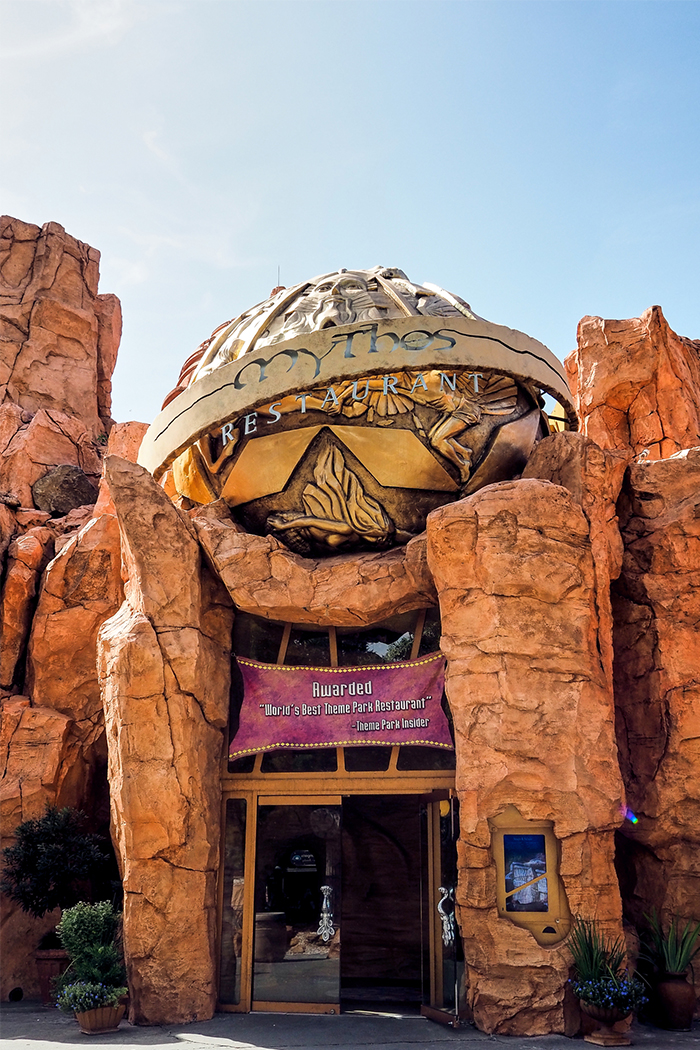 This eatery has won awards as THE best theme park restaurant in the world. Need I say more?
Well, I'm going to talk about it more anyway. At Mythos, Greek flavors comprise the menu, and they all feature a hearty Mediterranean vibe.
Also, this place works perfectly for the more ambitious diners among us. I'm not saying that octopus is for everyone at a theme park, but some folks swear by it.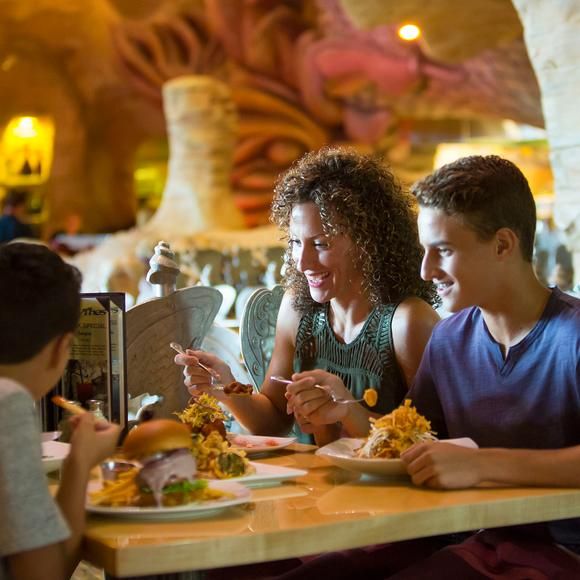 Since I have a basic palate, I'm more of a pork chop guy. The one here is decadent for sure. Still, sea scallops and Souvlaki Couscous will likely excite you more.
Overall, like Universal Studios itself, Mythos lives up to the hype.
Three Broomsticks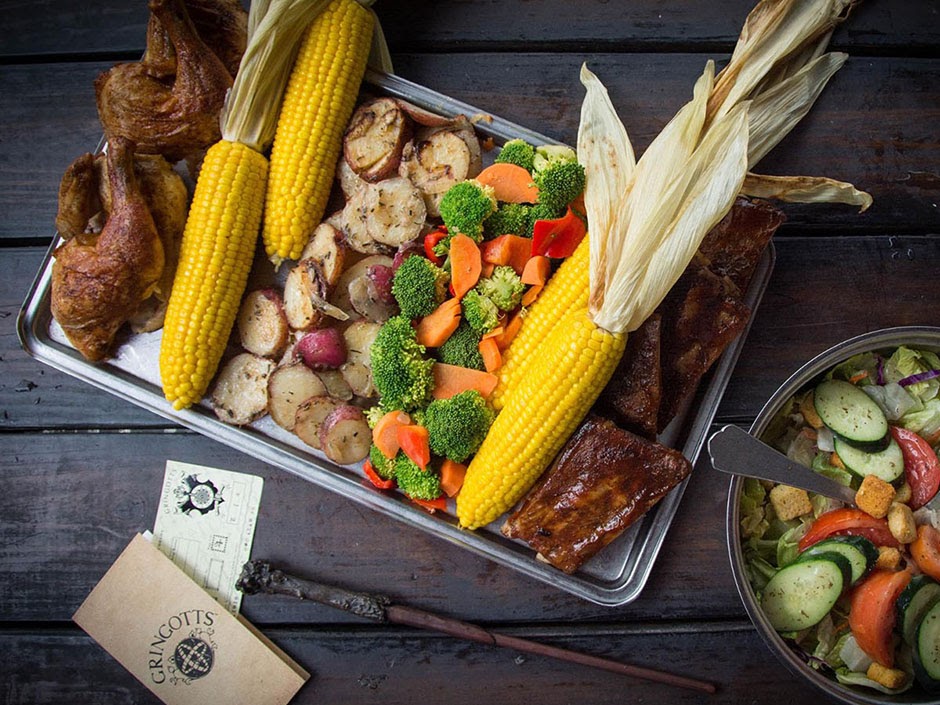 Honestly, I cannot say the same thing about Three Broomsticks, though. My complaints about The Leaky Cauldron apply here as well.
The Shepherd's Pie, Smoked Turkey Leg, and Beef Pasties just don't work for me.
Thankfully, the menu has grown in recent years. There's a Chicken and Ribs Platter for picky meat eaters like me.
On the plus side, the prices are quite reasonable, as everything I just mentioned costs less than $20.
Even better, four guests can share The Great Feast, an all-you-can-eat bottomless skillet of food.
Still, I prefer this place at breakfast and recommend that when you want to get an early start at The Wizarding World of Harry Potter.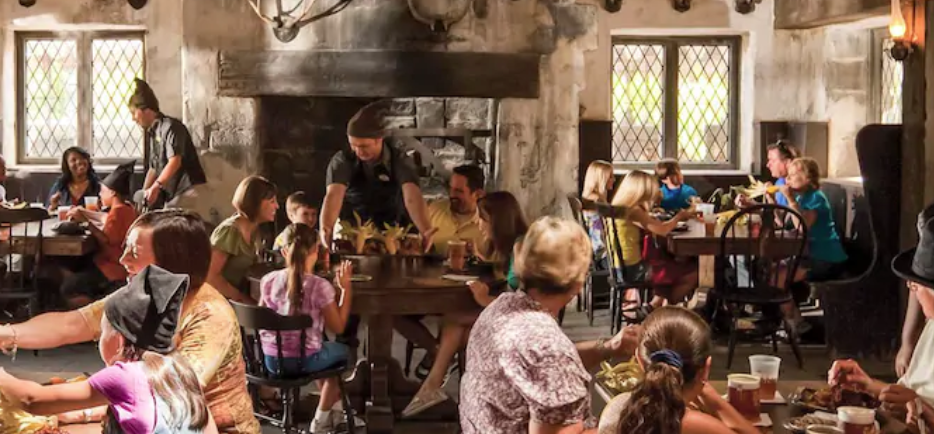 No matter what you decide, you're here for the experience. So, remember to walk around and savor the theming!
Okay, those are the park restaurants I recommend. However, I haven't updated with CityWalk suggestions in a couple of years. I'll do that next time!
Thanks for visiting UniversalParksBlog.com! Want to go to Universal? For a FREE quote on your next Universal vacation, please fill out the form below and one of the agents from Let's Adventure Travel will be in touch soon!
Feature Photo: Universal