Universal Reveals Its Hidden Plan for Epic Universe
Universal Orlando Resort is currently building a third theme park, although executives will refer to it as a fourth one.
Universal counts its immersive water park, Universal's Volcano Bay, as a third park as well. Of course, that's not really how it works, but there's a purpose here.
Universal Studios has always lived in the shadows of another Orlando theme park, Walt Disney World.
However, for only the second time ever, Universal owns the momentum in this constant battle for tourists.
Not content with its current success, the company wants more, too. For this reason, Universal has revealed its hidden plan for Epic Universe.
Let's talk about what park officials want to accomplish here and how it could massively increase park revenue.
Universal's Early History
Orlando, Florida, has become the theme park mecca of the east coast…or anywhere else in America, really.
In 1971, The Walt Disney Company opened Walt Disney World, which turned Orlando into an in-demand tourist locale.
By 1973, SeaWorld Orlando had joined the race for tourist dollars. Meanwhile, Universal Studios wouldn't follow until 1990.
To a certain extent, Universal has played catch-up for more than 30 years since then.
While the park's motto has always been, "Ride the movies," it's not even the first movie-themed park in Orlando. That honor goes to Disney's Hollywood Studios, which opened in 1989.
Disney and Universal raced to open first. Universal focused on building high-quality rides from the start, while Hollywood Studios emphasized shows.
However, Hollywood Studios represented just one of three different theme parks. So, it possessed a massive competitive advantage from the start.
Meanwhile, there was nothing else like SeaWorld in the south. For a time, Universal represented the third choice among theme park tourists in Orlando.
Realistically, Universal vied for scraps from guests seeking more than just a Disney vacation.
Everything changed when Universal's Islands of Adventure opened the first The Wizarding World of Harry Potter.
That park opened in 1999, but its attendance proved lackluster for a decade. Then, the arrival of Harry Potter increased park visits by 65 percent in a year.
Exponential growth like that borders on unprecedented in the tourism industry.
In fact, viral videos of long lines for Harry Potter also worked as a free advertising campaign for Universal Studios.
Overnight, the parks became relevant throughout society, not just among loyal Universal Studios fans.
The popularity of The Wizarding World of Harry Potter proved instructive. It also explains what's happening right now.
Universal's Expensive Upgrade
In case you've been living under a rock, Universal is currently building another theme park in Orlando. That's not the big story, though.
Epic Universe promises to be the most ambitious project in company history, which is saying something since Universal Studios Hollywood dates back roughly 60 years.
Comcast, the corporate owner of NBCUniversal, will spend at least $1 billion on the project. I suspect that's a lowball number as well. These projects almost always experience cost overruns.
Meanwhile, as we've discussed, Comcast currently lists a debt of $175 billion, a staggering amount. That's nearly the gross national product of Greece. It's an incomprehensible number.
A company carrying that much debt would only expand if it were sure to earn back the revenue. And that's the essential point in this discussion.
Comcast is spending $1 billion on Epic Universe as a tactic, a ploy. The idea here is that the current incarnation of Universal Orlando Resort faces a fundamental flaw.
When you vacation here, how long do you usually stay? For most guests, the answer is three or four nights.
In fact, an often-quoted statistic about Orlando is that most American travelers spend five nights in town during a vacation.
Meanwhile, international travelers hover in the 7-10-night range. By the time Epic Universe opens in 2025, international travel should be back to pre-pandemic standards.
At that point, park officials believe they can monetize Universal Orlando Resort differently than they have until now. Here's the plan…
Universal's Plan for Epic Universe
The most popular tickets for the current Universal Orlando Resort options are three- and four-day tickets.
That's because guests want to spend one day in each park. Some take an extra day to go back and revisit their favorites, which explains the fourth day.
Yes, some guests spend even longer at the parks, but it doesn't happen as often as Universal executives would like.
For this reason, Epic Universe represents a bold attempt to extend overall Universal vacation time.
Think about the situation like this. A three-night stay indicates that the average guest spends less time at Universal than the overall citywide average.
A difference of three nights vs. four-and-a-half nights may not seem like much to you, but it's 50 percent more business for Universal.
That's the deficit gap because people don't have enough to do at Universal Studios relative to Walt Disney World, which operates four theme parks, two water parks, and other stuff.
Universal's Volcano Bay extended the amount of time that guests spend on the Universal campus. However, it only did so by part of a day on average.
Universal officials had hoped for a full day's worth of average gains. Those projections proved too optimistic, though, and Universal currently sits at a four-night average.
Now, executives have acquired the land for a massive new theme park, one that will consist of four themed lands.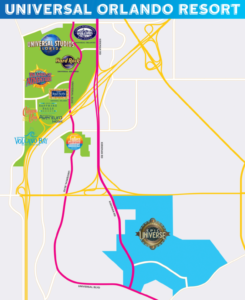 Each of them holds a core appeal as a standalone intellectual property. So, Universal will sell itself to entirely new audiences. And we'll get the best Wizarding World to date as well.
In the process, Universal will add the first new theme park in Orlando since 1998! Yes, it's been a quarter-century since Disney's Animal Kingdom arrived.
That's a massive vacuum as well as an opportunity for Epic Universe.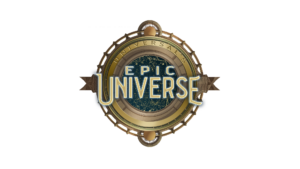 The New Universal Vacation
Epic Universe will stand apart as the new hotness, probably for several years.
For this reason, park officials project that Universal Orlando Resort will exceed the average tourist stay for the first time ever.
When this park opens, guests should spend at least two more nights per Universal vacation. That'll bring the average up to the range of six nights.
Again, the difference between four and six nights may not sound like much, but it's 50 percent more revenue per vacationer.
At that rate, you can imagine how quickly Epic Universe will pay for itself!
The hidden plan for Epic Universe has nothing to do with the park. Instead, it's more about tourist behavior and enticing people to spend more time per stay.
Presuming that Epic Universe is great – and it absolutely should be – Universal will have finally matched Walt Disney World in one vital way.
The Universal campus will offer enough attractions and amenities to justify a weeklong vacation for guests.
If/when that happens, Universal squarely establishes itself as the number two brand in themed entertainment.
For this reason, the fate of Epic Universe also determines the success of the next decade for Universal Studios.
Thanks for visiting UniversalParksBlog.com! Want to go to Universal? For a FREE quote on your next Universal vacation, please fill out the form below and one of the agents from Let's Adventure Travel will be in touch soon!
Feature Photo: Universal