Seven Reasons to Stay at Hard Rock Hotel Orlando
When you visit Universal Orlando Resort, where you stay matters.
At some resorts, you'll spend so much time traveling to the parks that you won't enjoy your vacation as much.
That's why you should always stay at an official Universal Studios hotel. And I have a strong opinion about which is best.
Here are seven reasons to stay at Hard Rock Hotel Orlando.
The Theming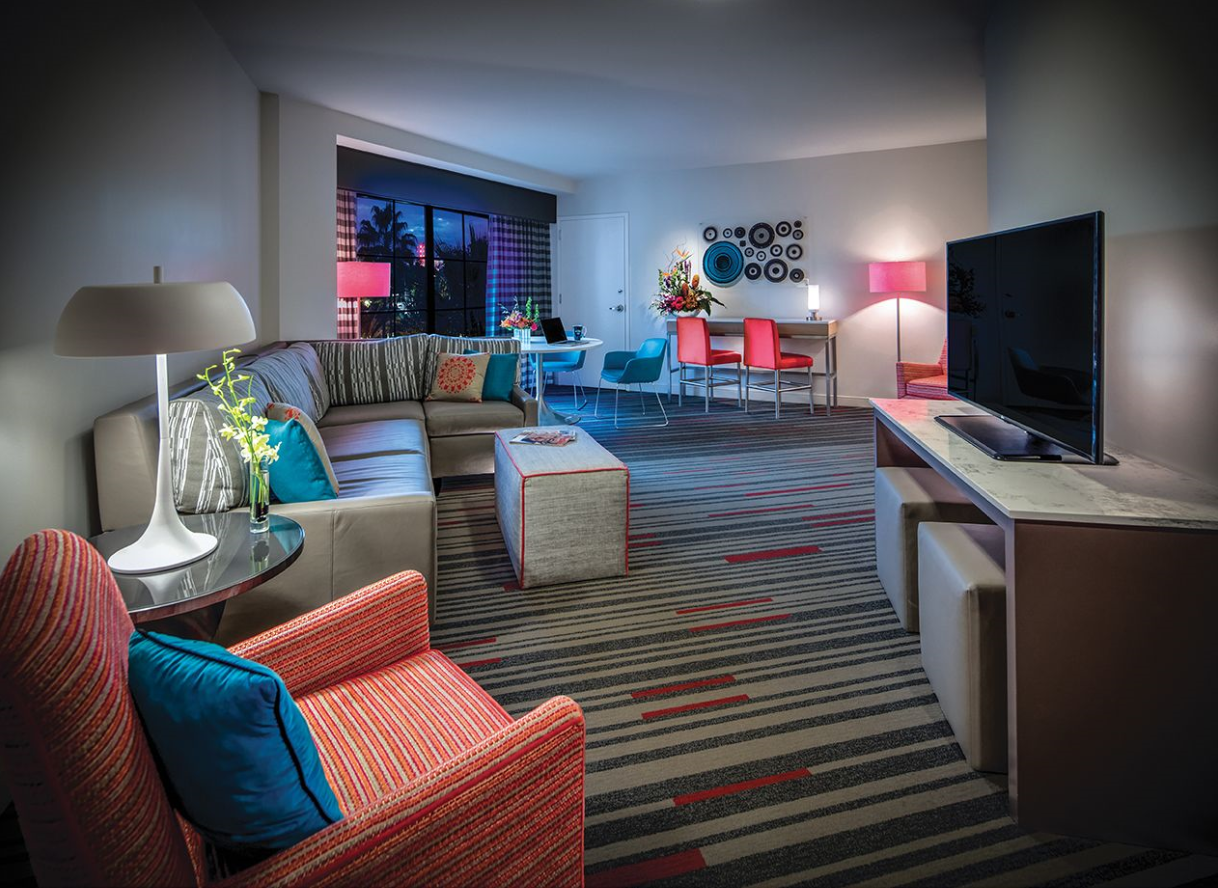 I presume that you're at least somewhat familiar with the Hard Rock brand, but have you ever walked through one of their hotels?
These buildings double as cathedrals for rock music. History is everywhere as you stroll through the halls.
There's a copy of the actual platinum album award that Prince received for Purple Rain here!
You'll find all sorts of musical instruments and other rock artifacts here.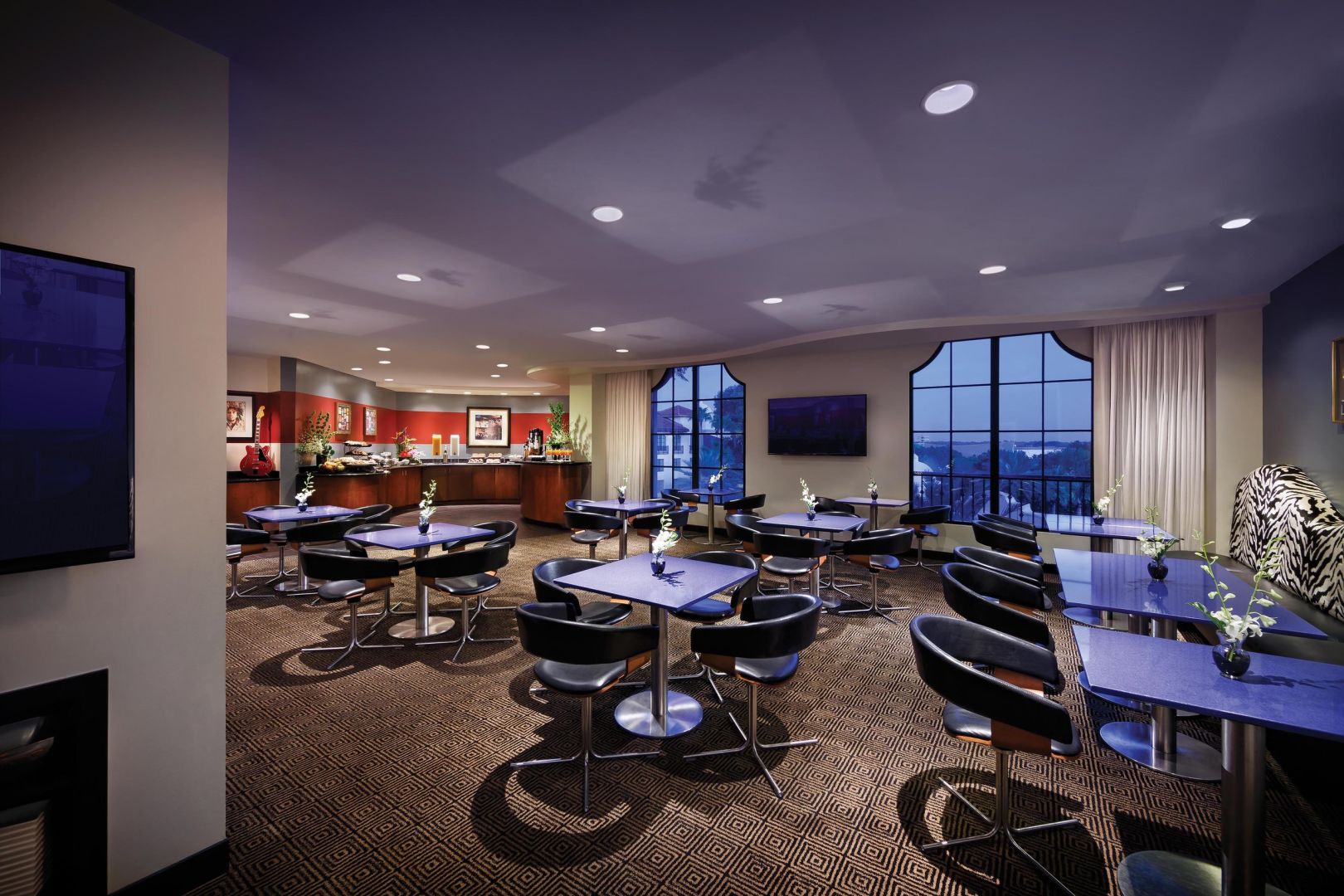 The music literally comes through the walls here, as speakers are built into the facility.
I'm not joking when I say that you'll hear rock music while you're swimming at the pool! It's a constant here.
This is THE Hard Rock Hotel, and you'll know that when you visit.
The Pool
I previously mentioned an oddity of this pool. It is 100 percent true that Universal added speakers so that you hear music while you're underwater.
That's only a small part of what makes this pool great. It's 12,000 square feet large and comes with a whopping 260-foot slide.
Universal has constructed this entire area as one giant vacation distraction.
You'll also find two hot tubs and a sand volleyball court here.
Yes, there's sand near the pool! You'll feel like you're at the beach, not a short walk from The Wizarding World of Harry Potter!
Finally, I'll mention that Universal hosts the "Dive-In Theater" here at least once a week.
That's an event where the swimmers get to watch a movie on a giant projector screen while they take a dip in the pool!
I've done this a couple of times, and it's magical.
The Dining
I'll start by acknowledging the obvious. Many people won't even think about eating at the hotel.
That's true because Universal CityWalk Orlando is such a short walk away from the resort.
Still, you can save yourself a bit of walking – which is always smart during a theme park vacation – by eating at Hard Rock Hotel!
The Kitchen and Emack & Bolio's Marketplace are ideal when you want to grab and go.
On nights when you want something fancier, The Palm serves the finest steaks this side of New York.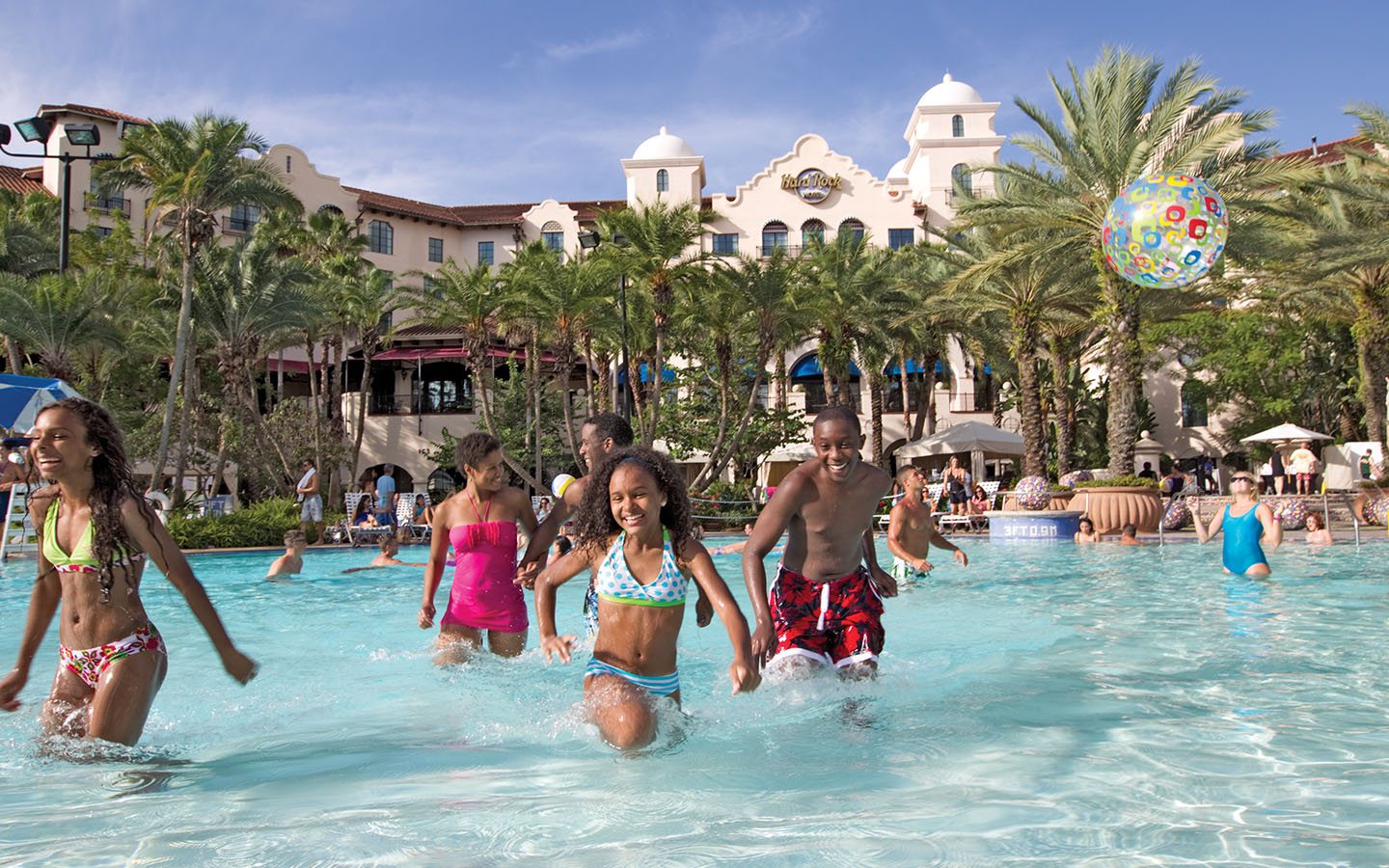 When you want to eat by the pool, beachclub bar and grill will serve you even if you're wearing a bathing suit!
Of course, you may simply prefer to order room service. The menu here is pretty decadent.
The Free Transportation
Universal offers free boat transportation to and from the parks.
Hard Rock Hotel offers free shuttle service and water taxis to Universal Orlando Resort.
You can also walk as well, and I must say that the scenery along the way is lovely.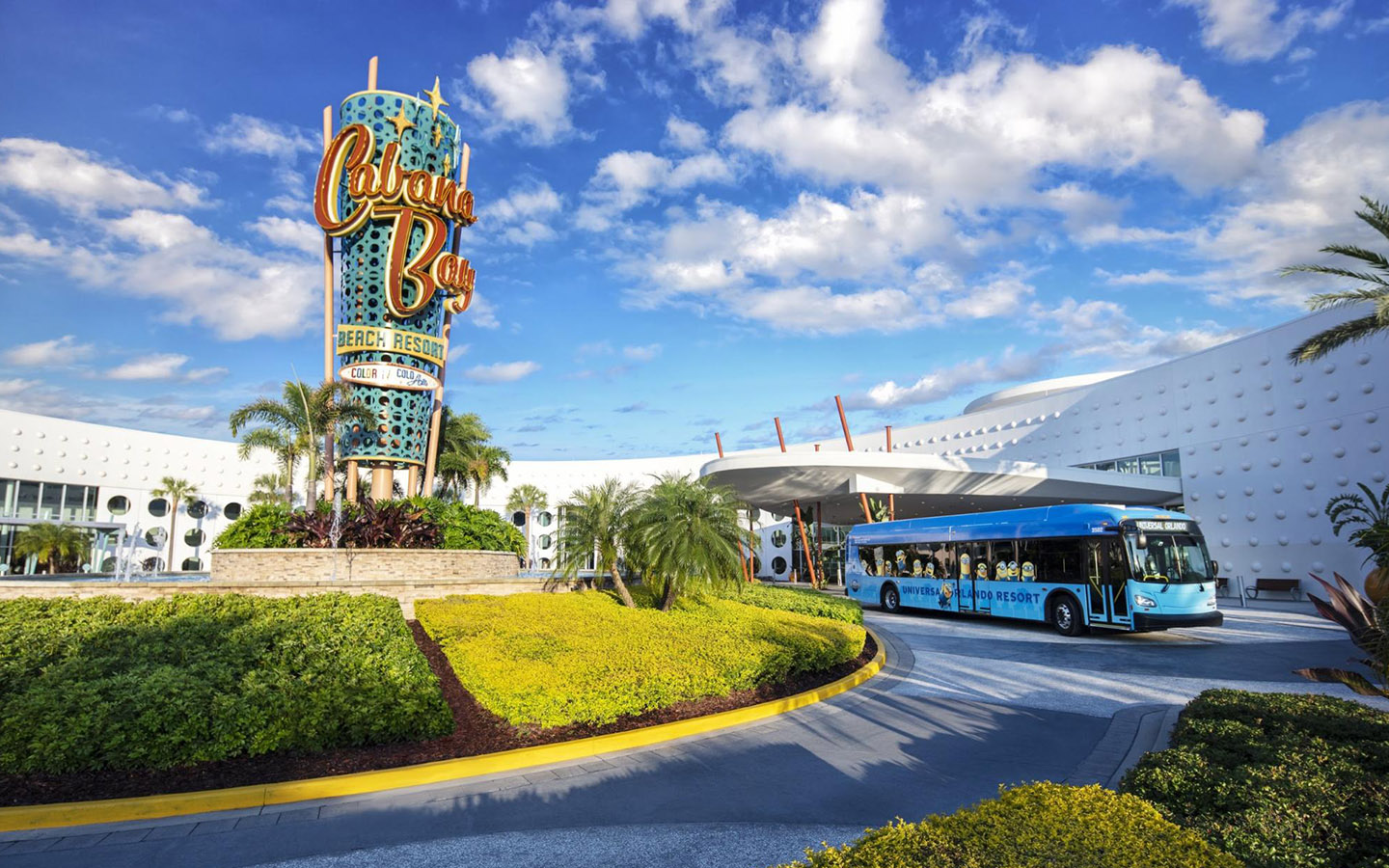 Oh, and you'll find a hidden bonus to staying so close to the parks.
You gain early park admission to The Wizarding World of Harry Potter!
So, you can get up early, take a shuttle or water taxi to the park and enter Universal Studios before everyone else!
The Games and Things
Universal has designed this hotel like a summer rock camp for adults.
You'll find all sorts of fun distractions, some of which are available in your room.
Did you know that you can rent one of 20+ Fender guitars via a kind of room service? It's absolutely true!
When's the last time you shredded on your axe? It doesn't matter if the answer is never. You can still fake it with a real guitar!
Outside the room, you'll discover a high-quality arcade…and yes! You can play Guitar Hero here!
Universal has populated the entire Hard Rock Hotel campus with fun and games!
The Resort Is Pet Friendly
What's the worst part of vacationing? You must leave your furry friends at home, right? Not at Hard Rock Hotel!
This resort is pet-friendly and happy to accommodate up to two pets per room. Here are the rules from the official site:
"Your pet(s) should have all recommended vaccinations currently up to date.
You agree to obtain and provide current records from a licensed veterinarian should Hard Rock Hotels request this information from you at any time.
Hard Rock Hotel charges a one-time $100.00 fee for allowing a pet in your room.
Hard Rock Hotel allows a maximum of two pets per room.
Pets should be supervised, leashed or restrained at all times in public spaces in the hotel or on the property."
That's it! For $100, you can keep your pets with you while you visit Universal Studios!
The Universal Express Unlimited Pass
Look, I think I've made my feelings perfectly clear on the subject of Hard Rock Hotel. It's an exceptional hotel for traveling adults.
Somehow, Universal has found a way to make this place even better.
Whenever you stay here, you'll earn a unique amenity, one that's legitimately worth hundreds of dollars.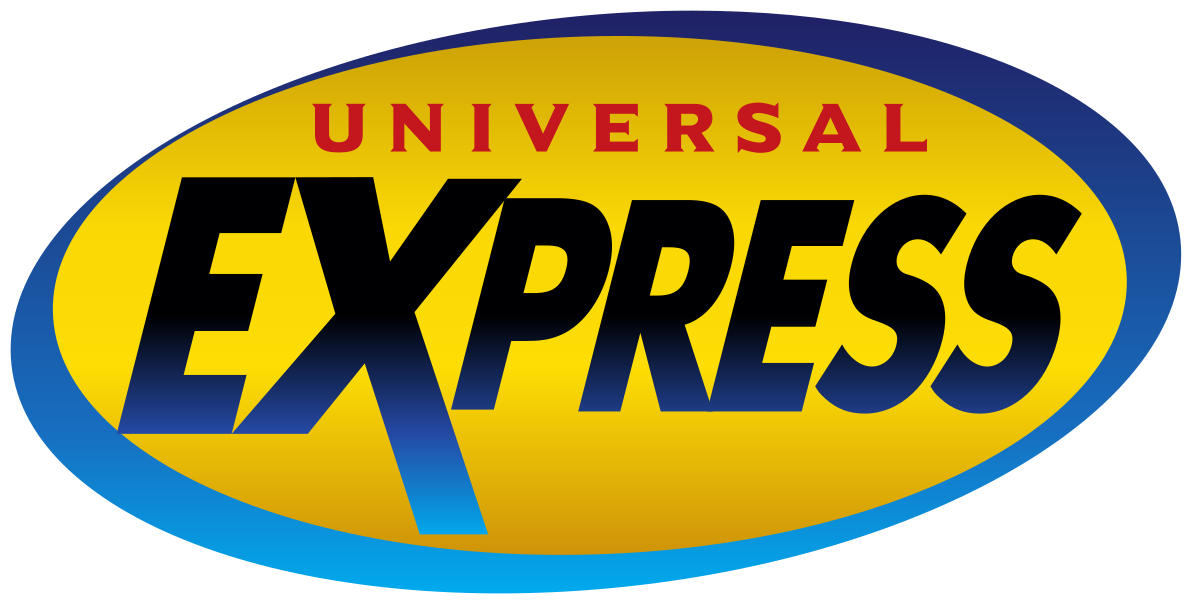 Every member of your traveling party staying in your room will receive a Universal Express Unlimited Pass.
What does that pass do for you? You basically get the run of Universal's theme parks during your visit.
As long as you also own valid park admission, you can skip to the front of the line on most attractions.
I realize that sounds like hyperbole, but it's not. Universal sells the Universal Express Pass to all park guests.
People pay more than $100 a day for this version, which only entitles them to front-of-line access once per attraction.
The Unlimited version ups the ante by providing you with as many rides as you want on all participating attractions.
Universal sells this version to guests for as much as $379.99, but you get it free at the Hard Rock Hotel!
You'll feel like theme park royalty as you explore the parks because you do whatever you want whenever you want!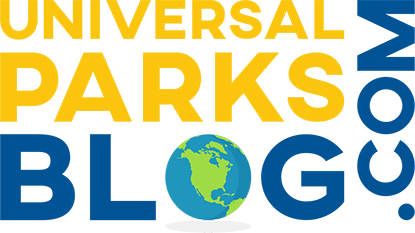 Thanks for visiting UniversalParksBlog.com! Want to go to Universal? For a FREE quote on your next Universal vacation, please fill out the form below and one of the agents from Let's Adventure Travel will be in touch soon!
Main image: Universal