Which Universal Orlando Roller Coaster Is the Best?
Look, we love a lot about our favorite theme parks. However, most of us are there for the thrill rides.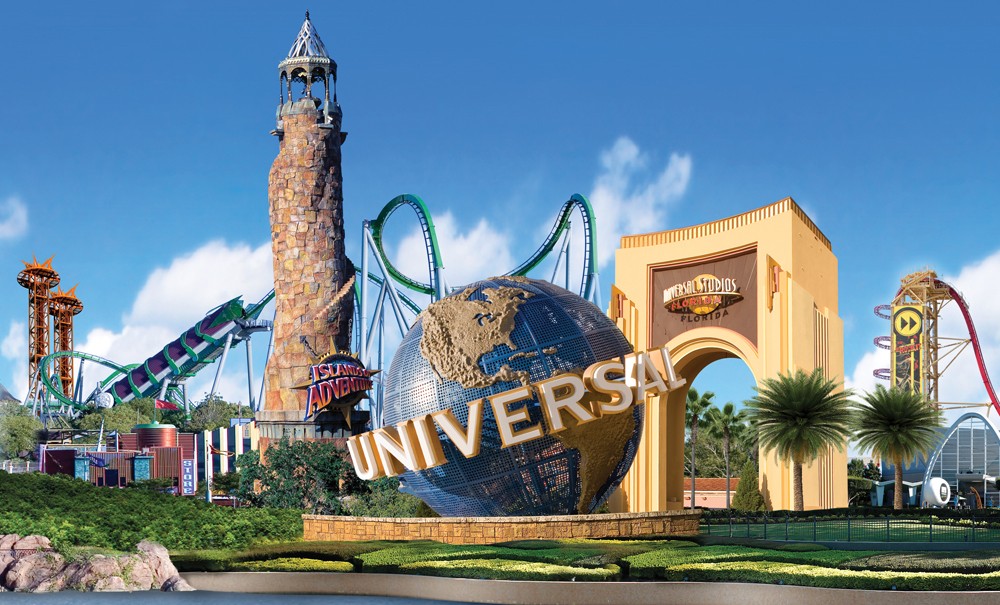 We want the pure joy of zooming at speeds that human legs could never manage. And the best rides for going fast are roller coasters. Period.
At Universal Resort Orlando, you'll have a plethora of options. Here's how I rank Universal's roller coasters.
6) Flight of the Hippogriff
Admit it. You didn't start with the big, bad roller coasters. When you were five, you didn't hop on Millennium Force.
I mean, if you did, I'm impressed, but someone at Cedar Point should be fired.
Instead, you started with the kiddie coasters, the ones that went 20 miles per hour because that was super-fast at that age.
Universal gets this, which explains the presence of Flight of the Hippogriff.
When children get to The Wizarding World of Harry Potter, they'll want to ride anything they can. However, the other Potter rides are a bit intense.
So, Flight of the Hippogriff functions as Easy Mode for the young Muggles in your family.
The coaster's short and quick, and then they can brag to all their friends (and you) that they did it!
5) Harry Potter and the Escape from Gringott's
Okay, I would argue that this one is top-three on this list in terms of ride quality.
Still, I couldn't rank it ahead of the top four because it's not a pure roller coaster. It's a modified version that combines coaster track with dark ride aspects.
In truth, this coaster only uses 2,000 feet of track, which is only 900 feet more than Flight of the Hippogriff.
So, that's the "knock" against it. In every other way, Harry Potter and the Escape from Gringott's is a brilliant ride.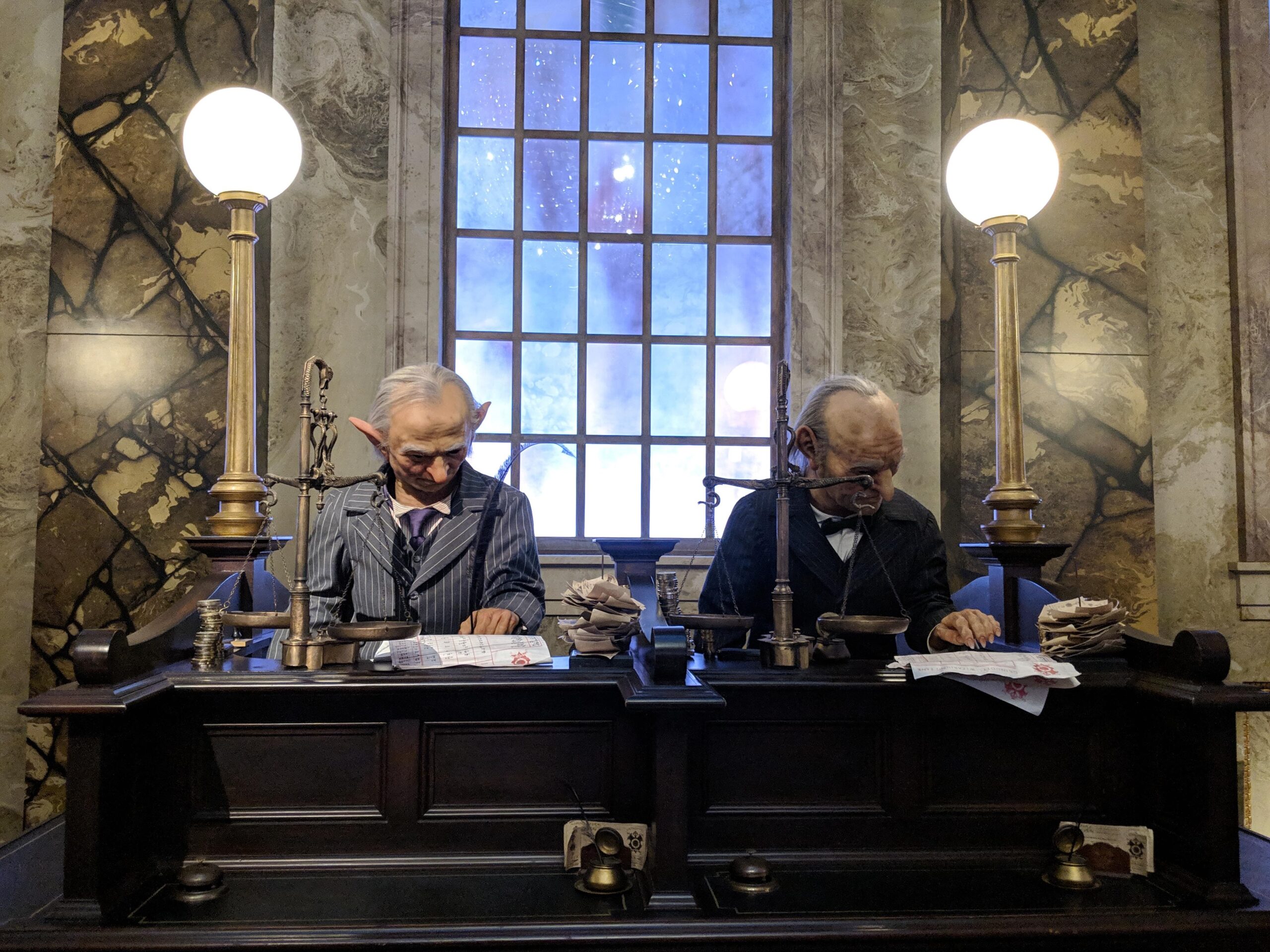 Starting in the line queue (i.e., Gringotts Bank), you feel like you've entered the Potterverse. By the time you encounter Bill Weasley, you buy into the entire story.
For this reason, the escape feels believable and gripping. The only way it could be better is if the coaster cart ran over Bellatrix Lestrange on the way out.
4) The Incredible Hulk Coaster
Really, a Hulk-based coaster only has two requirements. It must be green and scary. Check and check.
The Incredible Hulk Coaster tops out at 67 miles per hour, making it one of the fastest coasters in Florida.
Impressively, the coaster explodes into action by going from zero to 40 miles per hour in roughly two seconds.
The action is insanely smooth thanks to some 2016 modifications. Universal officials removed some rough track and replaced it with state-of-the-art steel.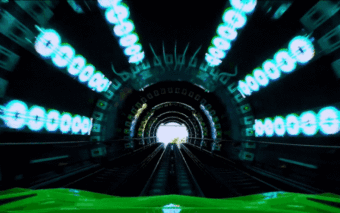 Plus, The Hulk tells a better story now with its line queue, something that was sorely lacking before.
The only criticism I have of this thrill ride is that it's straightforward. Nothing you experience will surprise you…but that's a trivial complaint.
The element of surprise is less critical on roller coasters than the exhilaration of traveling at warp speed. And it's that much better on green tracks!
3) Hollywood Rip Ride Rockit
You'll notice this roller coaster long before you stand in line for it. Universal has constructed a tower that punctures the sky.
The apparatus looks like something NASA would use for a rocket launch. Perhaps that's the point, as this ride behaves similarly.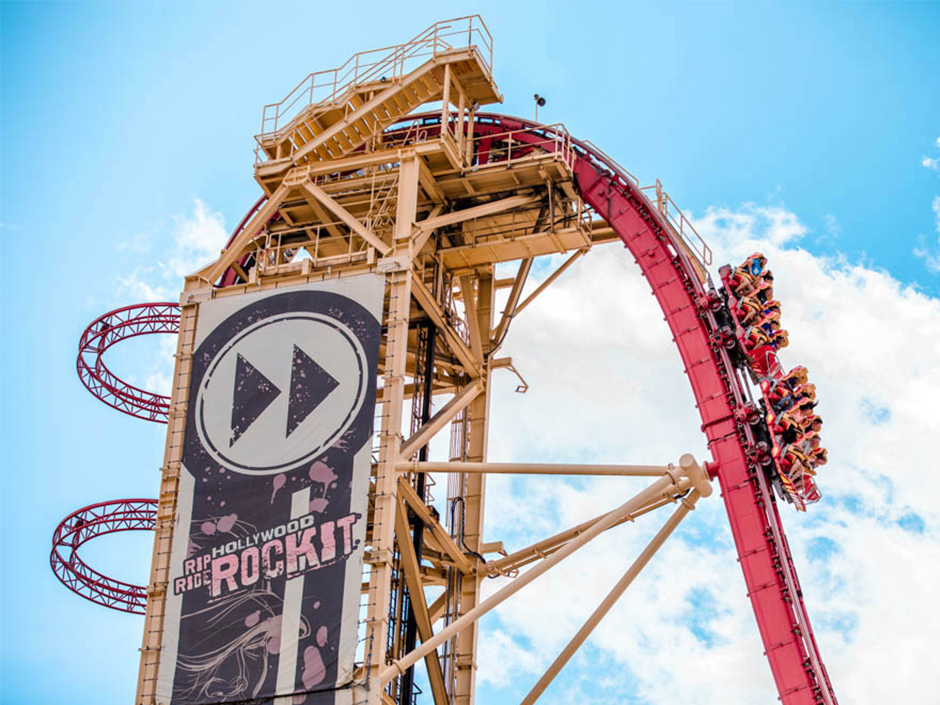 On Hollywood Rip Ride Rockit, you'll go straight up in the air. It's like a disorienting elevator shaft, as your view includes several metal circles above you.
The ride experience starts with a dizzying drop from a height of 167 feet. By the time the track levels, you're already approaching the maximum speed of 65 miles per hour.
However, the velocity represents only part of the thrill. This coaster is high-friction with countless twists and turns to keep your senses off-balance.
Life is a Rollercoaster! for @ronanofficial on the Hollywood Rip Ride Rocket at @UniversalORL ? pic.twitter.com/6S9axz2JzR

— Magic Radio (@magicfm) December 14, 2017
Out of all the rides listed here, this one's the most aggressive. And you get to pick your soundtrack for it, too! You can select one of dozens of songs to provide the musical accompaniment.
2) Revenge of the Mummy
A significant theme park association hosts an annual event called The Golden Tickets. It hands out awards for the best theme park elements each year.
Revenge of the Mummy locked down the Best Indoor Coaster award for so long that The Golden Tickets retired the category. That's a real thing that happened.

The attraction plays out like Indiana Jones Adventure at Disneyland, only you're on a roller coaster that goes MUCH faster.
The ride design combines video elements and set pieces with sharp turns. At one point, you twist 80 degrees to the side. Later, you drop precipitously at a 50-degree slant.
All the while, The Mummy tries to claim your soul, which Universal indicates via audio clips, videos, smoke effects, and fire.
For many years, Disney had Universal whipped with regards to immersion. Revenge of the Mummy proved that the new kids on the block can hang with Disney.
1)    Hagrid's Magical Creatures Motorbike Adventure
At theme parks, newer means better. When a new attraction isn't as good as existing rides, people get fired. And the stakes are higher for Potterverse rides.
When Universal introduced Hagrid's Magical Creatures Motorbike Adventure, the ambition was unmistakable. In fact, opening day was kind of a debacle.
Some guests waited in line for 14 hours, only to get turned away rather than experience the roller coaster.
The demand was outrageous because word spread during testing for the attraction.
Buzz suggested that it's the best roller coaster in the southeast as well as the greatest Potterverse attraction to date.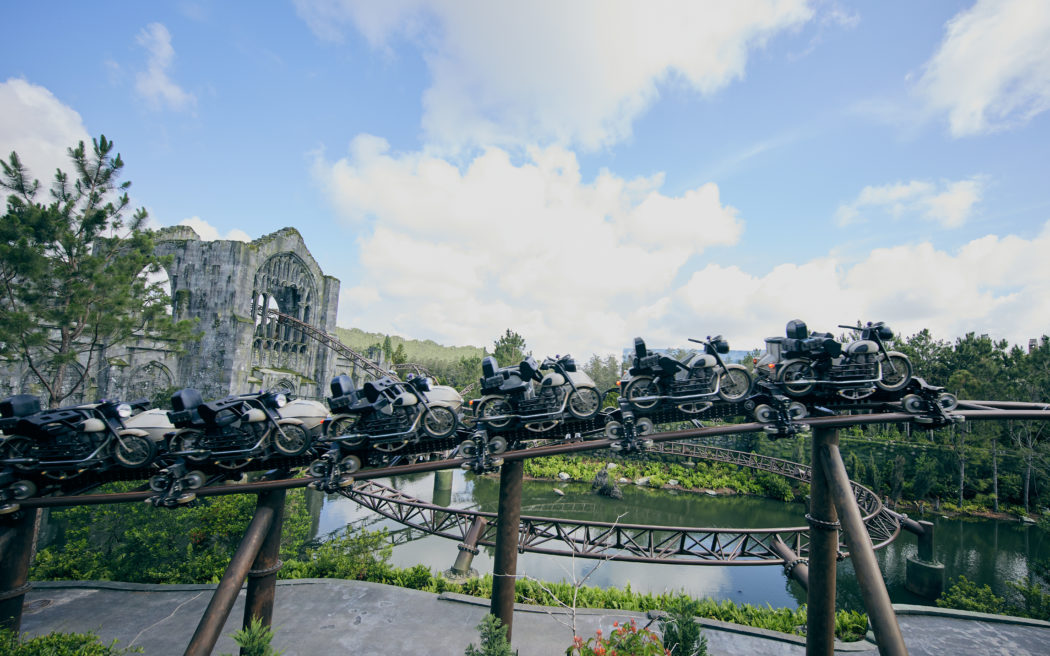 Unlike Flight of the Hippogriff, this one isn't a Potter-themed ride in name only. Hagrid's voice is in your ear throughout the attraction.
Also, you'll notice some of those magical creatures as you tear down the tracks.
Of course, the best part is the ride design. These novel coaster carts combine a driver's set and a cab, giving two entirely different ride sensations.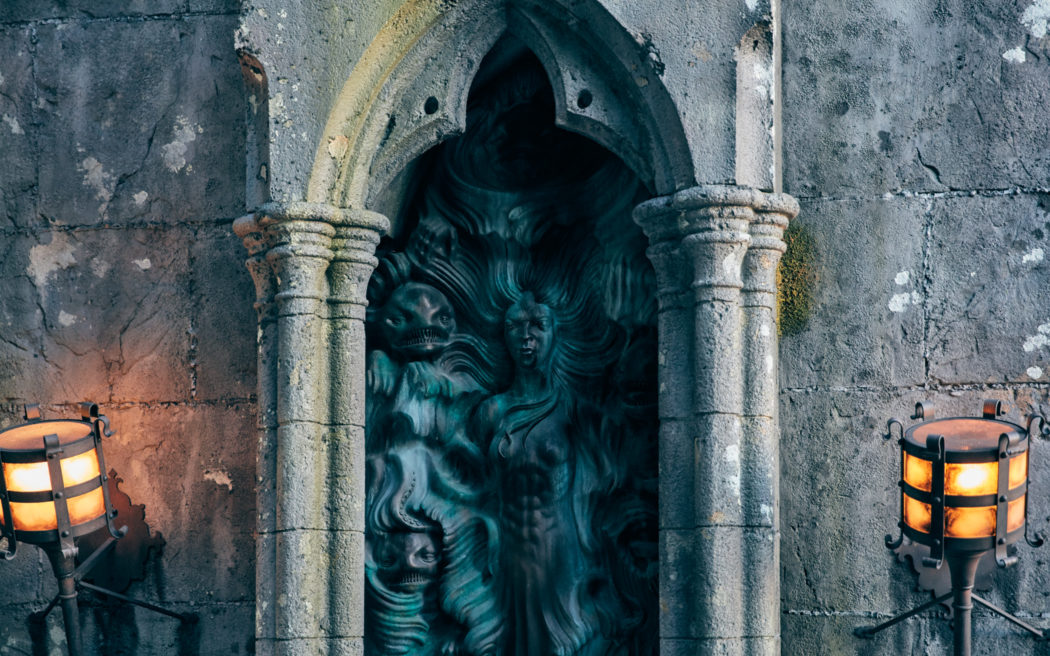 Where you sit matters on Hagrid's roller coaster. And when you ride it does, too. This ride is somehow much better in the dark of night.
Universal operates several great coasters, but Hagrid's in his own class for now.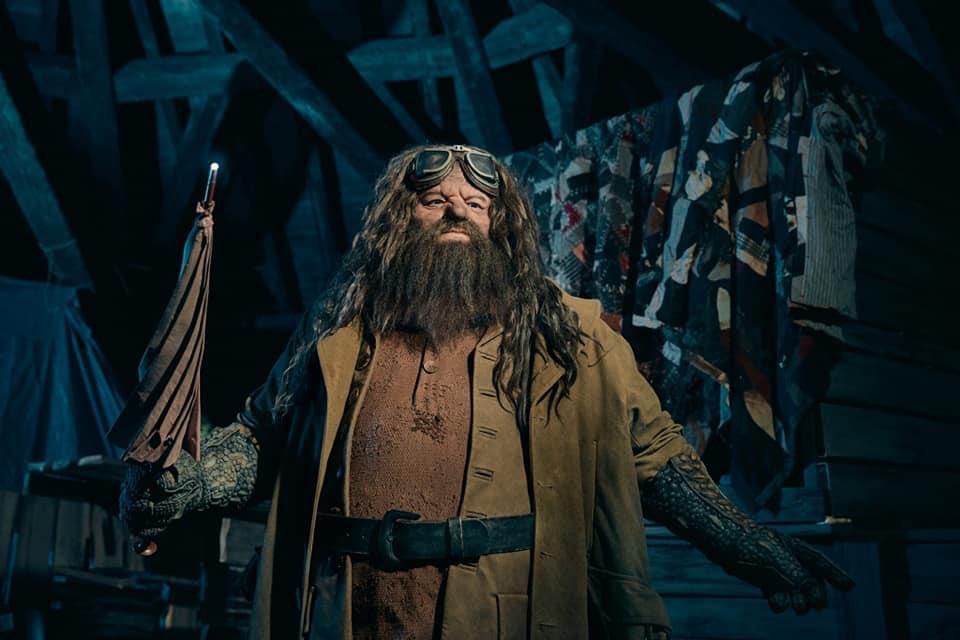 Feature Image Rights: Universal
Thanks for visiting UniversalParksBlog.com! Want to go to Universal? For a FREE quote on your next Universal vacation, please fill out the form below and one of the award winning agents from Let's Adventure Travel will be in touch soon!