Best Universal Rides Based on Movies
If you know anything about Universal Studios, you know that the theme park embraces Hollywood.
Many of the earliest signature attractions explored concepts from Universal Pictures and other film studios.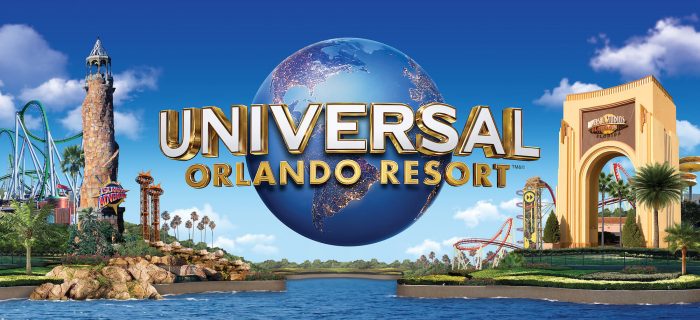 Even though Jaws and Backdraft don't have a significant park presence these days, the same tactics remain.
Here are the best Universal Orlando Resort attractions that are based on movies.
Despicable Me: Minion Mayhem
First of all, let's establish some rules. Nothing counts if the ride existed before the movie was out in theaters.
This simple rule wipes out some classics like The Amazing Adventures of Spider-Man and The Incredible Hulk Coaster.
I also arbitrarily limited the number of Harry Potter rides. Otherwise, they could have comprised half the list.
As for Despicable Me: Minion Mayhem, the ride masterfully implements many of the ideas from the film franchise.
In Despicable Me, a supervillain accidentally winds up raising three adorable adopted daughters.
The youngest of them, Agnes, is the world's sweetest child. Over time, she wins over her new father, Gru, and the four of them become a family.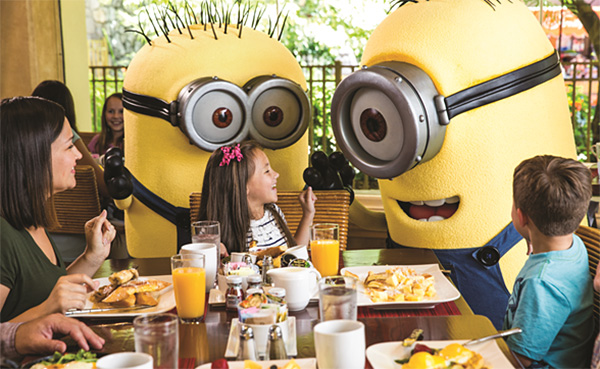 During Minion Mayhem, the girls celebrate their adoption anniversary, but things fall apart, as usually happens when Minions get involved.
The slapstick nature of the cartoon comes across brilliantly in 3D. This ride's pure joy.
E.T. Adventure
I mentioned a couple of movies that no longer have a presence at Universal Studios.
When the park opened in 1990, E.T. Adventure proved more popular than the rest of the attractions.
There's an impostor among us! pic.twitter.com/JbfUwYu7n5

— Universal Orlando Resort (@UniversalORL) October 6, 2020
Over time, the ride has grown into the unofficial mascot for the entire park.
E.T. Adventure plays out somewhat like Peter Pan's Flight in that your ride cart sweeps you into the air and never lets you down until the story ends.
The E.T. ADVENTURE ride at Universal, and a poster for the attraction by Drew Struzan. pic.twitter.com/Cut7VTIMub

— WEIRDLAND TV (@WeirdlandTales) December 28, 2019
Along the way, you'll encounter a giraffe-necked alien with a glowing finger. You'll adore him.
More importantly, you'll get so invested that you'll care about his safety.
Arthur Miller and Marilyn Monroe's souvenir ride photo from Universal Studio's 'The E.T. Adventure'. pic.twitter.com/xrpU8KjtIA

— The Disney Delete (@TheDisneyDelete) September 10, 2020
E.T. Adventure is the most Disney of all Universal Studios rides, and I mean that in the best possible way. It's perfect.
Harry Potter and the Escape from Gringotts
Okay, I had to make some choices with the Harry Potter attractions, and here's what I decided.
I selected one Potter ride per park – kind of – and only considered the ones based off of movie scenes.
So, Hagrid's Magical Creatures Motorbike Adventure was off the table, and Harry Potter and the Forbidden Journey didn't really fit, either.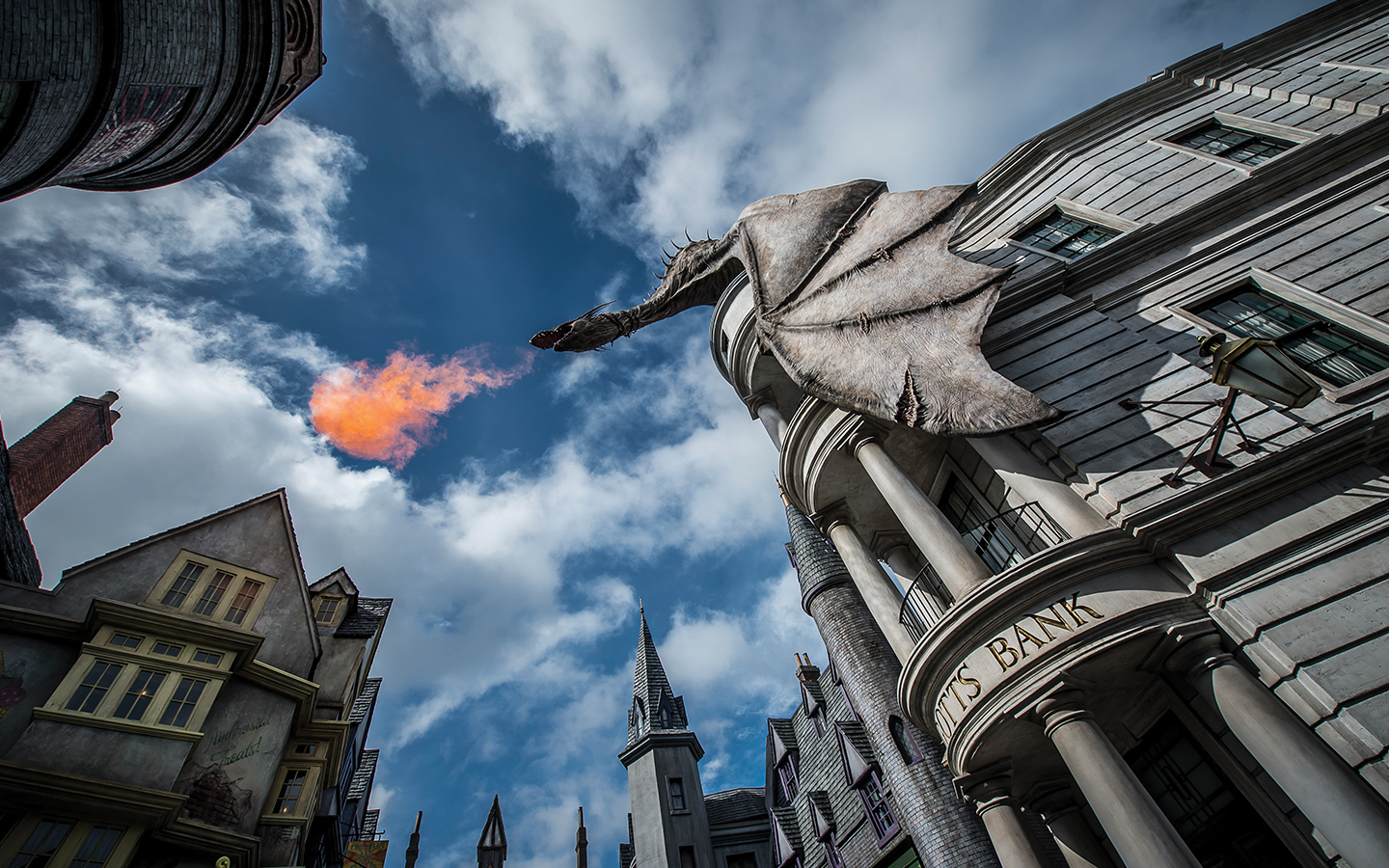 By process of elimination, Harry Potter and the Escape from Gringotts deserves the nod from the Universal Studios Florida side of the park.
This ride dutifully details the excitement at Gringotts bank when Harry Potter and his friends, Hermione and Ron, infiltrated a vault.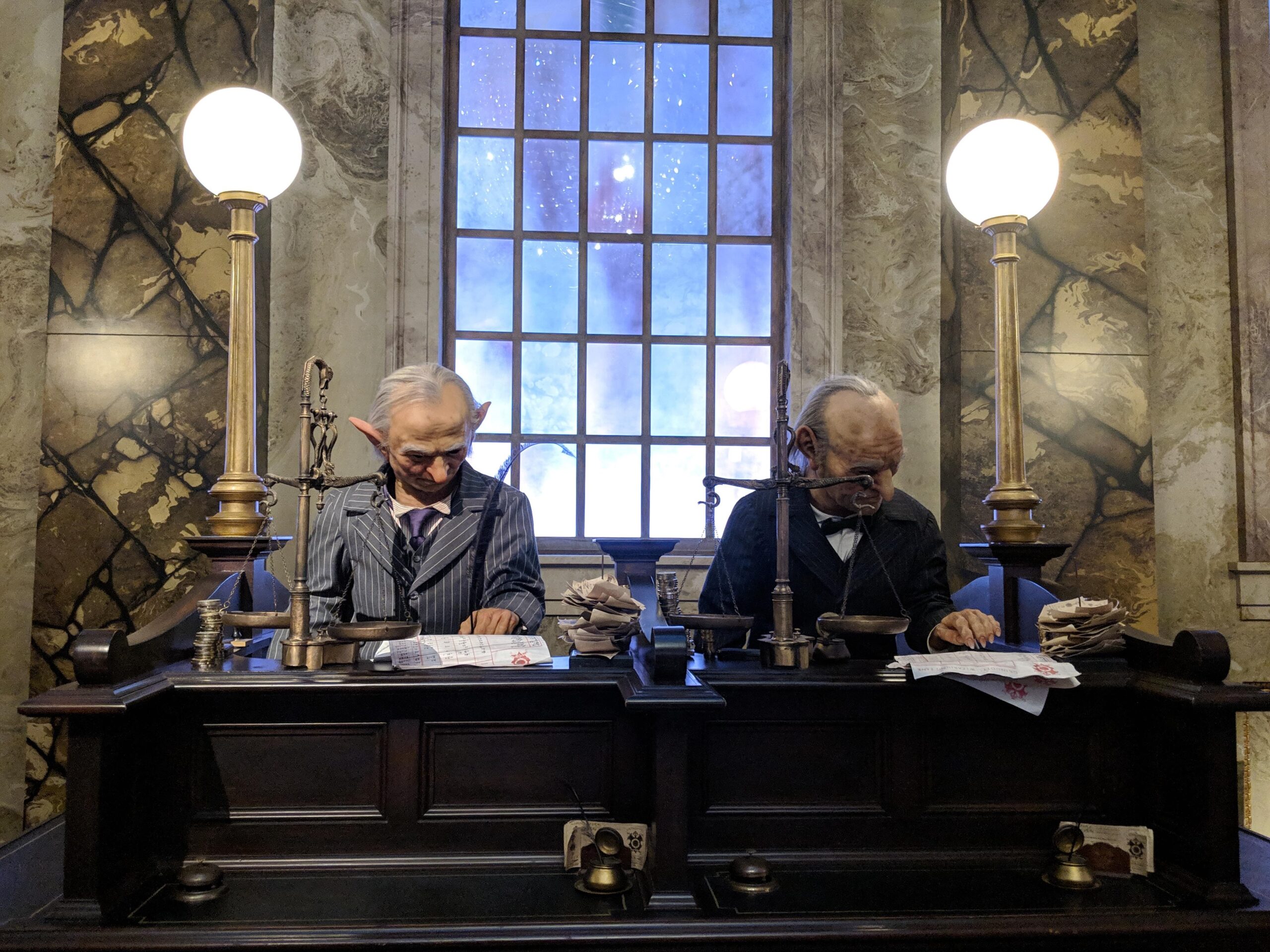 You only witness this (righteous) crime in short bursts, though. You're on your own adventure, as Bellatrix Lestrange has decided she hates you.
Oh, and He Who Shall Not Be Named takes a few shots at you, too.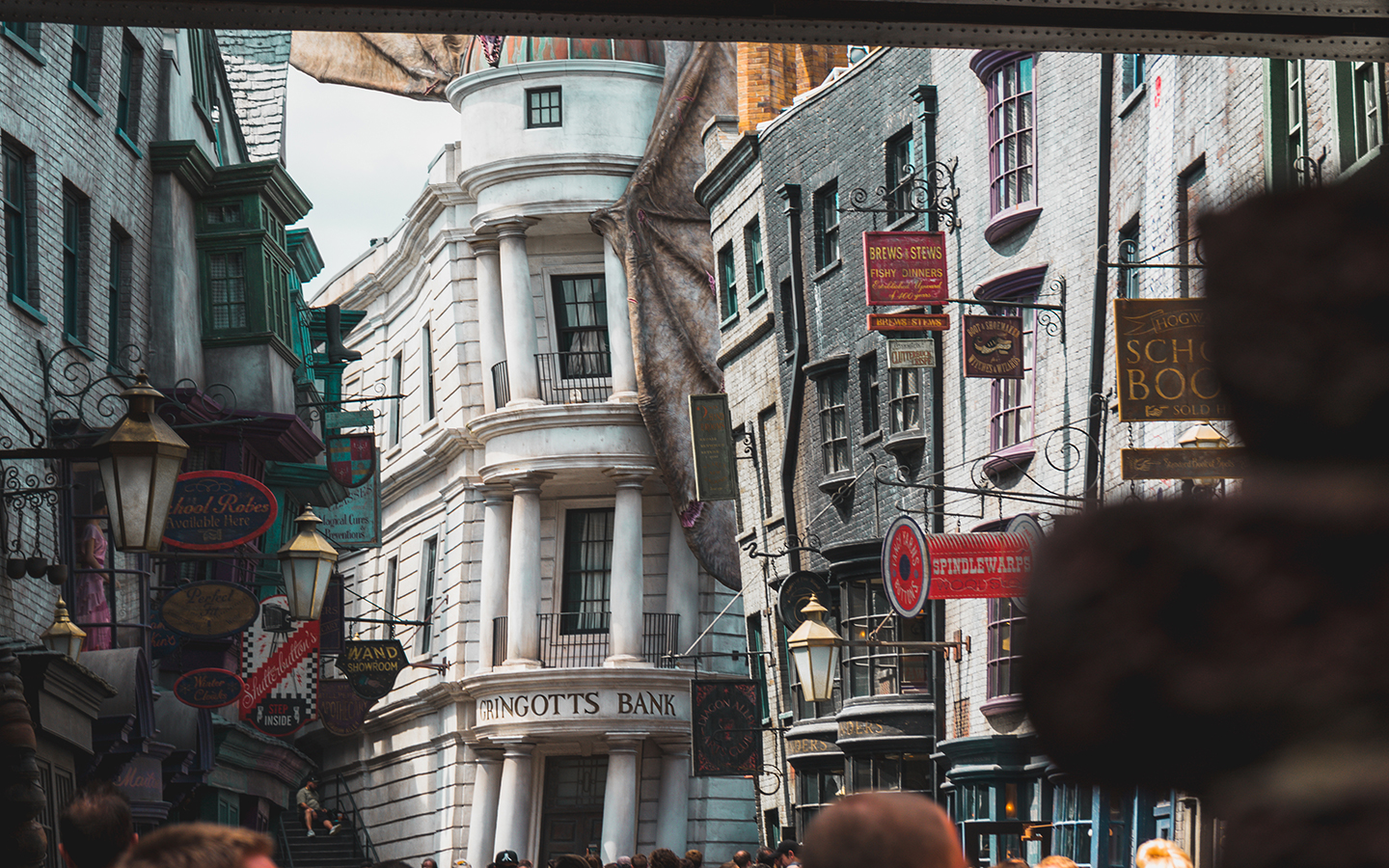 This ride is thrilling enough on its own, but the Harry Potter story turns it into something remarkable.
Hogwarts Express
Other Harry Potter attractions receive all the headlines, but Hogwarts Express offers the most utility AND the best storytelling.
This train ride combines form and function, as you take it to switch Universal parks.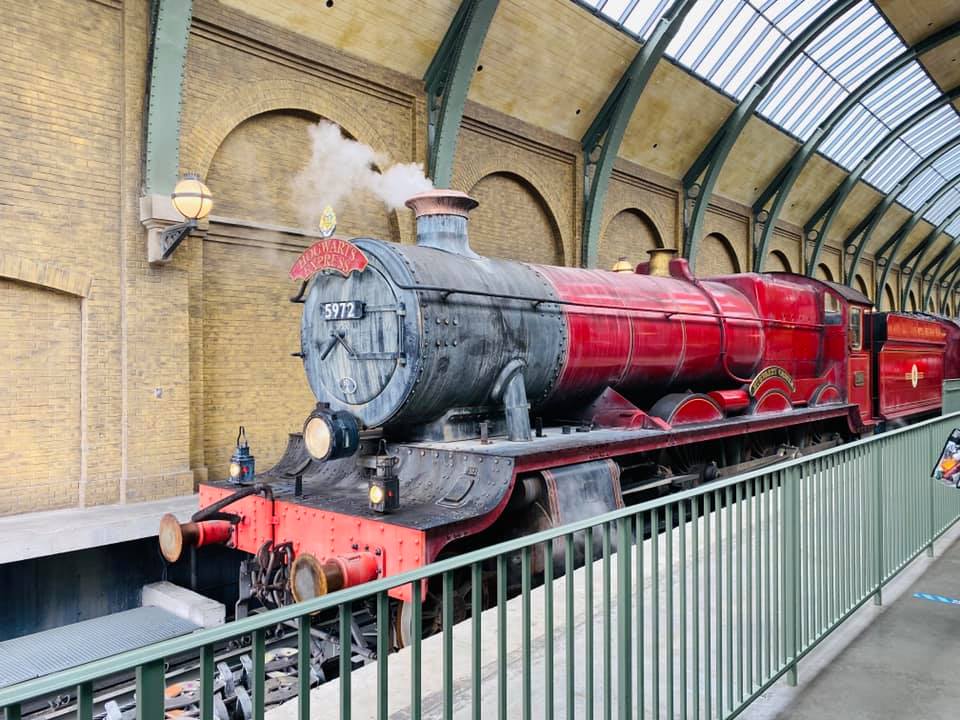 The best way I can describe it as the monorail, only with a story…which is an idea Disney should have had.
You'll take Hogwarts Express from Universal's Islands of Adventure to Universal Studios Florida or vice versa.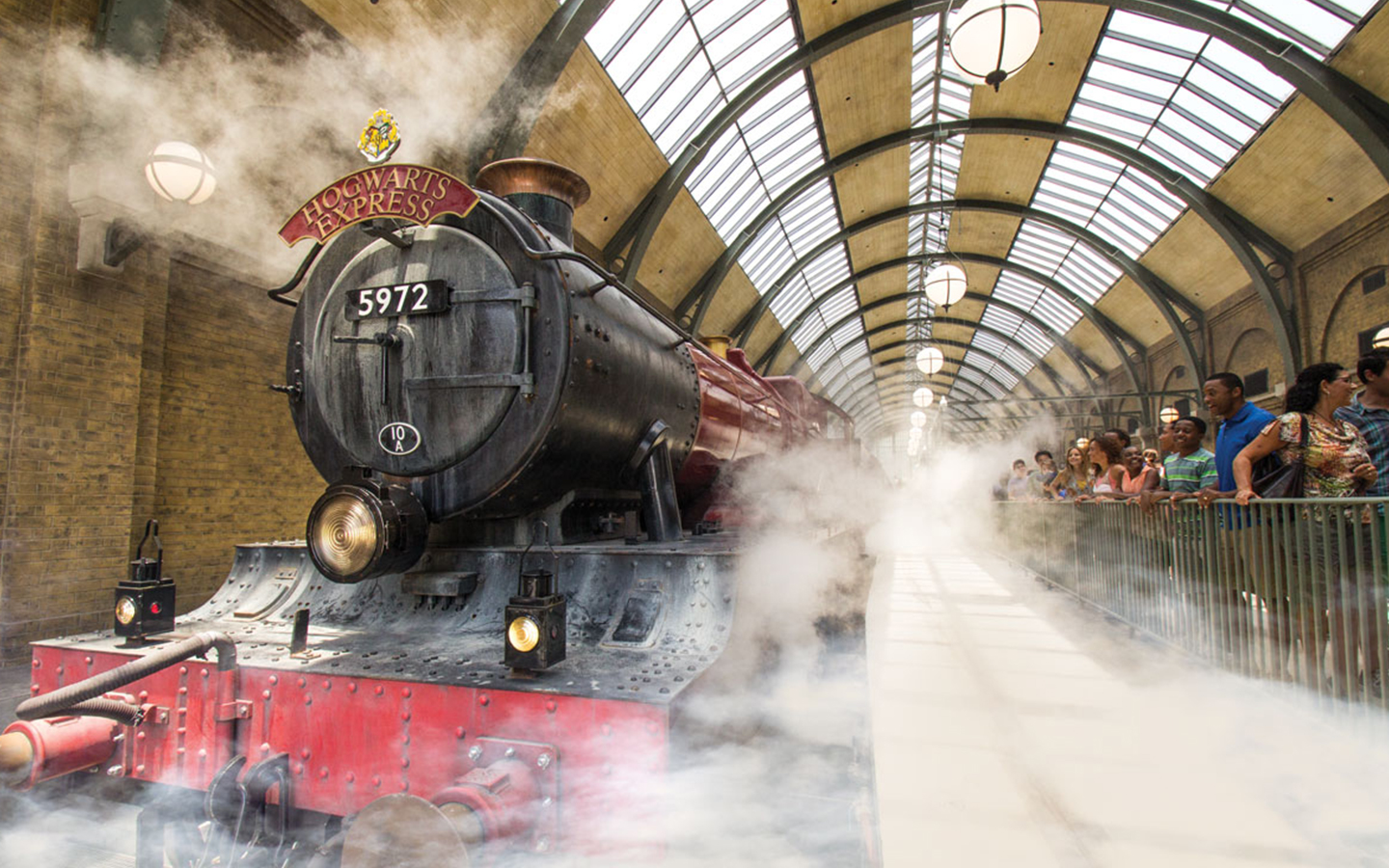 The story differs each way, meaning that it's really two rides in one.
Whichever way you're going, you'll watch as Harry, Hermione, and Ron outwit Death Eaters and Dementors on the way to their school.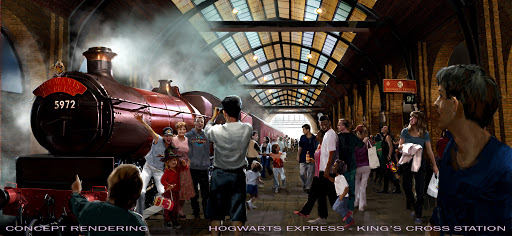 Being a high school wizard seems fundamentally unsafe, doesn't it?
Jurassic Park River Adventure
Sometime next year, Universal will unveil its upcoming Jurassic Park roller coaster.
Even after that, the best Jurassic Park attraction at Universal will remain Jurassic Park River Adventure.
The theming on this one cannot be topped, as it mirrors the movie marvelously.
At the start, you're admiring the wonders of a theme park where dinosaurs roam the land.

Then, you're realizing the flaw with the plan once the safety measures fail. At that point, you're trapped with a bunch of annoyed dinosaurs.
Perhaps no ride at Universal better reflects its movie than Jurassic Park River Adventure.
Men in Black: Alien Attack
Early in the original Men in Black, Will Smith auditions for his new gig by taking a series of tests.
The written portion of the exam doesn't go well, but he aces the physical part.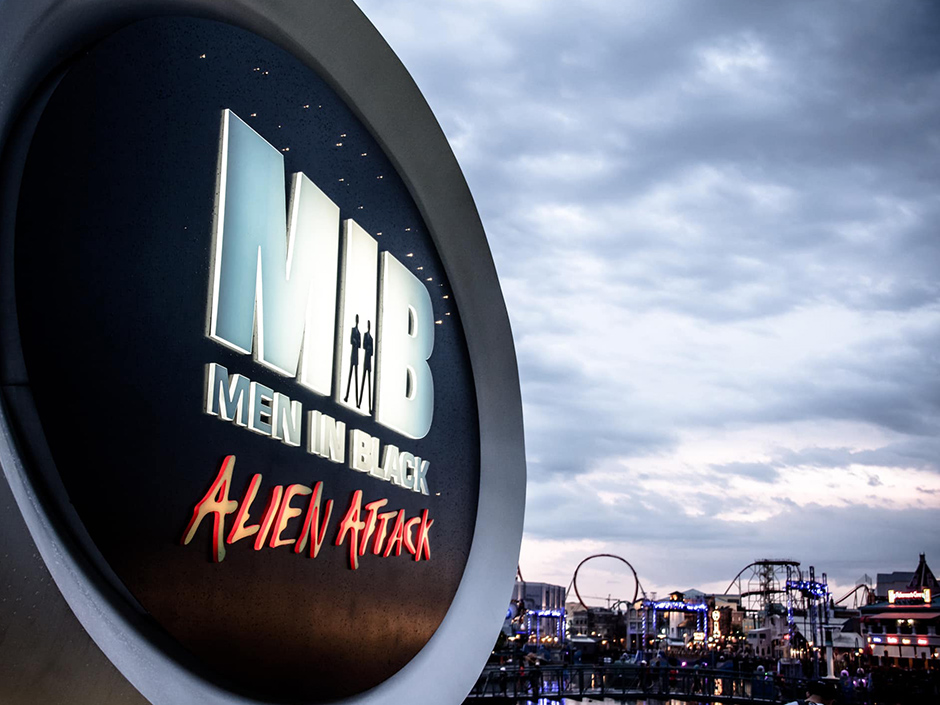 Smith's character, Agent J, watches any number of aliens before deciding to shoot at the least threatening target. And he's right.
That little girl is reading physics books waaaaay beyond her age group.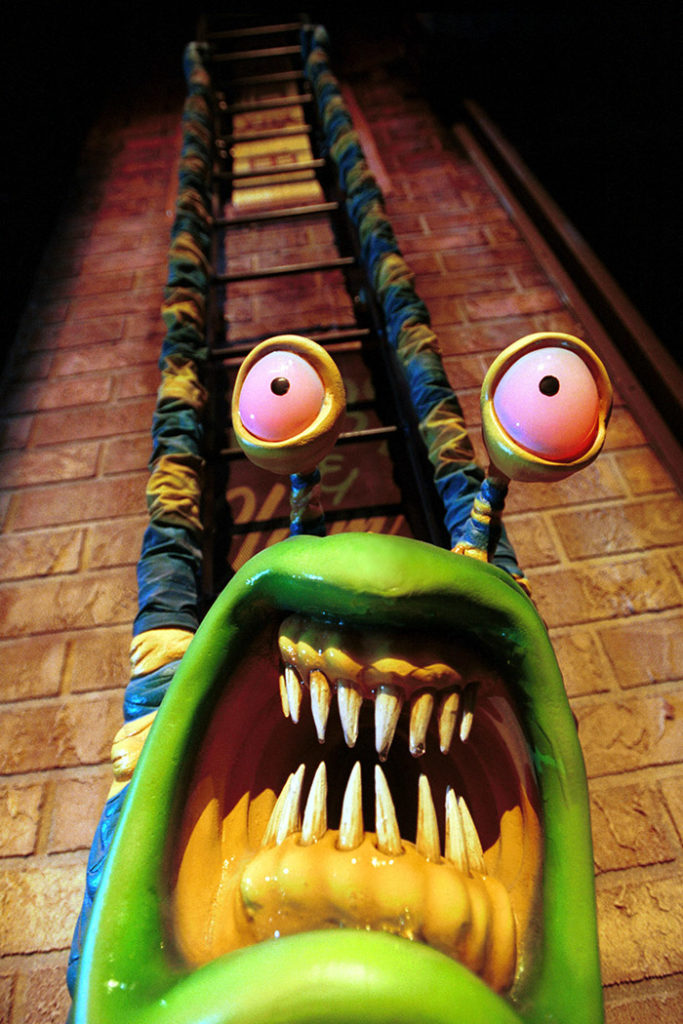 Men in Black: Alien Attack tests you in the same way. The entire ride is basically an extended version of that one scene from the movie.
You've got an MIB gun…type…thing, and you ride through a bunch of dark alleys and city streets.
All the while, you must target aliens who seemingly appear out of nowhere.
Think of the ride as a higher-stakes version of Buzz Lightyear Space Ranger Spin, only more thematically in line with its movie.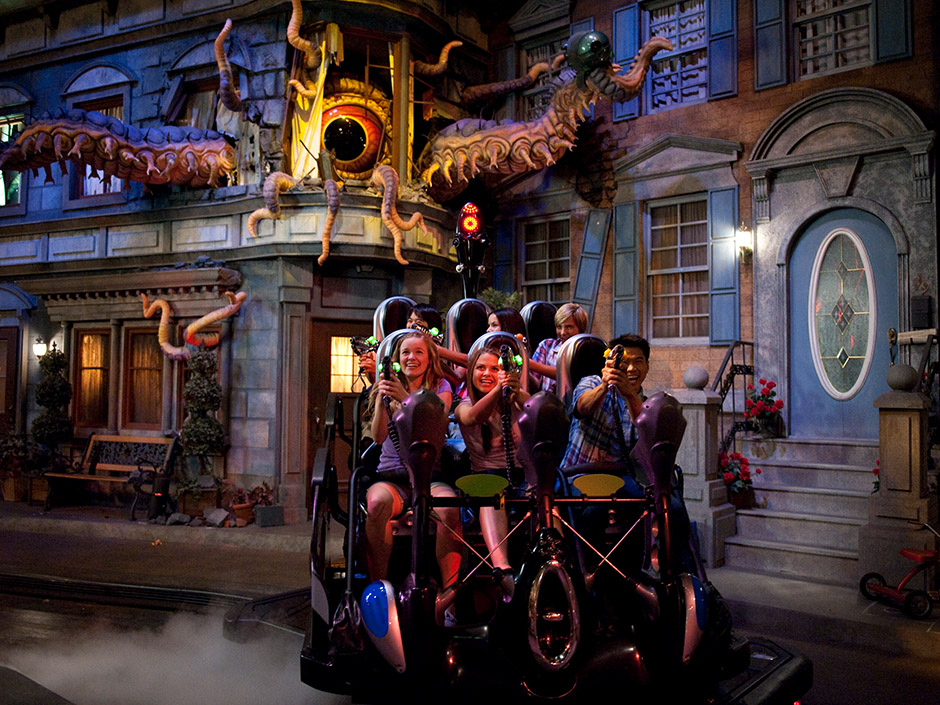 This one's a true winner.
Revenge of the Mummy
The conceit of this ride is that the Mummy's Curse is real.
Unfortunately for actor Brendan Fraser, he doesn't believe in curses. The actor regrettably steals a mystical necklace so that he can…get some coffee.
Brendan Fraser doesn't come across well in this ride, which ends with him getting his soul devoured.
So, Revenge of the Mummy mimics Fraser's Mummy franchise, only it gets a LOT darker.

Imhotep even wins in the end…but you're okay! That's all that matters, right?!
The Simpsons Ride
I vacillated on whether to include this one. Let's be honest that The Simpsons Ride embraces the cartoon more than the movie that followed.
Still, if you love The Simpsons and/or The Simpsons Movie, you'll delight in this virtual recreation of Springfield.
And if you don't love The Simpsons, who hurt you?
Seriously, though. The ride hits all the high points that people have grown to love from the beloved television series.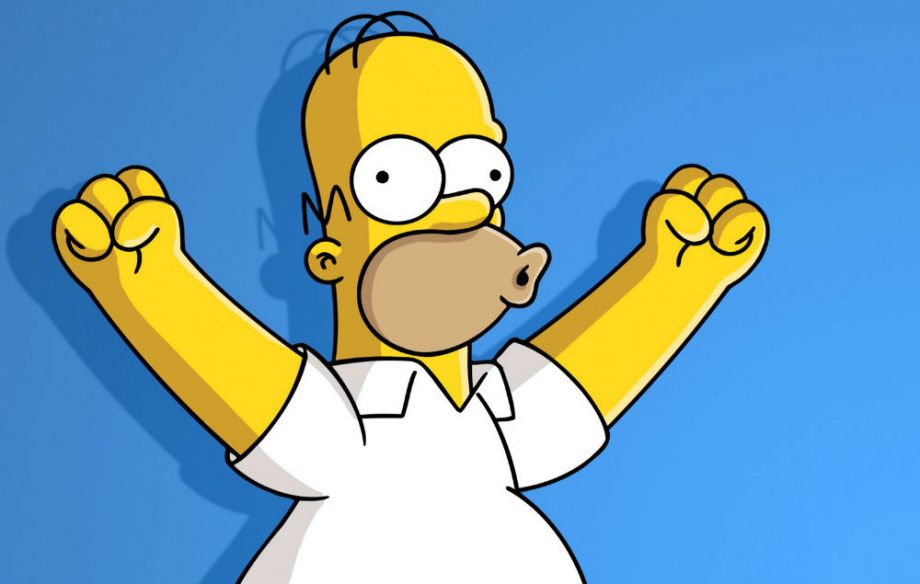 Krusty remains money-hungry and unethical, Grandpa's a terrible babysitter, and Sideshow Bob still cannot kill any Simpsons no matter how hard he tries.
As a superfan of the show, I can say with complete sincerity that The Simpsons Ride is my favorite Universal Studios attraction ever.
Transformers: The Ride 3D
Autobots, roll out! You're on a mission to save humanity (yet again) from those evil Decepticons.
Megatron and crew are after the AllSpark again, and it's up to you and Optimus Prime to save the day…I think.
Transformers: The Ride 3D features an appropriate level of whizbang action for something based on a Michael Bay movie.
So, a lot happens, and it's sometimes hard to keep up.
New off-ride video exposes behind-the-scenes secrets of Transformers: The Ride 3-D https://t.co/oSiY8q1mJs pic.twitter.com/NehkgfFK7p

— Attractions Magazine (@Attractions) August 21, 2020
What's important here is that Bumblebee still can't talk, but he spins all the classic tunes while fighting villainy. And he gets bonus points for the James Brown usage.
This ride is every bit as gloriously messy as the Transformers film franchise.
Thanks for visiting MarvelBlog.com! Want to go to Disney? For a FREE quote on your next Disney vacation, please fill out the form below and one of the agents from MickeyTravels, a Platinum level Authorized Disney Vacation Planner, will be in touch soon!