UniversalParksBlog News for December 18th, 2022
Okay, Universal kinda went wild over the past 10 days.
So, we need to bring you up to speed on the massive Super Nintendo World announcement AND a stunning batch of layoffs.
The latest UniversalParksBlog News is quite possibly the most significant one we've ever done.
Super Nintendo World Opens in Two Months!
Frequent readers know that we have regularly updated the progress of Super Nintendo World at Universal Studios Hollywood.
While a Super Nintendo World already exists, it's in Osaka at Universal Studios Japan. Since the pandemic's start, international travel hasn't been easy.
As such, only a handful of Americans have been lucky enough to experience the brilliance of this video game-based themed land!
I'm thrilled to report that will change soon!
On February 17th, 2023, Universal Studios Hollywood will open its version of the epic Super Nintendo World!
This tracks with the recent progress we've noticed. Over the past few weeks, images of Super Nintendo World construction indicate substantial preparations.
For various reasons, one of which we'll discuss in a moment, Universal prioritized the construction and likely sped up the timeline.
From a financial perspective, that's a smart strategy as well. Universal fans are chomping at the bit to experience Super Nintendo World for the first time.
So, we're all thrilled to know it'll debut in almost exactly two months.
You'll find the new themed land on the lower half of the park close to TRANSFORMERS™: The Ride-3D.
You'll know you're in the right place when you see and then walk through the legendary Warp Pipe, the one you've entered so many times in Mario games!
At Super Nintendo World, you'll ride Mario Kart: Bowser's Challenge, this park's answer to Mario Kart: Koopa's Challenge in Osaka.
Universal posted a hype video for its version:
You'll also find a Toadstool Café restaurant here, just like in Japan:
Finally, while you can already buy Nintendo merchandise at the park, Super Nintendo World will host a store cleverly named 1-UP Factory!
Best of all, everything opens in just two months!
The Universal Shocker of the Year
I subscribe to several news sites for my media podcast. Rarely does the news from these places intersect with theme parks. However, it happened last night.
A few days ago, Universal executives bragged that construction on Epic Universe was right on schedule. Then, the wildly unlikely happened.
As part of Comcast's end-of-year cost-cutting measures, many high-level Universal Studios theme park executives have left or are leaving the company.
The Wrap published an article with the terrifying headline of: "Universal Theme Park Creative Division Gutted After Exit of High-Ranking Execs."
Folks, let's be honest. Gutted isn't a great word to describe a division. Usually, that's indicative of a place in complete turmoil.
Thankfully, the headline is a bit misleading, or, at the very least, we hope it is. Here's a vital quote from the piece:
"Individuals with knowledge of the situation, however, stressed to us, that Universal Creative is known for its strong talent development and succession training and that there are thoughtful transition plans in place."
The writer also notes that Universal doesn't rely on "institutional knowledge" for ride creation the way that Disney's Imagineering team does.
For these reasons, you shouldn't freak out when you read this news. Still, here's what we know.
We Will Miss You!
Thierry Coup, the Chief Creative Officer at Universal Creative, is leaving. He's the individual most responsible for The Wizarding World of Harry Potter.
From a title perspective, the biggest loss is Universal Creative's President, Mike Hightower.
The scariest thought comes from an inside source, though. According to someone who works at Universal Creative, "pretty much every remaining SVP has left the division."
That's…not good.
Also, the article touches on my first thought when I heard the news. It makes absolutely no sense that Universal has done this as it prepares Epic Universe.
That's an insane amount of institutional knowledge that Universal is paying to walk out the door.
NBCUniversal offered lucrative packages to workers over the age of 57 who have worked with the company for 10 years or more.
So, this decision unintentionally disrupted the theme parks division. The executives were offered so much money that they pretty much had to take it.
Later, these executives can take other positions within the industry if they don't enjoy retirement.
As such, the people most likely to feel the losses are Universal Studios fans because the timing here is atrocious.
The Minions Are Coming!
As expected for months, Universal finally confirmed Minion Land, a themed land coming to Universal Studios Florida.
Observers anticipated this decision when Shrek 4-D closed. Sure enough, Universal is repurposing that building into Illumination's Villain-Con Minion Blast.
This interactive blaster game will debut during the summer of 2023.
I would imagine it falls somewhere between MEN IN BLACK: Alien Attack and Buzz Lightyear's Space Ranger Spin in its style and design.
Your goal is to impress enough villains that you earn a spot in The Vicious 6, the most prestigious group of evil-doers in the Minions-verse.
To a larger point, the former Production Central will transition into Minion Land. As one of the changes, the former Monsters Café will become Minion Café.
Obviously, Production Central already contains Despicable Me: Minion Mayhem, but it's also got Hollywood Rip Rockit and Transformers: The Ride 3-D.
I think it's safe to expect a redrawing of the themed lands to account for the fact that the latter two attractions don't fit the theme.
I definitely wouldn't expect any changes with Hollywood Rip Rockit, although I guess Transformers remains a possibility.
Universal has promised other surprises that will celebrate the Minions franchise. Stay tuned because we might have other big reveals in the offing!
For now, Universal has already added signage to indicate what park guests can anticipate for Universal Studios Florida in 2023.
Park Miscellany
In news that will warm your heart, the holiday season has officially begun at Universal Studios. I say this because Magic of Christmas at Hogwarts Castle has returned!
Here's what the lights show looks like in 2022:
Universal Studios Florida has also announced its New Year's Eve plans. It'll be a celebration akin to what happened on July 4th.
Expect live music, character greetings, and all sorts of semi-structured chaos!
For this reason, the park will remain open until 1 a.m., giving you plenty of time to ring in the New Year at your favorite park!
In Universal resort news, the water taxi service is back in business after the refurbishment I mentioned last time.
Meanwhile, Pteranodon Flyers suddenly closed a few days ago. The park was operating one morning, suffered a malfunction, and hasn't been seen since then.
The attraction could feasibly return any day, but the current word according to a YouTube influencer I trust is that it's down indefinitely.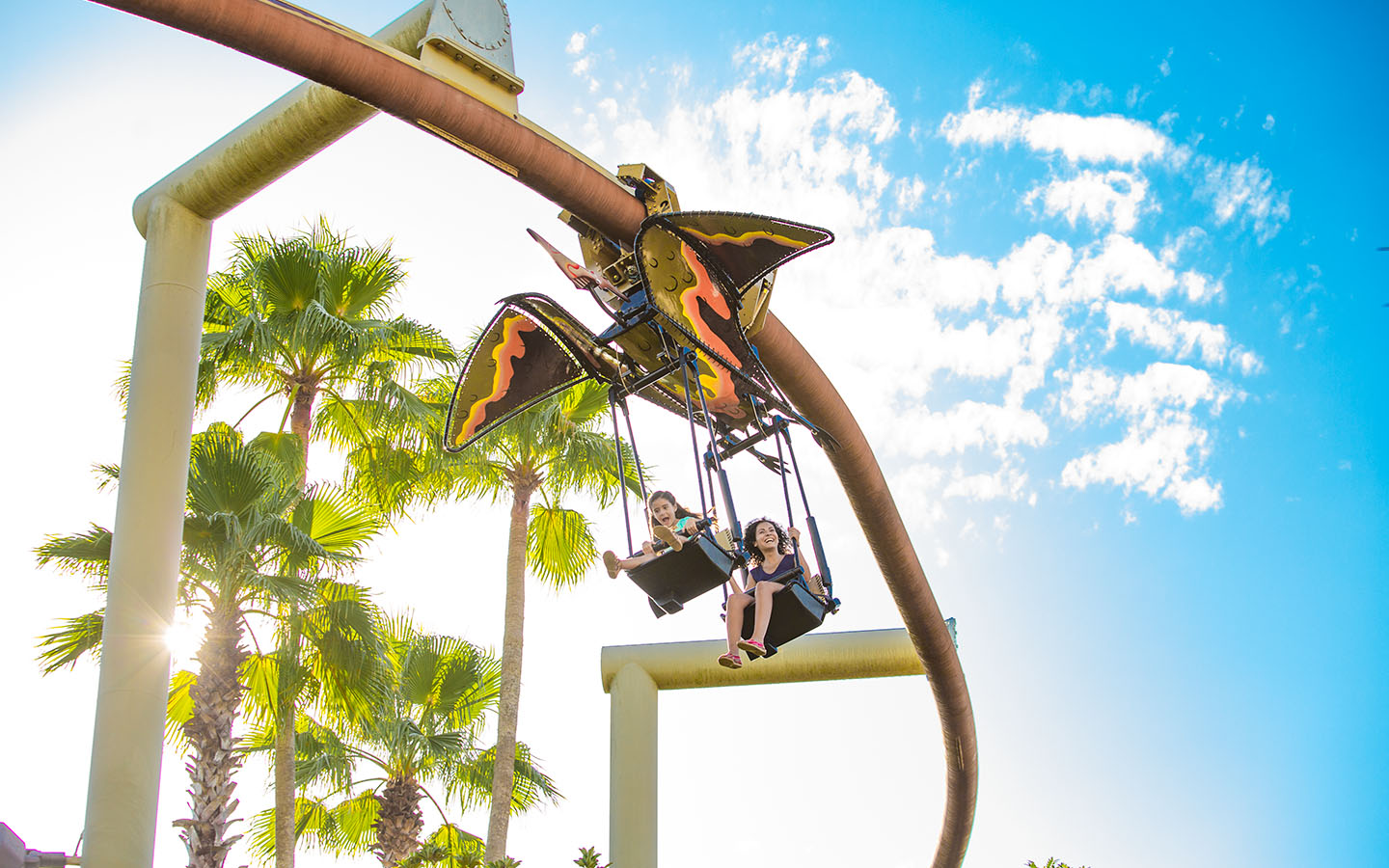 So, this was the ultimate in good news/bad news weeks for Universal. On the one hand, we got firm word on Minion Land and Super Nintendo World.
Conversely, Universal paid a bunch of its most accomplished leaders to go away and suffered a few other snafus. 2022 has been weird, y'all.
Thanks for visiting UniversalParksBlog.com! Want to go to Universal? For a FREE quote on your next Universal vacation, please fill out the form below and one of the agents from Let's Adventure Travel will be in touch soon! 
Feature Photo: Universal