Universal Orlando Resort Wait Times for July 2023
You've surely seen the headlines by now. Universal Orlando Resort is exploding in popularity.
For the first time ever in a non-pandemic year, a Universal Studios theme park in Orlando finished in the top three in the world in attendance.
Now that summer has started, we have every reason to believe that Universal Orlando Resort (UOR) will maintain momentum through Halloween.
We can probably tell by examining the average theme park wait times at UOR for the past month!
About Universal Studios Florida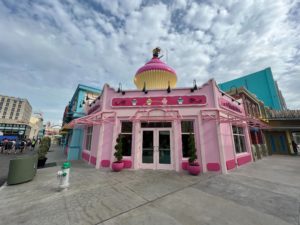 Something recently happened that won't impact this month's data. However, it does hint at impending changes.
Parts of Minion Land have opened, with UniversalParksBlog reporters all over the story.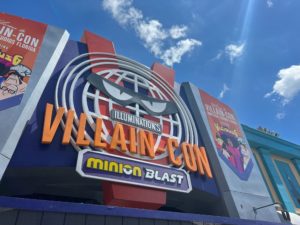 At the time of publication, the one part of the land we don't have yet is the new Minions attraction, Illumination's Villain-Con Minion Blast.
That attraction should open soon. Until it does, the only Despicable Me-based ride at Universal Studios Florida remains Minion Mayhem.
Universal Studios Florida – The Big Four
Once the new attraction debuts, it'll impact wait times, and we'll probably expand from a current Big Four to a Big Five.
Until that happens, here are the average wait times for the Big Four at Universal Studios Florida for the past month:
Harry Potter and the Escape from Gringotts – 56 minutes, up 9
Despicable Me: Minion Mayhem – 50 minutes, up 8
Revenge of the Mummy – 44 minutes, up 3
Hollywood Rip Ride Rockit – 41 minutes, up 8
So, we can easily identify an early trend here. Wait times have clearly increased, at least at the park's most popular attractions.
Notably, these four rides did NOT claim the top four spots overall in wait time, which happens more than you may think.
Generally, one or two others sneak into the top grouping for line queue waits. Over time, these four rides differentiate themselves.
I do expect Minion Blast to join the list, though. Depending on its throughput, it could overtake Hollywood Rip Ride Rockit on this list.
Alternatively, I may expand the list, depending on how strongly all the attractions perform during the summer.
Much depends on how many guests Minion Blast can host in an hour/park day.
Universal Studios Florida – Everything Else
Here are the other average wait times at Universal Studios Florida for the past month:
Fast & Furious – Supercharged – 46 minutes, up 12
TRANSFORMERS: The Ride 3-D – 40 minutes, up 5
Hogwarts Express – King's Cross Station – 36 minutes, up 3
Race Through New York Starring Jimmy Fallon – 32 minutes, up 4
T. Adventure – 31 minutes, up 7
MEN IN BLACK – Alien Attack! – 29 minutes, up 6
The Simpsons Ride – 29 minutes, up 3
Kang & Kodos' Twirl 'n' Hurl – 23 minutes, up 4
Overall, guests stood in line for an average of 38 minutes per attraction. That's six minutes more than the previous month.
Also, some of these tourists did it wrong. Nobody should ever wait that long for Supercharged or Race Through New York. But I digress.
Anyway, the park did have six attractions that averaged a wait of 40+ minutes, which is a sure sign that summer has arrived!
Universal's Islands of Adventure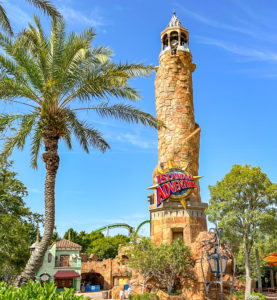 Notably, the theme park that finished in the top three in attendance last year was NOT Universal Studios Florida.
Instead, Islands of Adventure has objectively surpassed its sibling in popularity, which is a stunning turn of events.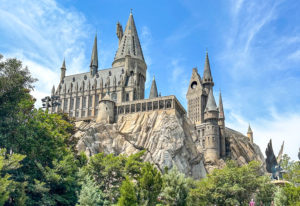 For years, Islands of Adventure (IoA) lagged behind its older sibling. Now, it's the alpha.
Here are the park's average wait times for the past 30 days:
Hagrid's Magical Creatures Motorbike Adventure – 87 minutes, up 3
Jurassic World VelociCoaster – 66 minutes, up 3
Dudley Do-Right's Ripsaw Falls – 51 minutes, up 9
Skull Island: Reign of Kong – 42 minutes, up 5
The Incredible Hulk Coaster – 41 minutes, up 3
Pteranodon Flyers – 40 minutes, up 3
The Amazing Adventures of Spider-Man – 38 minutes, up 7
Flight of the Hippogriff – 37 minutes, up 6
Jurassic Park River Adventure – 36 minutes, up 11
Harry Potter and the Forbidden Journey – 32 minutes, up 3
Hogwarts Express – Hogsmeade Station – 25 minutes, up 3
Popeye & Bluto's Bilge-Rat Barges – 24 minutes, up 4
One Fish, Two Fish, Red Fish, Blue Fish – 20 minutes, up 4
The High in the Sky Seuss Trolley Train Ride – 19 minutes, up 1
The Cat in the Hat – 15 minutes, up 2
Doom's Fearfall – 15 minutes, no change
Storm Force Accelatron – 9 minutes, no change
Caro-Seuss-el – 8 minutes, up 1
Let's Talk about Universal's Islands of Adventure
Overall, guests at Islands of Adventure spent an average of 33 minutes per attraction. That's four minutes or 14 percent more than the previous month.
If you're visiting soon, you should be aware of two trends developing at IoA.
First, you should expect to wait more than an hour for either of the park's newest rides.
The wait times I'm discussing today will increase in July and will probably hold at the levels posted here in August.
So, if you notice a shorter estimated wait for the VelociCoaster or the Hagrid coaster, you should consider dropping everything and heading there asap!
Also, the wait for Ripsaw Falls should have grabbed your attention. We're at the time on the annual calendar when wet rides become more popular.
In Central Florida, temperatures in the 90-degree range are the norm in July. The humidity can overwhelm you as well.
Tourists turn to the wet rides to cool off. Since they're all about the same, a pro tip is to pick the one with the shortest wait.
Alternatively, ride The High in the Sky Seuss Trolley Train Ride. It'll cool you off more than you'd expect!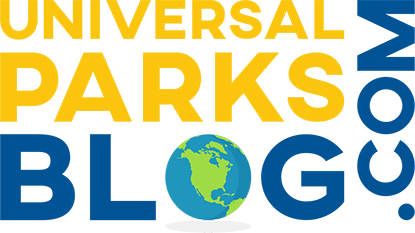 Thanks for visiting UniversalParksBlog.com! Want to go to Universal? For a FREE quote on your next Universal vacation, please fill out the form below and one of the agents from Let's Adventure Travel will be in touch soon!
Feature Photo: Universal