Snuggle Up in NEW Harry Potter Pajamas from Universal Orlando!
Wands, capes, chocolate frogs and more! We love all of the amazing Wizarding World of Harry Potter souvenirs popping up right now at the parks.
And we were super excited to come across something brand new that fans will love. How sweet are these new finds perfect for fall and cooler weather?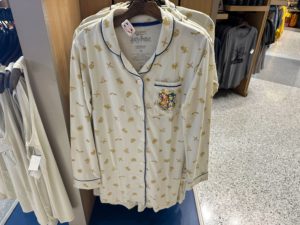 Getting ready for bed has never been more fun…or fashionable. Snuggle up in new Harry Potter pajamas available now at the Universal Studios Store.
Let's take a closer look.
Long Sleeve Harry Potter Top-$50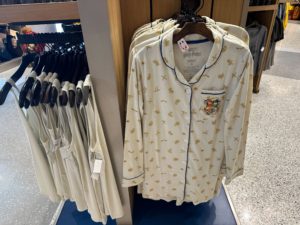 This cream-colored Harry Potter button down top is perfect for cooler weather. It features an all over gold pattern of stars, the sorting hat, and more.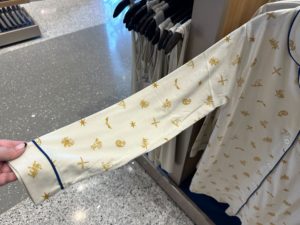 The pajama top features navy blue piping, which creates the perfect colorful accent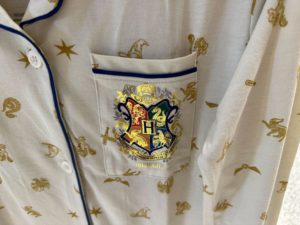 How great is the design on the pockets? The overall feeling is comfortable and luxurious!
Harry Potter Sleep Tank-$37

And here's another great option perfect for bedtime. The loose fitting cream colored top is perfectly cozy and comfortable.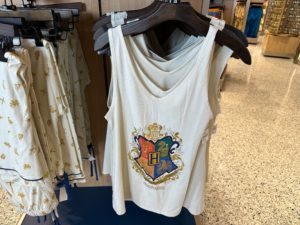 The relaxed fit tank is loose fitting and soft- perfect for staying cool and comfortable.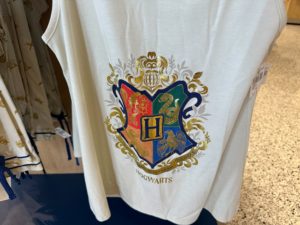 All four houses are represented in this amazing design on the front! Perfect for Hogwarts fans!
Harry Potter Pajama Pants- $40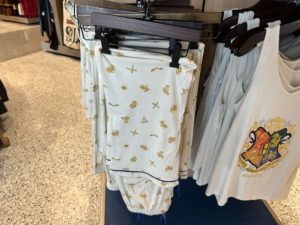 These Harry Potter pajama pants pair perfectly with the long sleeve top or the tank.
The cream colored bottoms have the same all over gold pattern and blue piping.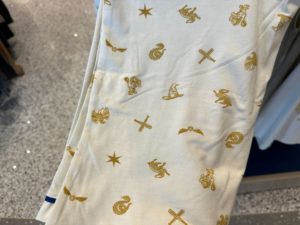 And here is a great close-up of the pattern and such a fun design.
Harry Potter Sleep Set-$60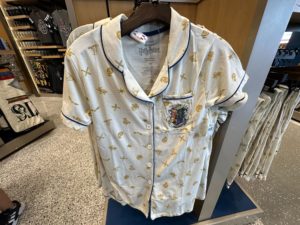 This unique pattern comes in one more style – the Harry Potter sleep set. This is an adorable combo featuring a short sleeve button down top and shorts.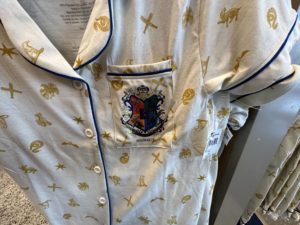 The pocket features the Hogwarts logo with all four schools represented. Perfect!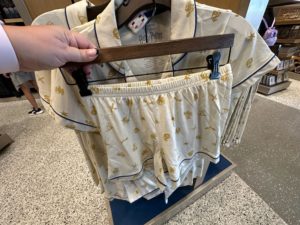 And it comes with these adorable matching shorts.
There are so many great looks for you to choose from – which is your favorite? They are all available now at the Universal Studios Store.
Available at Universal Studios Store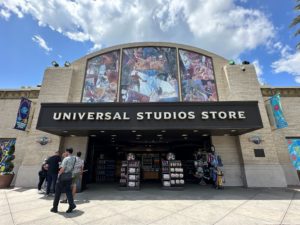 The Universal Studios Store is a Universal fan's paradise. This large merchandise location offers a vibrant and lively atmosphere filled with Universal exclusive merchandise and amazing souvenirs. There are two locations to explore: CityWalk and Universal Studios.
Everything from Wizarding World wands and robes to dinosaur plush to Minion memorabilia and more- there is something for every fan.  And of course, don't forget to check out the Harry Potter Pajamas.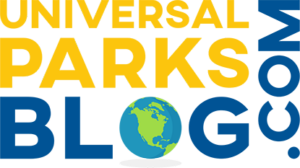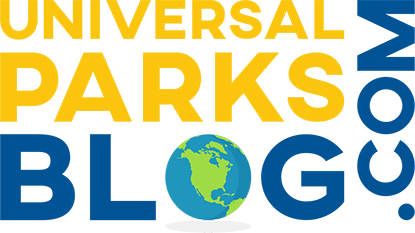 Are you excited to check out the new  merch?  Let us know and stay tuned to UniversalParksBlog for exciting Universal news and updates.
Thanks for visiting UniversalParksBlog.com! Want to go to Universal? For a FREE quote on your next Universal vacation, please fill out the form below and one of the agents from Let's Adventure Travel will be in touch soon!