Where Should You Stay During a Universal Studios Vacation?
You'll need a place to stay when you're spending a few days at Universal Orlando Resort.
Thankfully, Universal has upped its hotel offerings in recent years. In fact, the options have more than doubled since 2014.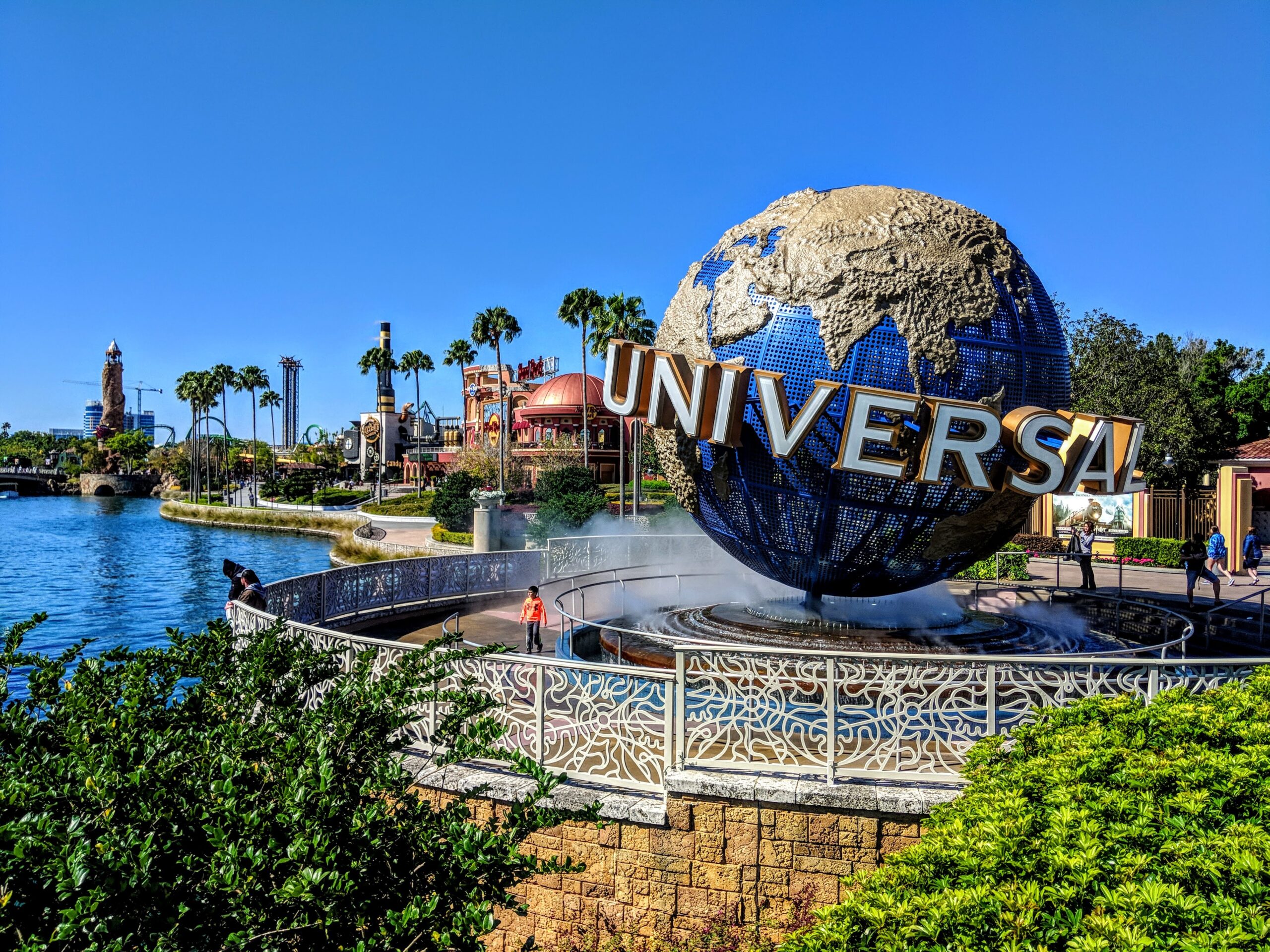 Where should you stay during your visit? Here's what you need to know about your options.
Cabana Bay Beach Resort
At Universal Orlando, some accommodations are more luxurious, while others are newer. That's the math here.
You get what you pay for at Universal.
So, you can save money on your resort and settle for fewer amenities, or you can spend more for better ones.
Among the new wave of hotels, Cabana Bay Beach Resort is the "oldest," arriving in 2014.
Universal planned Cabana Bay to solve a glaring need, as the previous resorts were all upscale in nature.
This place is decidedly less luxurious. However, it's oozing with style.
At Cabana Bay, you get to feel like you're visiting Vegas during the Rat Pack's heyday in the 1960s.
Everything from the hotel's exterior to its twin pools oozes Sinatra-era suave.
Universal planned the resort as somewhat akin to Disney's Moderate Tier. However, the size of the hotel rooms is closer to the All-Star Tier.
Technically, Universal classifies this property as Prime Value, which means that it's one of the three cheapest options.
I quite like Cabana Bay and wish that other Universal hotels we'll discuss were as well-themed.
The retro vibe plays well and makes a hotel stay feel more immersive.
Hard Rock Hotel
The next three resorts all fall into the same tier, Premier. All other things being equal, you should stay at a Premier resort.
I realize that budgets have limits, but I'm going to explain why this tier can pay for itself.
Universal offers something called the Universal Express Unlimited Pass. It's like a FastPass on steroids…or a lesser version of a Disney VIP Tour.
You don't have a park employee escorting you to attractions. However, you get to skip to the front of the line at most Universal rides.
The parks sell different versions of this Universal Express Pass, but the Unlimited one is the best. It costs $99 per person per day.
When you stay at a Premier resort, everyone in the room receives a Universal Express Unlimited Pass.
So, unless you're traveling by yourself, that's a $200 amenity that comes with the hotel room. Ergo, it's much easier to justify the price of the hotel.
As for the property, Hard Rock Hotel is spectacular. It's the Universal resort where you'll find me.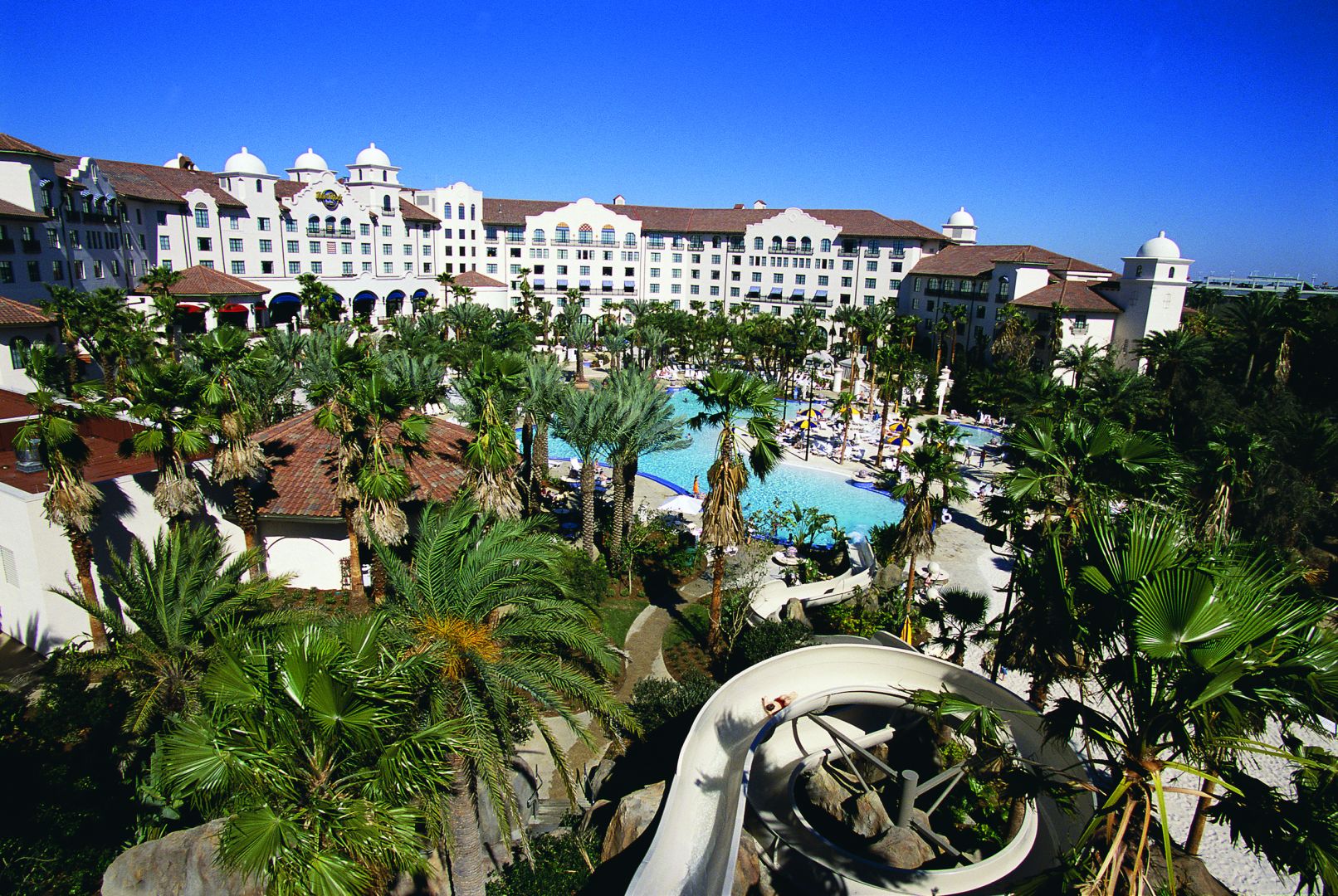 While the constant speakers throughout the campus grow a bit annoying over time, the other amenities here are divine, and the rooms are terrific.
I'm not going to sell this one much, as you should know what a Hard Rock Hotel is by now.
The Orlando one is like the rest of them, only it's also walking distance away from CityWalk and the front gate of the two theme parks.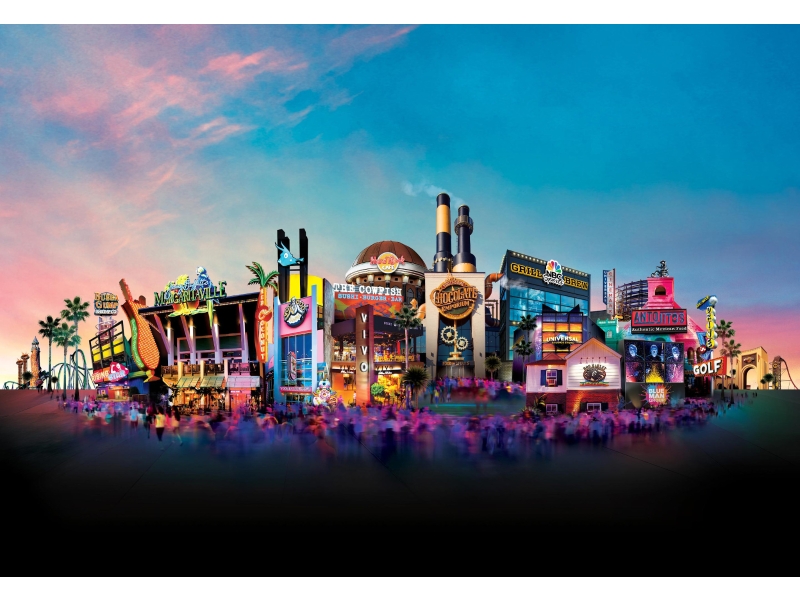 If you don't feel like walking, you can take a boat or a bus, but it's only about 1,000 steps from the Hard Rock Hotel to the parks.
Anyone feeling lazy can take a rickshaw, which is legitimately a transportation option offered at the resort. I have no idea why.
Loews Portofino Bay Hotel
Out of all the resorts listed here, Loews Portofino Bay Hotel actually costs the most.
Everyone expects it to be the Hard Rock Hotel, which explains why rooms there sell out regularly. It feels like a tremendous value by comparison.
That's not a dig at Portofino Bay, though. This hotel is incredibly themed as a tribute to Venice, Italy.
Several piazzas anchor the campus, providing scenic walking areas and beautiful hotel buildings.
Portofino Bay is the place for lovers. The setting is much more romantic than any of the other Universal resorts, save for arguably the next one on the list.
The canal boats by the shore will soothe your soul so much that you'll imagine you're in Italy rather than Orlando.
That's a rare trick for Universal. Usually, Disney's much better at immersive details.
Portofino Bay exemplifies the best of Universal, which is why you'll pay more for it.
If nothing else, take time during your Universal Studios visit to walk the Portofino Bay campus. It's breathtaking.
PS: Some of the rooms feature a view of the water. It's totally worth the splurge for this room type if you plan to spend some time in your room.
Loews Royal Pacific Resort
I have mixed emotions about this one. Loews Royal Pacific Resort comes with the best ambiance of any Universal property, in my opinion.
Then again, Universal stole the idea from Disney's Polynesian Village Resort. It's a pretty shameless knockoff.
Yes, I realize that Disney ripped off the South Pacific resorts first, but that hotel dates back to 1971. It was shameless of Universal to clone it in 2002.
However, if you don't care about the lack of creativity, the Royal Pacific will delight you with its laid back island vibe.
I prefer the pools here to the other Universal properties, too. There's a water feature called the Royal Bali Sea that's overflowing with water fountains.
Like Portofino Bay, the Royal Pacific features rooms with stunning views of the carefully cultivated island foliage.
I believe that the Royal Pacific is the ideal resort option for people who want to spend as much time at the hotel pool as the parks.
Loews Sapphire Falls Resort
This resort stands apart from everything else.
I previously mentioned that Universal modeled Cabana Bay after Moderate Tier resorts but ultimately settled for All-Star quality.
The same is true of Universal's Aventura Hotel and Universal's Endless Summer Resort, which we'll discuss in the final sections.
Loews Sapphire Falls Resorts exists in its own category, Preferred.
Basically, Preferred means that it's better than Prime Value but not in the upper tier.
So, you don't receive a Universal Unlimited Express Pass. However, other hotel amenities are substantially better.
The style here is Caribbean, making a natural analog for Disney's Caribbean Beach Resort.
The rooms are more spacious than those in the Prime Value class, and some of them include terrific views.
In fact, you can book a view of Hogwarts Castle if you like! That will undoubtedly impress the Harry Potter fans in your life.
I do want to mention one other pro and con of Sapphire Falls. The pool is the largest on property.
However, fans of bathtubs should be aware. The rooms at this resort almost all feature a stand-up shower instead of a bathtub.
Universal's Aventura Hotel
Universal fans adore the look and vibe of Universal's Aventura Hotel.
This building is a 17-story skyscraper that is unmistakable from a distance.
Imagine a warped triangle with circular lines and entire window facings of glass.
This resort would seem at home as a World's Fair architectural triumph rather than an inexpensive tower hotel.
Basically, you're staying at a high-rise condo that's conveniently located near the parks.
Also, Universal modernizes the aesthetics within the Aventura's rooms. It's the most technically advanced room setup in Orlando right now.
A smart table on the hotel desk by the phone controls all the settings in the room, including the temperature and lighting.
The Aventura also falls into the Prime Value category, which means it's inexpensive.
Finally, you should request a room on a higher floor. By doing so, you can get a room with a view without paying for preferred accommodations!
Universal's Endless Summer Resort
Technically, Universal operates two of these resorts: the Surfside Inn and Suites and the Dockside Inn and Suites.
These hotels are the newest Universal properties. In fact, one isn't even open yet.
Universal had scheduled the debut of Dockside Inn and Suites for March of 2020, but…you know. Pandemic.
So, if you want to stay somewhere fresh and new, Dockside is the clear choice.
Beyond that, you'll find these resorts fairly generic and very Disney All-Stars in nature.
In fact, these properties exist in their tier, Value hotels.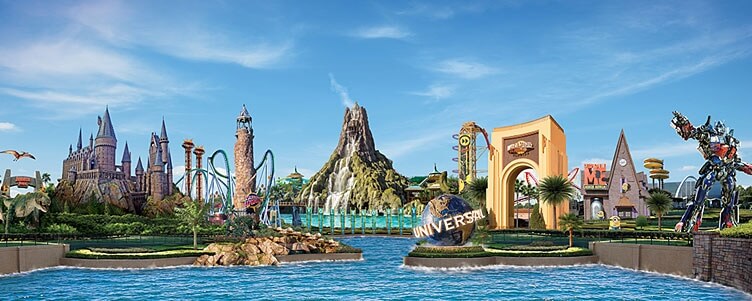 They're cheap rooms that could cost as little as $100 a night, depending on your vacation dates.
Universal has built these to appeal to theme park fans who view their rooms as merely a place to dump suitcases in between Butterbeer runs.
The theming is obviously beachy in nature. The premise is that you're staying at an inexpensive oceanside resort at some Spring Break tourist trap.
The amenities are sparse, but the tower hotels are actually quite stylish.
If you're someone who would rather spend your money at the parks, these rooms will do nicely, at least for the next few years while they're still new.
Thanks for visiting UniversalParksBlog.com! Want to go to Universal? For a FREE quote on your next Universal vacation, please fill out the form below and one of the award winning agents from Let's Adventure Travel will be in touch soon!