A Dozen Incredible Universal Orlando Rides Perfect for Thrill Seekers
If you're a thrill-seeker, then we can't think of a better place to vacation than Univeral Orlando.  The two theme parks and water parks are jam-packed with chill, thrills, spills and so much more. For those looking for an itinerary big on adrenaline look no further than this 12 awesome attractions.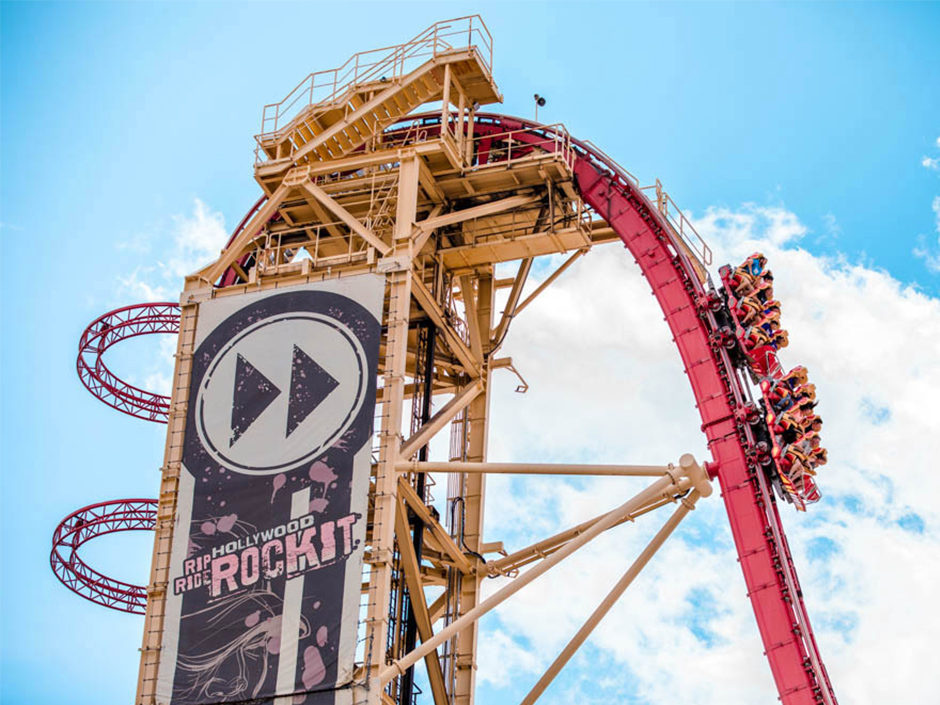 Hollywood Rip Ride Rockit
This ride is nothing short of INTENSE but that being said it is awesome! One of our favorite things about Rip Ride Rocket is that you can actually pick your favorite song to serve as the soundtrack as you make your 90-degree climb into the sunny Orlando Sky. What happens next is nothing short of exhilarating.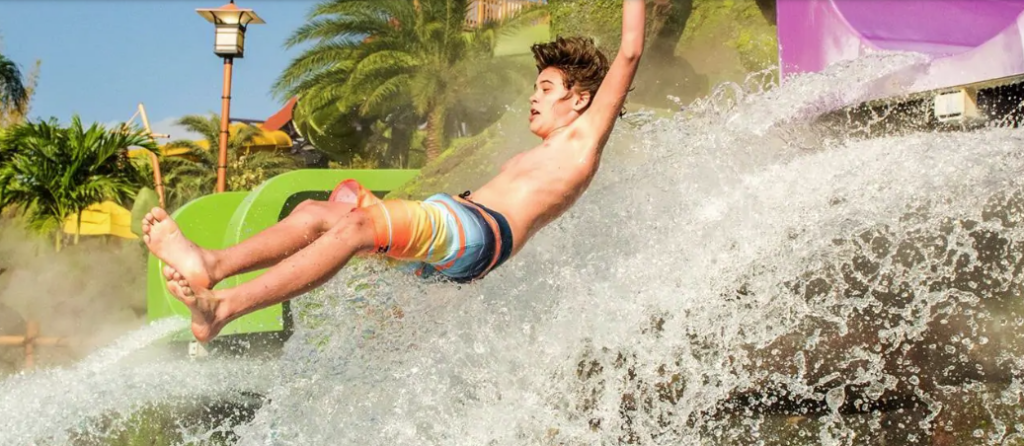 Ohno
For our next thrill, we head over to Volcano Bay where you'll make the climb across a deep chasm on a rope bridge and take the plunge down a serpentine adventure that ends six feet above the awaiting pool. Be sure to yell your battle cry of "Ohno" as you fly along the twists and turns, soar out into space and splash triumphantly into turquoise blue waters at the base of Krakatau.
Incredible Hulk Coaster
Step inside a high-security research compound where you bravely volunteer to be a test subject for a life-altering science experiment based on Dr. Bruce Banner's research.  Before you can blink you're catapulted (with speeds of up to 67 miles an hour) where you are propelling upside down in a weightless zero-gravity roll on this high-speed rampage.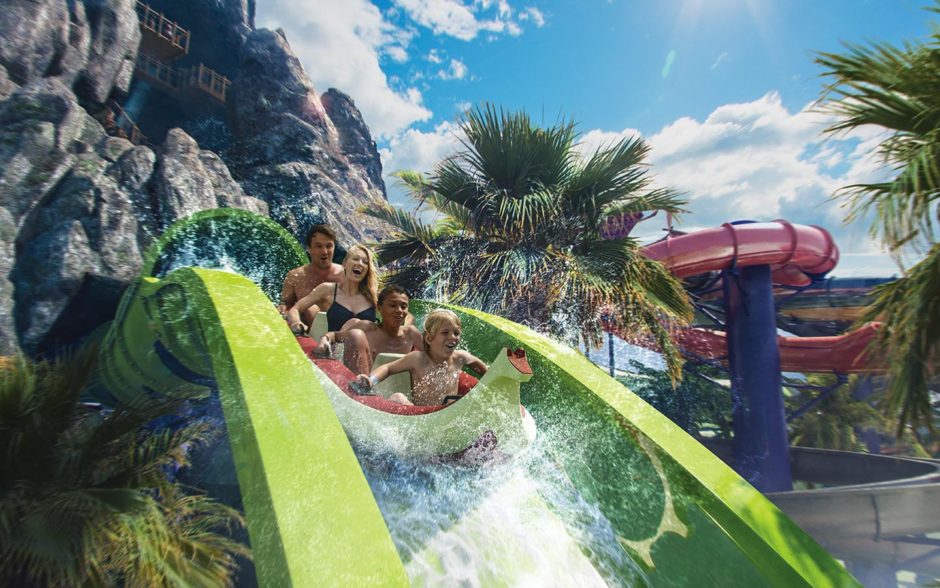 Aqua Coaster at Universal's Volcano Bay is an incredible technological achievement. This 4 person canoe slides through mists and will take you through Krakatau, the mighty fire and water Volcano.
Krakatau Aqua Coaster
Krakatau Aqua Coaster at Universal's Volcano Bay is an incredible technological achievement. Climb aboard a four-person canoe that slides through the mists taking you through Krakatau the mighty fire and water Volcano which serves as Volcano Bay's iconic landmark.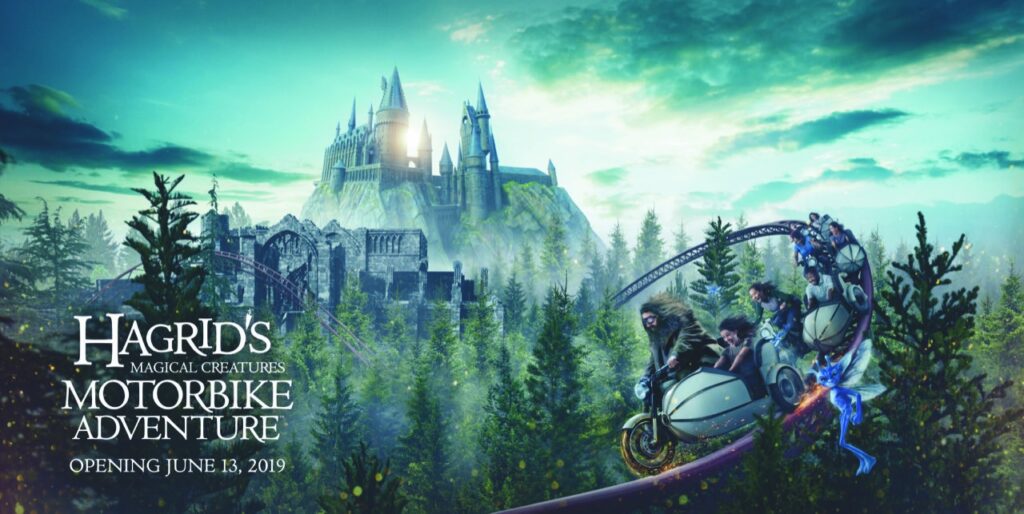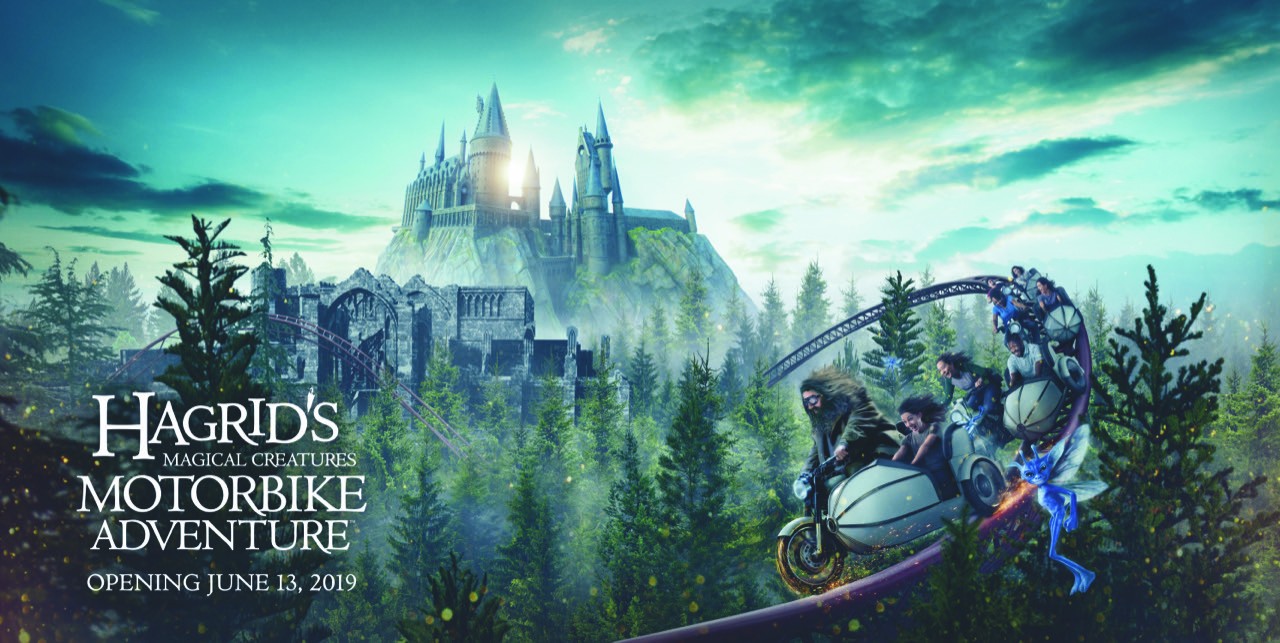 Hagrid's Magical Creatures Motorbike Adventure
This is the Wizarding World of Harry Potter's news thrill ride and is simply not to be missed. You can fly deep into the wilds of the Forbidden Forest beyond the grounds of Hogwarts. As you weave your way through towering trees you'll notice magical creatures and other wondrous surprises that combine to make this a ride like no other. But beware! One misstep could drop you into an endless pit of Devil's snare or put you in range for a centaur's bow.
Jurassic Park River Adventure
It's lunchtime and you're on the menu! Though it may start off as a scenic winter cruise your bumped off course and thrust into a restricted area of Jurassic Park where things quickly take a turn for the worst. Suddenly a T. REX stands before you and with nowhere to turn you must take a pitch-black plunge 85 feet down!
Ko'okiri Body Plunge
Ready to brave the volcano? You can join the centuries-old tradition of honoring the volcano god Vol by braving the Ko'okiri Body Plunge. This water slide features a 70-degree fall through a drop door and 125 feet of white-knuckle fun.  This dizzying descent culminates with a watery tribute from Vol himself.

Doctor Doom's Fearfall
Faster than the space shuttle!? This attraction will quickly separate the true thrill ride enthusiasts from the novices! One of Marvel's supreme super-villains must test his latest invention – the machine that sucks the fear out of people which he plans to use against the Fantastic Four.  You'll be strapped into your seat and blasted 185 feet into the sky where without a second to catch your breath you plunge back down to earth.


Revenge of the Mummy
Is it a scary coaster? Is it an indoor ride? It's both! This white knuckle roller-coaster ride is sure to have you screaming as you thrash backwards and forwards on the tracks fleeing the evil Mummy Imhotep. He'll give it everything he's got to through you off your path including swarms of insects, warrior mummies and more!  Just when you think things couldn't get any more intense you plunge straight down into a pitch-black abyss with no end in sight. Will you ever see daylight again or are you trapped in the tomb forever.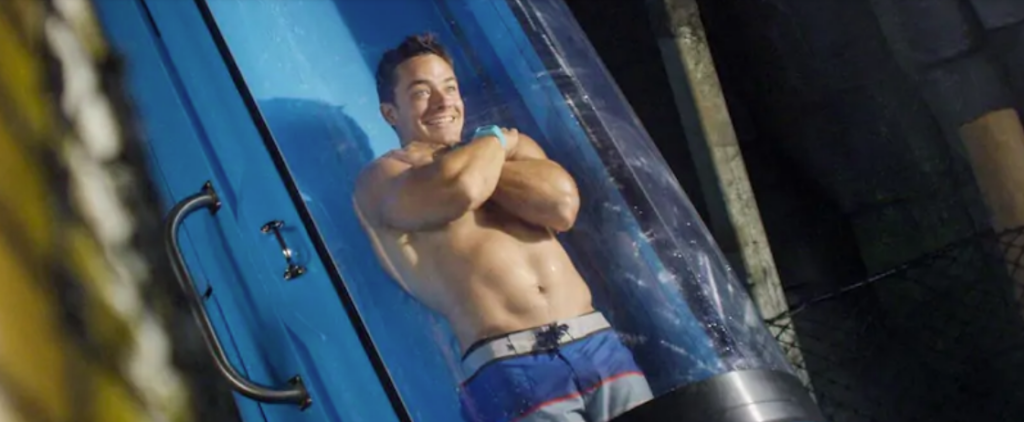 Tai Nui of Kala & Tai Nui Serpentine Body Slides
This body slide at Volcano Bay is a rush to say the least. It features a drop side seat at the very top of the volcano that sends you down and incredible speed before it ends in an incredible SPLASH!  We recommend Tai Nui (Green) for the ultimate thrill-seekers.
Escape from Gringotts
Enter Gringotts™ bank beneath the massive fire-breathing dragon at the far end of Diagon Alley™.  You'll walk through the bank's grand marble lobby and see goblins hard at work. Then, get ready to take a journey through cavernous passageways that lead deep underground as you climb aboard this mind-blowing, multi-dimensional thrill ride. Harry, Ron and Hermione will be there to join you on your journey as you try and evade the malicious villains Voldemort and Bellatrix.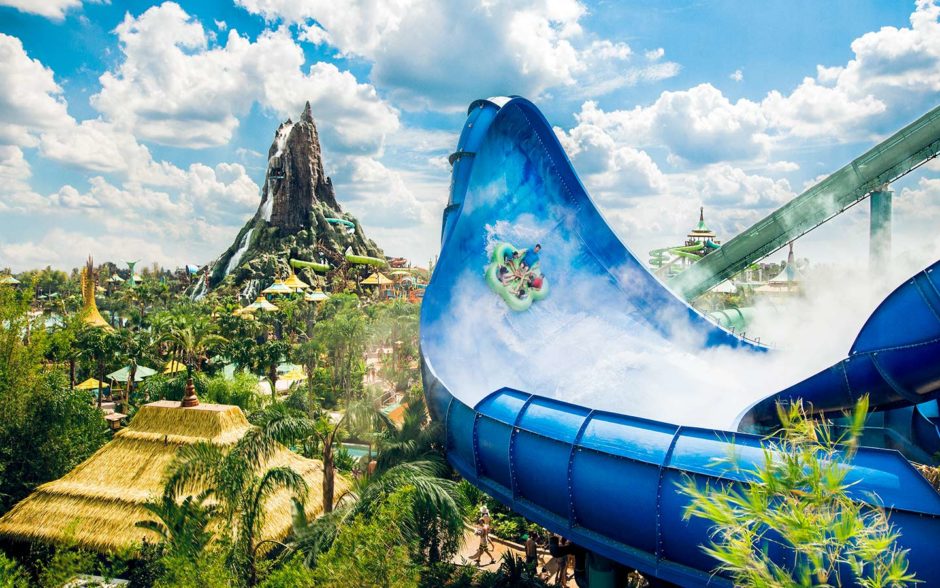 Take A Ride On The Wild Side
Just like the ancient Waturi people who rode the ocean waves on friendly sea turtles, you can enjoy this twisting, turning, multi-person slide. On Honu, you can surf the underwater currents on a five-passenger raft, speeding through an open flume, then streaking along two massive walls emblazoned with Waturi turtles.
Readers are encouraged to keep following along with UniversalParksBlog for the latest news and updates.
Are you ready to upgrade your next vacation? If you've fallen in love with these suites like I have, you can book your favourite one filling out our form below to get your FREE, no-obligation quote from  Let's Adventure Travel. 
Find articles like this helpful? Then why not consider working with an Authorized Universal Vacation Planner? As an agent with Let's Adventure Travels, I'll be on hand to assist you with everything from finding your perfect package to helping you plan lots of special touches to make your visit one you'll never forget  Best of all my services are absolutely FREE.  Get in touch at 1.800.801.4025 via email at mroden@letsadventuretravels.comor follow along on Facebook