Universal's Cabana Bay Beach Resort Family Suites
Are you traveling with a big family and the standard rooms just don't work, or maybe you just want a little extra space for mom and dad? Then the family suites at Cabana Bay hotel at Universal Orlando are just for you!
Staying at Cabana Bay you get great theme park benefits of staying on-site, like Early Park Admission. But the extra room of the family suites is worth a story all its own.
1. Separation of Space: Not only is there separation between the bedrooms and a living space with a sliding door, but the bathroom has three separate spaces—a separate sink area in the middle, a private water closet area to the right, and private shower and sink to the left. So there is little fighting for space in the morning, and we can all have our own space—something everyone was so happy to have.
2. A Mini-Kitchen: In each family suite there's a mini-fridge, perfect for storing your family's favorite snacks and drinks (and leftovers!), as well as shelves for storage of dry snacks. There is also serving ware, a coffee maker, a microwave, and a full-sized sink. You can bring in your own snacks or food, or store items bought from the Bayliner Diner, The Hideaway Bar & Grill, Galaxy Bowl, or Delizioso pizza delivery. The bar area with stools that encloses the kitchen area creates a great snacking location for everyone.
3. Three Beds: Each family suite has two queen beds and a pullout couch.
4. Two TVs: No, you're not on vacation to watch TV. But it's handy to have, particularly when the little ones need to return to the room for naptime or as we get close to bedtime.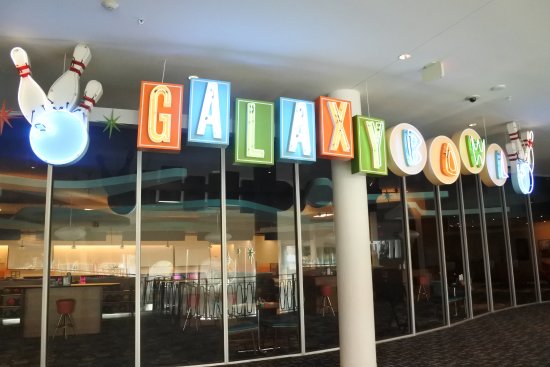 5. Ease of Access to Amazing Amenities: Cabana Bay is a very walk-able and easy to navigate hotel. And the family suites near the Cabana Courtyard are amazing. you can step right from your room to the pool and slide, or just walk a small ways and get to the lobby and amenities including Starbucks, the Bayliner Diner, the arcade, workout room and—a kids' favorite—the Galaxy Bowl bowling alley. There's also a shuttle bus to the theme parks and a walking path to Universal CityWalk and both theme parks, making the entire Universal Orlando Resort destination easy to access and enjoy.
It's easy to see that Cabana Bay's family suites offer just what a family needs. So, make sure to check them out when you're making plans for your next Universal Orlando vacation.
Thinking about your next adventure? There are fantastic 2020 Universal Studios bargains to be had and 2021 packages will be available in just a few short months! Fill out our form below to get your FREE, no-obligation quote from Let's Adventure Travel!
Are you ready to start planning your next adventure? Contact me today for your FREE, no obligation quote for a Universal Studios vacation! My planning services are included at no extra cost. Best of all my services are absolutely FREE! Get in touch at 843-288-1130, via email at whitney@letsadventuretravel.com or follow along on Facebook.
Source: Universal Orlando Resort Blog