Happy 10th Anniversary Wizarding World of Harry Potter
Let's raise our glasses of Butterbeer and give three cheers for all things Harry Potter as Wizarding World celebrates it's 10th Anniversary. Hogwarts officially opened on June 18, 2010 and has been dazzling muggles of all ages since then!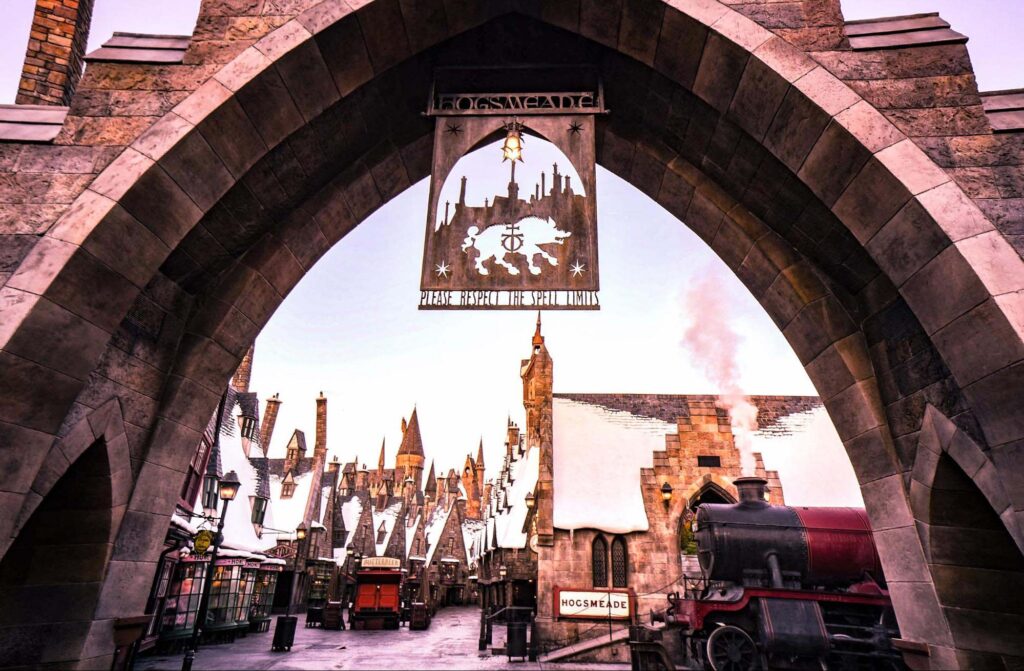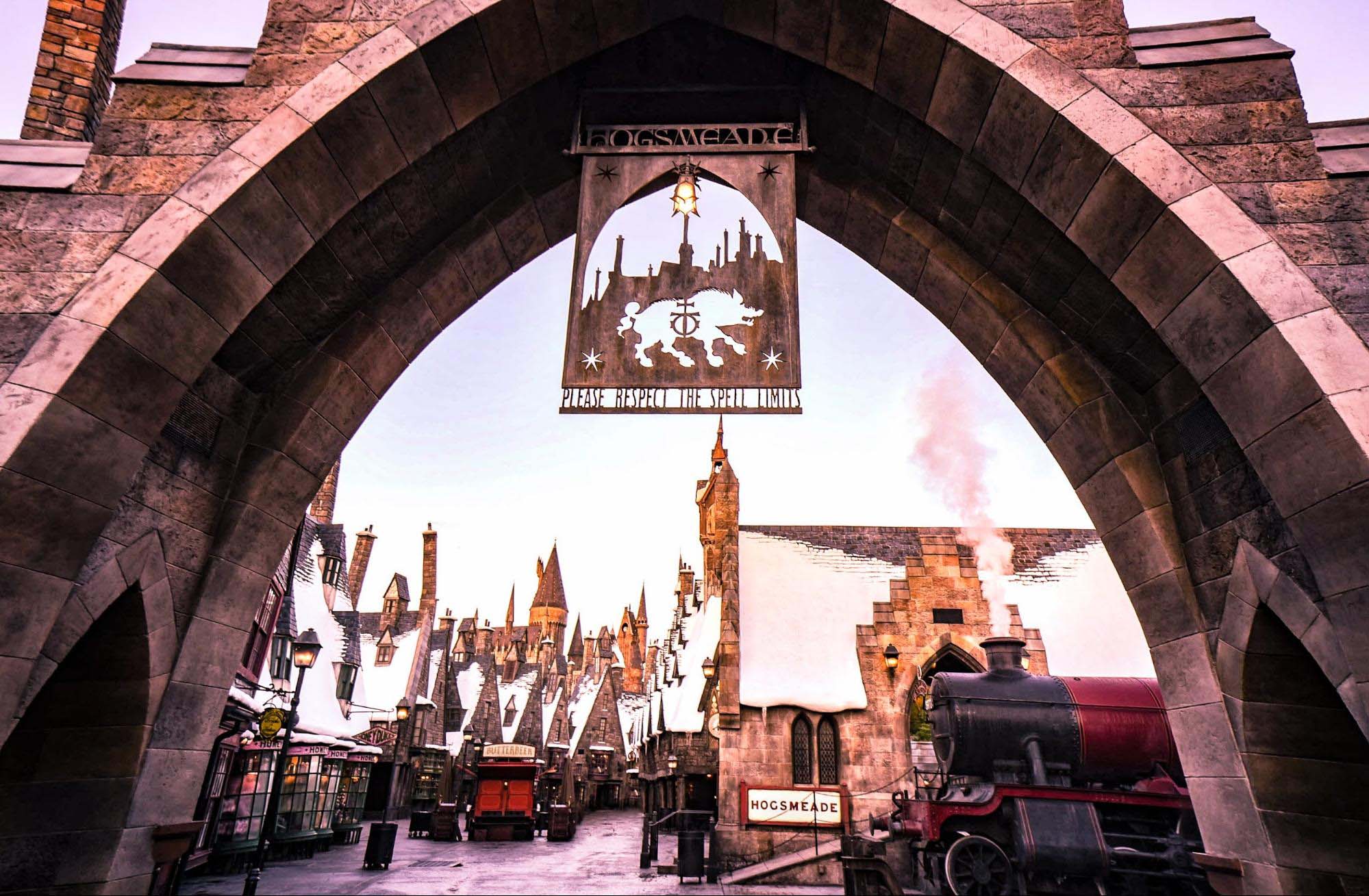 As the Orlando Sentinel tells us in an incredible piece they published this morning, Wizard World took three years to build starting with the demolition of an area of the park's Lost Continent Island and culminating in the Skyline of Hogsmeade and Hogwarts.  During this time, guests could still enjoy the Dueling Dragons Coaster which would eventually be renamed Dragon Challenge.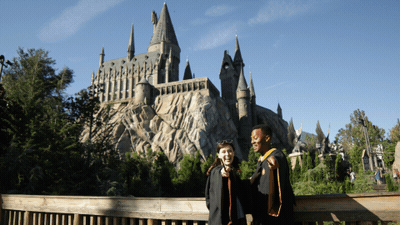 Wizard World was expected to be popular, ushering in a new era at Universal Orlando but at the time no one really expected it to be as popular as it was. Bill Davis, President of Universal Orlando tells the Sentinel, "We were pleasantly surprised. "It was a little more than we expected."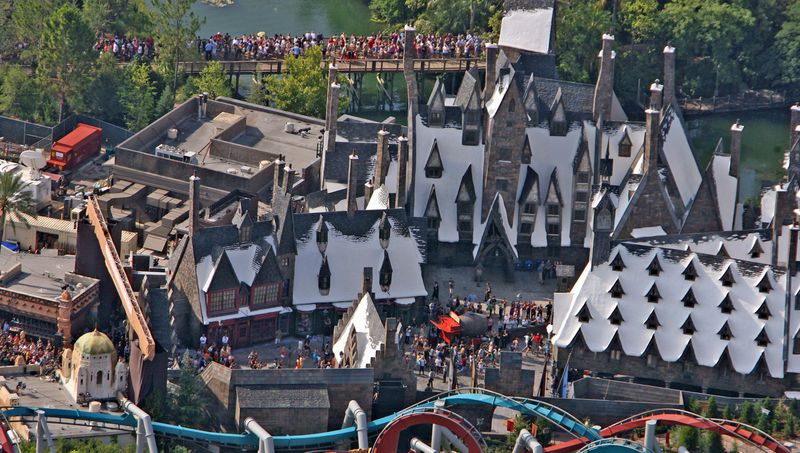 The lasting visual of the day, undoubtedly, is the long and winding queue. Visitors could enter only from the Jurassic Park side of the land, and the line went from that bridge, through Jurassic Park, through Toon Lagoon, through Marvel Super Hero Island, through Port of Entry, out IOA's front entrance, into the near side of Universal CityWalk, past Hard Rock Café and bunched up near the globe of Universal Studios. Copyright Orlando Sentinel.
The image above is taken from the Orlando Sentinel and shows the giant lines snaking through Wizarding World on opening day stretching all the way over to the neighboring theme park.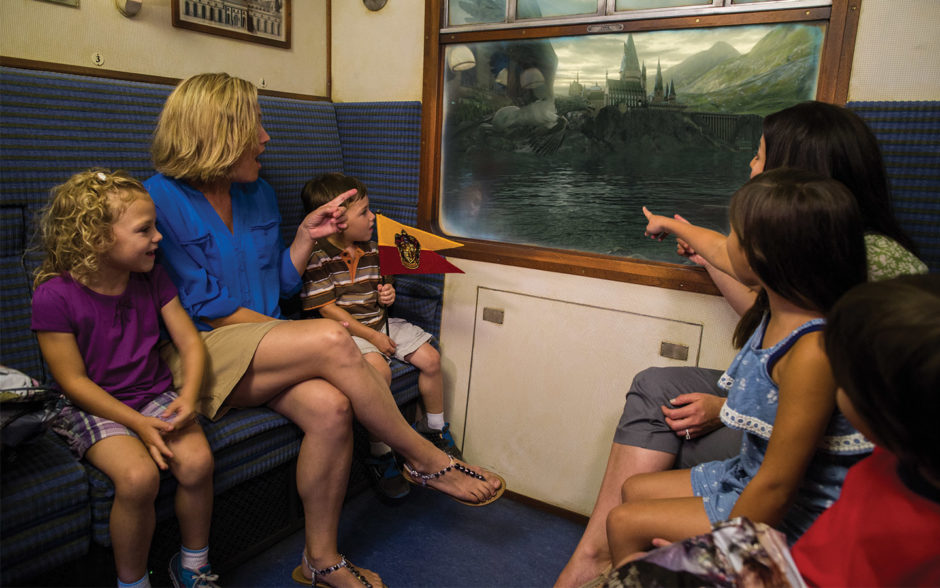 Since 2010, Wizarding World has become a cultural phenomenon! Many of the original shops and attractions are still there today with the exception of the Dueling Dragons which was replaced with the new and incredibly popular Hagrid's Magical Creatures Motorbike Adventure.
Then Universal announced they would be added even more Harry Potter attractions, expanding the land into Universal Studios and cunningly connecting both parks via the Hogwart's Express meaning that guest wanting to have the "whole" Harry Potter experience would need to splurge on a Park to Park ticket.
It was to be four more years before Harry Potter and the Escape from Gringotts would start taking shape becoming the first addition to the Wizarding World of Harry Potter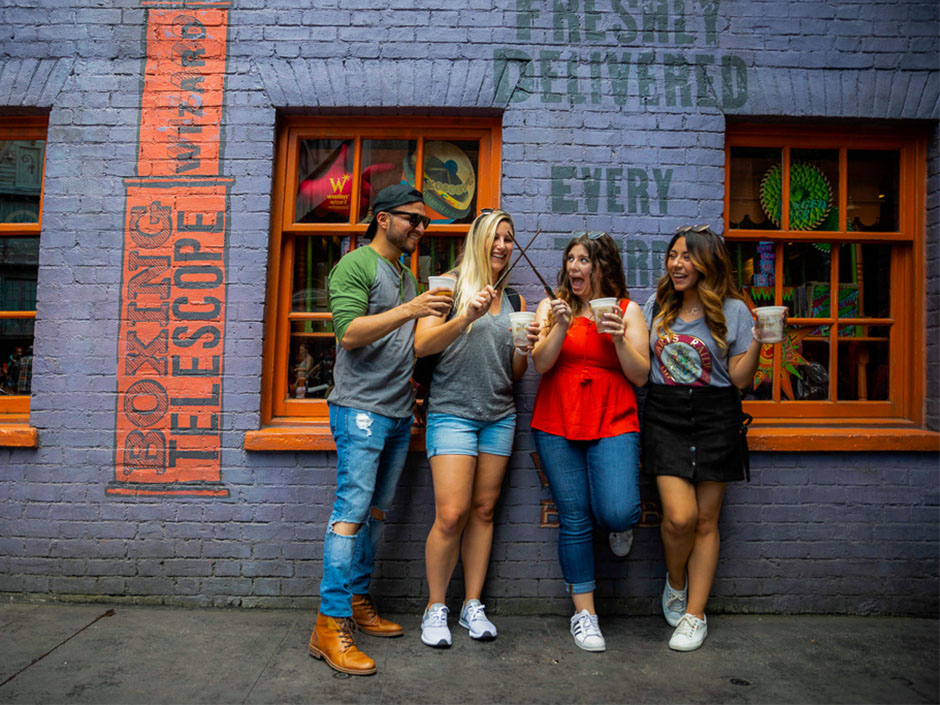 Since it first opened 10 years ago Wizard World goes from strength to strength. Let's take a look at some of the awesome experiences you can enjoy during your visit:
Attractions:
Hagrid's Magical Motorbike Adventure – Enter the Care of Magical Creatures grounds and pass by Hagrid's hut. As you make your way onto the ride, Hagrid gives instructions on the proper way to approach a Hippogriff. The Flight of the Hippogriff™ is a family-friendly roller coaster that spirals and dives around the pumpkin patch, and swoops past Hagrid's hut.
Harry Potter and the Forbidden Journey – Make your way through Hogwarts™ School of Witchcraft and Wizardry. Then soar above the castle grounds as you join Harry Potter™ and his friends on an unforgettably thrilling adventure, coming face-to-face with magical creatures.
Hogwart's Express – 

With a Park-to-Park admission ticket you can board the Hogwarts™ Express at King's Cross Station in London at Universal Studios Florida™ and travel to Hogsmeade™ Station in Universal's Islands of Adventure™, or the other way around. Additional restrictions apply.

Harry Potter and the Escape from Gringotts – Take a journey deep underground aboard this mind-blowing, multi-dimensional thrill ride. You'll encounter Harry, Ron, and Hermione, but you'll also have to evade Voldemort™, Bellatrix, trolls, and other creatures to make it back to Diagon Alley™.

Entertainment:
Frog Choir – Hear the vocal stylings of this small choir of Hogwarts™ students, accompanied by the smooth bass rumbles of their giant throaty frogs. The silver-tongued students—one each from Gryffindor™, Slytherin™, Hufflepuff™, and Ravenclaw™ houses—perform familiar wizarding songs with their croaking counterparts, and an a cappella flourish.
The Tales of Beedle the Bard – Gather 'round for a stage show presented by the Wizarding Academy of Dramatic Arts. These adept players perform a trunk show using stylized scenic pieces, props, and puppetry fabricated by Emmy-award-winning designer Michael Curry. See them retell two famous tales of Beedle the Bard, a 15th-century author of wizarding fairytales, including The Fountain of Fair Fortune and The Tale of the Three Brothers.
Celestina Warbeck and the Banshees – Sway and groove to the dulcet tones of wizarding world sensation (and Molly Weasley's favorite singer), Celestina Warbeck and the Banshees. The swinging show features never-before-heard songs including 'A Cauldron Full Of Hot, Strong Love', 'You Stole My Cauldron But You Can't Have My Heart', and 'You Charmed The Heart Right Out Of Me'.
Triwizard Spirit Tournament – Cheer on the colourful procession of students from the legendary wizarding schools of Hogwarts™, Beauxbatons, and Durmstrang as they lead the excitement for the Triwizard Tournament
Dining
The Fountain of Fair Fortune –Named for one of the fables in The Tales of Beedle the Bard (a collection of children's stories that many young witches and wizards grew up reading), The Fountain of Fair Fortune serves a variety of beers and other beverages (both alcoholic and non-alcoholic).  Non-alcoholic offerings include Butterbeer™, Frozen Butterbeer™, Pumpkin Juice™, Gillywater (bottled water), Fishy Green Ale, and Otter's Fizzy Orange Juice.
Hog's Head – You may notice the stuffed hog's head hanging over the bar. You'll definitely notice it if he snarls at you. Don't be alarmed, though; this pub in the back of Three Broomsticks™ is the perfect place for a Butterbeer™ and Pumpkin Juice™, along with domestic and imported beers, the pub's exclusive Hog's Head™ Brew, Gillywater (bottled water), speciality drinks, wine, spirits, and mixed drinks.
Eternelle's Elixir of Refreshments -At this small beverage kiosk located in Carkitt Market inside The Wizarding World of Harry Potter™ – Diagon Alley™ you'll find a variety of elixirs that, when combined with water, transform before your eyes into unique, colourful, and flavourful beverages. You can choose from Fire Protection Potion, Babbling Beverage, Draught of Peace, and Elixir to Induce Euphoria.
Three Broomsticks –This rustic tavern is the place to go for good food, friendly conversation, and of course—a Butterbeer™. Through the centuries, the Three Broomsticks™ has welcomed countless Hogwarts™ students including Harry and his friends. Inside you'll notice details such as cast-iron chandeliers, weathered wood beams, and balconies brimming with curious bric-a-brac. Take a seat and have your fill of tasty British fare including 'The Great Feast', Fish And Chips, Shepherd's Pie, Beef Pasties, Turkey Legs, and Fresh Vegetables.
Leaky Cauldron – This small, grubby-looking pub and inn is where Harry stayed there for several weeks over the summer before heading off to Hogwarts™ for his third year. Once inside, you'll find yourself under a cathedral ceiling with views towards the guest rooms in the inn. Menu items include Bangers and Mash, Fisherman's Pie, Toad in the Hole, Ploughman's Platter, and more, plus a Kid's Menu offering Fish And Chips, Macaroni Cheese, and Cottage Mini Pies.
Florean Fortescue's Ice-Cream Parlour- Indulge in scoop of soft-serve ice-creams here, with fantastic flavours like Butterbeer™, Granny Smith, Earl Grey and Lavender, Chocolate Chili, Sticky Toffee Pudding, Salted Caramel Blondie, Chocolate and Raspberry, and more. The ice-cream parlour also offers bottled Pumpkin Juice™, ciders, teas, and water. Continental breakfast items such as pastries; Battenberg cake, crumble cake, and shortbread are available in the morning hours.
Source: Orlando Sentinel