Six Things to Know about a Universal Studios Visit
Are you excited about your next Universal Studios visit?
You should be because you'll have a fantastic time, but you should know a few things about a park day.
Here are six things to remember about a Universal Studios visit.
You Have a Choice Between Two Parks
Let's start with the basics. Ignoring the water park, Universal Orlando Resort features two different theme parks.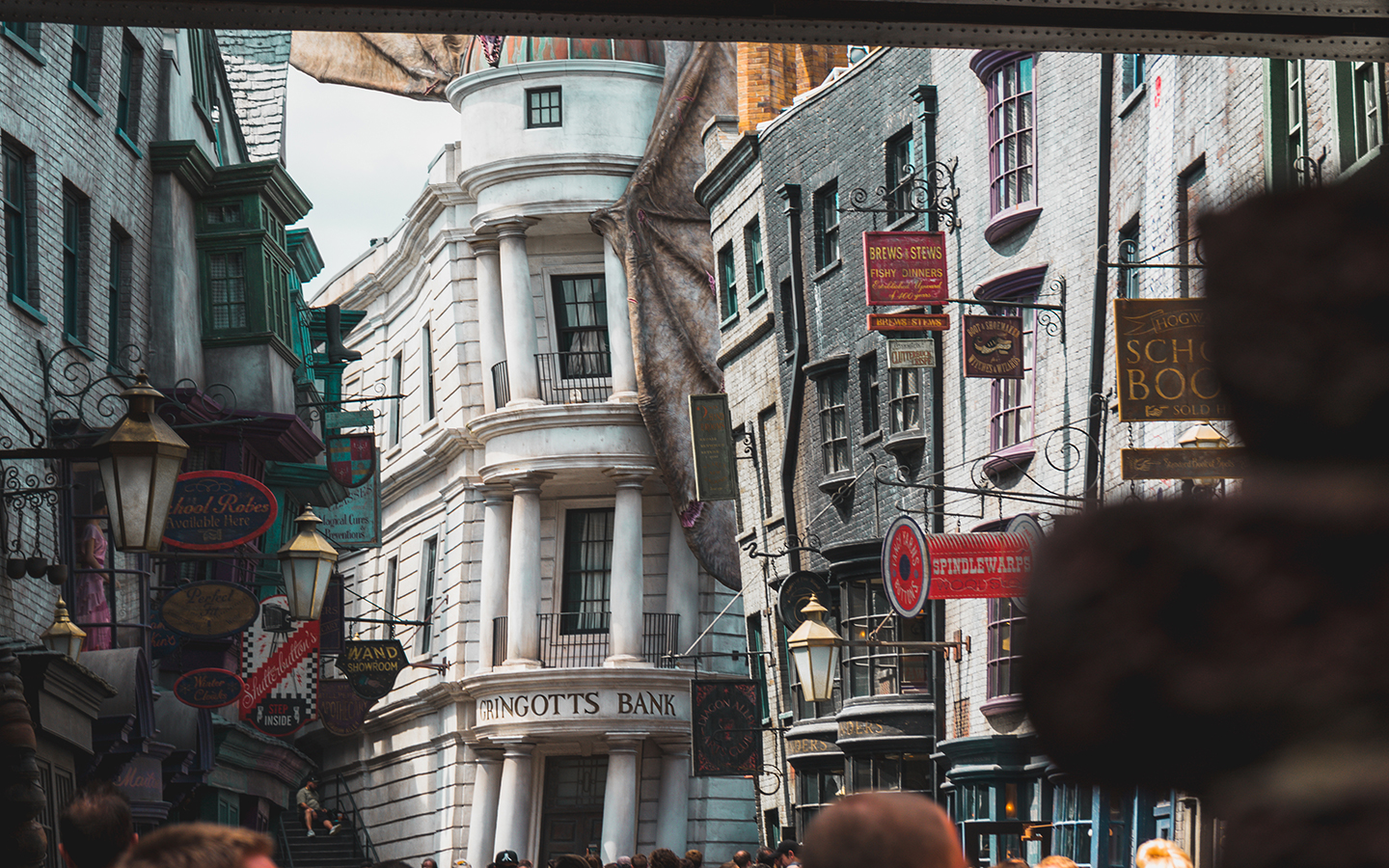 Universal Studios Florida is the older of the two, as well as the home of the newer version of The Wizarding World of Harry Potter.
Universal's Islands of Adventure is the "newest" theme park in Orlando, but it's more than 20 years old.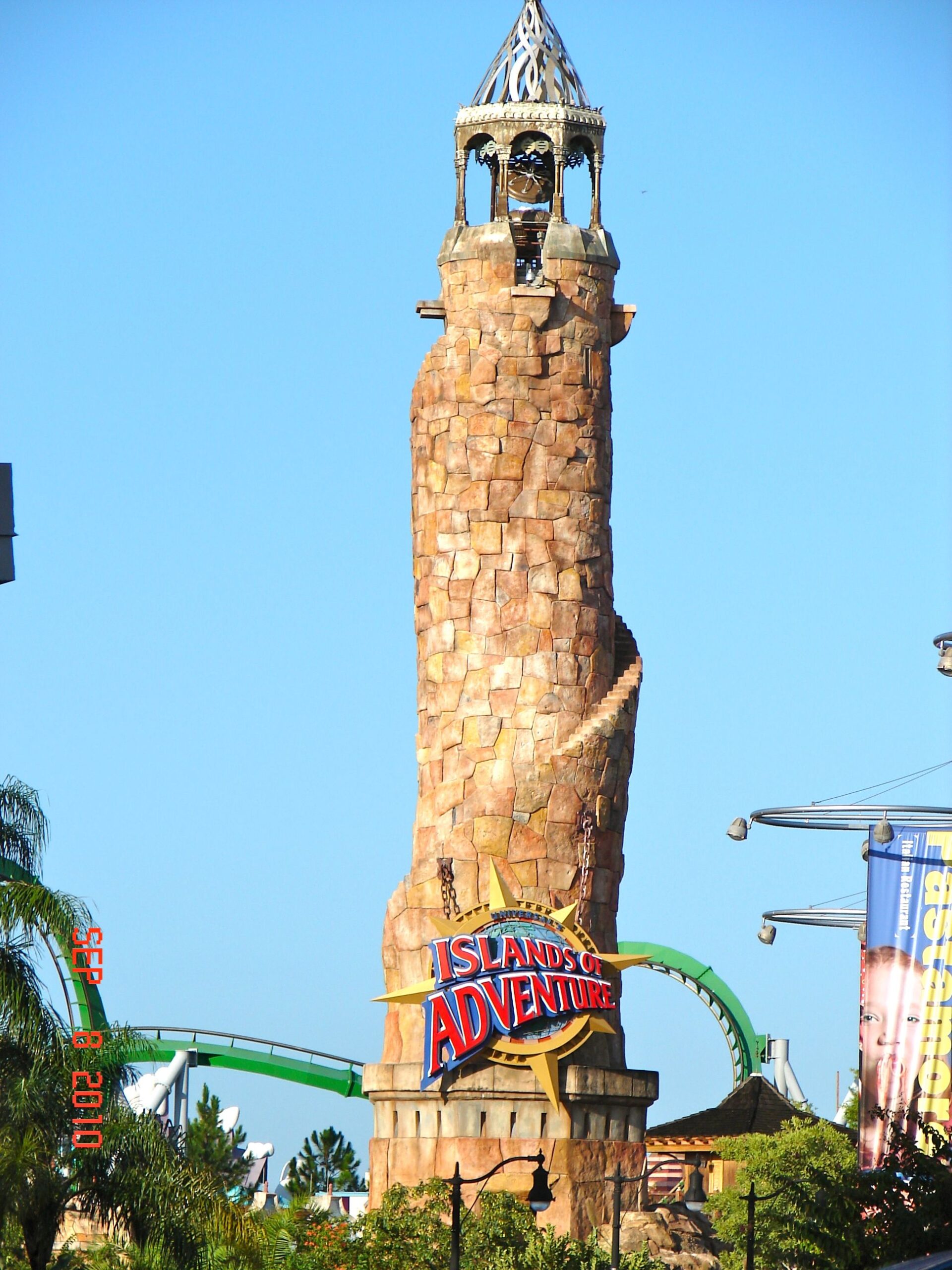 Universal Studios Florida hosts many classic rides like E.T. Adventure, Men in Black: Alien Attack, and Harry Potter and the Forbidden Journey.
Islands of Adventure features a different selling point. Walt Disney World had laid off some Imagineers in the mid- to late-1990s.
Universal scooped them up and gave them carte blanche to build the new park. So, its theming is immaculate.
Each of the islands carries its own theme, with ideas ranging from Dr. Seuss to comic strips to Marvel superheroes.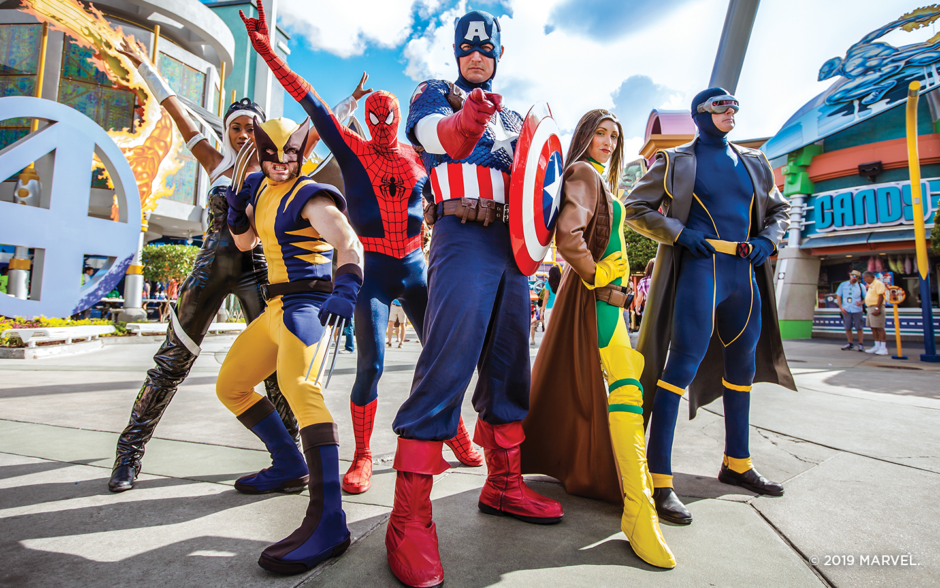 Also, this place is home to the newer version of The Wizarding World, Diagon Alley.
Importantly, the Hogwarts Express train will transport you from one park to the other. You don't even need to exit.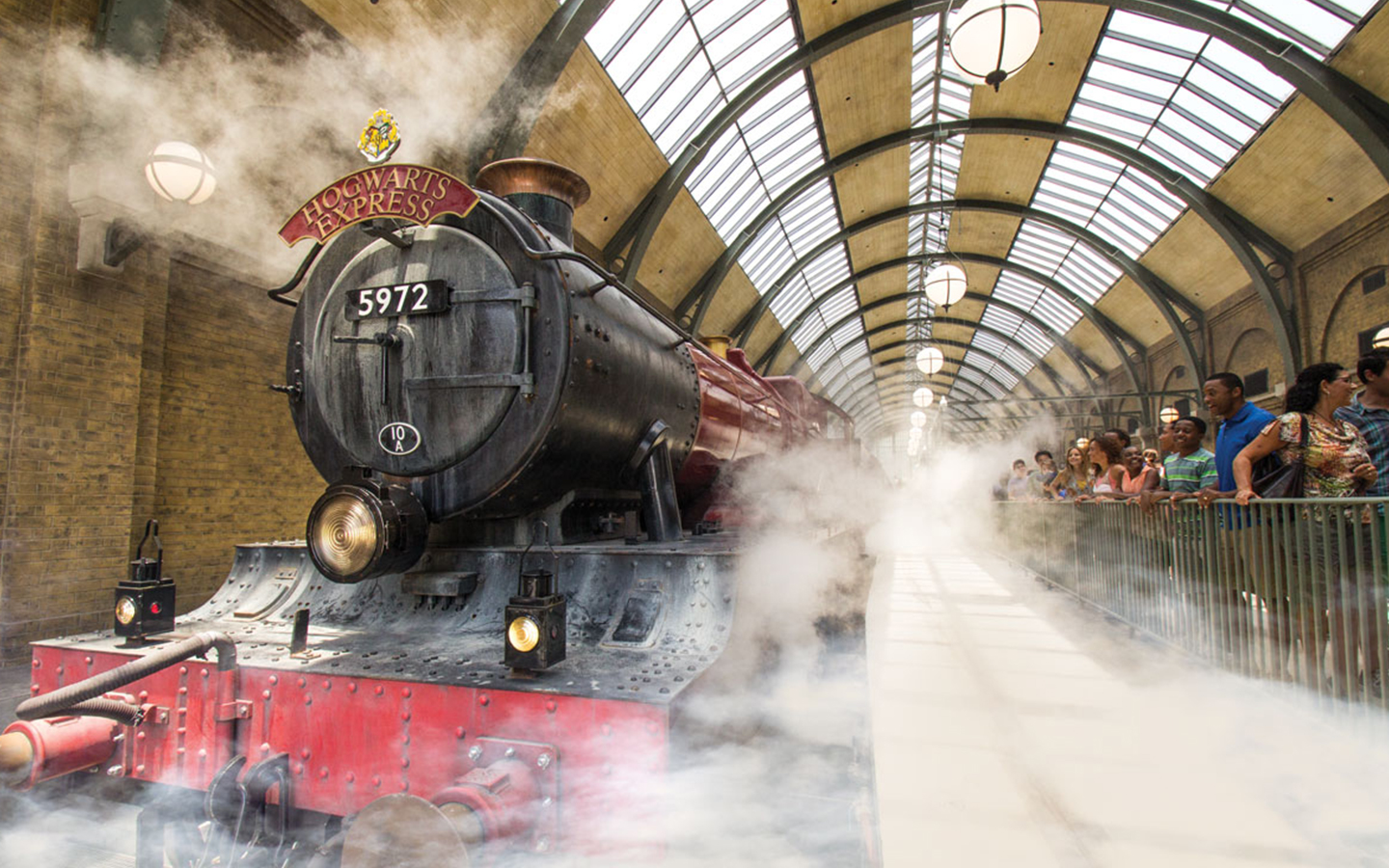 The Hogwarts Express has stations in Hogsmeade and Diagon Alley.
Yes, transportation happens within the parks! It's incredibly convenient when you want to visit both parks.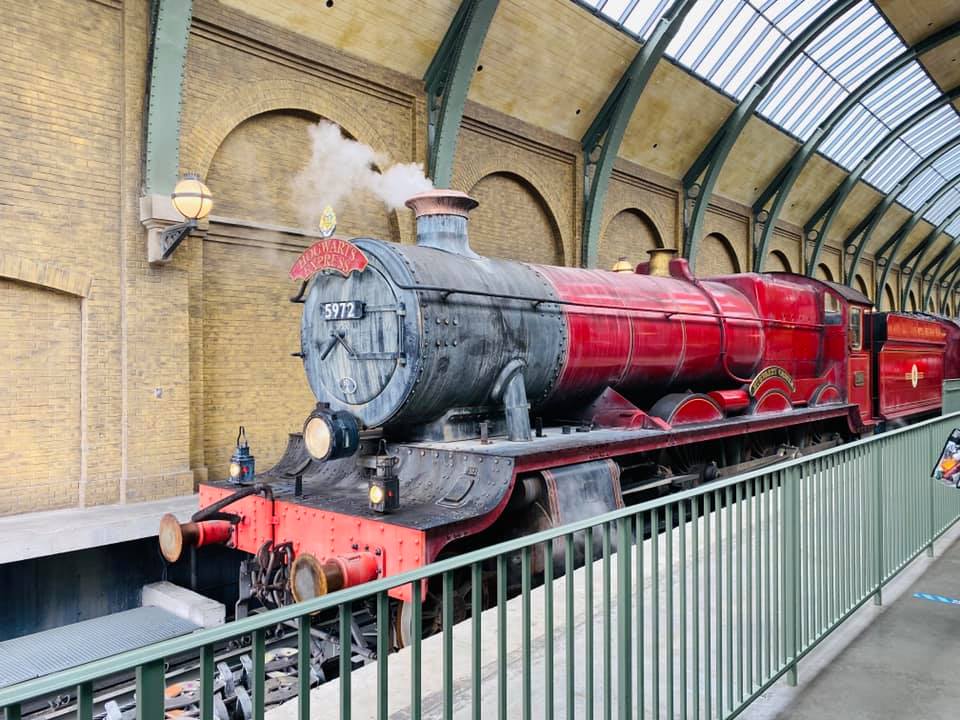 Please be aware that you need a multi-park ticket to do this, though.
You'll definitely want to splurge a bit to buy the multi-park admission rather than the regular one.
By the way, you cannot Park Hop at Walt Disney World during the pandemic. So, Universal visits give you something that Disney doesn't!
Many Rides Are Similar
This isn't a good thing or a bad thing, just something you should know.
Many Universal Studios attractions utilize a ride technology called motion simulation.
You've experienced it before, I'm sure. The most famous early iteration of motion simulation was Star Tours at Disneyland.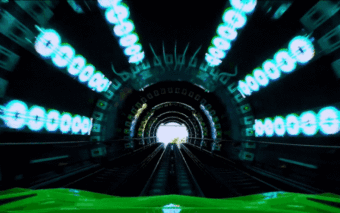 Over the years, park strategists have discovered that this style of ride is cheap and efficient while delivering a tremendous ride experience.
Also, Universal Orlando Resort doesn't have a lot of free space, which explains why Universal will build Epic Universe elsewhere.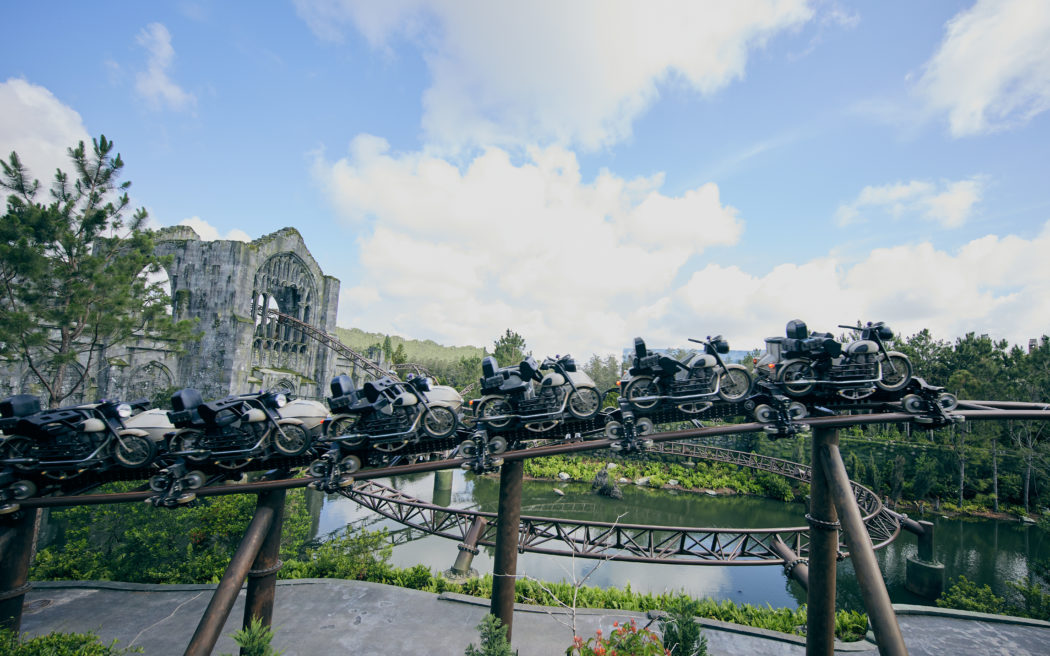 Motion simulators take up little space, an added bonus. So, the pragmatists at Universal doubled, tripled, and quadrupled down on the premise.
By my count, Universal Studios hosts more than 10 motion simulation attractions, which is fantastic news for you.
You'll get to ride plenty of great stuff, but you'll rarely have to wait.
I'm mentioning this because some guests, myself included, may experience a bit of nausea by riding too many motion simulation rides in a short timeframe.
You don't want to feel sick during a park day. So, pace yourself!
The Wizarding Worlds Are Crowded
This statement shouldn't surprise you, but The Wizarding World of Harry Potter will be mobbed.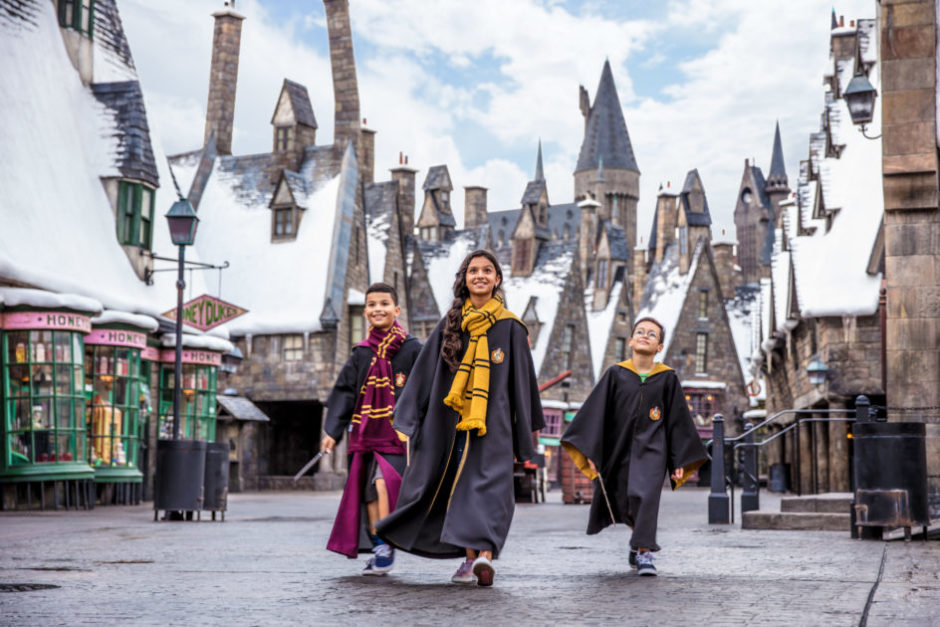 I mean, this place is one of the main reasons you're visiting Universal Studios, right? The data suggests yes.
When this themed land debuted, park attendance spiked overnight.
Suddenly, Universal Studios leveled up from Orlando afterthought to power player. Viral social media images showed comically long lines.
Of course, the first Wizarding World is more than ten years old now. So, the crowds aren't quite as massive as they were in the beginning.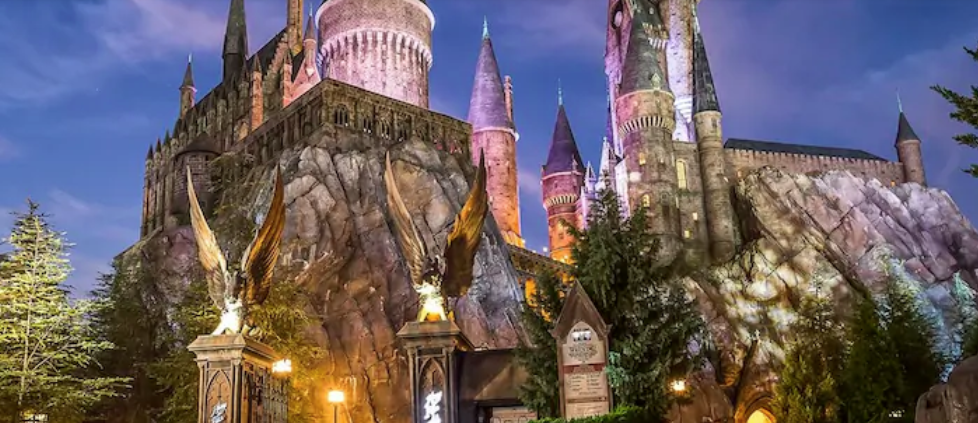 One exception exists, though. Hagrid's Magical Creature Motorbike Adventure claimed a wait-time of more than 10 hours on opening day.
Since then, the lines have shrunk some, but the demand for this attraction has forced Universal to employ a virtual queue at times.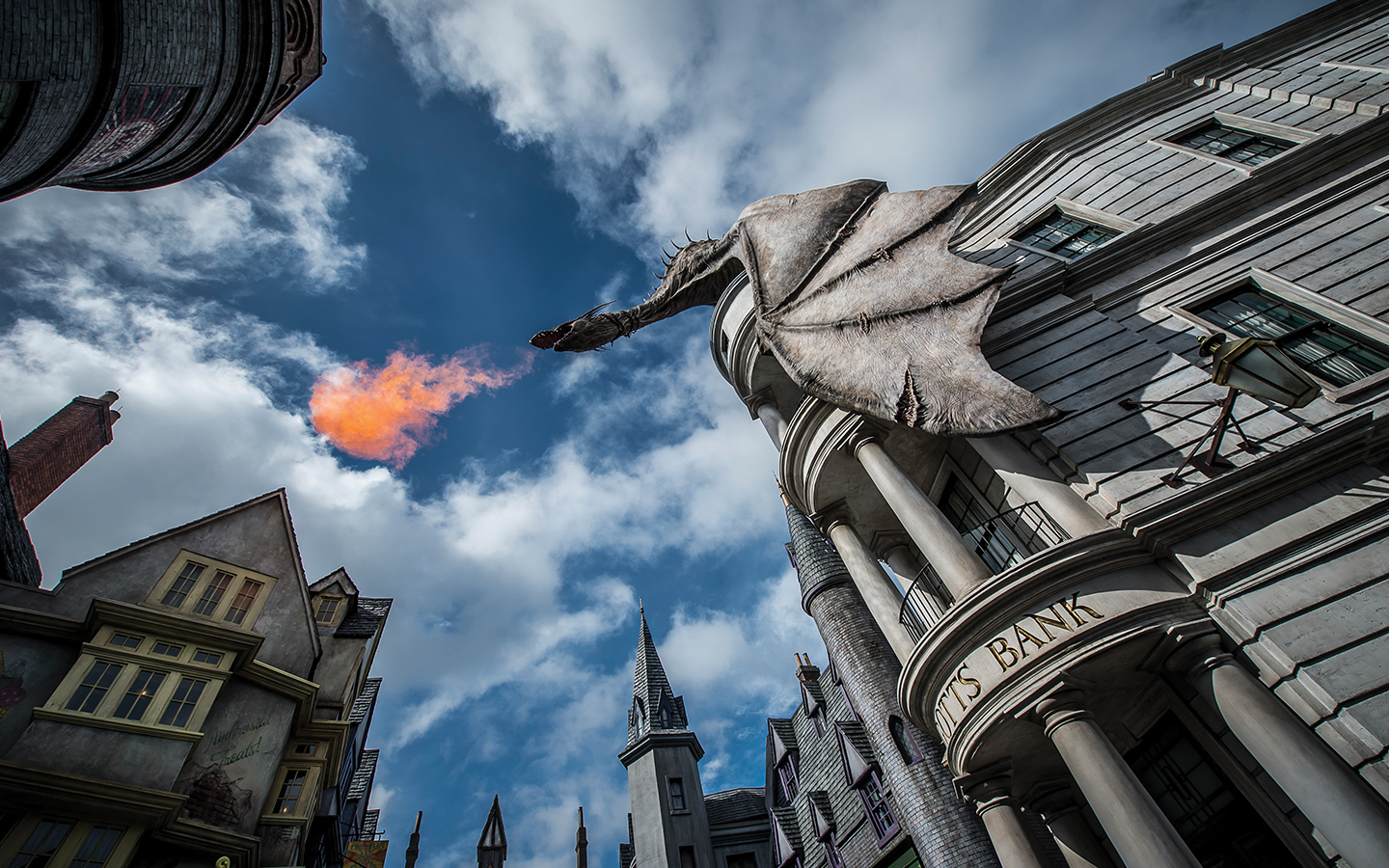 You'll find The Wizarding World at both Universal Studios theme parks in Orlando. Both will include the most massive crowds overall at the parks.
For a while, Diagon Alley had usurped Hogsmeade in popularity, but Hagrid's introduction has somewhat balanced the scales.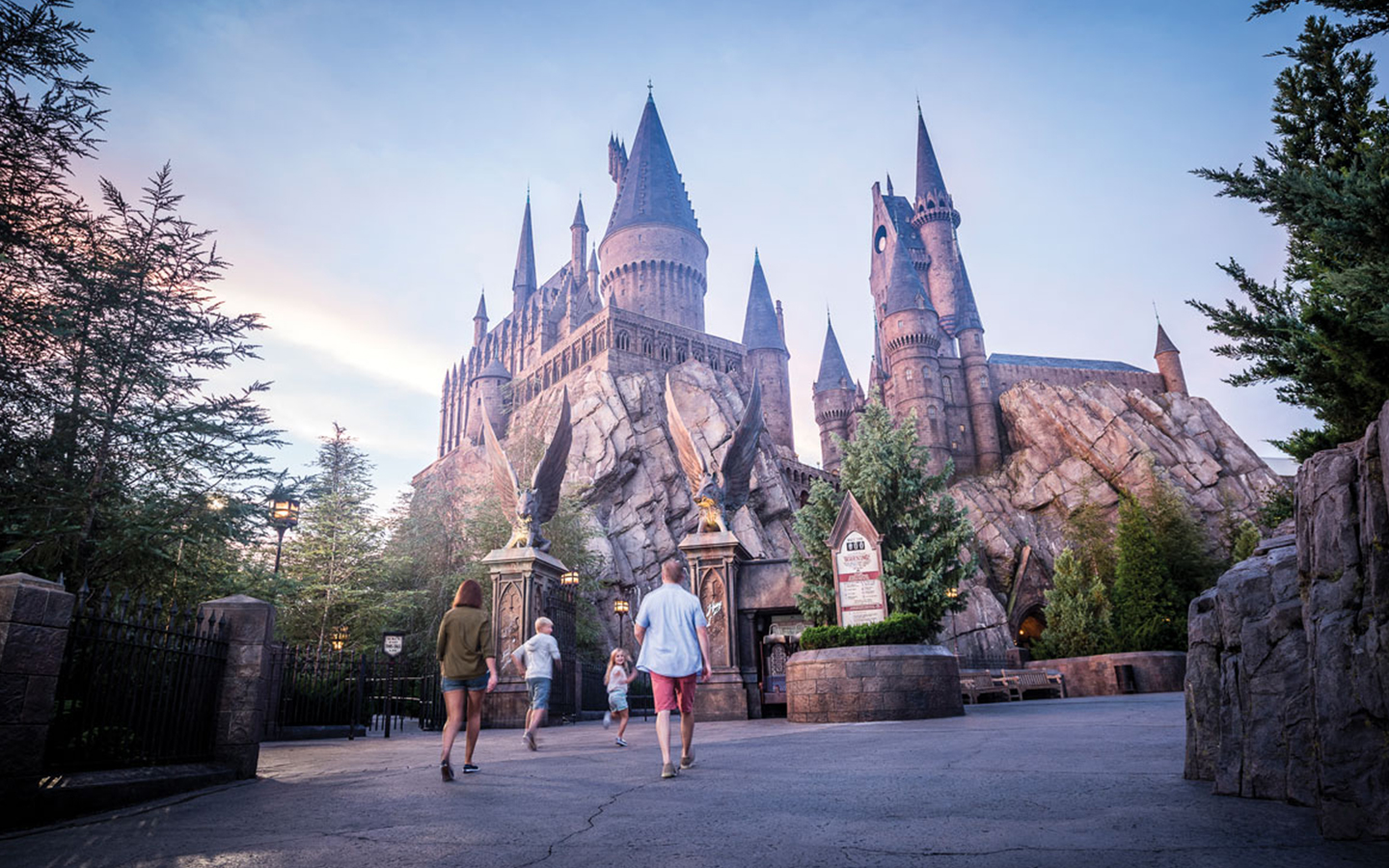 Face it. No matter where you go, The Wizarding World will have a lot of people…but that speaks to the quality of these themed lands.
If they weren't great, people wouldn't keep coming back, right?
You'll Notice Some Familiar Names
Universal Studios owns a significant number of recognizable intellectual properties (IPs).
However, the park didn't stop with stuff from the classic Universal Pictures library.
Universal has acquired other IPs, too. During a visit here, you'll recognize many of the rides and characters at the parks.
For example, Universal has created an entire themed land for kids, and the stories come from Dr. Seuss.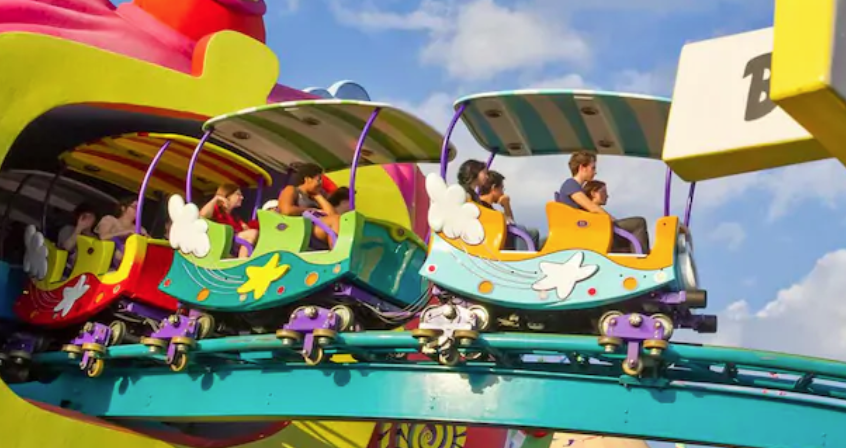 The parks also host an eclectic group of attractions based on The Simpsons, Transformers, Spider-Man, Men in Black, Jurassic Park, and even Jimmy Fallon's late-night talk show.
I realize that sounds ridiculous, but the diverse nature of these IPs will enhance your park experience.
At one point, you'll escape the evil Decepticons. Later, you'll try to shoot aliens. After that, dinosaurs will break out of captivity and try to eat you.
As if these things weren't weird enough, Jimmy Fallon will take you to the moon, and Sideshow Bob will try to destroy you along with the rest of Springfield.
Stuff happens when you're at Universal Studios. Not all of it involves wizards entertaining muggles, either.
You Can Skip the Lines
Most theme park guests are familiar with the concept of the FastPass or something similar.
Hi Brian, yes there are various locations in the park where the Universal Express Pass is sold. 😊

— Universal Orlando Resort (@UniversalORL) August 10, 2020
When you own a ride pass, you get to stand in line for less time. Most theme parks feature this odd combination of longer line and shorter line.
Without getting into technical details, these systems increase ride throughput AND customer satisfaction.
Hi Bryan, yes you can still utilize the Universal Express pass at participating attractions!

— Universal Orlando Resort (@UniversalORL) June 29, 2020
Well, Universal Orlando Resort has opened the ante. You can pay to play, so to speak.
The Universal Express Pass allows guests to skip the regular line entirely. No, there's not a catch, although some rides don't have Express Pass options.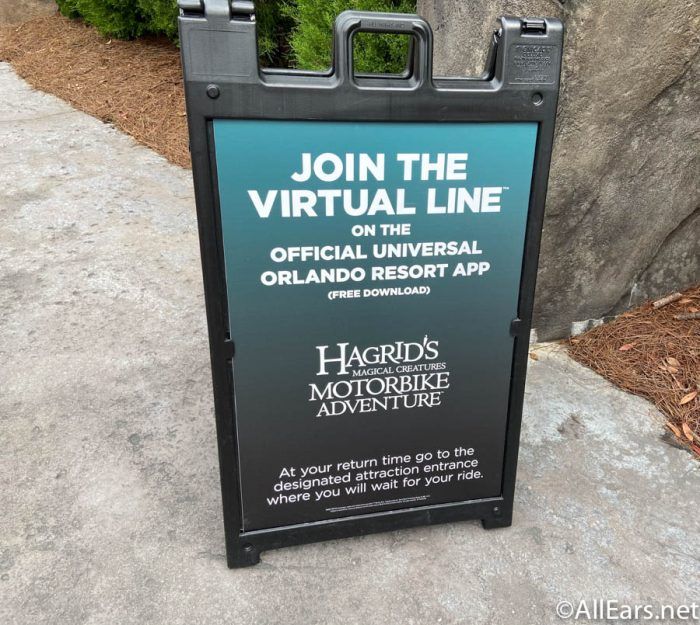 For those that you do, you can walk right past other guests. Usually, you'll spend only a few minutes in line before boarding an attraction.
Universal actually offers an even better version of this pass called the Universal Express Unlimited Pass.
The 2pm Universal Express Pass start for Premier APs is EPIC. Definitely going to be taking advantage of that while it lasts. Gonna spend at least one afternoon riding The Incredible Hulk and/or Rip Ride Rockit over and over again. pic.twitter.com/5Iu7baQIW8

— Erica Fett (@TheTravelJedi) August 12, 2020
With this feature, you can ride whatever you want as often as you wish. Unlimited is right there in the title!
Universal sells these options starting at $69 per person per day, $89 for the Unlimited. Prices go up from there, sometimes as high as $199.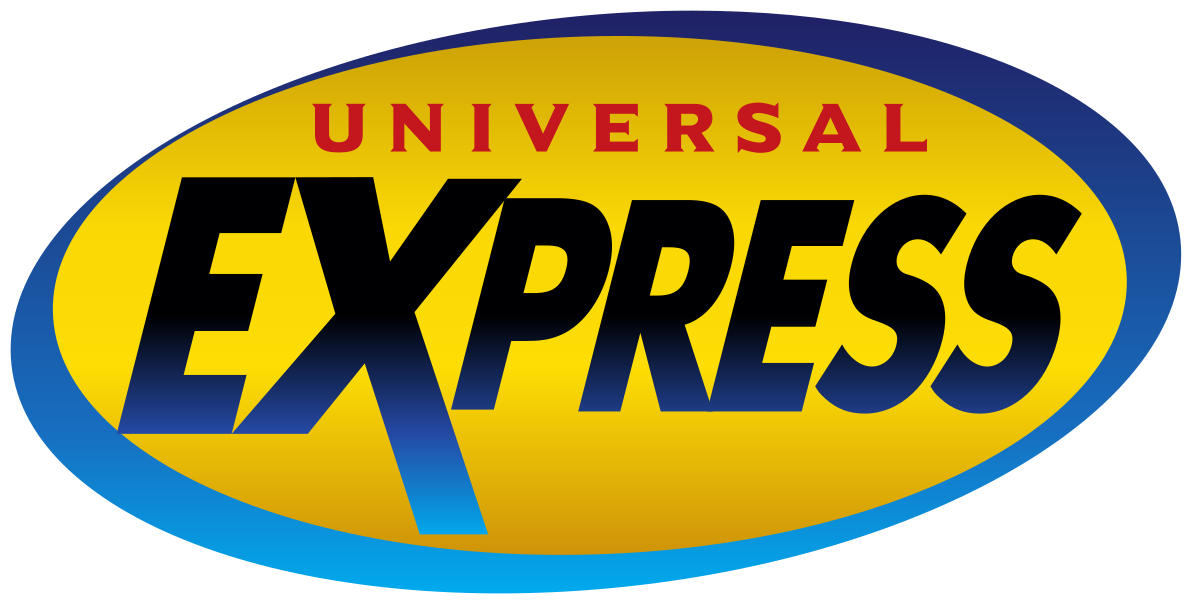 However, you can receive this pass for free! It's an included amenity when you stay at one of Universal's hotels in the Premier tier.
So, you stay in deluxe accommodations and receive a Universal Express Unlimited Pass as an added bonus.
or get Unlimited Universal Express Pass bracelets (like at Universal Studios) and go everywhere without a queue

get out me way!! pic.twitter.com/LNOX68zIf2

— Gen (@Gen777777) May 11, 2020
You're Not at Disney So Stop Comparing!
Many travelers head to Central Florida in anticipation of a joint vacation.
They spend some time at Walt Disney World and the rest at Universal Studios.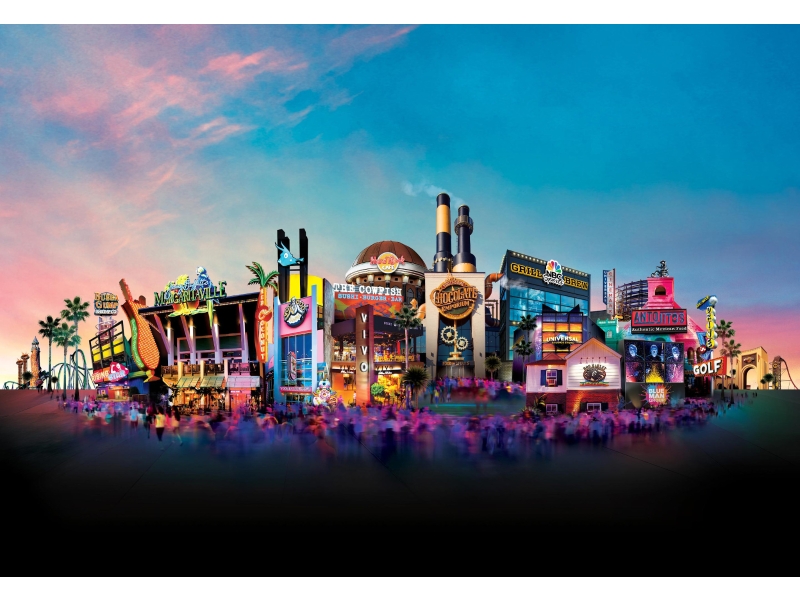 Others pick Disney for one trip and Universal for the next. And both strategies work well, depending on your vacation habits.
You understand that the two theme parks work differently, and you should stop comparing them.
Walt Disney World sells that special brand of Disney magic, one that kids adore. Universal skews older by design.
When you're at this park, you're going to ride more intense attractions like Hollywood Rip Ride Rockit and The Incredible Hulk Coaster.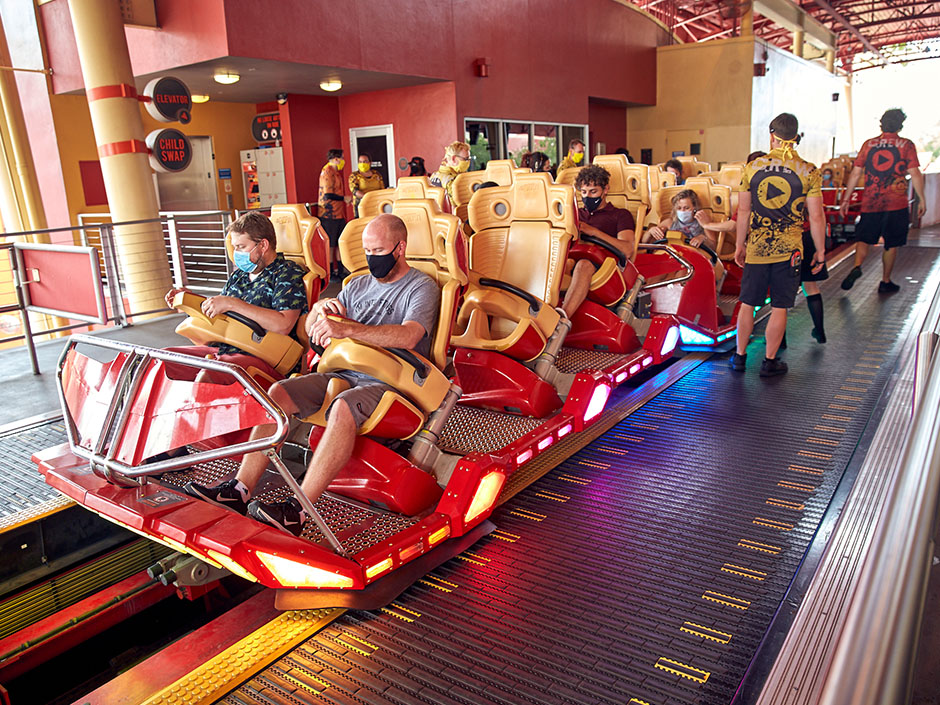 Savor the differences between a park that caters to adults vs. one that sells to families.
Feature Image Rights: Universal
Thanks for visiting UniversalParksBlog.com! Want to go to Universal? For a FREE quote on your next Universal vacation, please fill out the form below and one of the award winning agents from Let's Adventure Travel will be in touch soon!