Best Universal Studios Rides for Families
Universal Orlando Resort and Universal Studios Hollywood both reside in the shadows of Disney theme parks.
So, for whatever reason, people often look in the wrong direction when they want a family vacation.
I'm here to tell you that you may be looking in the wrong place! Here are the best nine rides for families at Universal Studios!
Despicable Me: Minion Mayhem
I presume that you know about the grown-up Harry Potter rides at the parks. As a parent, you'll decide whether your children are old enough for them.
Instead, this list focuses on attractions that any child may ride safely. That's not the only criteria, though. The rides must be tons of fun!
Even adults without children will feel this way about the Despicable Me ride, which marries every movie story into a single premise.
The girls want to celebrate the anniversary of their adoption with Papa Gru. And the whole thing goes about as well as you'd expect with Minions involved.
Everything turns out well in the end, though. More importantly, families get to watch the Minions experience tons of cartoon violence.
This video will prove that Minion Mayhem is as good as it gets in terms of theme park entertainment.
Dudley's Do-Right's Ripsaw Falls
I almost didn't include this ride because it's debatable as a family ride. That may surprise you because, yes, the theming skews very young.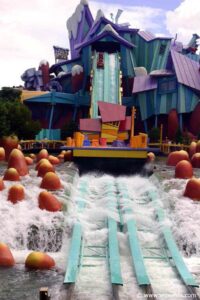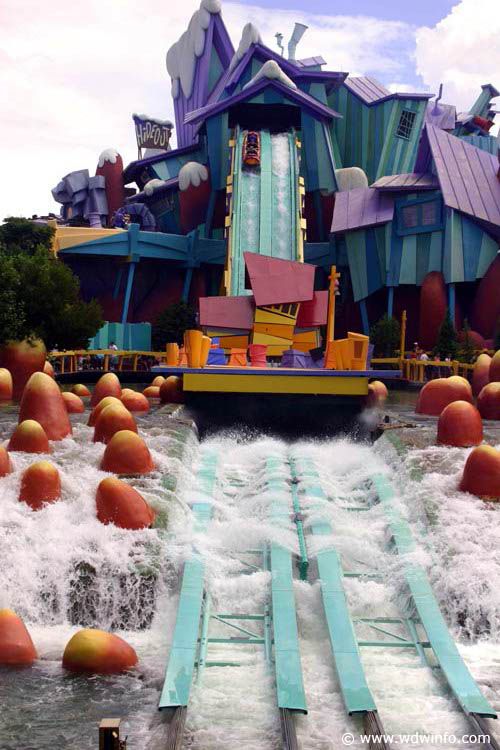 However, this ride comes with its fair share of danger, at least by theme park standards. For this reason, its height requirement is 44".
That may not sound like much, but it's actually a big number. Generally, only the most adult rides ask that children wait until they're 44 inches tall.
That's about seven or eight years old for the average child, which should preclude Dudley Do-Right from this list. But it's Dudley Do-Right!
That marvelous Mountie provides so much entertainment that families will love him anyway! Just don't try to take small children on this one. They won't let you!
E.T. Adventure
Come on! You knew this one had to make the list. For old school Universal Studios fans, nothing represents the parks more than E.T. Adventure.
I mean, Universal Studios Florida doesn't even operate the studio tour today. So, E.T. Adventure counts as the most classic ride here.
While other, better rides have come out since the E.T. ride's debut, none of them does theming as well as this lovely celebration of the movie.
Guests hop on a bike and fly into the sky, just like Elliott did way back when! It's magical and will make kids believe that they can do the impossible.
For many families, a ride on E.T. Adventure signifies a rite of passage passed down from parent to child. It's a must-do for this reason!
Flight of the Hippogriff
Junior roller coasters don't come any gentler than this one.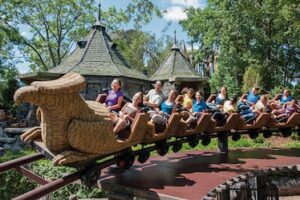 While the other attractions at The Wizarding World of Harry Potter may prove too adult, this one may have the opposite effect.
Kids age out of this one quickly. By the time they turn ten, they may sneer at the thought of the kiddie coaster.
So, this one works like Intro to Roller Coasters 101. Plus, kids always want to learn what a Hippogriff is!
You can read Harry Potter books to them after your vacation ends!
Kang & Kodos' Twirl 'n' Hurl
Nothing makes kids happier than spinning around in circles. Parents are nodding knowingly at this.
You'll sometimes watch your child just start spinning for no reason. It's part of the maturation process to learn about that odd form of dizziness.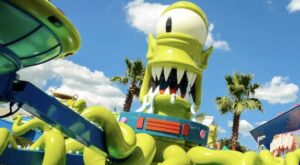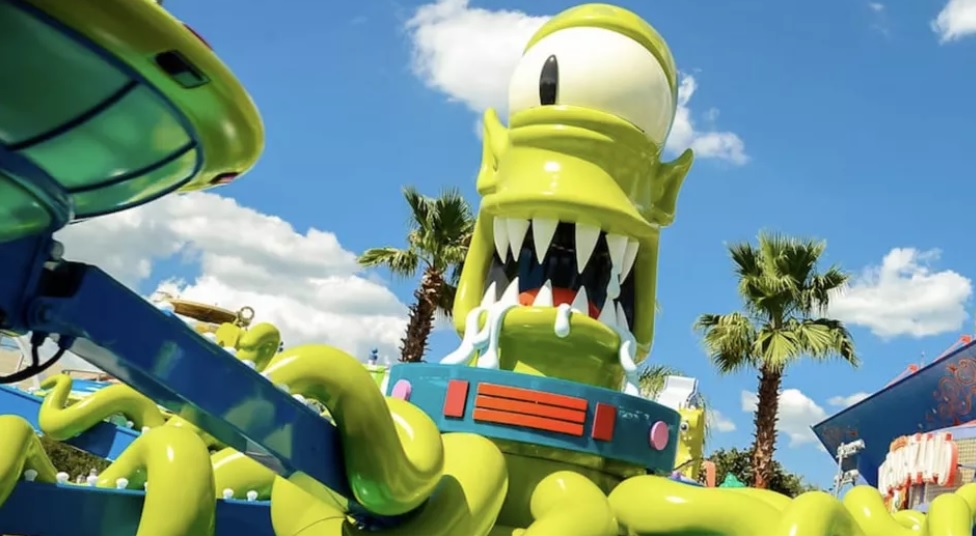 This ride embraces the aliens from The Simpsons, and it does so in the best possible way for kids. Kang and Kodos taunt you while you ride!
Your child(ren) will laugh at the ridiculousness of the whole thing. Plus, they'll spin silly, too.
So, this one's a dream come true for children and provides tons of entertainment for parents as well…but remember to ride in a different cart!
Otherwise, you'll wind up nauseous if you let a rambunctious kid control the spinning!
MEN IN BLACK Alien Attack
I went back and forth on this one as well, but its height requirement is less than that of Dudley Do-Right. So, there's no reason to exclude it.
Conversely, families will adore riding Alien Attack since it's a gamified experience set in the Men in Black universe.
You'll ride through various video game sets and attempt to disable as many unwelcome aliens as possible.
Kids will love the vivid scenery and the rare opportunity to wipe the floor with their parents in a competition.
Parents will enjoy the Men in Black elements and the joy on their children's faces when they inevitably win. Plus, you'll find out whether you're raising a sore winner!
The Secret Life of Pets: Off the Leash
Much of what I said about Despicable Me fits here as well. The same animation studio, Illumination Entertainment, created both franchises.
With Secret Life of Pets, kids get to watch anthropomorphic animals live and play and go on grand adventures.
This ride is actually the newest Universal Studios Hollywood attraction, but that's an important distinction here. You'll only find the ride there, not in Orlando.
The Simpsons Ride
If you're under the age of 33, you've never lived in a world without The Simpsons.
So, a trip to Springfield represents a unique opportunity to show your kids the kind of entertainment you watched at that age.
Plus, since The Simpsons will apparently never get canceled, they'll get to grow into the stories as they get older.
Of course, no matter anyone's age, they'll treasure this hysterical motion simulation ride for its bright colors and whizbang action.
Sideshow Bob has finally gotten serious about killing The Simpsons. He'll take out the entire town of Springfield if needed to finish the job.
Pteranodon Flyers
So, I had to include this one because children adore it. On Pteranodon Flyers, riders get to experience the sensation of flight.
The premise is that you're a winged dinosaur soaring majestically…or maybe you have a pet dinosaur and have hooked a cab to its belly?
I dunno. This one's open to interpretation. Anyway, it serves its purpose well for kids. For adults, it's…less exciting.
You're basically on a swing. It's pretty much the same device you used to rock your child to sleep during their first 24 months.
I doubt that even in your most delirious parenting moments, you ever thought, "I wish I were riding that thing with the kid."
On Pteranodon Flyers, you do. It is what it is.
Thanks for visiting UniversalParksBlog.com! Want to go to Universal? For a FREE quote on your next Universal vacation, please fill out the form below and one of the agents from Let's Adventure Travel will be in touch soon!
Feature Photo: Universal