Universal Tips for Halloween Horror Nights 2022
For most of the theme park industry, we're entering the off-season. After all, school is back in session, which prevents most families from traveling.
However, Universal Orlando resort works a bit differently. The beloved Halloween Horror Nights event will drive attendance for the next two months.
In fact, that statement likely applies to many of you. There's a distinct possibility that you haven't visited Universal for at least a year, maybe even since before the pandemic.
So, there's a lot you need to know. Here are some Universal Studios tips and tricks for visiting on Halloween Horror Nights.
Plan for Early Park Closing at Universal
Let's start with a gentle reminder regarding the parks and Halloween Horror Nights (HHN). Unfortunately, this event won't be available to the general public.
Instead, you must own some sort of after-hours ticket for HHN. Universal sells several versions, including a basic HHN admission ticket and several multi-day passes.
You must buy one of them to attend the event. Otherwise, your park day will end before 6:30 p.m. That's when HHN officially starts in 2022.
Everyone else in the park must leave at 6 p.m., the official closing time for Universal Studios Florida (USF).
Remember that there's a trick here, though. The early park closure only applies to USF. So Universal's Islands of Adventure (IoA) remains open.
Universal can do this because HHN isn't a joint-park event. It's exclusive to USF. So, there's no reason to close IoA early.
I presume you won't hold tickets for every night of HHN during your Universal visit.
In such cases, I strongly encourage you to buy a Park-to-Park ticket. You probably call it a Park Hopper because that's what it does.
With a Park-to-Park (PtP) ticket, you can leave USF and visit IoA or vice versa. It's simple to do, as the Hogwarts Express transports guests between the parks.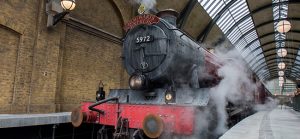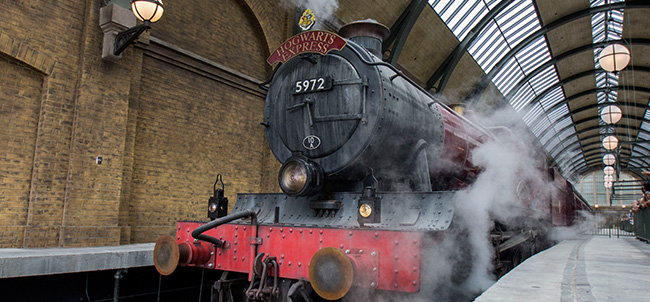 When 6 p.m. arrives at USF on days you don't have an HHN ticket, you can ride Hogwarts Express to IoA.
Conversely, when you do have HHN tickets, you aren't going anywhere! USF is where you'll find all the fun on those days, as HHN is fantastic!
Expect More Crowds at the Other Universal Park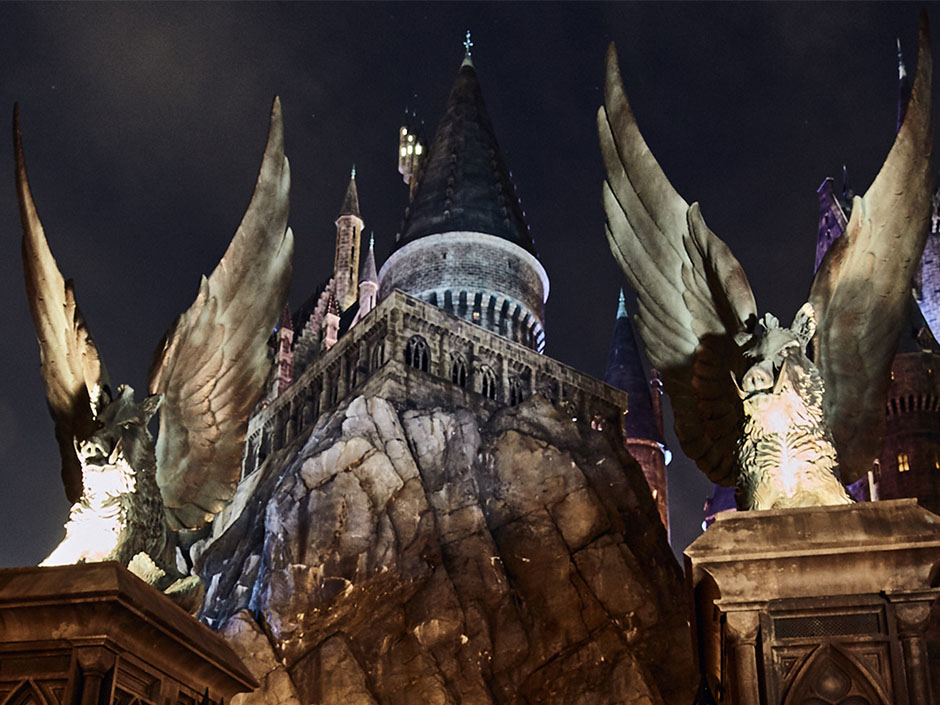 The one thing to know about PtP trips to IoA after 6 p.m. is that you'll run into larger crowds than usual.
You might expect everyone to stay at USF for the Halloween party…and many people do! Alas, the rest filter over to the other park, the one that's open to all.
So, wait times at IoA sometimes creep up during its final three hours of operation, at least compared to the norms for the time.
Theme parks often possess smaller crowds as closing time approaches. Many guests have already done what they wanted for the day. They go home.
For this reason, the last hour a park is open is often one of the best times to ride attractions. Smaller crowds mean shorter lines.
You shouldn't expect that on the HHN nights. Don't get me wrong. It's definitely possible and even likely on some slower September nights.
Overall, Universal Orlando Resort demonstrates relatively uniform behavior, though.
After 6 p.m., most people will be at HHN. The ones who aren't will head straight to IoA, presuming they don't leave for the night.
Plan your strategy around this behavior. Transition from one park to the other in the early 5 o'clock hour. You'll avoid extended waits at Hogwarts Express.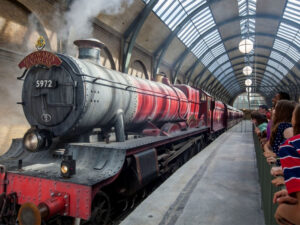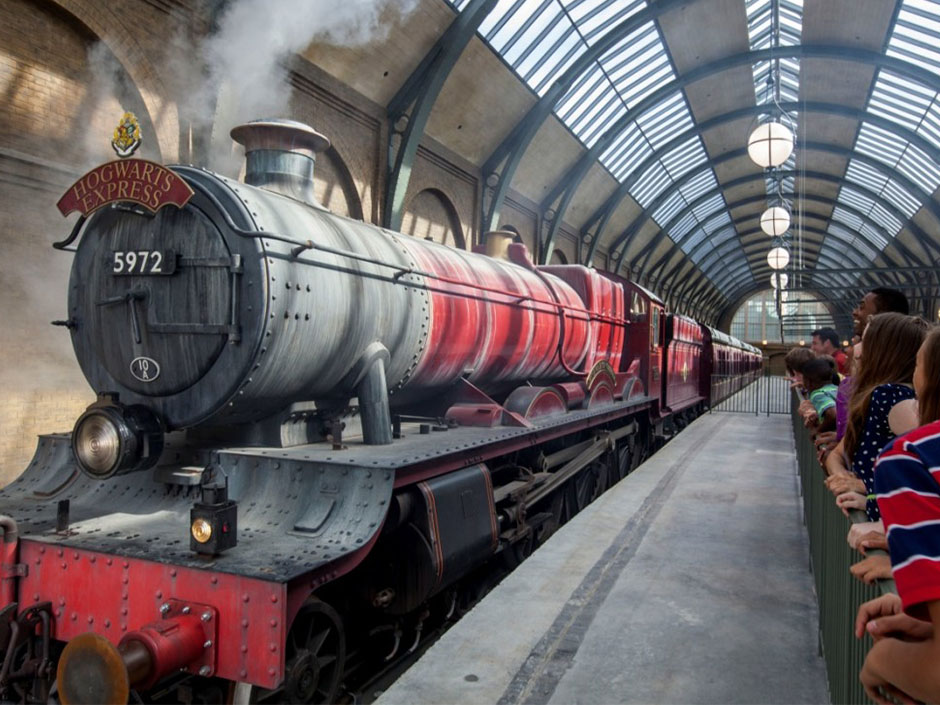 As you might imagine, crowds swell here right as Universal Studios Florida ends.
By beating the rush, you can do something like the Jurassic Park VelociCoaster before everyone else arrives.
One other pro tip for this strategy: save Hagrid's Magical Creatures Motorbike Adventure until the final attraction.
As long as you're standing in line a few minutes before the park closes, you'll probably get to ride it. I'd head there at 8:45 p.m. just to be safe.
Also, you'll love ending your night with Universal's best attraction!
Tips for the Rest of Your Day
For whatever reason, some people always express surprise that some attractions run during HHN.
You'll find that some of Universal's most popular rides remain open. They are:
Harry Potter and the Escape from Gringotts
Hollywood Rip Ride Rockit
MEN IN BLACK Alien Attack
Revenge of the Mummy
TRANSFORMERS: The Ride 3D
I strongly suggest you ride them during the typical park day, not during HHN.
My philosophy here is that you can do them anytime. But, conversely, the HHN stuff is only available at night during a limited event.
You cannot do any of it once HHN ends for the night/season. So, you should maximize this experience as much as possible.
I understand that many people won't follow this approach. In that case, Escape from Gringotts and Hollywood Rip Ride Rockit are your best bets.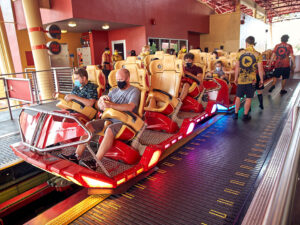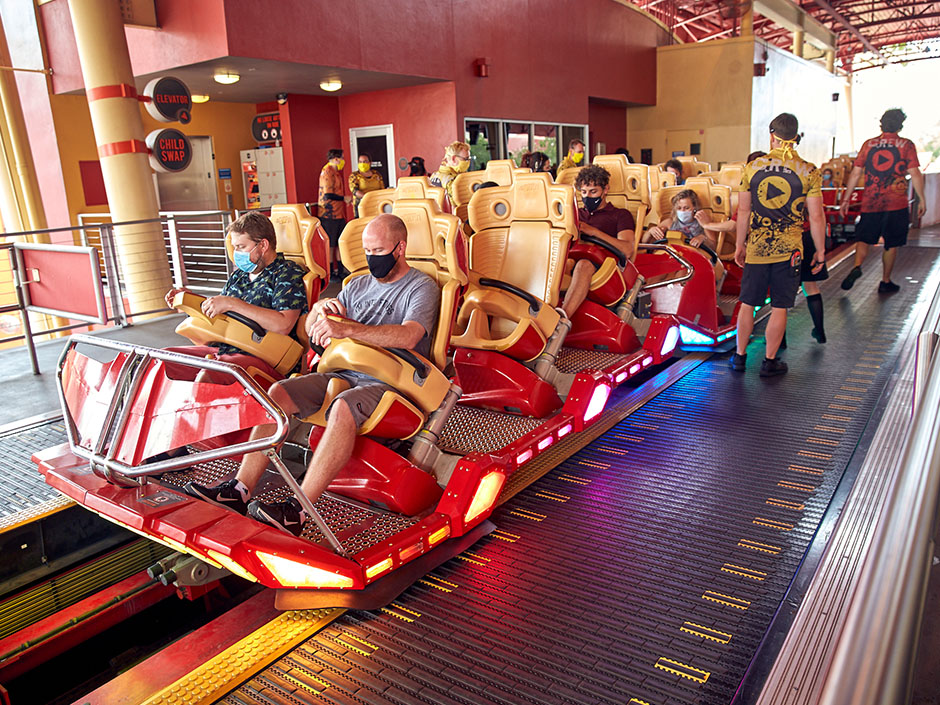 These rides require the longest waits when the parks are open to the public. Therefore, experiencing them after a modest wait at HHN is ideal.
Of course, I'm also not a fan of Hollywood Rip Ride Rockit or Transformers. So, the rides I'd suggest for enjoyment purposes are Gringotts and Men in Black.
Caveats and Final Thoughts
I'm not adding Revenge of the Mummy for a complex reason. This ride still hasn't reopened as I type this. It may by the time this article publishes…or it may not.
Universal has suffered some technical setbacks here that have caused delays. At one point, this roller coaster was on track to return by July 4th.
At this time, I cannot even guarantee it'll reopen by the start of HHN on September 2nd. But, if it does, it's better than Men in Black and right there with Gringotts.
So, you should prioritize it as well…if you have that option.
Of course, no matter what you do, you'll have a great time. HHN is spectacular!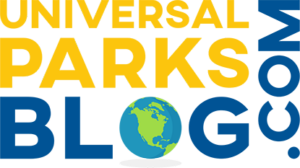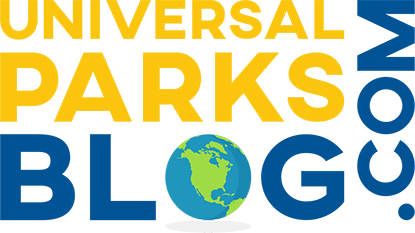 Thanks for visiting UniversalParksBlog.com! Want to go to Universal? For a FREE quote on your next Universal vacation, please fill out the form below and one of the agents from Let's Adventure Travel will be in touch soon!
Feature Photo: Photo: USA Today