Rookie Mistakes to Avoid at Universal Orlando Resort
Are you ready for your first trip to Universal Orlando Resort? You should be!
Universal's two theme parks and one water park have evolved into some of the most popular tourist destinations in the south. That didn't happen by accident!
Word of mouth has spread about the greatness of Universal Studios! Now, you're ready to find out for yourself.
However, before you go, you should know a few things. Otherwise, you won't have the best possible time.
Here are six rookie mistakes to avoid at Universal Orlando Resort.
Not Rope Dropping
Okay, here's the first important aspect of a Universal Studios visit. When the parks open, you should be there! It's important!
Theme park behavior is pretty much the same everywhere. During the early hours of park operations, fewer guests appear.
So, the ones who are in the park during those opening hours reap the benefits. You can check several popular attractions off your list before noon!
Whether you're interested in roller coasters, Springfield, or The Wizarding World of Harry Potter, the same maxim applies. The early bird gets the worm.
You should plan to arrive 20-30 minutes before the park officially opens. Then, you should settle on some hard targets when the gates open.
Know which rides matter the most to you, as well as which ones come with the longest average waits in line. Then, do those at Rope Drop!
This strategy goes hand-in-hand with another vital tip…
Not Reading the Universal Map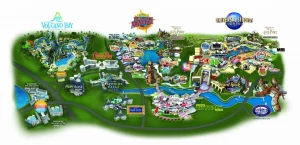 Universal Orlando Resort's two theme parks consist of impeccable designs. You'll find you have no problem navigating either park.
However, you should avoid accidental backtracking during your visit for two reasons.
First, you'll get tired enough from normal walking. Adding extra steps is that much worse.
Second, you'll waste valuable park time by retracing your steps to areas you've already visited.
So, before you head out to Universal Studios, I'd strongly encourage you to examine the park maps.
You'll notice that Universal's Islands of Adventure comes with two main paths.
At the front gate, you can go right toward Seuss Landing and The Lost Continent. Conversely, you can head left toward Super Hero Island and Toon Lagoon.
As a pro tip, most people go right since that's the quickest way to The Wizarding World of Harry Potter.
You can follow the leader, or you can turn left and go against the grain. Both strategies can work.
Similarly, at Universal Studios Florida, you can go straight from the entrance to New York and Production Central.
Alternatively, you can take a right toward Woody Woodpecker's Kidzone and Springfield.
The Wizarding World of Harry Potter is about the same distance from the front gate either way…and yes! Both parks have a unique Wizarding World!
Not Park Hopping
Speaking of which, Hogwarts Express provides the magical train ride carrying guests from one park to the other.
I'm devout in the belief that you should purchase "Park-to-Park" tickets. These Park Hopper passes allow you to visit both parks on the same day.
Without them, you cannot even ride Hogwarts Express! What's the point of going to Universal Studios if you're not gonna do that?
In addition, you gain tremendous flexibility by adding a Park-to-Park ticket. On some days, crowds randomly pick one park over the other.
When you notice longer wait times at your current park and shorter ones at the other, you just hop on Hogwarts Express and switch parks!
Otherwise, you could find yourself stuck in the overcrowded park, thereby spending more time in line and having less fun. Park-to-Park tickets speak for themselves.
Not Staying Onsite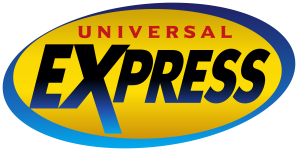 Speaking of waiting in line, nobody ever enjoys doing so. Thankfully, Universal executives have come up with a solution.
With the Universal Express Pass, guests can skip the longer line at many attractions. Instead, you enter a much shorter one.
You'll avoid waiting an excessive amount of time for Universal's most popular attractions.
Obviously, this amenity provides a massive advantage. So, Universal has priced it accordingly.
Universal Express Pass pricing starts at $79.99 per adult per day. Usually, it crosses $100 per adult per day during the peak season.
However, guests who stay at Universal's Premier Tier resorts – Hard Rock Hotel, Loews Portofino Bay Hotel, and Loews Royal Pacific Resort – get it for free!
That's a value of more than $100 per person in your hotel room! You will quickly discover that Universal prices you into a stay at one of its luxury resorts!
I pretty much ONLY stay at Hard Rock Hotel for this reason. As a perk, I get the Universal Unlimited Express, which is like the regular Universal Express Pass…but better!
You can ride any of the participating attractions as often as you like!
Not Doing Your Homework about Universal Orlando Rides
Okay, I think it's readily apparent how much I love Universal Studios. Even so, I'm a realist, and it's important to be honest about this stuff.
Not every Universal Studios attraction is a winner. In fact, a couple are notorious clunkers.
Specifically, running jokes abound involving the quality of Race Through New York Starring Jimmy Fallon and Fast & Furious: Supercharged.
Other attractions, especially children's rides, aren't for everyone. Also, those of you who suffer from motion sickness should take some Dramamine first.
Several Universal Studios attractions use motion simulation to anchor the ride experience. Your stomach might hate you otherwise.
Similarly, you should know what the A-list attractions are at UOR. Here's a list of attractions you don't want to miss:
The Amazing Adventures of Spider-Man
Despicable Me Minion Mayhem
T. Adventure
Hagrid's Magical Creatures Motorbike Adventure
Harry Potter and the Escape from Gringotts
Harry Potter and the Forbidden Journey
Hogwarts Express
Hollywood Rip Ride Rockit
The Incredible Hulk Coaster
Jurassic Park River Adventure
Jurassic World VelociCoaster
MEN IN BLACK Alien Attack
Revenge of the Mummy
The Simpsons Ride
Skull Island: Reign of Kong
This list is by no means comprehensive. I skipped several attractions I personally consider must-do experiences.
However, I didn't want to overwhelm you with an even longer list. As you can see, UOR operates countless remarkable rides!
Not Going to Universal's Volcano Bay
You won't find the best water park in Florida at Walt Disney World. Oh no. Universal Studios has raised the bar with Volcano Bay.
This water park lives up to its name thanks to an "active" volcano residing in the middle.
Yes, a landmark called Krakatau centers the entire water park. You can even speak to the spirit of this volcano!
Once you're tired of talking, you can ride the Krakatau Aqua Coaster, which carries you inside the volcano!
You'll find dozens of rides, slides, and pools at the water park. Better yet, you don't have to wait in line for several of them.
When you enter the park, you'll receive a smartwatch called a Tapu Tapu. With it, you can join virtual queues for the best attractions at Volcano Bay!
Friends, there's a reason why UO brags that it hosts three parks, not two. Volcano Bay is that good!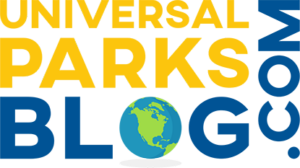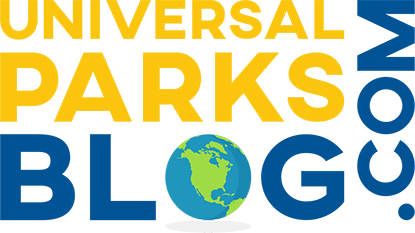 Thanks for visiting UniversalParksBlog.com! Want to go to Universal? For a FREE quote on your next Universal vacation, please fill out the form below and one of the agents from Let's Adventure Travel will be in touch soon!
Photo: Universal