Your Guide To All of the Happenings at Universal's CityWalk
If you're lucky enough to be staying on or nearby Universal Studios Florida then you'll definitely want to take time to explore Universal CityWalk. This bustling downtown districts offers so much to see and do whether its unwinding after a busy day at the parks, enjoying a romantic date night or hanging out with friends!
Here's a look at some of the highlights at Universal CityWalk!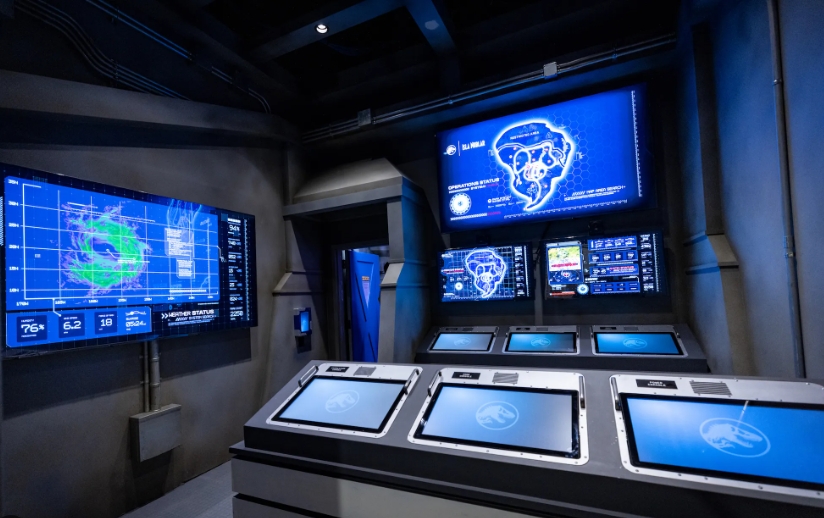 FAMILY ENTERTAINMENT:
Universal's Great Movie Escape –  This is Universal CityWalk's very own escape room, with a Hollywood Twist!  Test your skill and challenge your nerves with a fun problem-solving adventure!  The whole family is sure to love this totally immersive, totally interactive experience that puts you right in the middle of the action of some of your favorite films!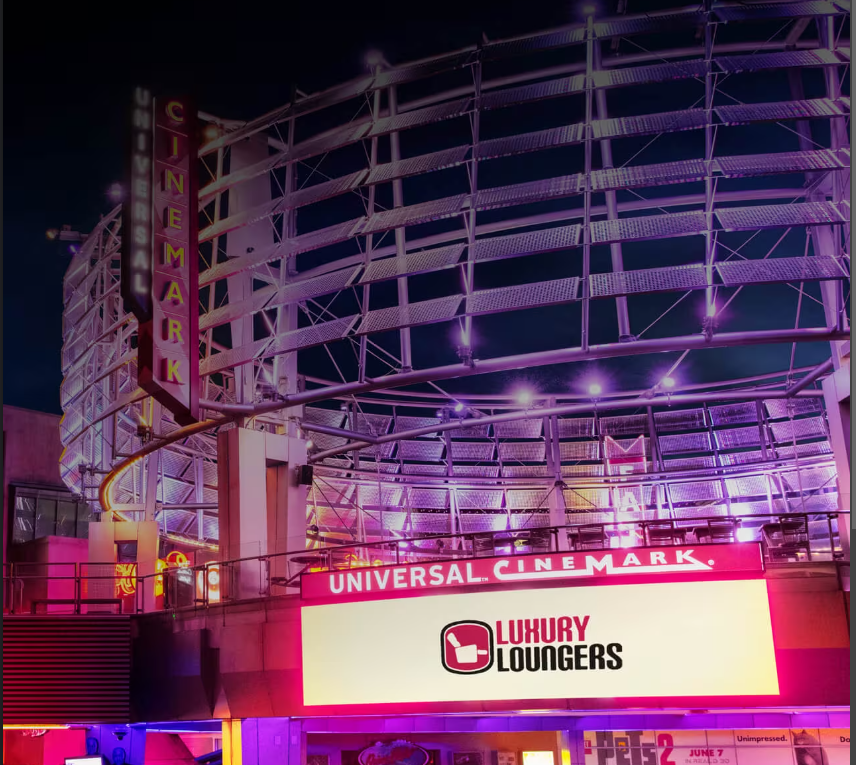 Universal Cinemark- Wind down after a busy theme park day with a movie!  Universal Cinemark boasts stadium seating and luxury recliners.  In addition, there are a wide array of awesome movie snacks and a full bar for those 21 and older.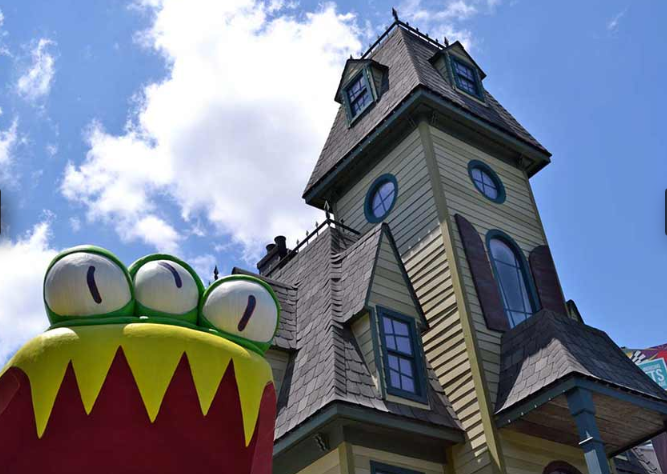 Hollywood Drive-in Golf – This miniature golf course may be one of my favorite places to play mini golf in Orlando!  Hollywood Drive-in Golf offers one or both of CityWalk's courses.  One side is The Haunting of Ghostly Greens, which is a slightly spooky haunted house the other is Invaders from Planet Putt, a set of alien invasion holes.
Hard Rock Live – Rock out to some of the best musical acts or laugh along with some of the world's best comedians when they make their way through Florida.  Adults can also enjoy the full bar located on the premises.  I recommend the Rhythm & Rose Mule.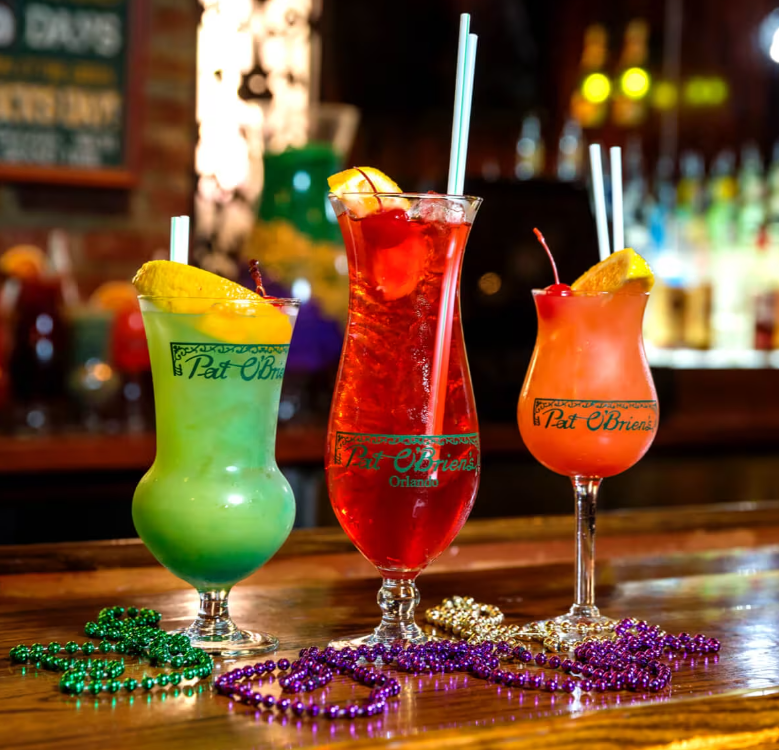 ADULT NIGHTLIFE
Pat O'Brien's-  Get ready to soak in the incredible atmosphere of Bourbon Street.  This bar features all of the things we love about the Big Easy including dueling pianos, delicious cajun food, and Pat O'briens specialty – the Hurricane!  You'll also want to bring your appetites to sample one of the Po'Boy sandwiches.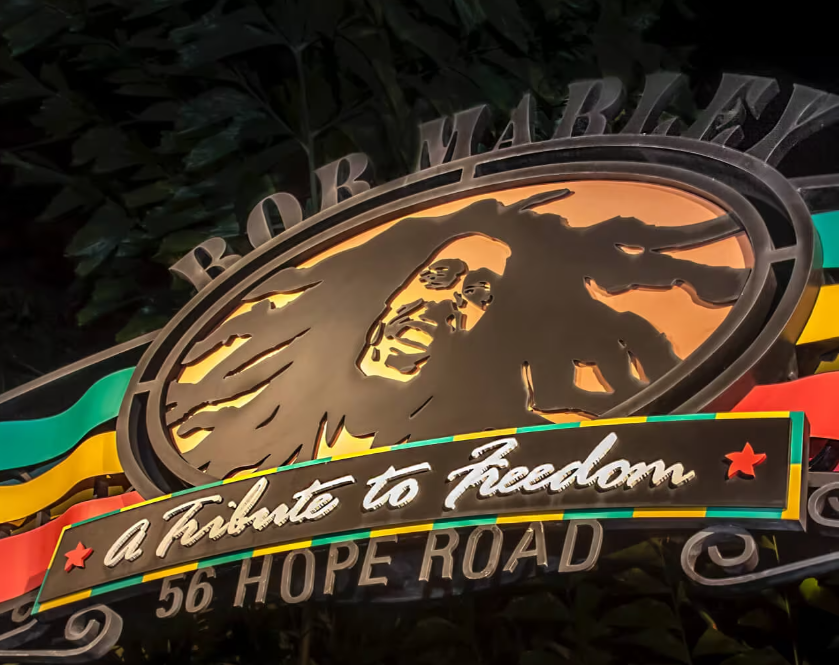 Bob Marley – A Tribute to Freedom- Our next stop is Jamaica.  At least that's where you'll feel you are the minute you walk into the open-air courtyard filled with Bob Marley memorabilia, photos, and music.  The menu features incredible Jamaican specialties such as jerk wings and yucca fries.  We recommend that you wash these spicy goodies down with Uncle Wray's Rum Punch, a rum drink with orange and pineapple juices, and banana liqueur.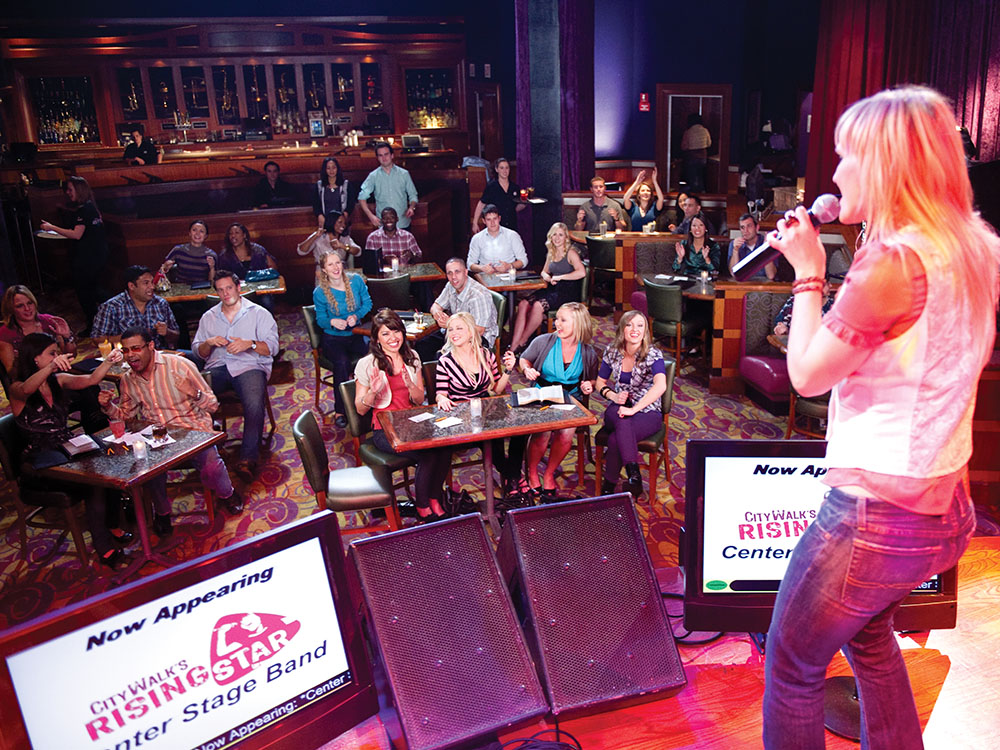 CityWalk's Rising Star – You might love karaoke but have you ever tried karaoke with a live band? You can at City Walk's Rising Star! What better place to live out your dreams as a rock star than with your friends, family, and the rest of the crowd cheering you on.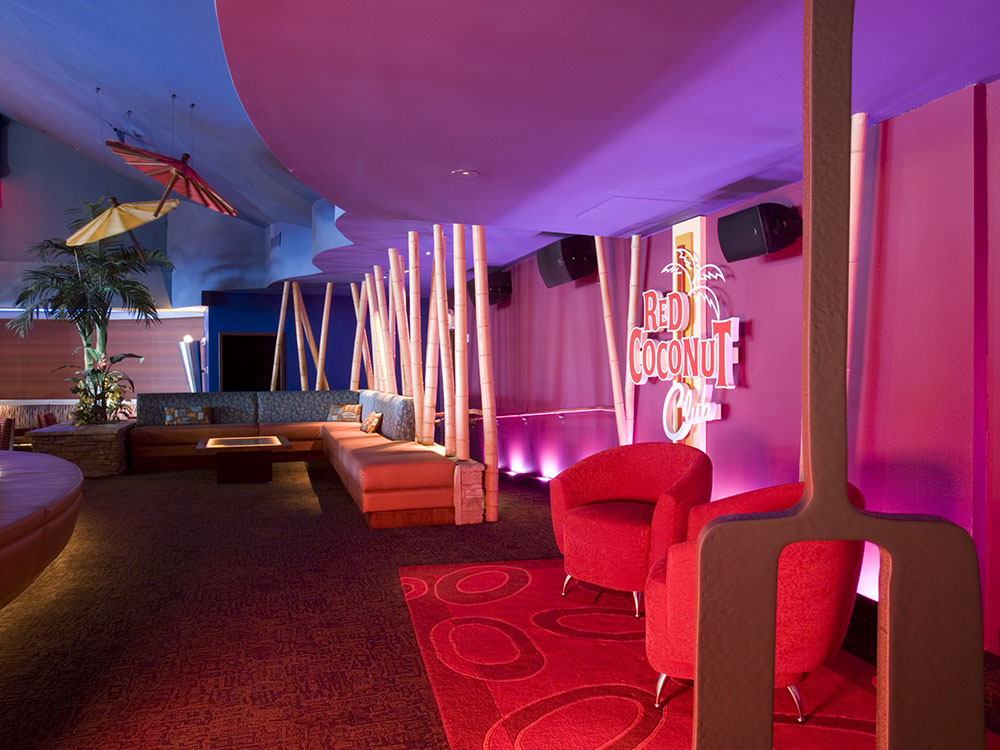 Red Coconut Club- Get ready to dance the night away with two floors of music and dancing.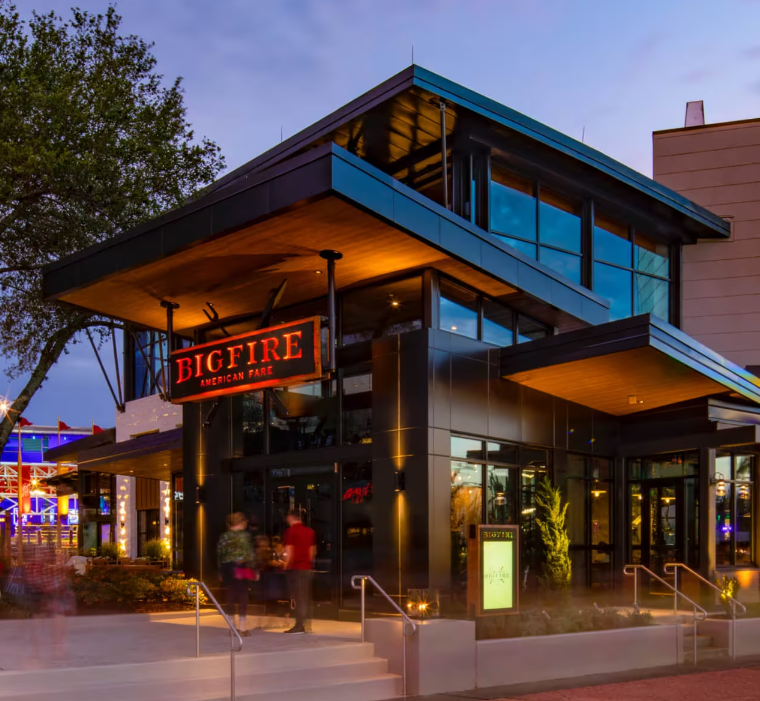 FULL SERVICE DINING:
Bigfire – For diners looking for a great spot to dine on steaks, fish, and more, this is the place to go for a unique meal.  You'll love the smoky deliciousness of dishes that have been cooked over different woods. There are even smoky drinks and tableside s'mores.
The Toothsome Chocolate Emporium & Savory Feast Kitchen – I am smitten with the steampunk motif of this restaurant featuring showstopping desserts and classic entrees.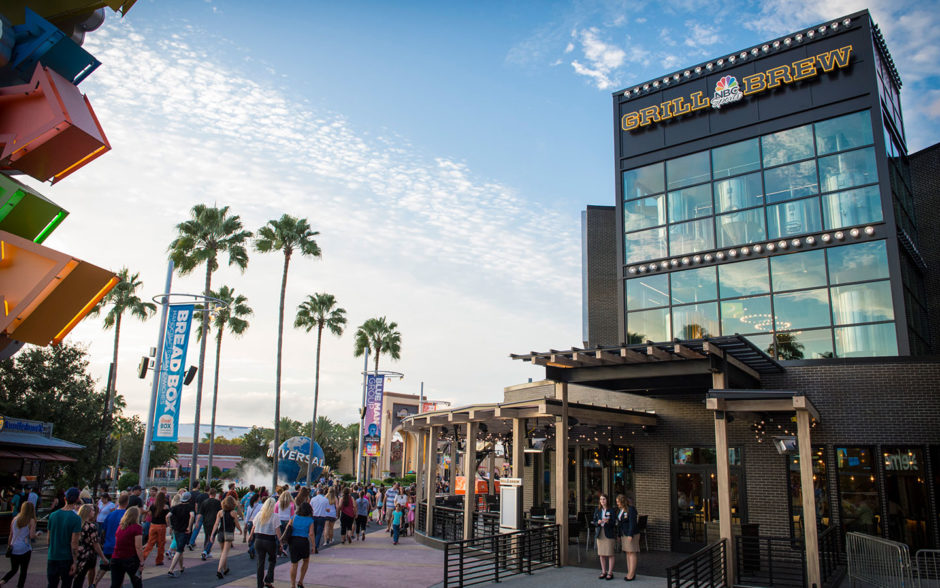 NBC Sports Grill & Brew – Indulge in some great food, play a game of foosball, and enjoy a massive selection of beer, live sports, and fun right at your table.  There's a ton of bar food that is anything but ordinary.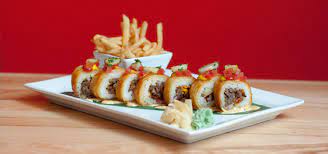 The Cowfish Sushi Burger Bar – Be on the lookout for this colorful CityWalk building and cute cowfish out front. On the menu, you'll find fusion burgers and sushi.  For a truly one-of-a-kind dish, we recommend the Burgushi which combines both burgers and sushi in a way that you won't find anywhere else.
VIVO Italian Kitchen – Watch fresh Italian food being made right there in front of you!  VIVO has all of the things we love: fresh bread, cheese, pasta and pizzas all made fresh each day.  Be on the lookout for the Short Rib with risotto and asparagus or the Bucatini and Meatballs.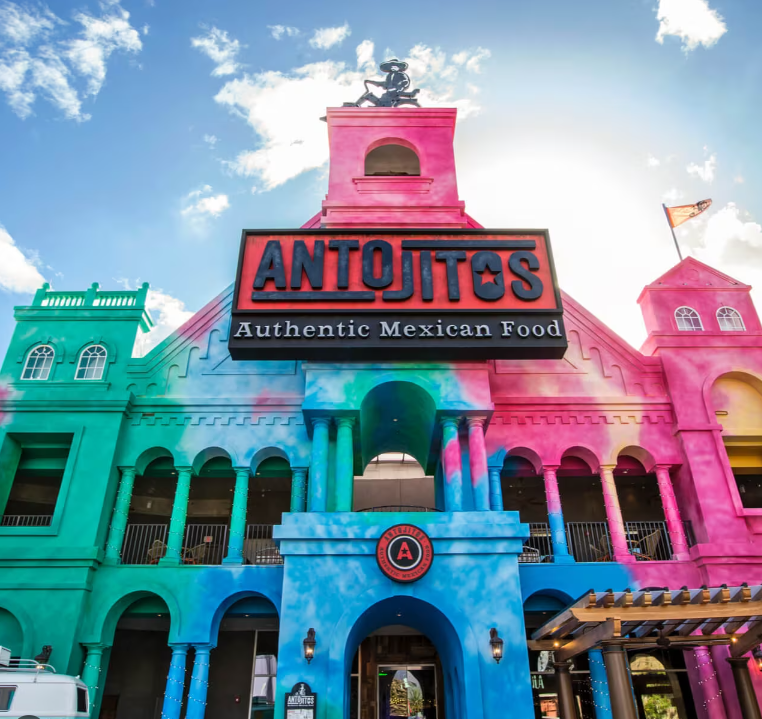 Antojitos Authentic Mexican Food – This Mexican restaurant has it all.  Feast on chips and tableside guac while a live Mariachi band plays on select evenings.  Menu highlights include the Tapas Trio appetizer with chicken tinga sopes, beef picadillo gorditas and carnita tostadas.   You'll also want to try the Beef Birria tacos with dipping sauce and the Al Pastor Tacos with pineapple tomatillo salsa.
Hard Rock Café – You can visit Universal Studios Florida without popping into the world's largest Hard Rock Cafe.  Every inch is filled with memorabilia meaning that you can enjoy a meal surrounded by fantastic tunes while soaking in the rock 'n' roll history.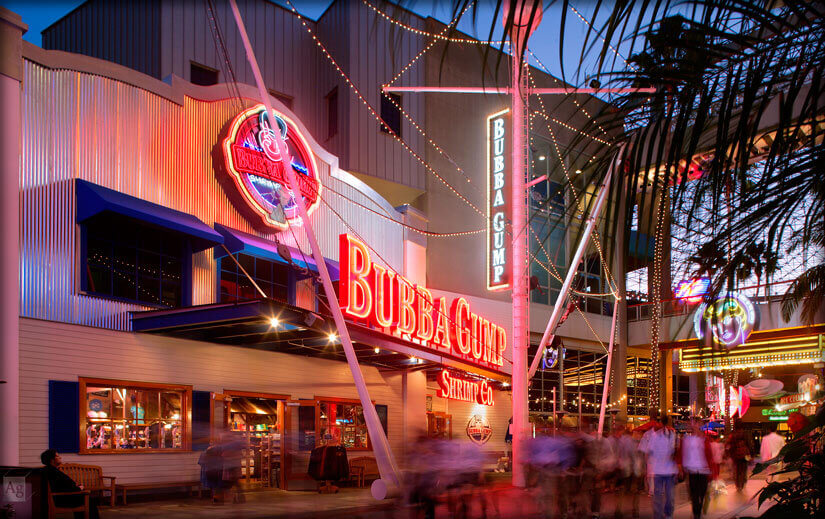 Bubba Gump Shrimp Co.- Fans of "Forrest Gump" can immerse themselves in the film complete with fun theming and lots of movie references.  There are also lots of shrimp options on the menu.

Jimmy Buffett's Margaritaville –  Stroll past an incredible volcano-themed bar serving margaritas (be sure to ask about their Margarita Flight) before ordering up your Cheeseburger in Paradise!

QUICK SERVICE DINING
Hot Dog Hall of Fame – Head over to this stadium-themed quick service spot for a variety of sausages and new and unique toppings.  Those looking for plant-based options will even find a vegan dog.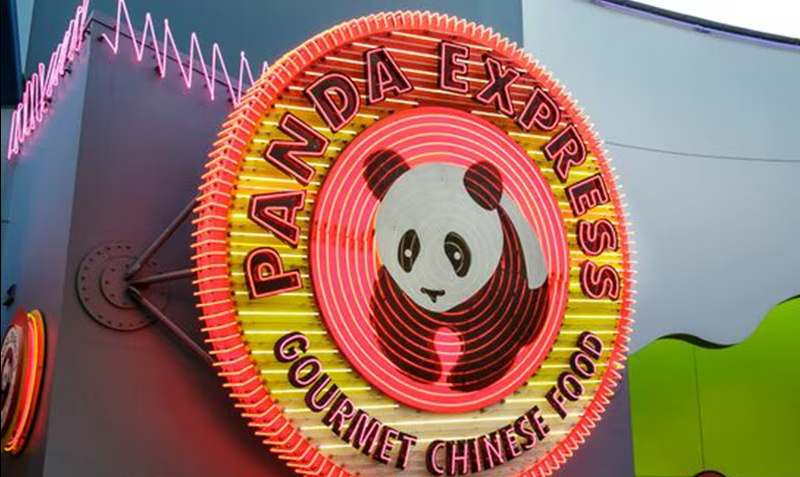 Panda Express – Those looking for a quick bite will want to stop by Panda Express to get your orange chicken, rice, and egg rolls.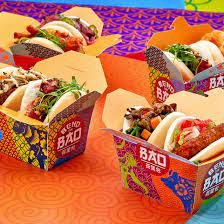 Bend the Bao- Boa Bun fans will definitely want to seek out this CityWalk space for Universal's twist on this Asian staple. Our favorite bao is the Kimchee Fried Chicken- definitely give it a try.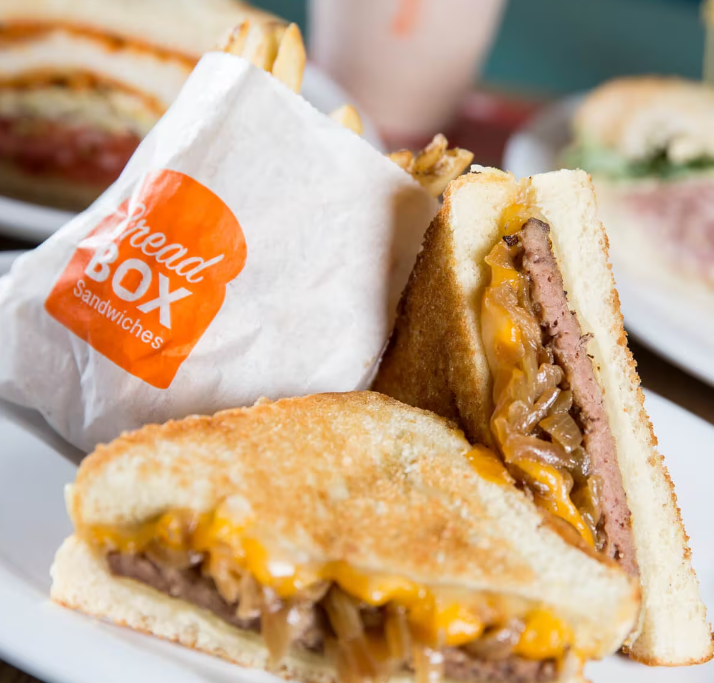 Bread Box Handcrafted Sandwiches – The second place to go for a sandwich lover's paradise. There are tons of options for both cold and toasted sandwiches.  Also on the menu are sides and sweet treats.  Bread Box also features quite a few vegan options including the Hot Vegan Sandwich with portobello, avocado, tomatoes, caramelized onions, pepper jack cheese, arugula, truffle oil, and basil pesto on multi-grain bread.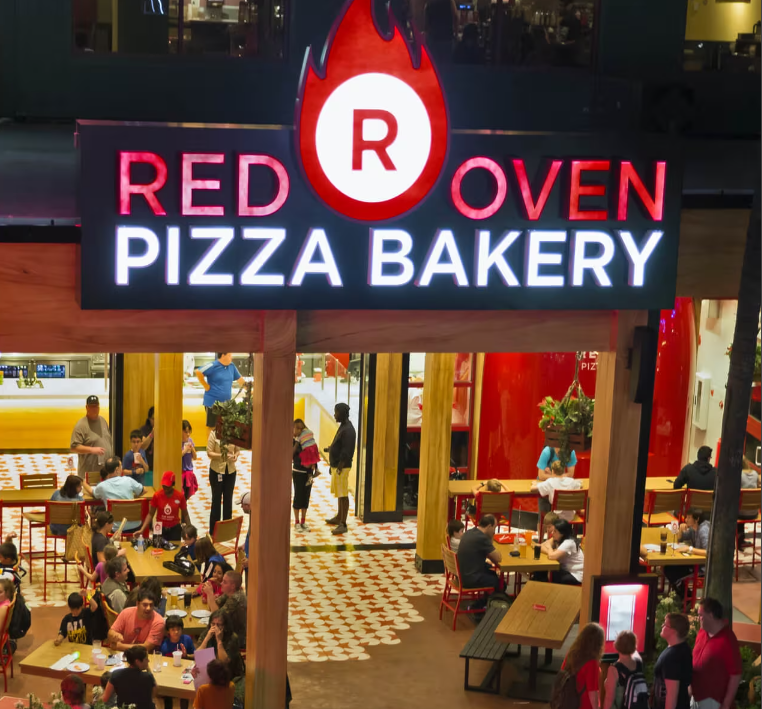 Red Oven Pizza Bakery – Pizzas at Red Oven are cooked in a special stone-lined oven.  The Prosciutto & Arugula is super fresh and the Big Eye Pepperoni is crispy and delicious.
Burger King Whopper Bar – Those looking for some familiar fast food will want to swing by the Whopper Bar.  One thing that makes this location is extra special is that there's a wide selection of speciality toppings that you can't usually get at Burger King including blue cheese crumbles, spicy onions,  and an AMAZING blackened cajun sauce.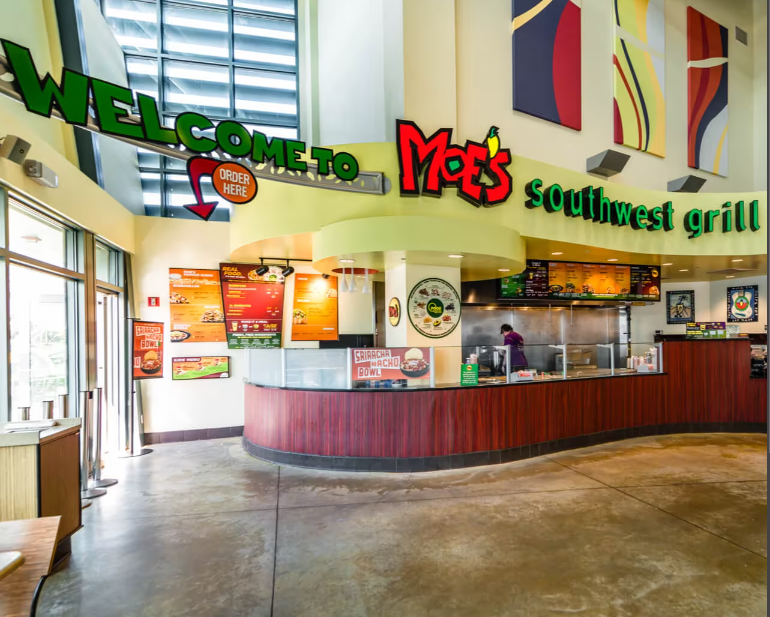 Moe's Southwest Grill – You won't find this Moe's on the Simpson's but it serves up a delicious array of burritos, tacos, salads, nachos, burrito bowls, and quesadillas.  This is also a great speedy spot to go for chips and salsa.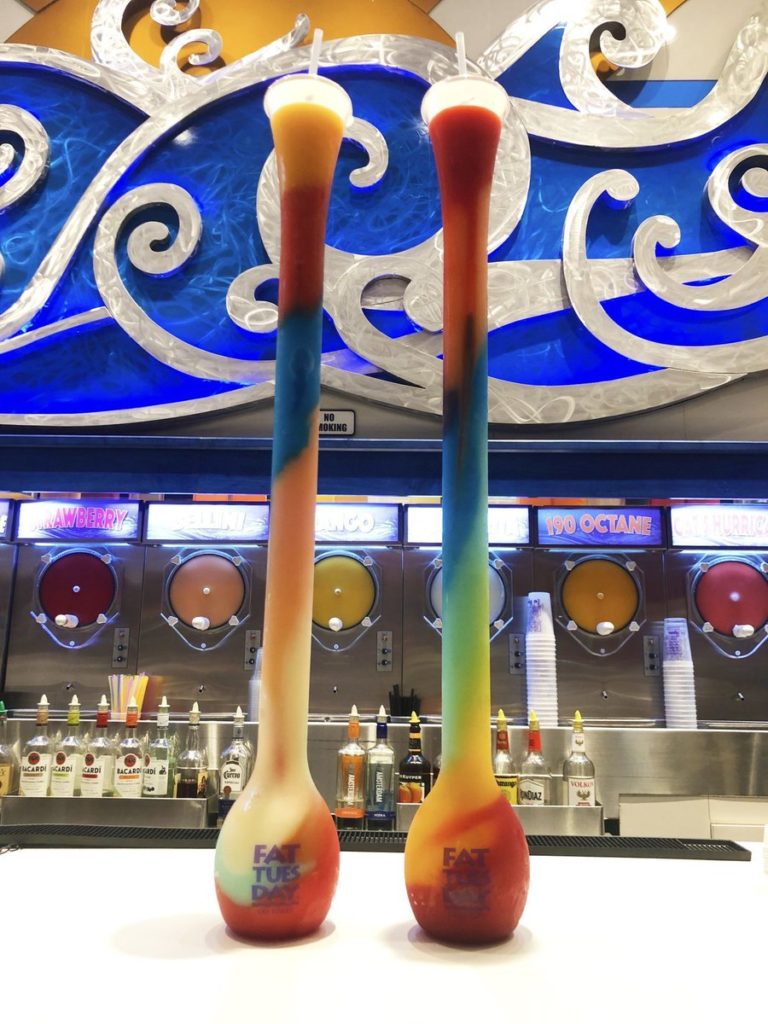 Fat Tuesday – It gets HOT in Orlando.  For those 21 and older looking to cool off we recommend popping by Fat Tuesday for a frozen cocktail.  Pina Coladas are a fan favorite and any of the frozen goodies you pick up here are perfect for sipping as you stroll around City Walk.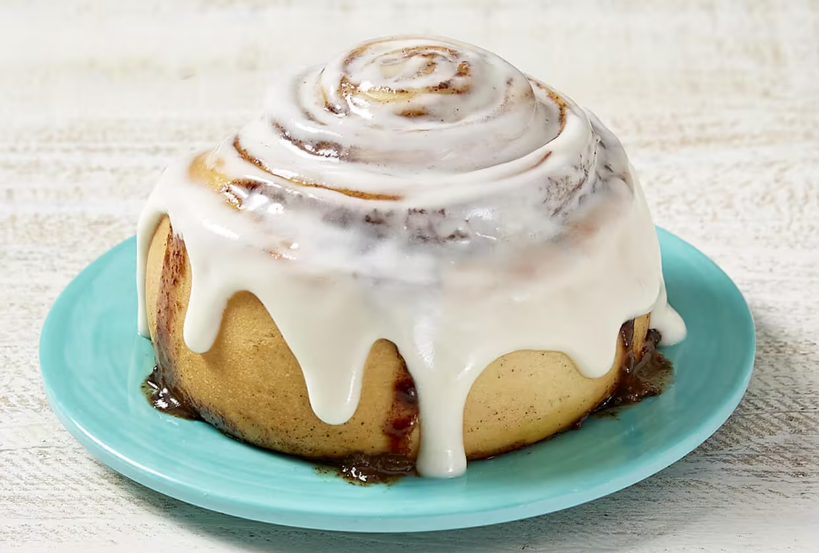 Cinnabon – Get your fresh-baked cinnamon rolls. Whether you're grabbing breakfast on the way into the theme parks or dessert on the way home from the parks.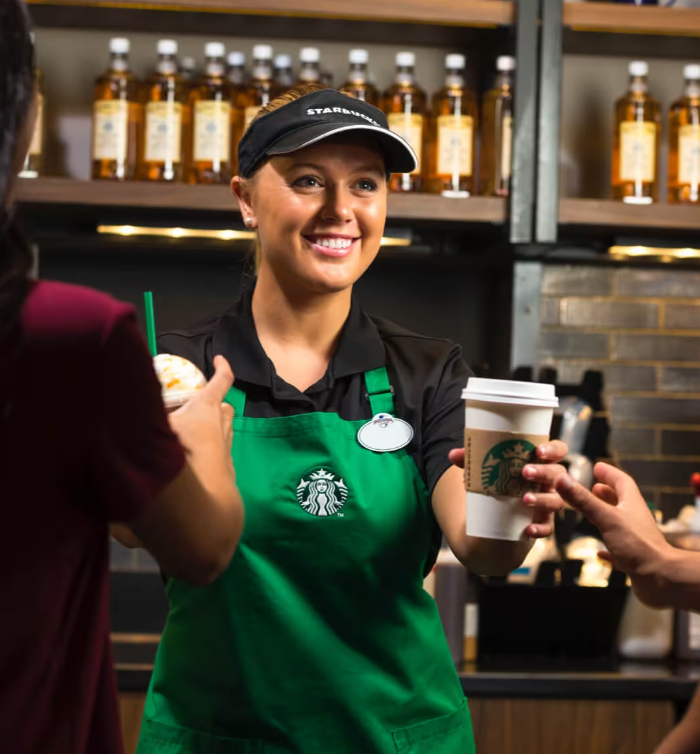 Starbucks – Don't worry Starbucks lovers.  You'll find a shop at CityWalk to get your pink drinks, frappuccinos, and iced coffees.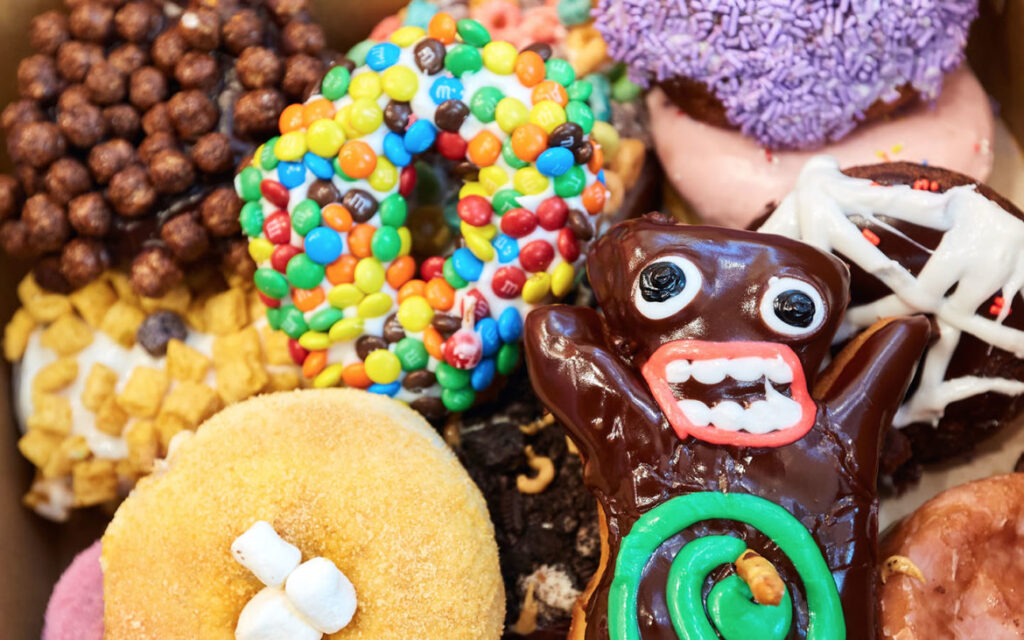 Voodoo Doughnut – This doughnut shop has a bit of a cult following and it's easy to understand why.  The actual Voodoo Doll-shaped donut is a must-try.  Also, be sure to sample the Universal Orangesicle which is only available at this location.  There are even some fun donut options including the Voodoo Doll yeast doughnut filled with raspberry jelly topped with chocolate frosting and a pretzel stake.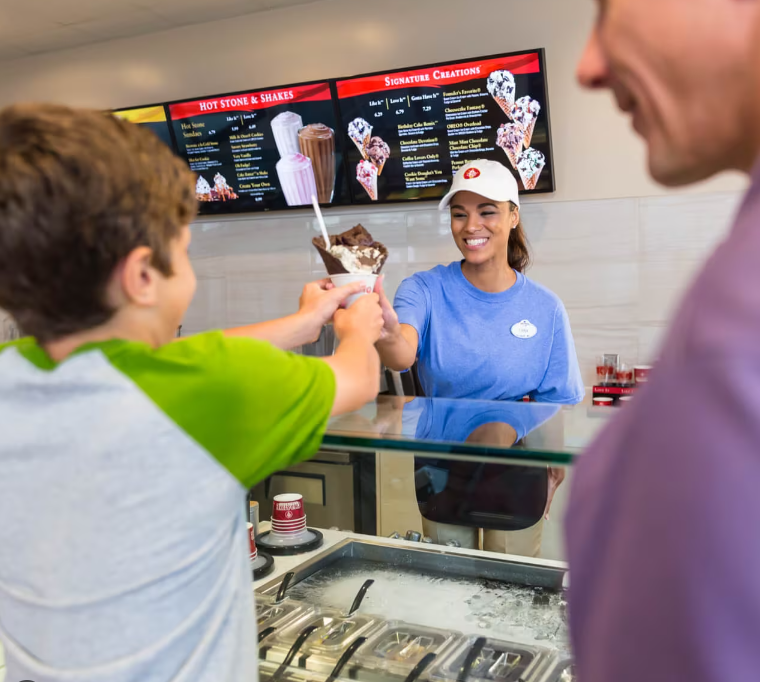 Cold Stone Creamery – In the mood for ice cream. Pop by Cold Stone and pick up a cone, cup, milkshake, or other sweet treats.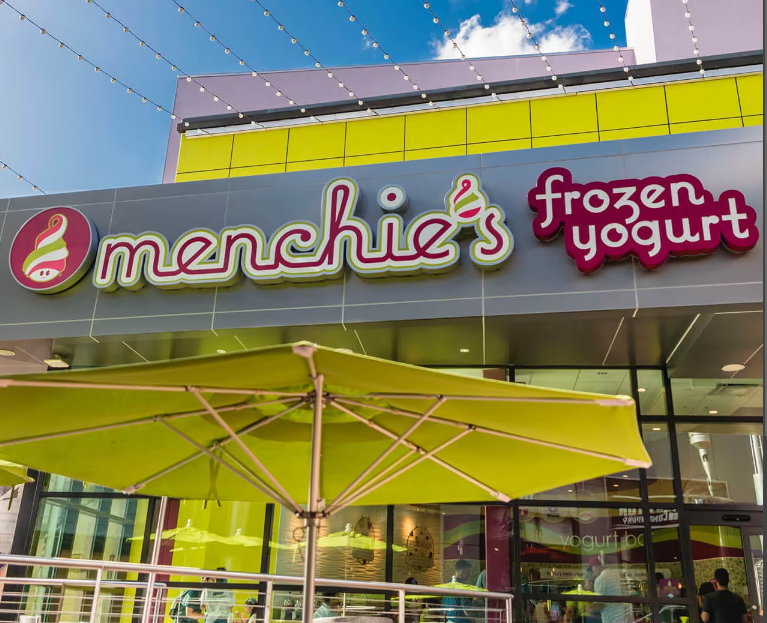 Menchie's Frozen Yogurt – FroYo fans will be pleased to know that there's a Menchies at CityWalk complete with a wide array of flavors and a myriad of different toppings.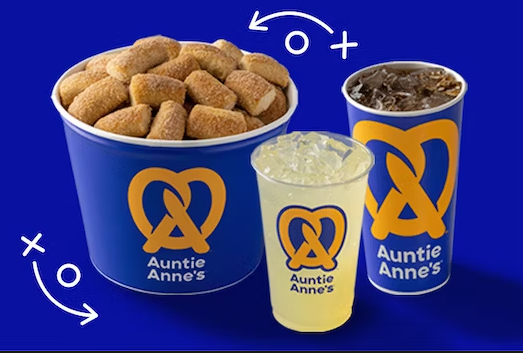 Auntie Anne's Pretzels –  What can we say about Auntie Anne's other than this is THE place to go for sweet and savory pretzels or refreshing lemonade.  My kids love the mini pretzel dogs!
SHOPPING
Universal Studios Store – Forgot to pick up a souvenir while at the theme parks? Pop by the Universal Studios Store to pick one up.  In the Studio Store, you'll find collectibles, clothes, and other great finds.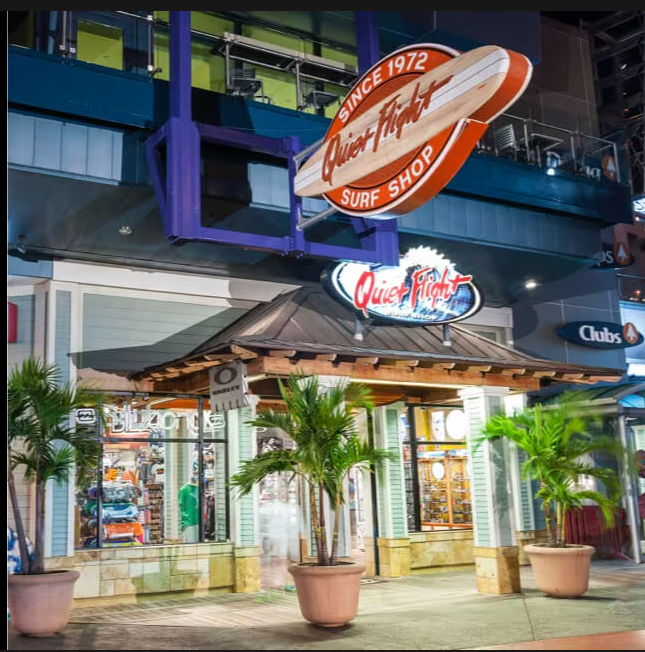 Quiet Flight Surf Shop – Head to this CityWalk Surf Shop for surf, skate, and beach gear, including bathing suits, skateboards, and surfboards. This shop also has a pretty fantastic selfie wall.  Stop by and stock up on gear and then grab a selfie.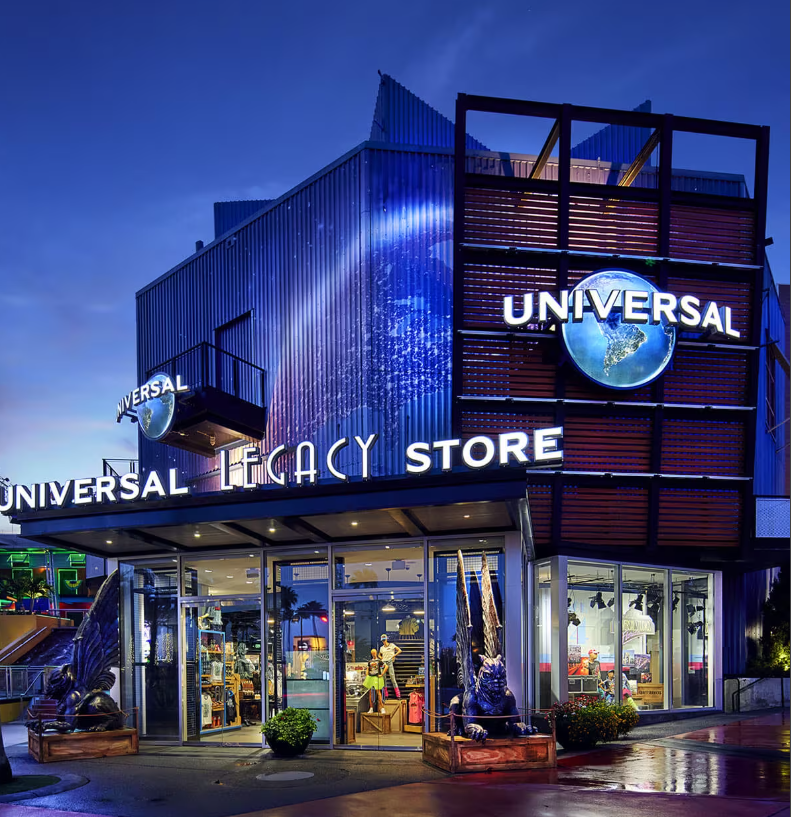 Universal Legacy Store –  Pop by the Legacy Store for retro movie memorabilia.  Pick up gifts from attractions from the theme parks' yesteryear. This is a great place to go for some classic Universal Monster's gear!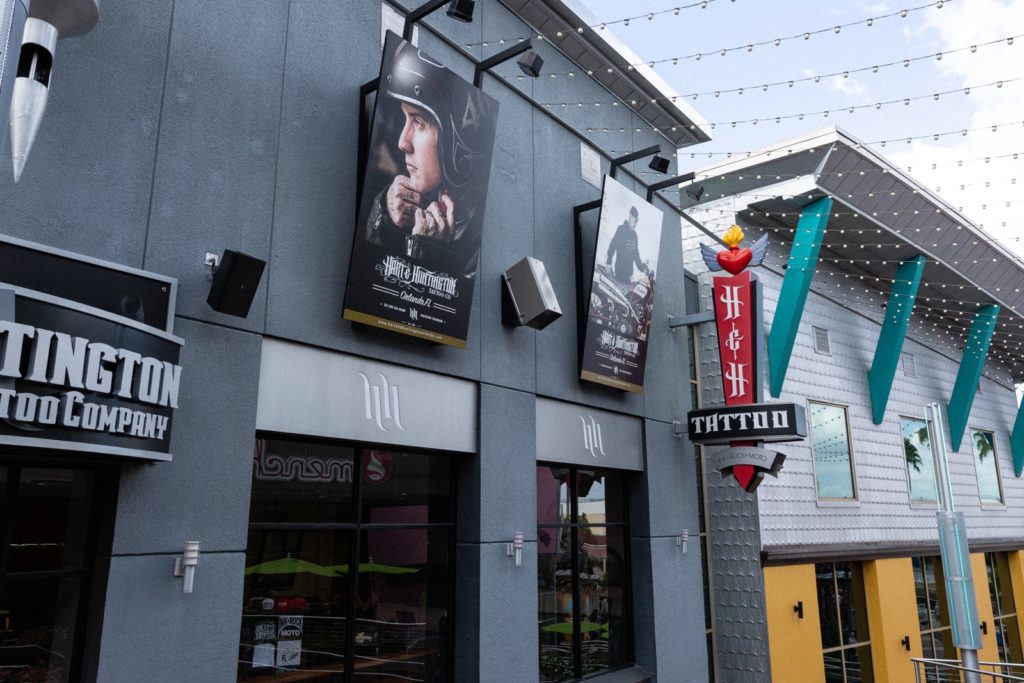 Hart & Huntington Tattoo Company – You can do it all at Universal Orlando including getting a tattoo!  The shop was founded by renowned tattoo artist Carey Hart and also sells brand merch!
Readers are encouraged to keep following along with Universal Parks Blog for further news and updates. We'll be coming to you LIVE from the theme parks each and every week.
Thanks for visiting UniversalParksBlog.com! Want to go to Universal? For a FREE quote on your next Universal vacation, please fill out the form below, and one of the agents from Let's Adventure Travel will be in touch soon!