Voodoo Doughnuts Is One of Our Favorite CityWalk Spots
There are so many incredible eateries at Universal CityWalk that picking our favorite is a difficult task. However, if there's one spot that I have to stop by every time I visit it is Voodoo Doughnuts. This world-famous bakery is based out of Portland, Oregon and sells positively sinful doughnuts that have developed a cult-like following among fans.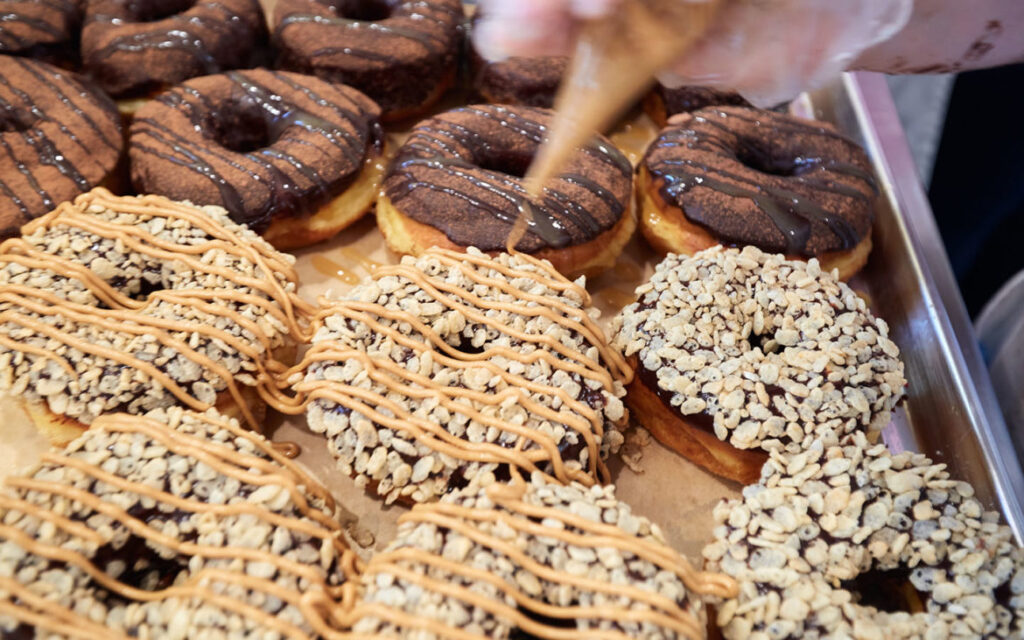 Universal described a visit here as a theme park attraction in doughnut form and we have to agree! From the incredibly imagined flavors to the pink doughnut boxes it's nothing but good juju from the moment you walk in the door.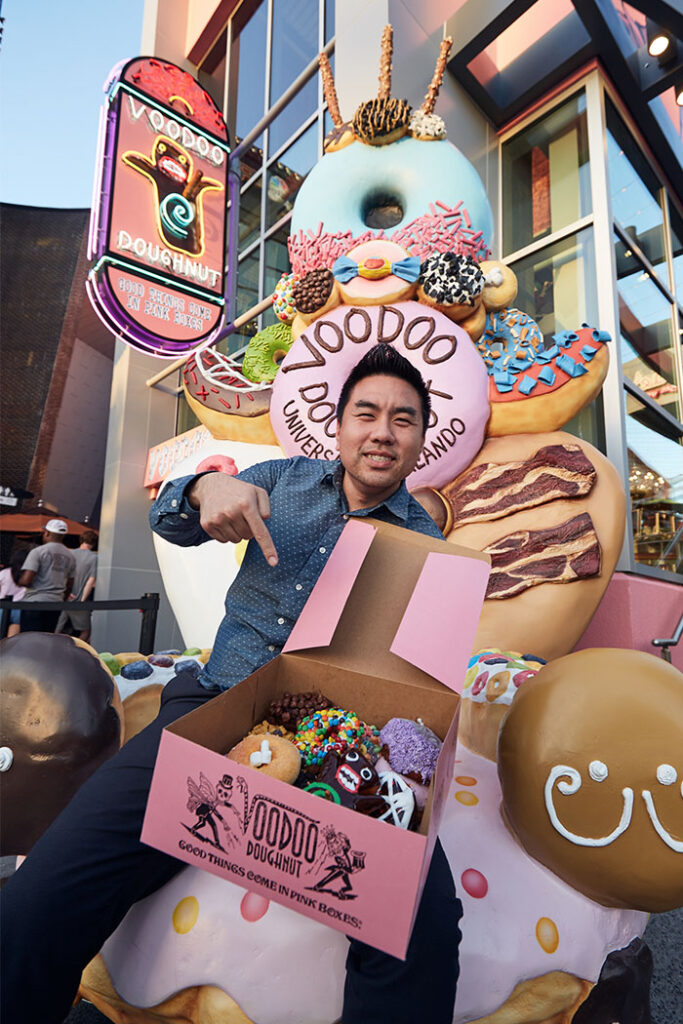 From the moment you walk up to the storefront, you know you're in for something special.  The towering doughnut statue you come across out front is the perfect spot for an Instagram photo op.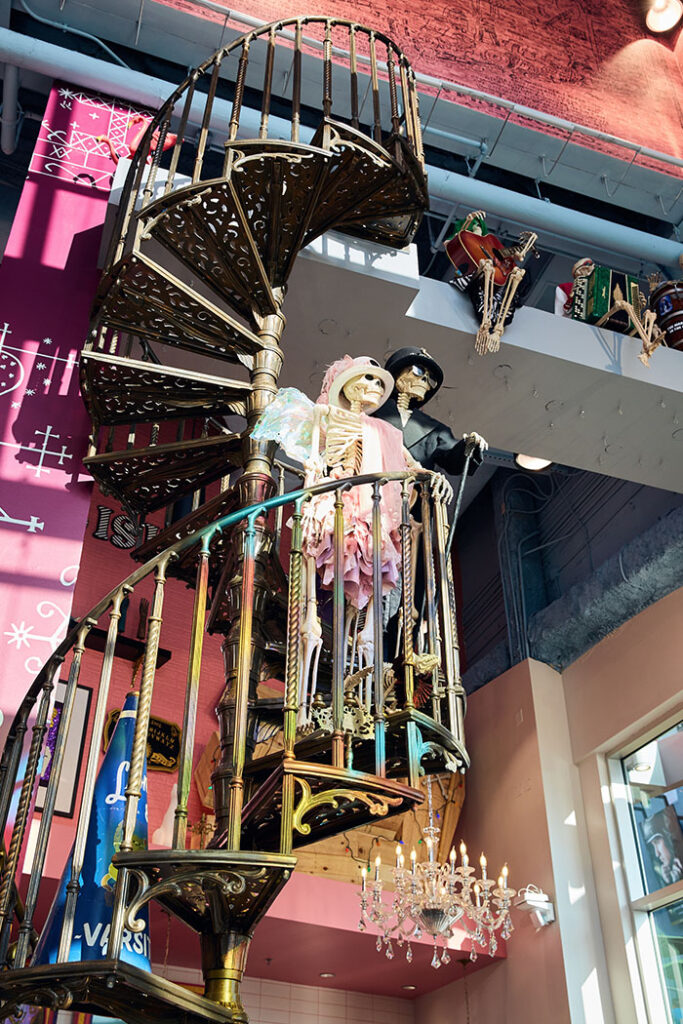 As you walk up to the storefront, you'll see a throne fit for any sprinkle king or Instagram model. Queue up and soon you'll enter the shop of scrumptious pleasures. The walls are decked with pink and eclectic décor, plus – a skeleton bride and groom greeting you from above.  This is just some of the charm that Kenneth "Cat Daddy" Pogson and Tres Shannon bring from Portland.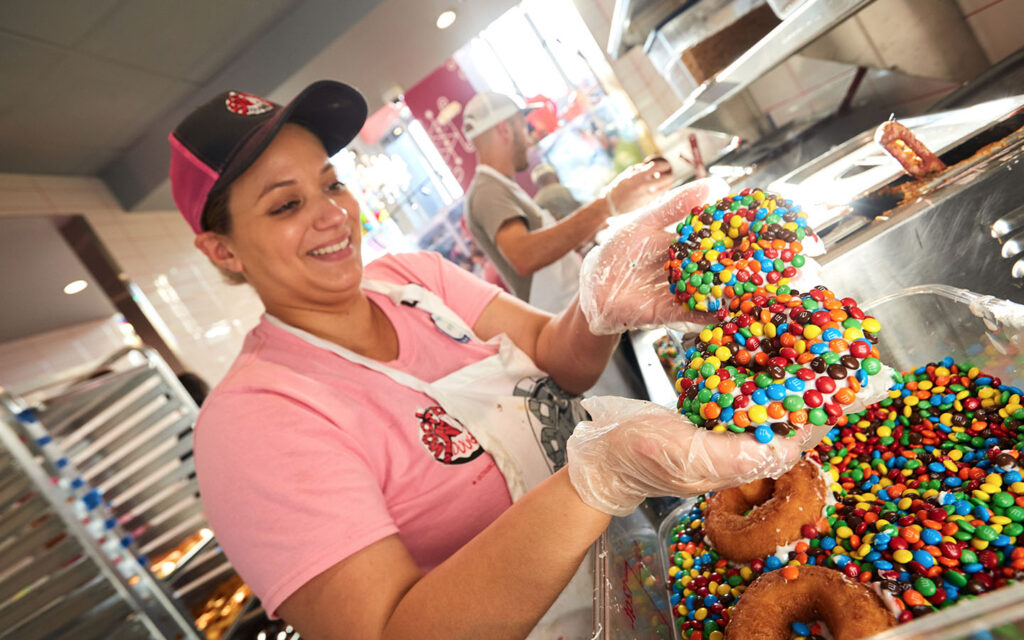 A highlight of your visit is sure to be picking your favorite sweet treat from the rotating display case. The shop offers over 50 different types of doughnuts made fresh in the shop every day.  You can even get a glimpse of the staff hard at work handcrafting the next batch of doughnuts!
And don't get us started on the doughnuts! They are made to perfection and are crispy and crunchy on the outside and melt-in-your-mouth on the inside.  The shop serves up classic yeast doughnuts, cake doughnuts and even vegan doughnuts.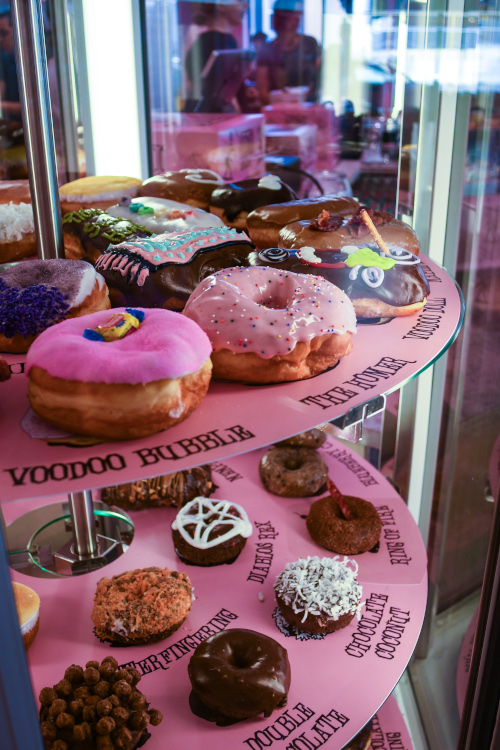 The doughnuts, as you can imagine, are quirky, too. Each with their own unique personality.  The Jelly-filled Voodoo Doll is the signature doughnut of the bakery and no visit to the bakery would be complete without pick up one!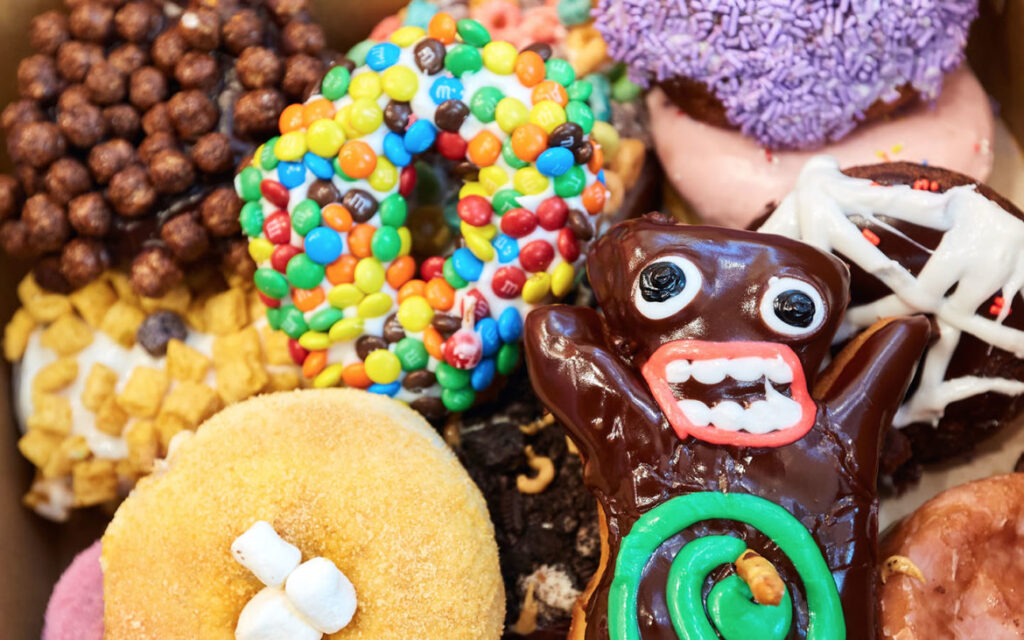 Another flavor definitely worth trying is the Memphis Mafia, this contemporary take on the classic Apple fritter is stuffed with chunks of banana and cinnamon, glazed, drizzled in chocolate and peanut butter and topped with peanuts and chocolate chips.  It resembles Elvis' favorite banana and peanut butter sandwiches.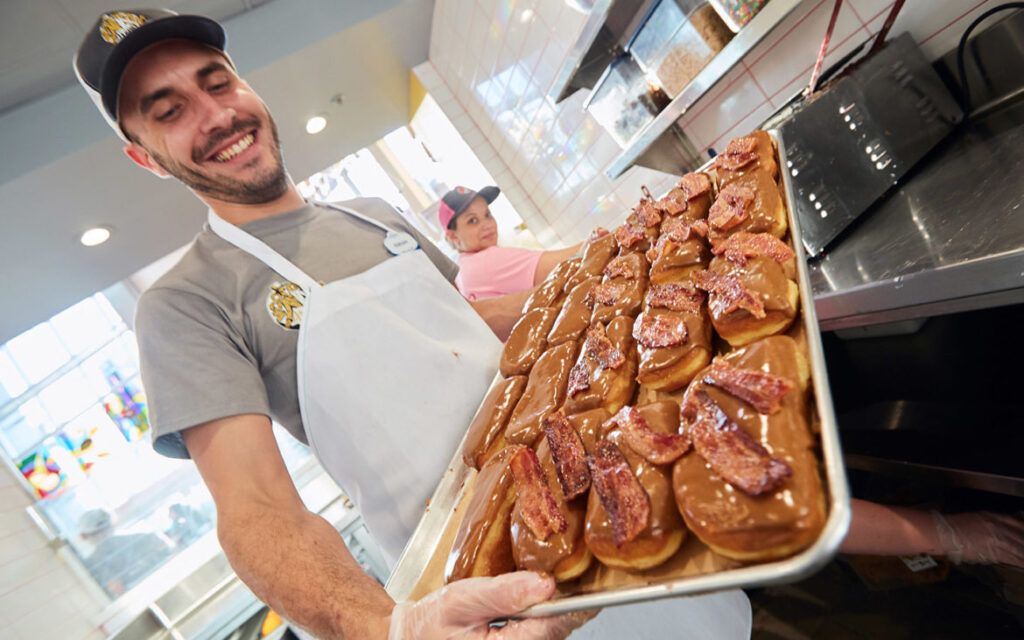 Above is also a picture of the Bacon Maple Bar fresh out of the oven. This yeast doughnut comes covered in maple frosting with a slice of bacon on top.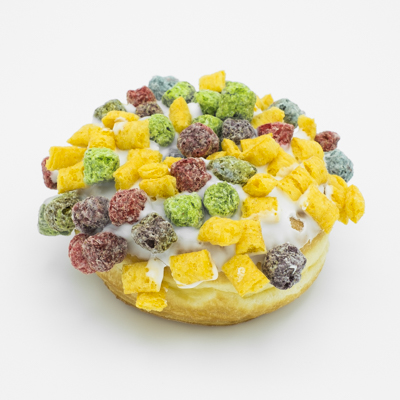 We also could talk about Voodoo Doughnut without mentioning their incredible doughnuts featuring the breakfast cereal from our childhood. Great places to start are The Lopp (topped with Fruit Loops) or the Oh Captain, My Captain which features Captain Crunch. It will immediately conjure up memories of Saturday Morning cartoons.
So next time you are heading over to CityWalk at Universal Orlando be sure to stop by and try out a few of these awesome varieties for yourselves!
Are you ready to upgrade your next vacation? If you've fallen in love with these suites like I have, you can book your favourite one filling out our form below to get your FREE, no-obligation quote from  Let's Adventure Travel. 
Find articles like this helpful? Then why not consider working with an Authorized Universal Vacation Planner? As an agent with Let's Adventure Travels, I'll be on hand to assist you with everything from finding your perfect package to helping you plan lots of special touches to make your visit one you'll never forget  Best of all my services are absolutely FREE.  Get in touch at 1.800.801.4025 via email at mroden@letsadventuretravels.comor follow along on Facebook
Source: Universal