RECIPE: Halloween Horror Nights Mini Pumpkin Donuts
Just like most things in 2020 our favorite experiences look a little different this year. And this includes Halloween Horror Nights at Universal Orlando! But that doesn't mean we still can't have an amazing Spooktacular time. If you can't enjoy the two fantastic new Haunted Houses in person, or if you're like me and you just got home from Universal and want to re-create the feeling, then I have the perfect Halloween solution….a Halloween Horror Nights Mini Pumpkin Donuts Recipe!
I'm here to help you make your very own Mini Pumpkin Donuts from Halloween Horror Nights right from the comfort of your home! Yum, right? Not only are they deliciously pumpkin flavored, they're also mini and very cute!
Halloween Horror Nights Mini Pumpkin Donuts with Green Icing Recipe
Makes 24 Mini Pumpkin Donuts
Ingredients:
1  cup sugar
4  teaspoons baking powder
1 1⁄2 teaspoons salt
1⁄2 teaspoon nutmeg
¼ cup of pumpkin pie spice
2 eggs
1⁄4 cup unsalted butter, melted
1 cup milk
4 cups flour (plus a little more if dough is sticky)
Vegetable oil (for frying)
Green icing or white icing + green food coloring (from local grocery store for topping)
Directions:
In a large bowl mix the sugar, baking powder, pumpkin pie spice, salt, and nutmeg together.
Add eggs, milk, and melted butter. Beat well.
Add 3 cups of the flour, beating until blended. Add one more cup of flour and beat well. The dough should be soft and sticky but firm enough to handle. If you feel it's necessary, add up to 1/2 cup more flour.
Cover with plastic wrap and chill for (at least) one hour.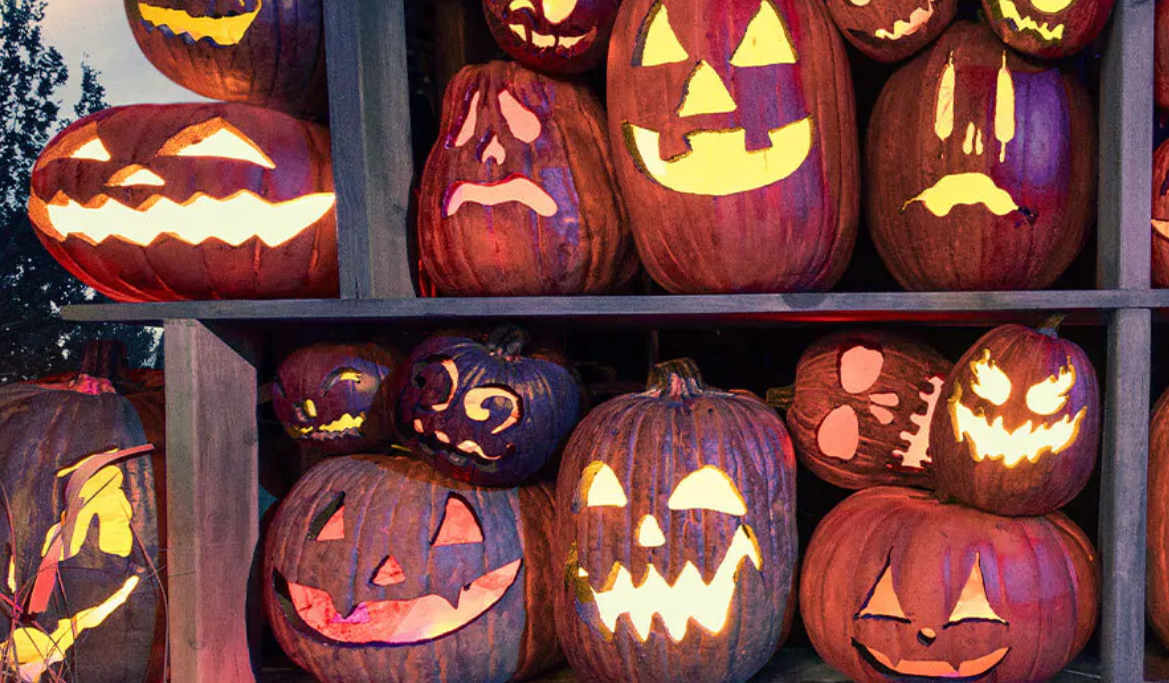 While you're waiting make sure to try out the Halloween Horror Nights Spotify Playlist. It's sure to set the spooky mood. Now it's time for the fun part.
Remove your dough from the fridge and begin heating about 1 inch of oil to 360℉ in a large metal skillet or dutch oven.
Working half the dough at a time, roll it out on a floured surface to about ½ inch thickness.
Cut out circles using a mini donut cutter or small biscuit or cookie cutter, really anything that can give you a mini donut shape.

For the center, I actually use the cap off a soda bottle to cut the holes. (Life hack!)

Gently drop the donuts a little away from you in batches into the hot oil.
As they begin to puff, flip them over with metal tongs and continue to flip a few more times as they cook. They will take about 2-3 minutes in total and will be a lovely golden brown color all over.
Remove donuts from the oil and set them on top of paper towels draped over a plate.
Grab the green icing you purchased from your local grocery store and drizzle over donuts as much as you'd like!

If you're unable to find green icing, you can mix green food coloring in any white frosting.

For a little more fun, you can even crush up some cookie crumbles and lay the donuts on top to resemble a spooky little pumpkin patch.
Take a photo and ENJOY!
Make sure to share your photos of your Halloween Pumpkin Donuts Recipe creations with us!
Halloween Horror Nights Mini Pumpkin Donuts Recipe Credit: Universal Orlando Blog
Thanks for visiting UniversalParksBlog.com! Want to go to Universal? For a FREE quote on your next Universal vacation, please fill out the form below and one of the award winning agents from Let's Adventure Travel will be in touch soon!
Do you want more help planning your next Universal Orlando vacation? As an Universal Orlando Resort Specialist, my goal is to help you take your vacation to the next level. I'll find you amazing deals, book advanced dining, monitor for new discounts for your vacation, and much much more! Also, did I mention that my services are FREE? Get in touch toll-free at 1-800-454-4501, via email at SPhillips@LetsAdventureTravel.com or follow me on Facebook!