Eight Restaurants to Try at Universal Orlando Resort
In recent years, Universal has worked hard to improve its culinary offerings.
Some restaurants have opened at Universal Orlando Resort, while others have upgraded their menus.
So, the next time that you visit Universal Orlando Resort, you'll enjoy an abundance of exceptional meal options.
Here are eight restaurants you should try on your next trip to Universal Studios.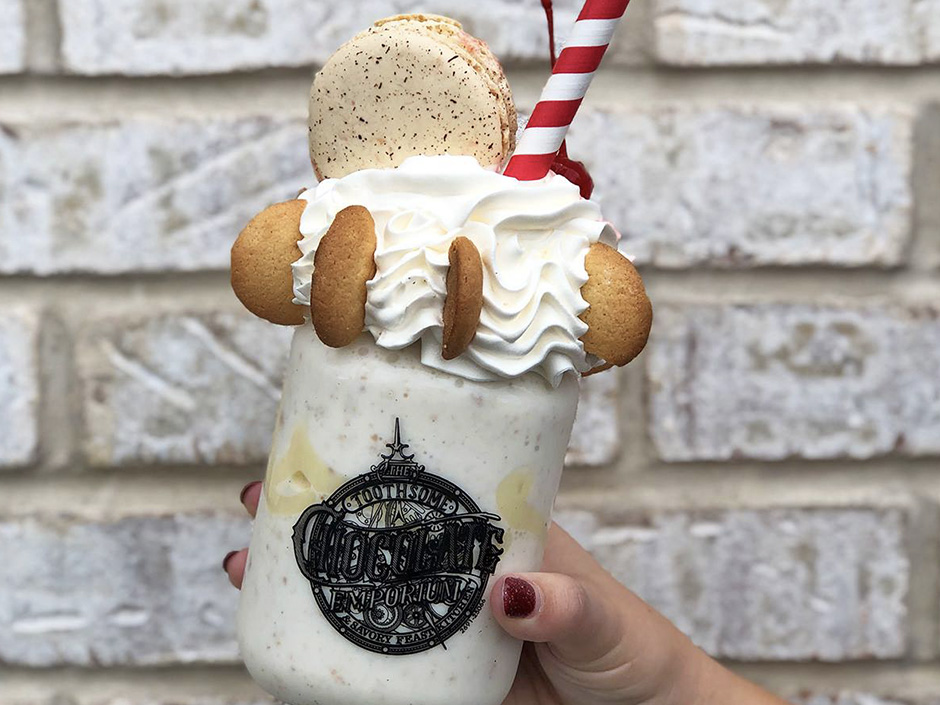 Cowfish
Most of the restaurants I'll list here don't fall into the category of fast food. I figure you'll have no trouble finding counter service meals during your visit.
Instead, I'm prioritizing sit-deal dining experiences, places where you can reset during a hectic park day or relax after you're done.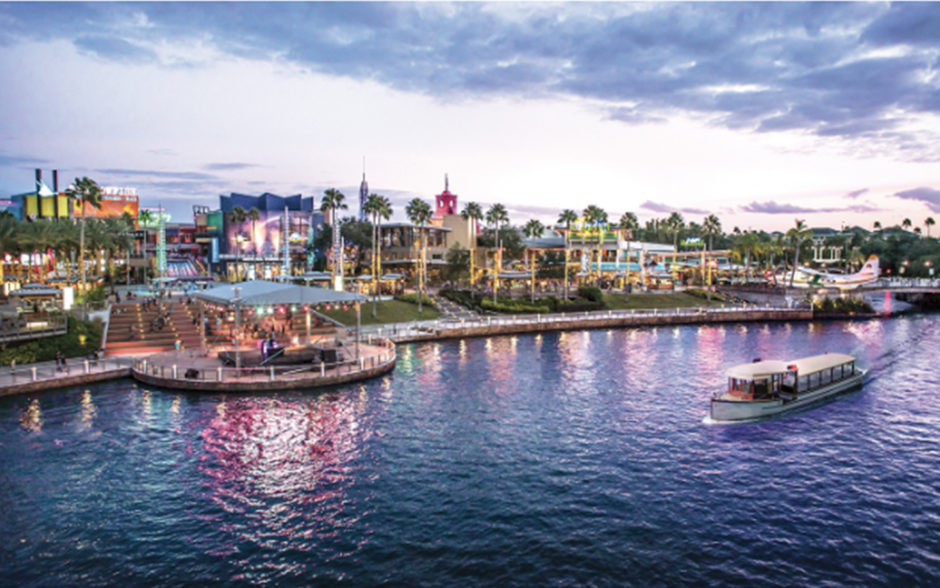 More than half of these suggestions reside at Universal CityWalk Orlando, the entertainment complex right beside the park entrances.
I highly recommend the offerings here since they're more upscale, and the menus are deep enough to satisfy everyone in your party.
Also, some of the places provide a bit of bravado for foodies, especially Cowfish.
This place celebrates fusion cuisine, although the combo meals will surprise you. It's a joint sushi and burger bar. You heard me.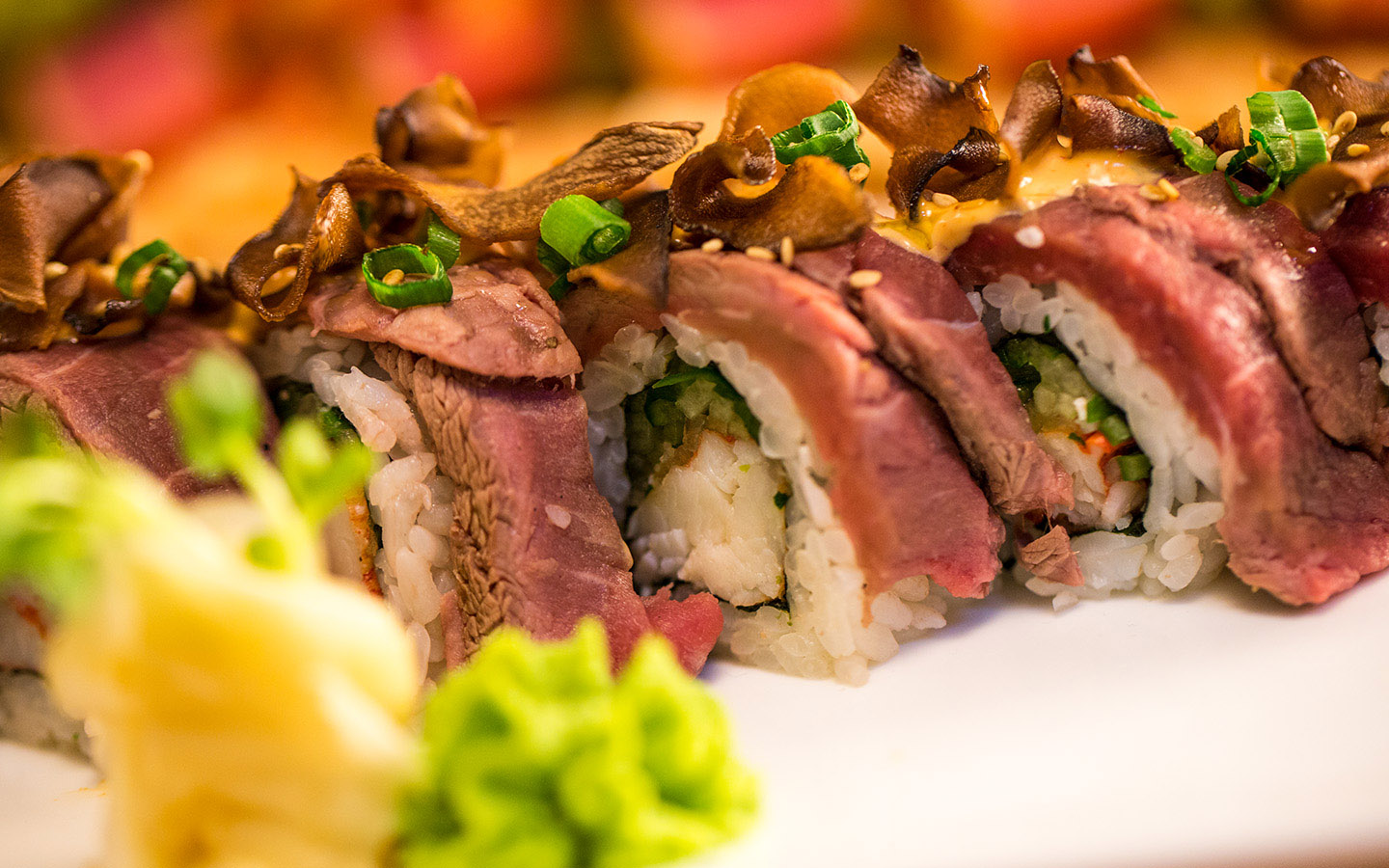 Even better, some entrees combine the two offerings. The Burgushi stands out as the most famous example. It's a sushi roll comprised of burger ingredients.
Admit it. You need to know what that tastes like, don't you?
Hard Rock Café Orlando
Unquestionably the loudest restaurant at Universal CityWalk, Hard Rock Café falls under the umbrella of "If you've seen one…"
I mean that in the best possible way, as tourists love enjoying a bit of comfort on vacation.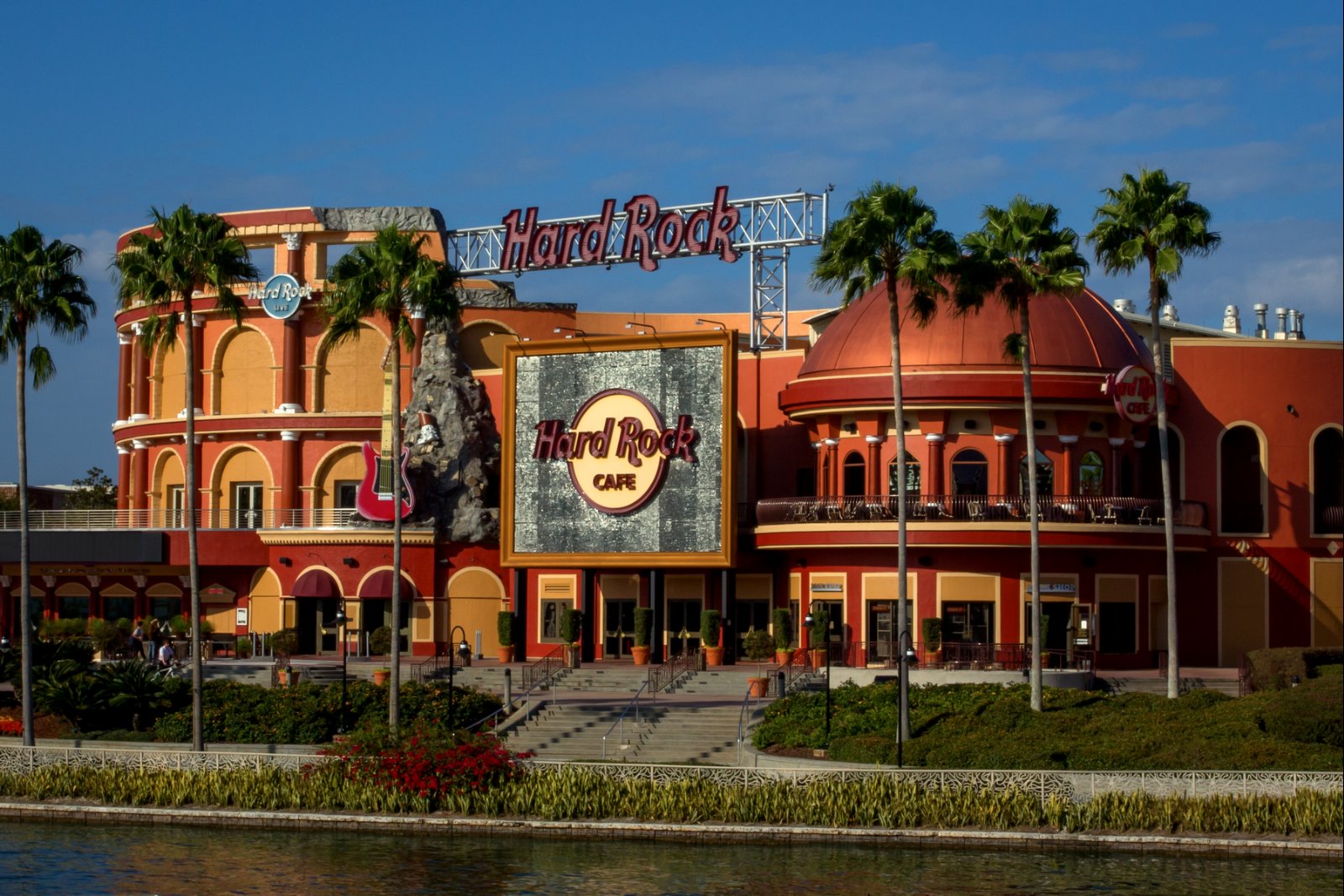 You won't have to guess about what you're getting here, as long as you've visited any other Hard Rock Café before.
You'll devour the Original Legendary Burger and all the drinks your stomach can handle.
All the while, you'll watch rock videos on seemingly every monitor in sight…and God help you if you get seated next to a speaker.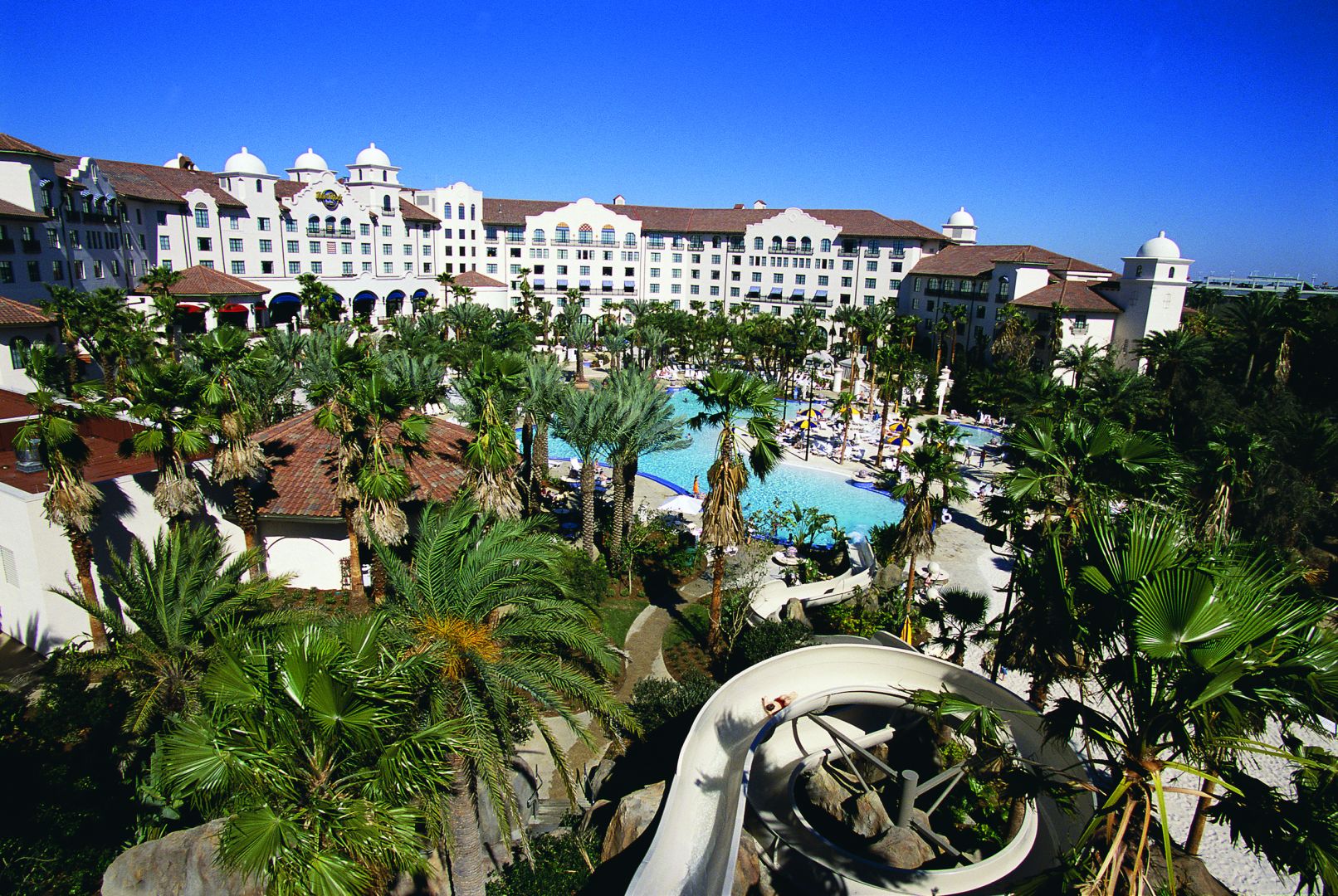 That happened to us once, and I didn't get my hearing back for 36 hours.
Hard Rock Café isn't actually inside Hard Rock Hotel, but it's well worth the stroll to CityWalk.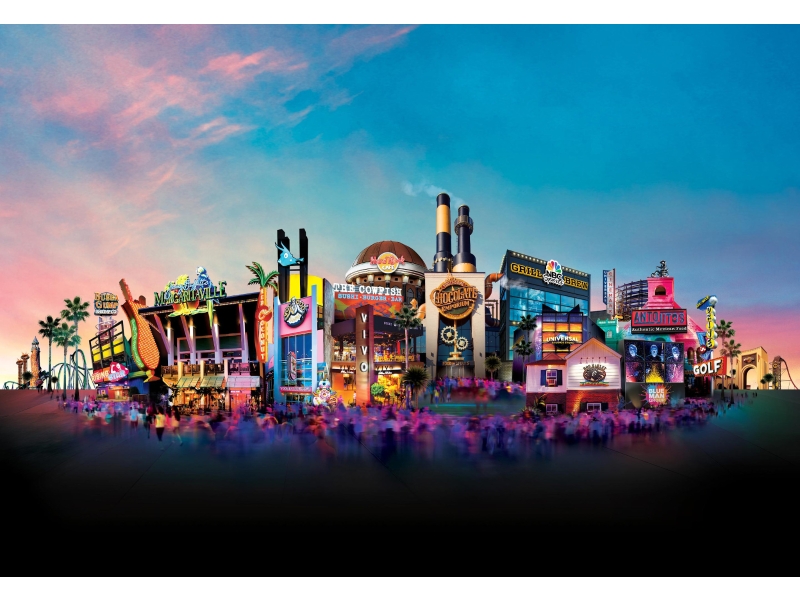 Everyone experiences an unforgettable time at the Hard Rock Café.
Jimmy Buffett's Margaritaville
Speaking of chain restaurants, you'll find 23 Margaritaville Cafés at tourist destinations across the country.

If you've dined at any of them, you know the deal. A meal here means tons of alcohol and the proverbial Cheeseburger in Paradise.
In fact, Orlando Magazine voters have graded the cheeseburger here as the best in town, no small praise for a major tourist destination.
When you dine outdoors, you'll get treated to the occasional troubadour, many of whom perform their own versions of Jimmy Buffett songs.
Of course, real fans stay inside and watch the monitors. These screens show Jimmy Buffett videos and concert footage.
Even when there's not a video playing, Buffett's songs play throughout the building, which means this place is a Parrothead's dream come true.
The CityWalk Margaritaville proved so popular that the chain has since constructed an entire hotel and housing complex in Orlando!
Mythos
Even before Universal leveled up its reputation as a destination location for fine dining, Mythos had earned industry accolades.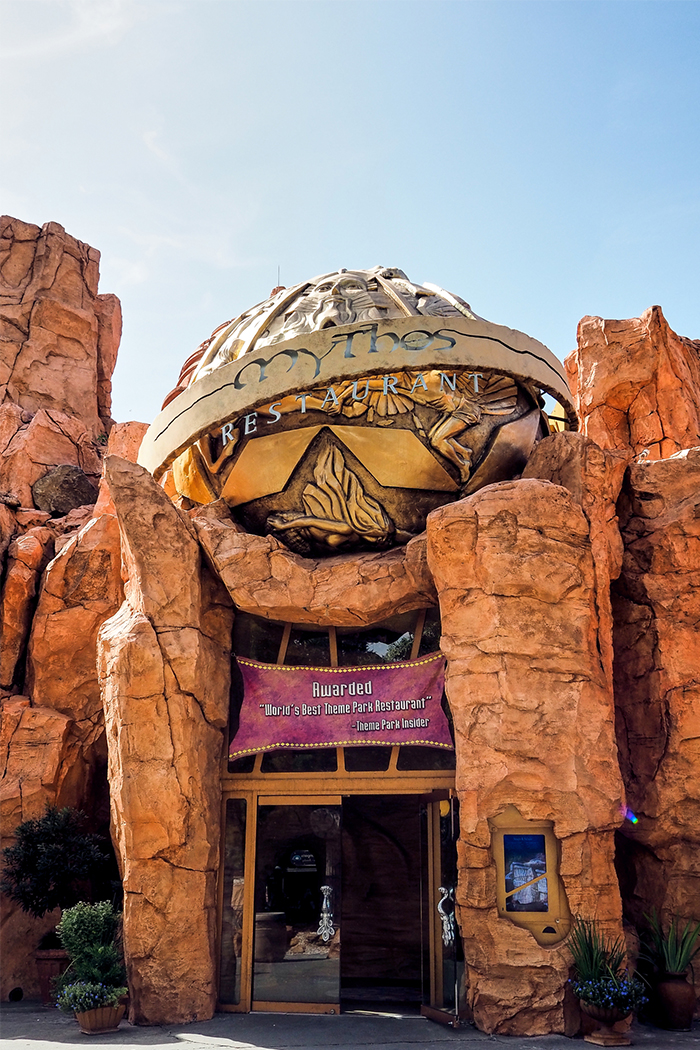 For several consecutive years, at least one respected site named Mythos as the best theme park restaurant on the planet.
The Mediterranean cuisine dazzles, and the menu was vegan-friendly long before the rest of Orlando caught up with the trend.
Mythos is also one of the three recommendations here that you'll find inside a park. It's an easy spot to find in Universal's Islands of Adventure.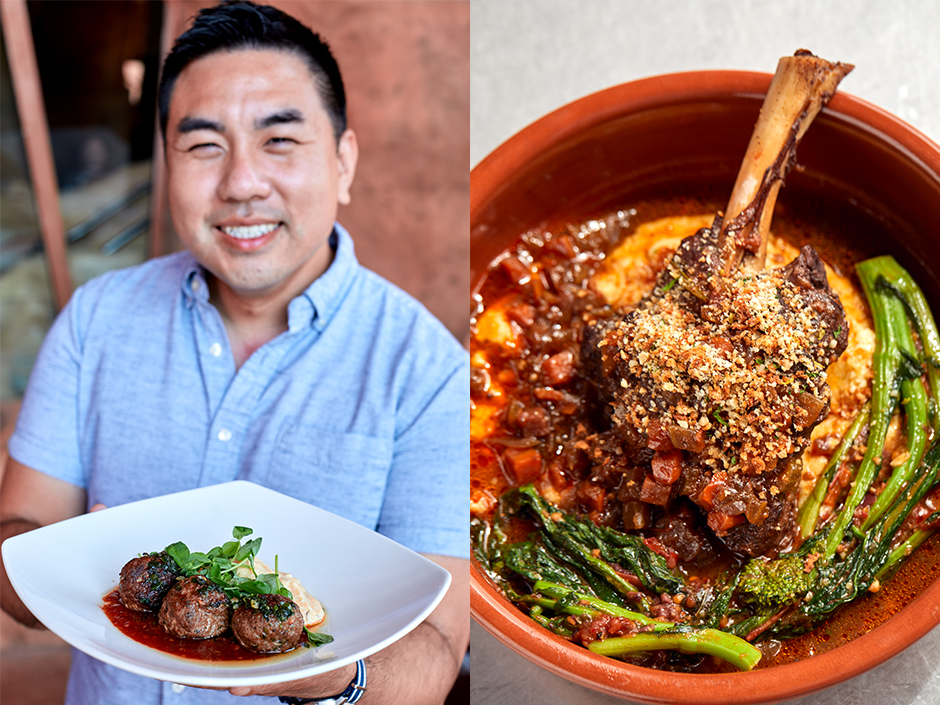 NBC Sports Grill & Brew
Speaking of easy to find, you'll never get lost trying to eat here. Walk to the park entrance and turn around to look the other way. Bam, there it is!
The title of this restaurant specifies everything you need to know. It's a sports bar that highlights all of NBC's sports programs…even curling!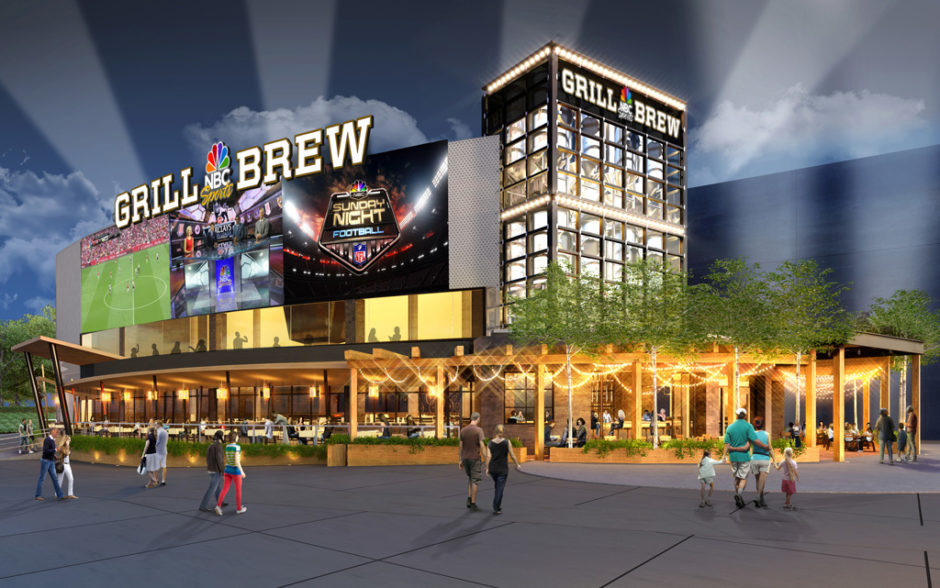 The televisions here will entertain you even when you're not in the restaurant. You'll see them from (what feels like) a mile away.
Once inside, you'll find live sports events and loops of memorable ones. So, it's a great place to hang out and nurse a beverage.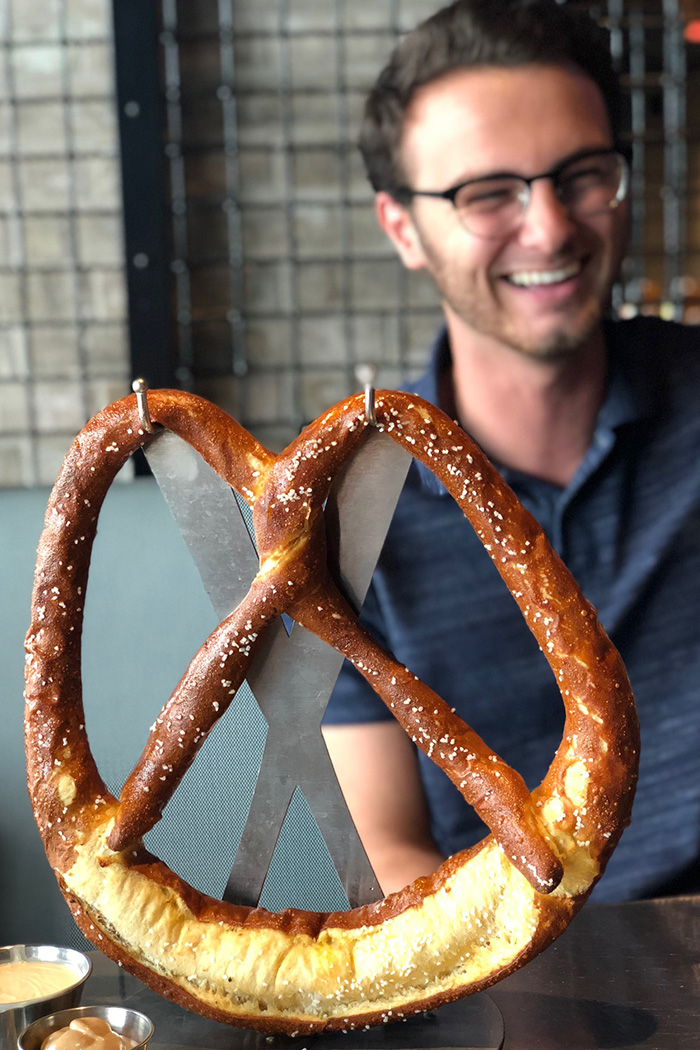 As for the food, the star here is a shareable…and you'll definitely need to bring a friend or two to make a dent in it.
I'm speaking of the Large Warm Soft Pretzel, which is larger than my forearm…and I'm tall. Seriously, this thing is massive.
Guests at other tables will gaze with envy as you pick at it. This pretzel's a glutton's delight.
The Simpsons Fast Food Blvd.
Okay, here's the only grab-and-go place on the list.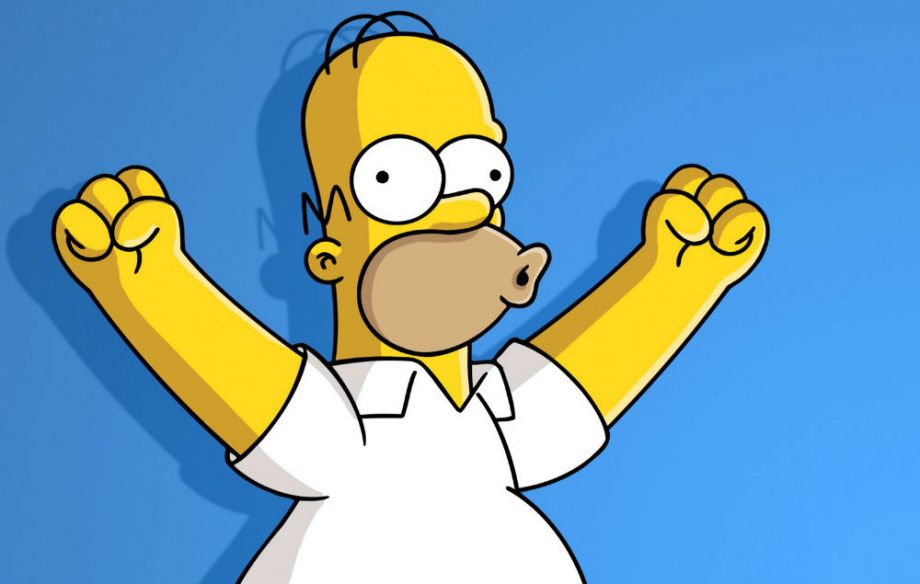 I'm mentioning it because A) The Simpsons is my lifeblood and B) it's the place to go when you want a compromise option.
You can think of The Simpsons Fast Food Blvd. as the mall food court for all of Springfield.
Whether you're in the mood for pizza, chicken, or seafood, you can find it in this one enclosed space.
Familiar Simpsons characters like Luigi and Cletus host restaurants while other places from the show like The Flying Dutchman appear, too.
Why, you can even drink and dine at two of the most recognizable places from the cartoons: Moe's Tavern and Krusty Burger!
Have you ever wanted a Flaming Moe or an ice-cold Duff? They're all on the menu and sure to please Simpsons fans…which is basically everyone.
Three Broomsticks
Okay, you knew that one of the Harry Potter places would make the list.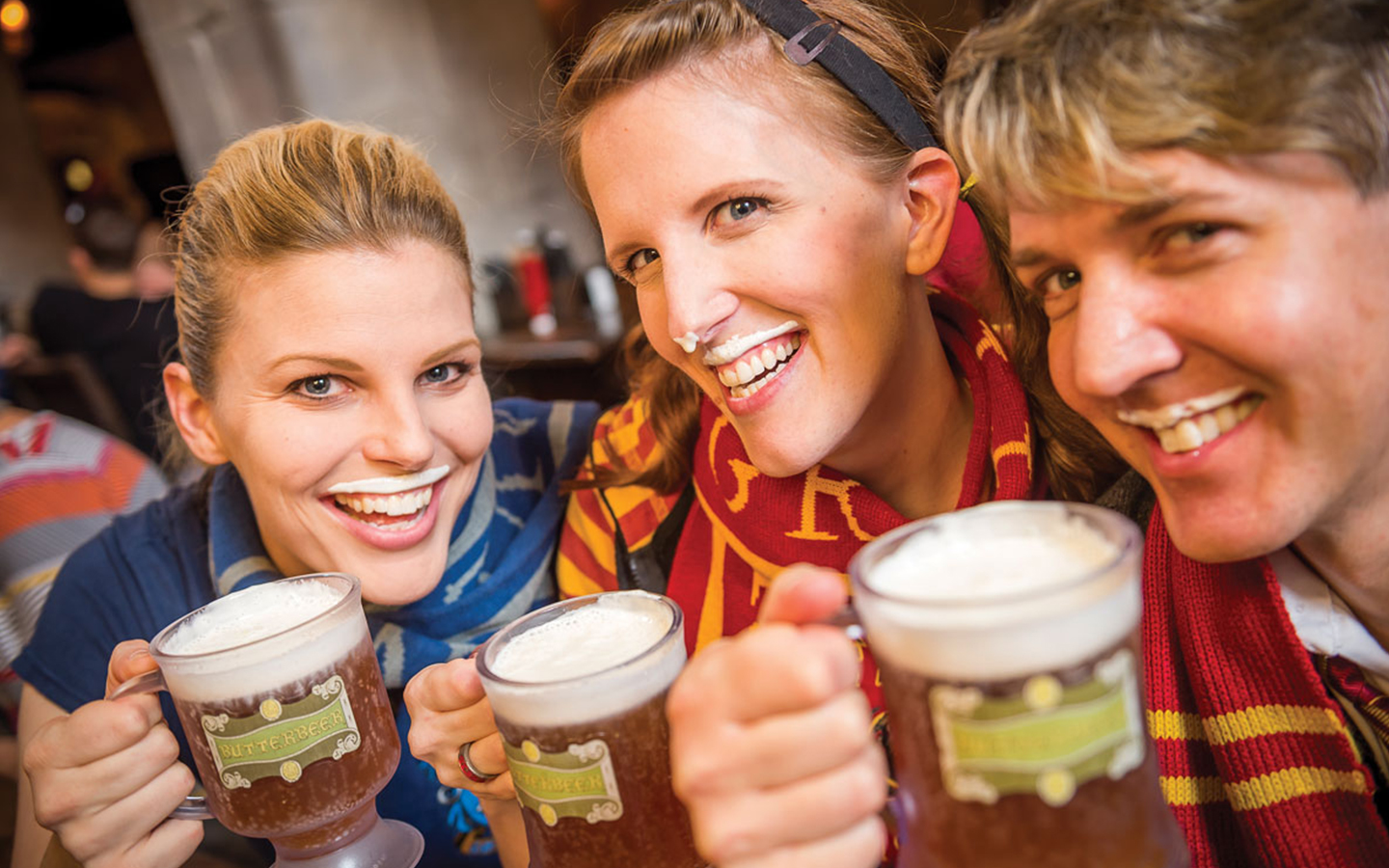 I chose Three Broomsticks because at least one major travel site has picked Three Broomsticks as the best restaurant at Universal Orlando Resort.
I'm not quite ready to go that far, but I certainly love the vibe of this, the first Harry Potter-themed restaurant at the parks.
Three Broomsticks serves authentic British food with a splash of Wizarding World magic.
When you dine here, you should watch the walls. Shadows form here, hinting that something decidedly un-Muggle is going on.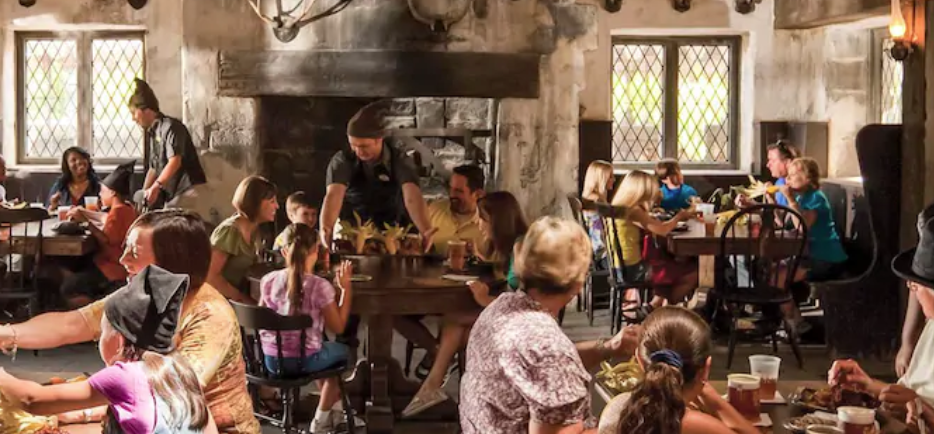 Oh, and you can decide what you want to eat before you ever reach the line! Universal thoughtfully displays the plates of food where you enter.
The Toothsome Chocolate Emporium & Savory Feast Kitchen
Here's the place where you should wear your stretchiest pants. The food here will never be described as minimalist.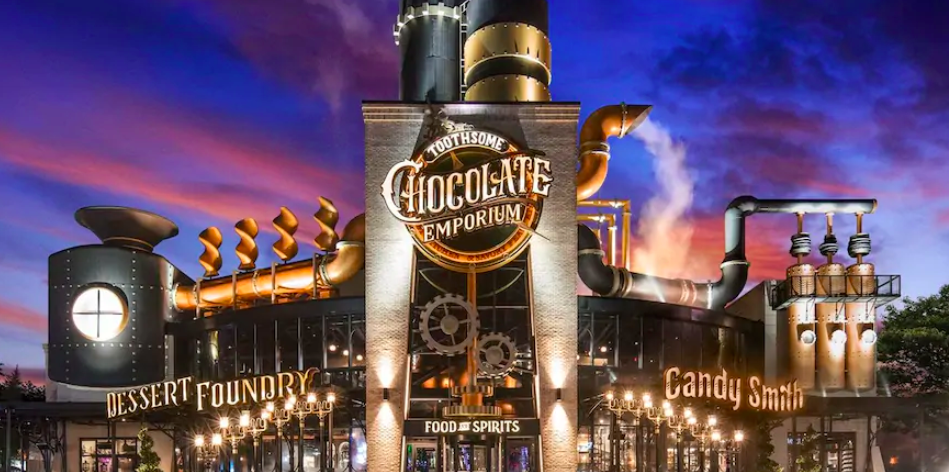 Instead, the menu consists of decadent dishes crafted by steampunk chefs.
You can't help but notice the style, as many workers wear hats that are too small for their heads.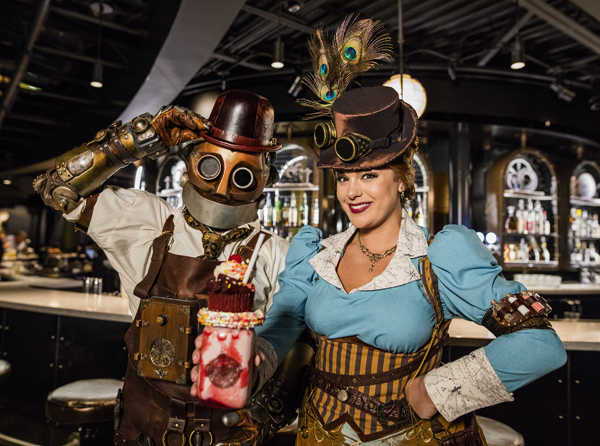 Of course, you may not pay attention to the servers, as you'll get too distracted by the desserts.
The Charlie and the Chocolate Factory-inspired sweet treats will thrill your stomach and destroy your diet.
The average dessert here comes with more calories than the sum total of a Nestle factory.
You'll never regret a thing, though, especially when you order one of the decadent milkshakes.
This place is where you should go when you want to amaze your friends and eat a week's worth of food in one sitting.
Thanks for visiting UniversalParksBlog.com! Want to go to Universal? For a FREE quote on your next Universal vacation, please fill out the form below and one of the award winning agents from Let's Adventure Travel will be in touch soon!