A Dozen Fabulous Water Rides To Keep You Cool at Universal This Summer
With Orlando reaching peak summer temperatures,  visitors to Universal Studios may be looking for ways to stay cool this summer. Well, you've come to the right place! Between Islands of Adventure, Volcano Bay, and Universal's incredible resort properties, there are a myriad of incredible water rides to cool you off!
Let's check out some of our favorite water rides at the theme parks and beyond!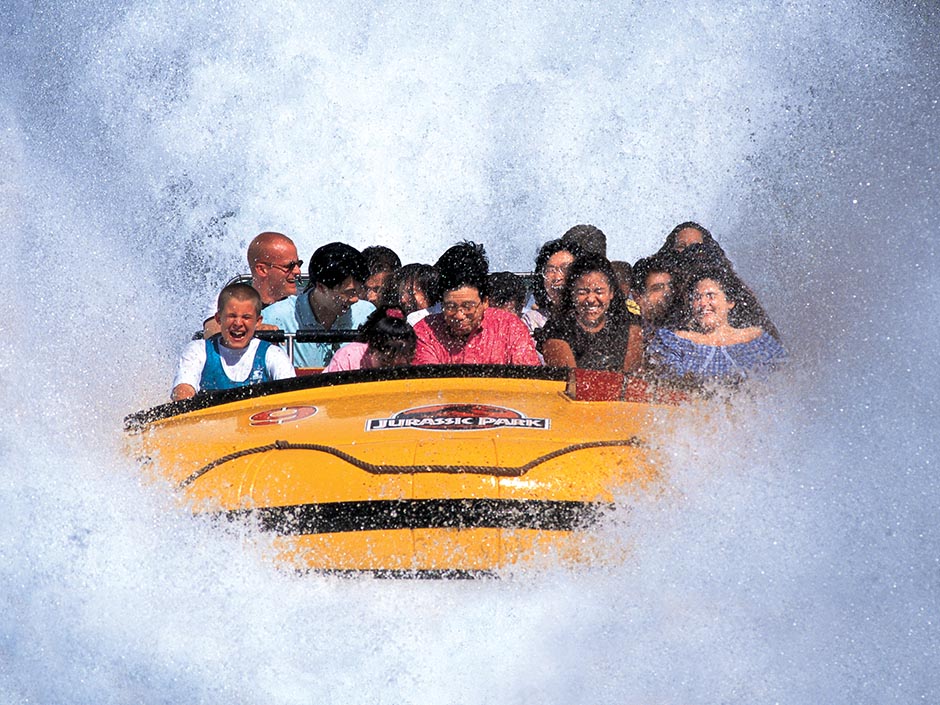 Jurassic Park River Adventure – Universal's Islands of Adventure
Get ready for a scenic water boat tour where you can marvel at a baby Stegosaurus and other creatures hanging out in their natural habitats.  It all seems peaceful enough before you find yourself face-to-face with an unexpected guest before plummeting 85 feet!  Get ready to scream, get soaked, and cool off on this combination of thrill and water ride.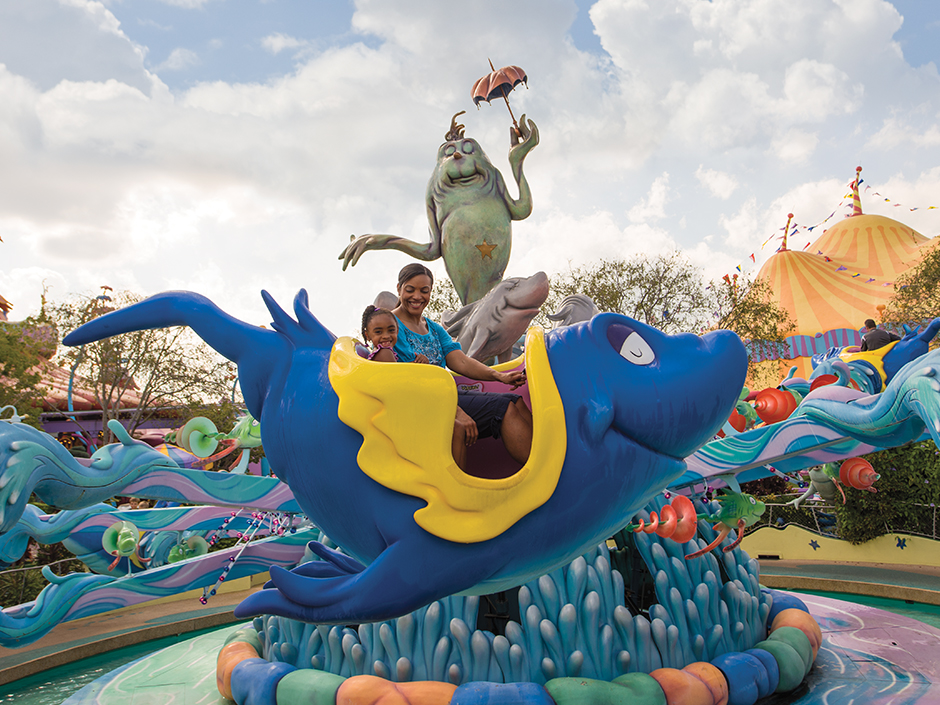 One Fish, Two Fish, Red Fish, Blue Fish – Universal's Islands of Adventure
This ride, based on the Dr Suess book by the same name is the perfect way for kids of all ages to cool off!  Climb aboard your brightly colored fish and get ready to leap up into the sky.  There is water that sprays in time to the music and since you control how high your fish flies it's up to you to determine how much water you come in contact with!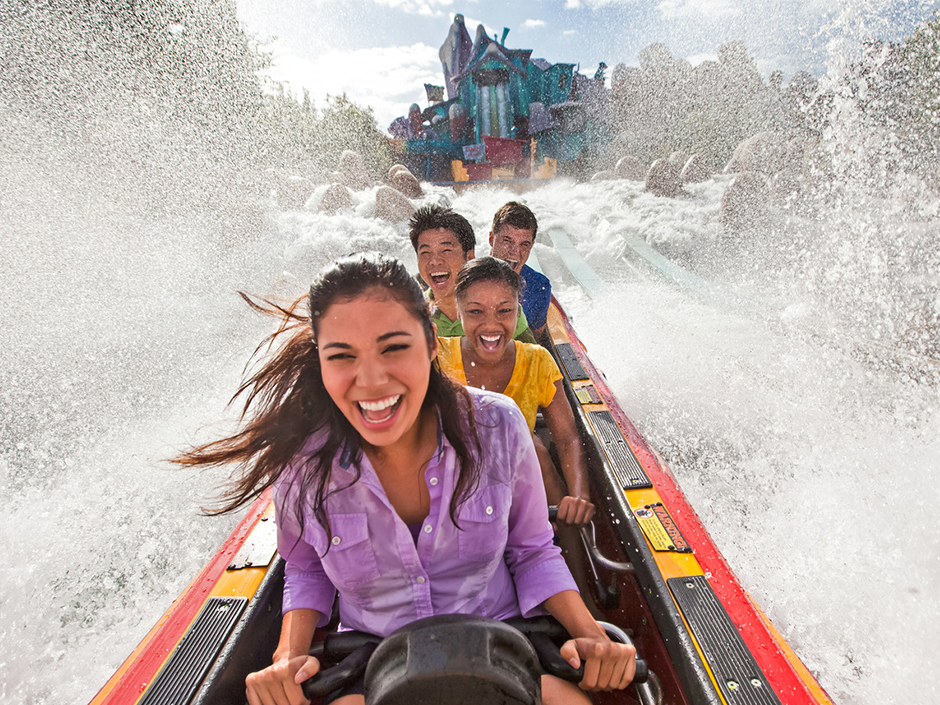 Dudley-Do-Right's Ripsaw Falls
Get ready for some rip-roaring fun on Ripsaw Falls which is part water flume ride part coaster themed to the madcap adventures of your favorite cartoon Mountie! Be prepared to get wet as you make your way through the twists and turns along your route before approaching a mighty 75-foot drop that is guaranteed to be one of the biggest splashes of your life!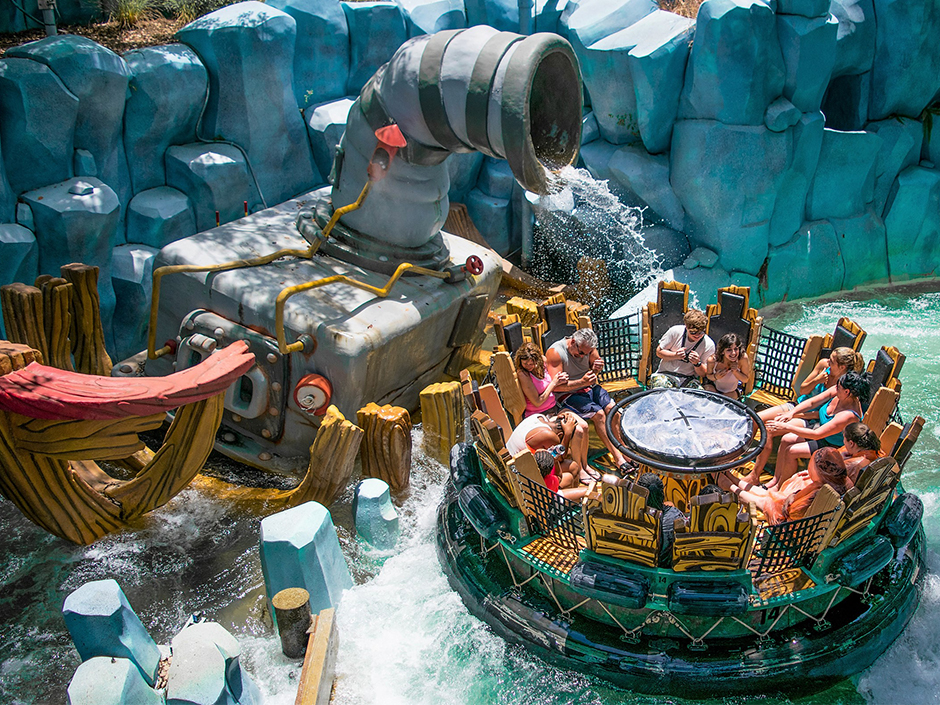 Popeye & Bluto's Bilge-Rat Barges – Universal's Islands of Adventure
This ride themed after the beloved Popeye cartoons are brimming with splashes and silliness!  Bluto has captured Olive Oyl again and it's up to you to save her from an 18-foot octopus while making your way through raging rapids.  Get ready to get wet and squishy!  Your adventure takes place on a circular raft that holds twelve people as you twist, turn, and dip through the raging tide.
Camp Jurassic – Islands of Adventure
When you're a kid, sometimes the most ambitious water rides in the world don't hold a candle to a good old water cannon with a dinosaur head!  That is just one of the many awesome hands-on activities you'll find at Camp Jurassic in Islands of Adventure.  Kids will have fun burning off energy at this prehistoric playground.  There are dark caves, climbing nets, water-shooting geysers, and the Dilophosaurus water blasters!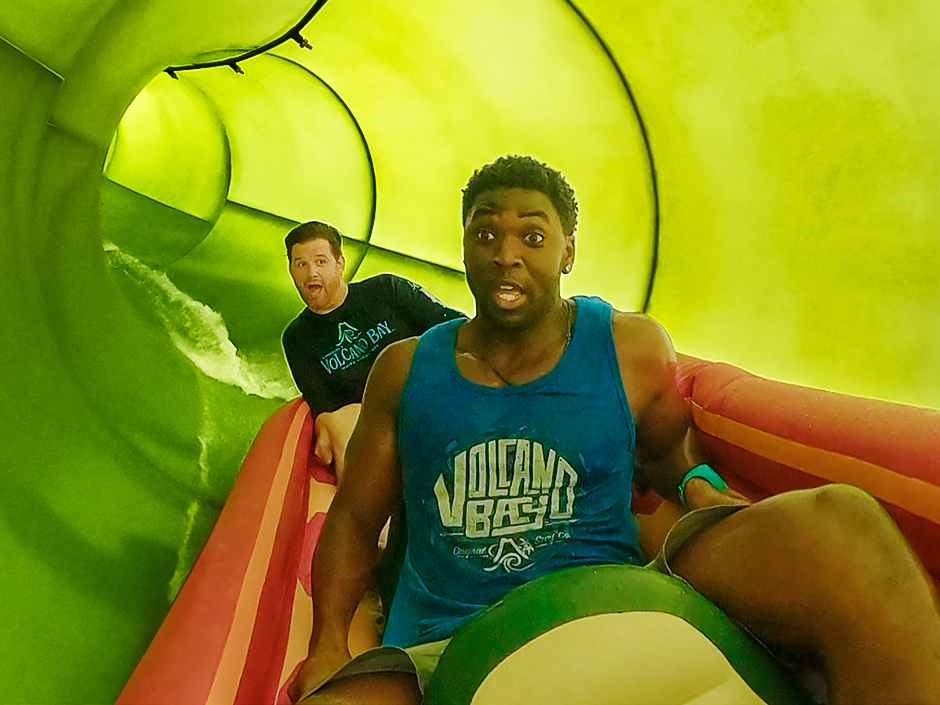 Krakatau Aqua Coaster – Volcano Bay
It's not a water slide, it's an aqua coaster.  Get ready to experience the power of Krakatau on this incredible Volcano Bay ride.  Climb aboard your four-person canoes and get ready to slide upward into the mists before hitting the dark twists and turns within Unviersal's towering volcano!  The thrills culminate in a plunge through a shimmering waterfall.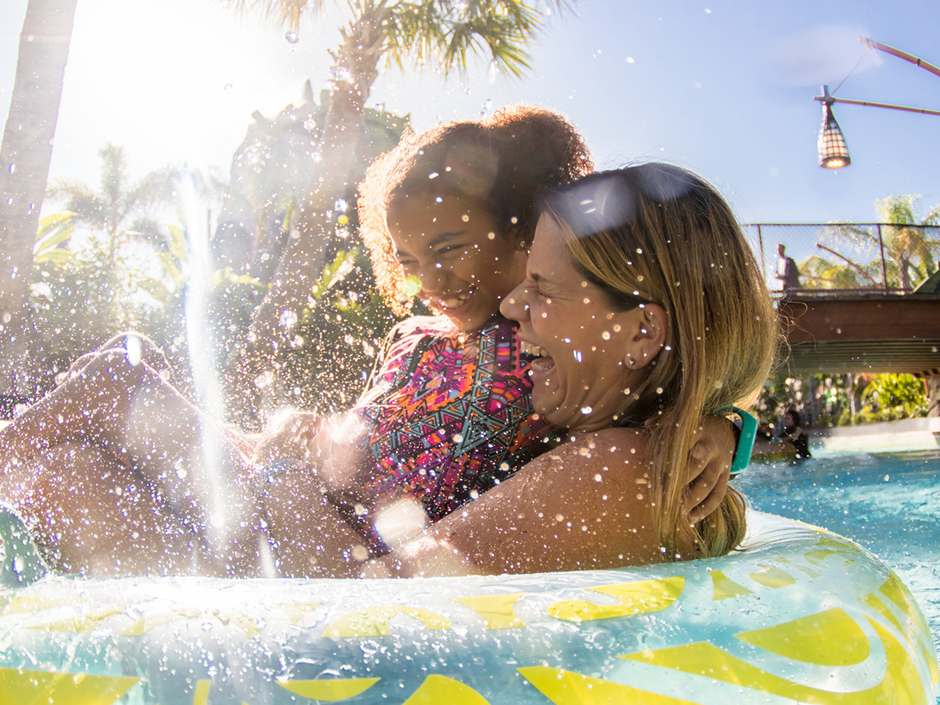 Kopiko Wai Winding River – Volcano Bay
Let's slow things down a bit with a slow ride on the Kopiko Wai Winding River.  You'll love the serene tropical landscapes of Volcano Bay as well as a handful of fun surprises thrown into this lazy river.  You can cool off with sprays of water and unwind under the stars with the stunning Stargazer's Cavern.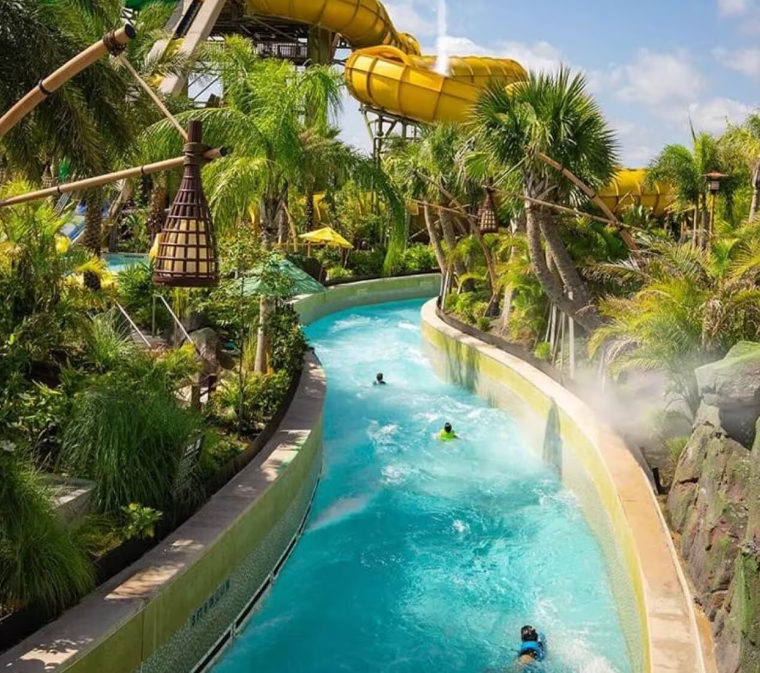 TeAwa The Fearless River – Volcano Bay
Let's kick things up a notch with a river that is anything but lazy!  Head to Hammerhead Beach and strap on those life vests before taking a thrill ride through the heart of the volcano and down a run in Rainforest Village.  Get ready for a roaring, watery onslaught complete with choppy waves and churning rapids.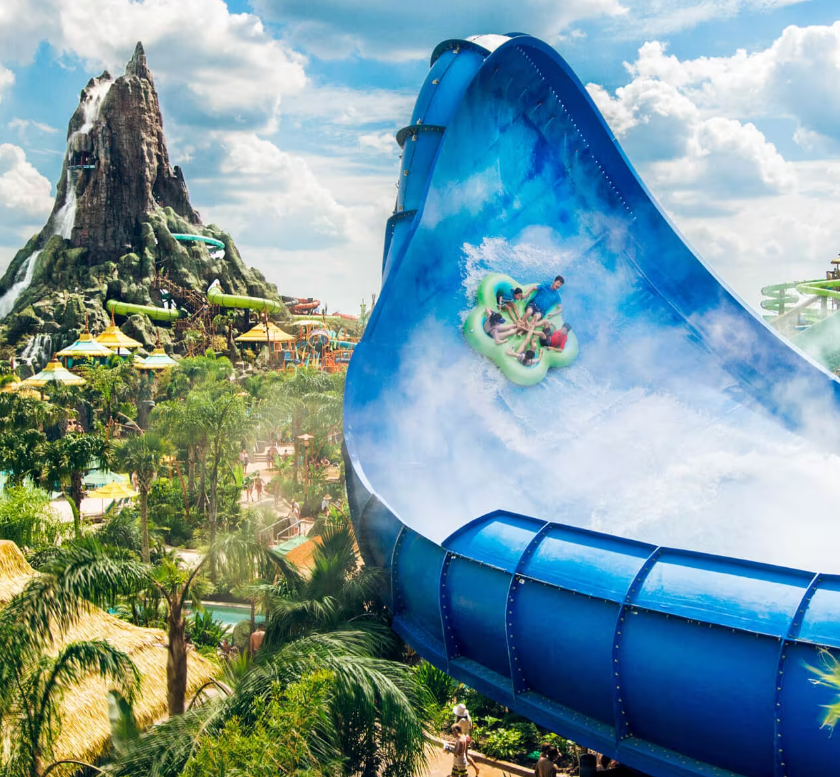 Honu of the Onu ika Moana – Volcano Bay
Bring your family and friends and climb aboard this multi-person slide!  On Honu, you'll feel like you're surfing the underwater currents just like a sea turtle on your five-passenger raft.  You'll speed through an open flume, streak along two massive walls, and more!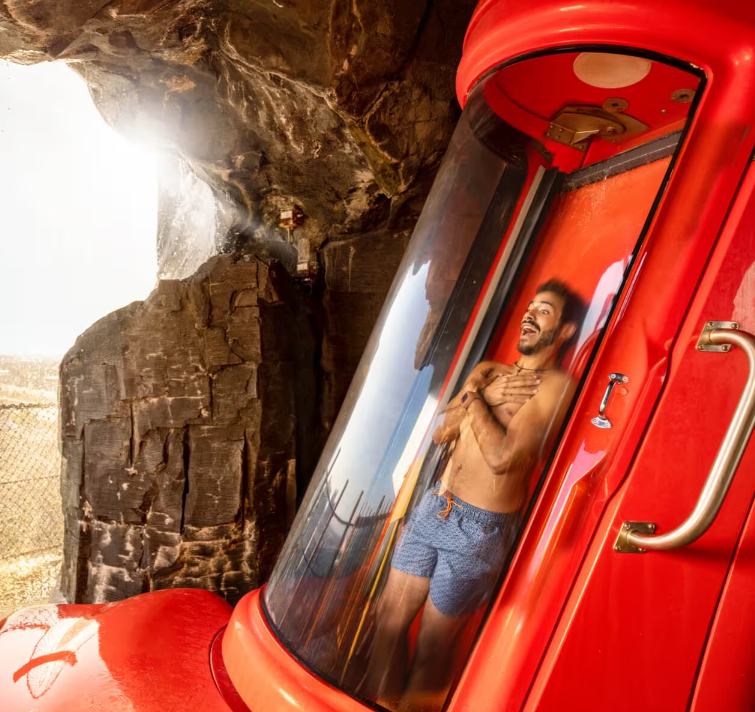 Ko'okiri Body Plunge – Volcano Bay
Thrill-seekers can honor the volcano god by braving the incredible Ko'okiri Body Plunge.  Hold on tight and get ready for a 70-degree fall through a drop door that sends you plunging 125 feet in a dizzying descent that ends in a watery tribute.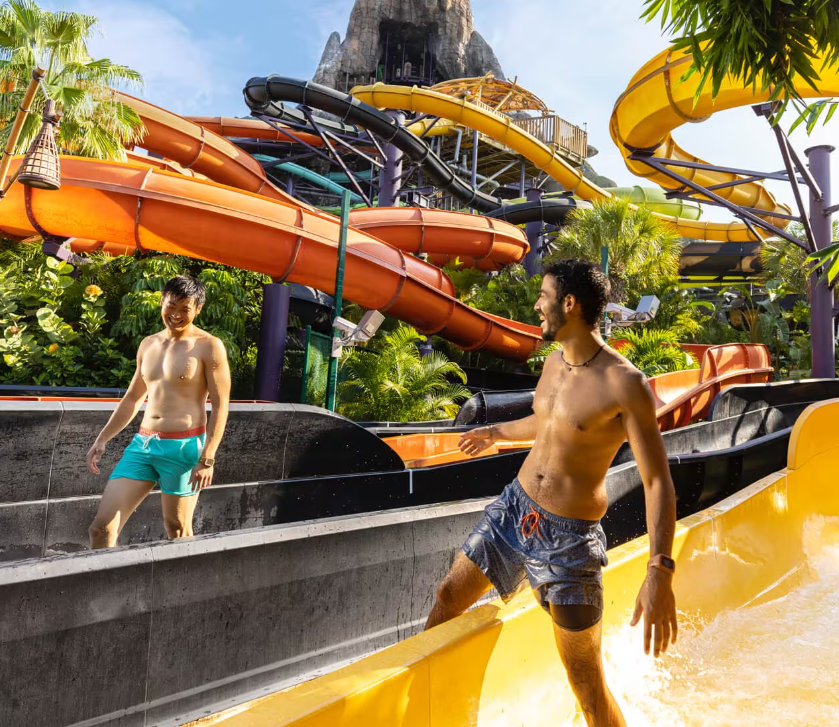 Punga Racers – Volcano Bay
A bit on the competitive side? Then this is the water ride for you! This body slide features four lanes that take you on a breathtaking descent through underwater sea caves!  The multiple slides mean that you can race your friends through the winding tunnels.

Ohno of Ohyah & Ohno Drop Slides – Volcano Bay
Climb up to a deep chasm, cross a rope bridge, and get ready to take the plunge with Ohno and Ohyah.  These waterslides feature grand finales that leave you dropping six feet into the water at the base of Krakatau!
Honorable Mention – Lazy River – Cabana Bay Beach Resort
What to do after a long day at the theme parks? Relax and unwind in the lazy river at your resort of course! The Lazy River Courtyard at Cabana Bay beach resort is home to a winding river, sandy beach, and the poolside Hideaway Bar & Grill with outdoor seating!
Thanks for visiting UniversalParksBlog.com! Want to go to Universal? For a FREE quote on your next Universal vacation, please fill out the form below and one of the agents from Let's Adventure Travel will be in touch soon!