The Incredible History of Halloween Horror Nights
Earlier this year, Universal Orlando Resort announced the unthinkable.
The parks would not host Halloween Horror Nights in 2020. The pandemic eliminated the possibility of the annual event.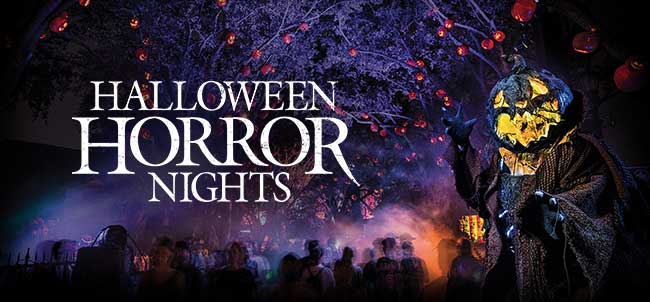 Later, Universal relented a bit, opening two houses that employ social distancing practices but still thrill guests.
Even this modified version of the horror show has brought joy into the hearts of Universal fans.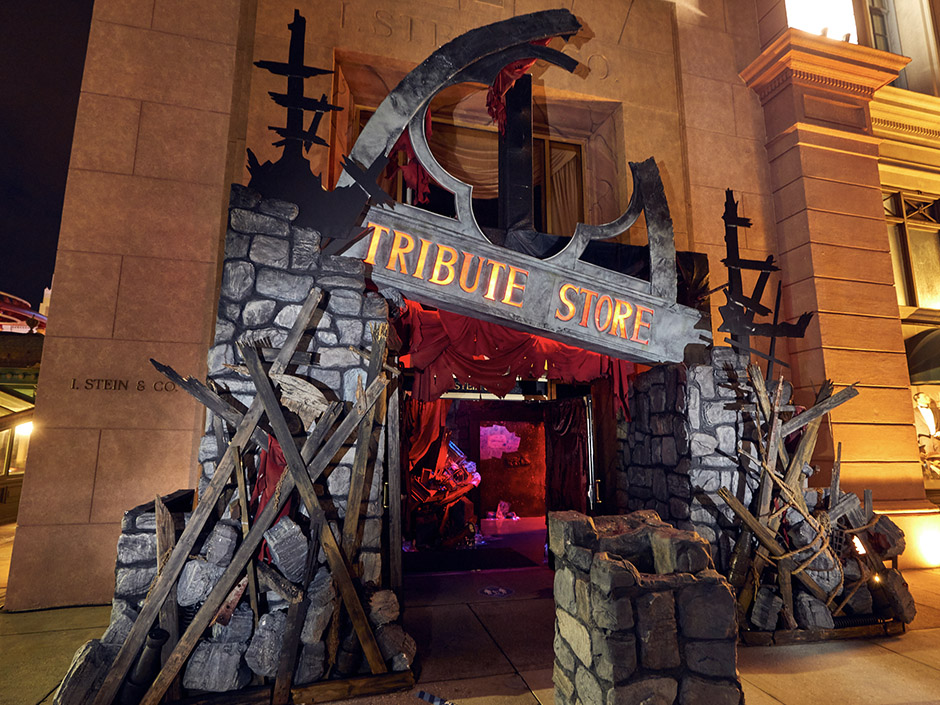 So, this seems like the perfect time to look back at how the whole thing started. Let's discuss the fascinating history of Halloween Horror Nights.
"Welcome to This Fright Night"
In 1985, an unheralded horror movie entered theaters and quickly vanished.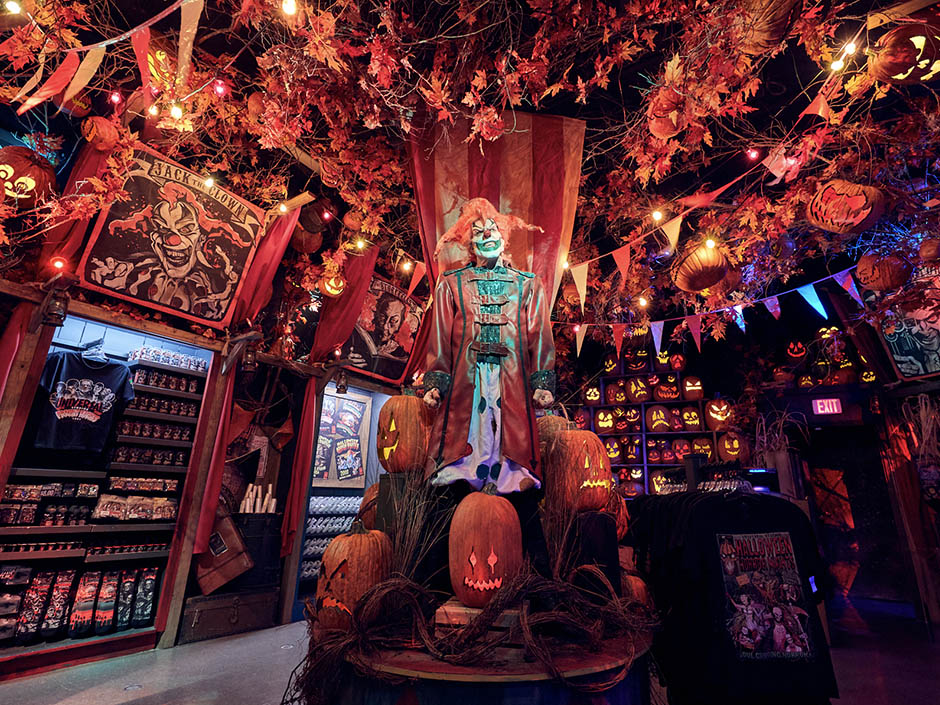 However, the film, Fright Night, made some waves on the nascent home video market.
The Sony title had no connection to Halloween Horror Nights (HHN), but it definitely had a catchy title.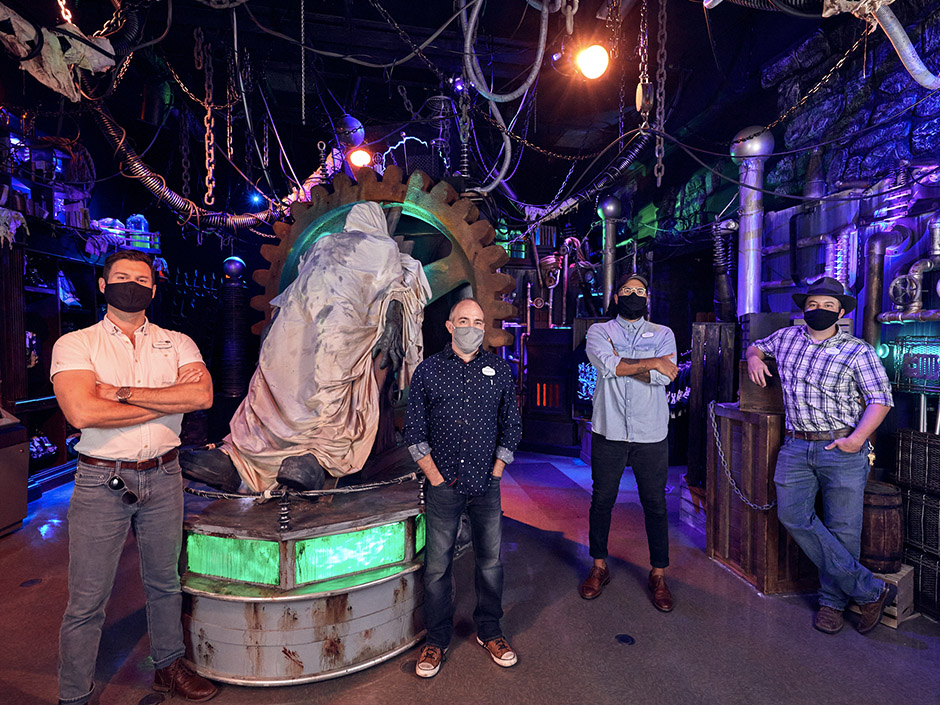 A few years later, Universal Studios Florida (USF) took the concept and ran with it.
The newest park in Orlando at the time, USF, had only operated for about 16 months when October of 1991 arrived.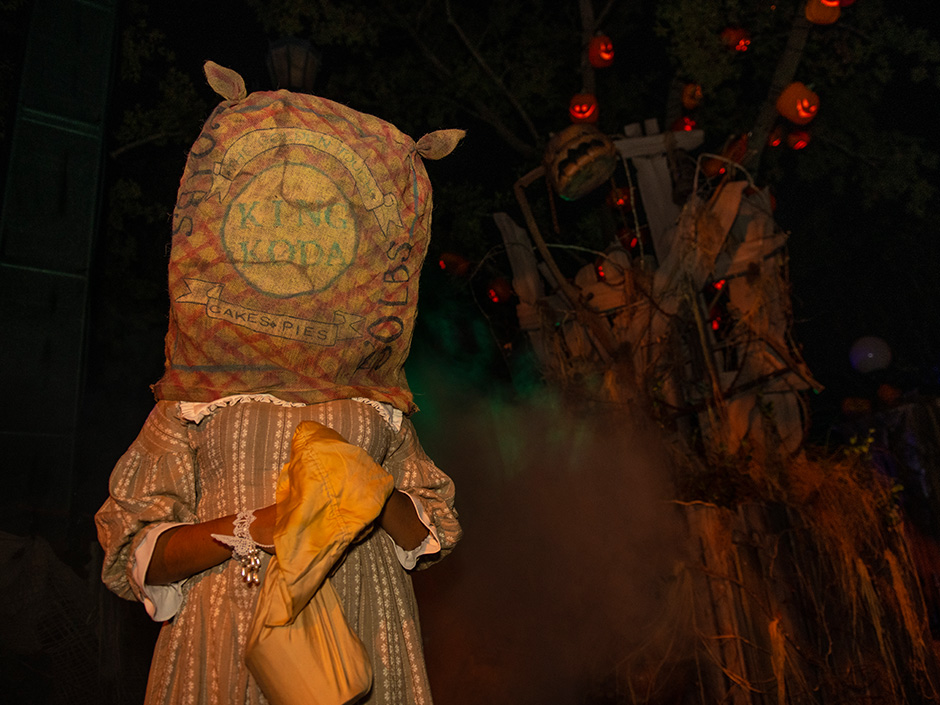 Park officials hadn't made the headway they'd hoped during that shaky first year.
To gain some hype, Universal did something its Central Florida neighbor could never do.
Universal hosted a terrifying, extremely adult Halloween event that they named…Fright Nights.
No, the name didn't stick, but the idea proved sound.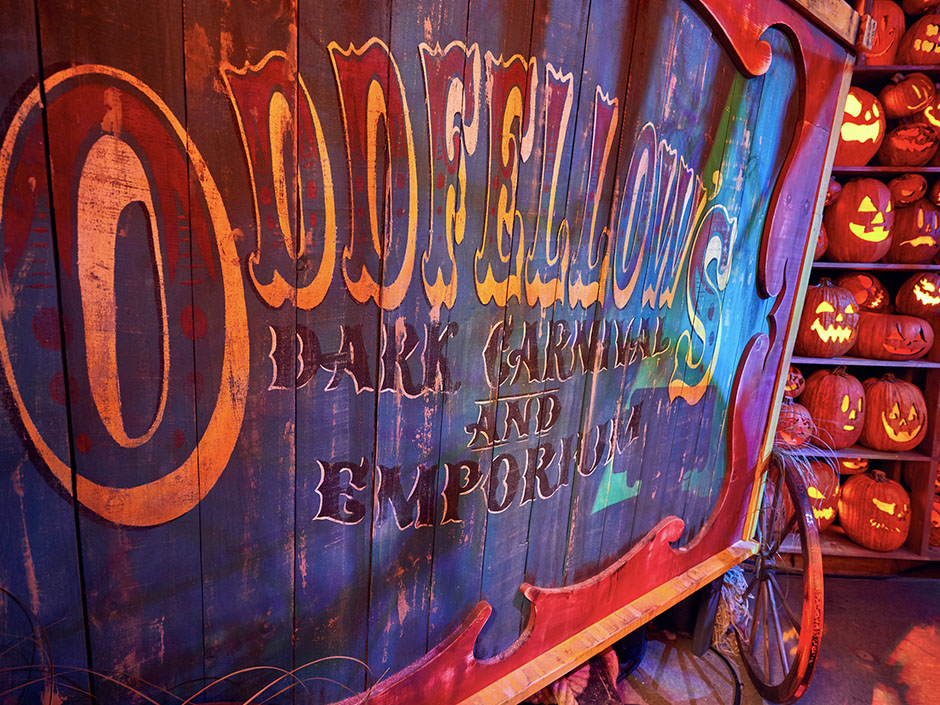 The Fright Nights event featured only one house, The Dungeon of Terror, and it only opened for three days, including Halloween.
As the commercial shows, it also featured a couple of shows, most notably Beetlejuice Graveyard Tours.
Park officials quickly realized they'd stumbled onto something epic, and it even fit the brand.
Universal Studios built its reputation via classic horror villains like the Wolfman, the Invisible Man, the Mummy, Dracula, and Frankenstein.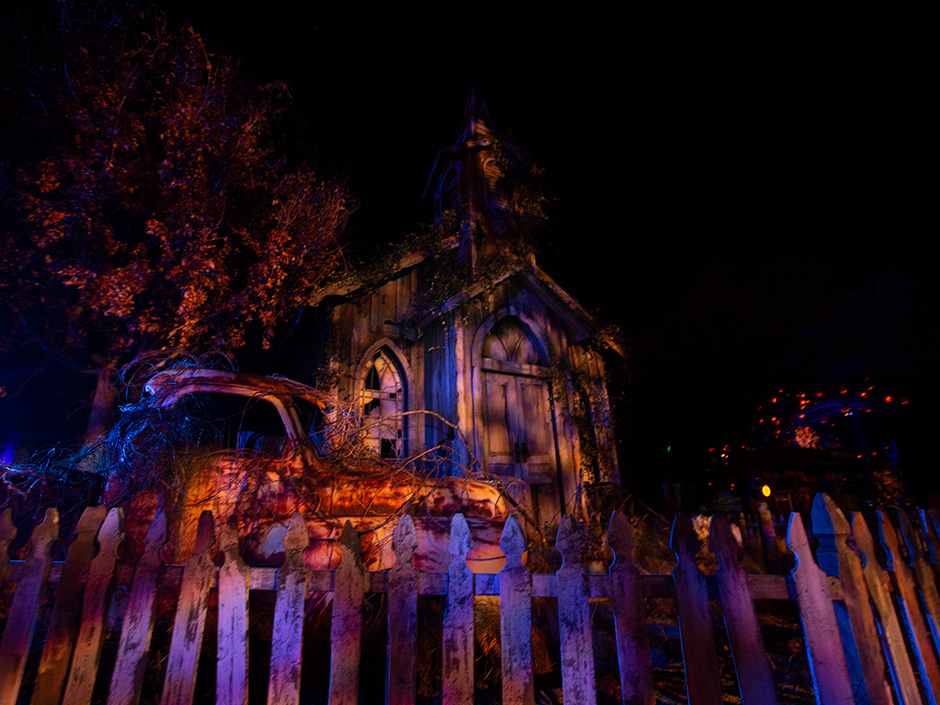 Audiences rushed to Universal for Halloween Horror Nights, which cost them only $12.95. That's the equivalent of $24.50 today. What a deal!
Perhaps the smartest strategy came from the inclusion of Beetlejuice and Freddy Krueger. The former character was barely three years old at the time.
By taking this approach, Universal set the stage for each new HHN to tap into the zeitgeist by adding popular new horror characters.
The Next Few Years
Universal rebranded the concept after only one year.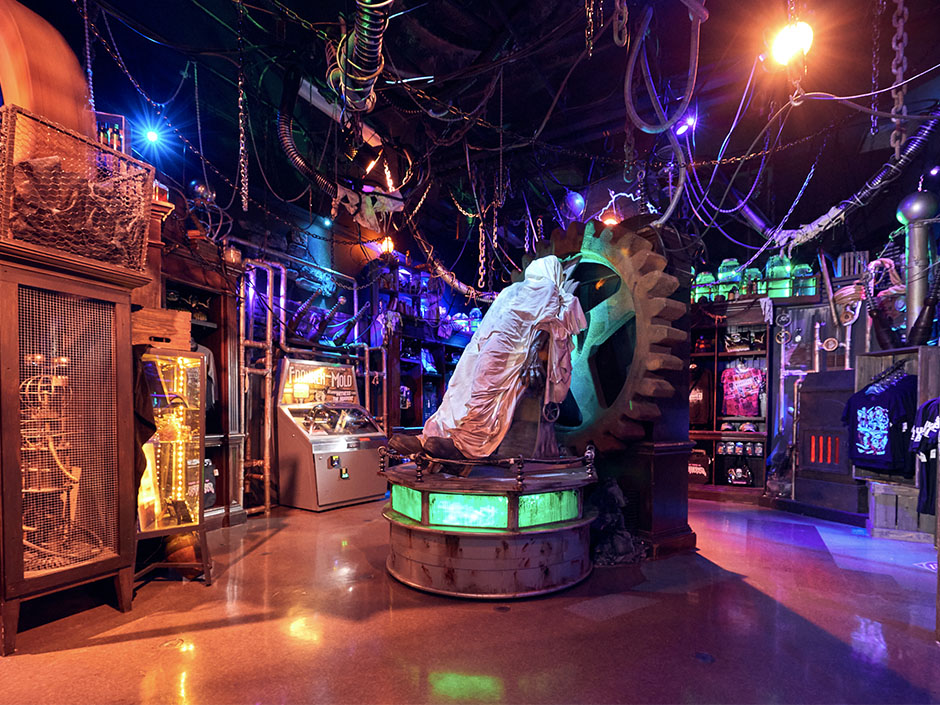 When the event returned in 1992, it came with a new name: Universal Studios Florida Halloween Horror Nights.
Yes, that title's a mouthful, but Universal was getting closer with the premise.
In year two, The People Under the Stairs doubled the number of houses, and HHN ran for five nights in late October.
By 1993, HHN stayed open for seven nights, and it included a third house based on Psycho/Bates Motel.
Other changes at the park forced the relocation of two of the houses, although that change proved a blessing in disguise.
Park strategists recognized that they could expand the event by utilizing different spaces.
Over time, the Dungeon of Terror evolved into something more authentic and terrifying thanks to a new building.
"I Pledge Allegiance to the Hag and to the Mayhem for Which She Stands."
Also, Universal leaned into the concept more. While Disney had cast members, the employees at HHN earned the title of Scaracters.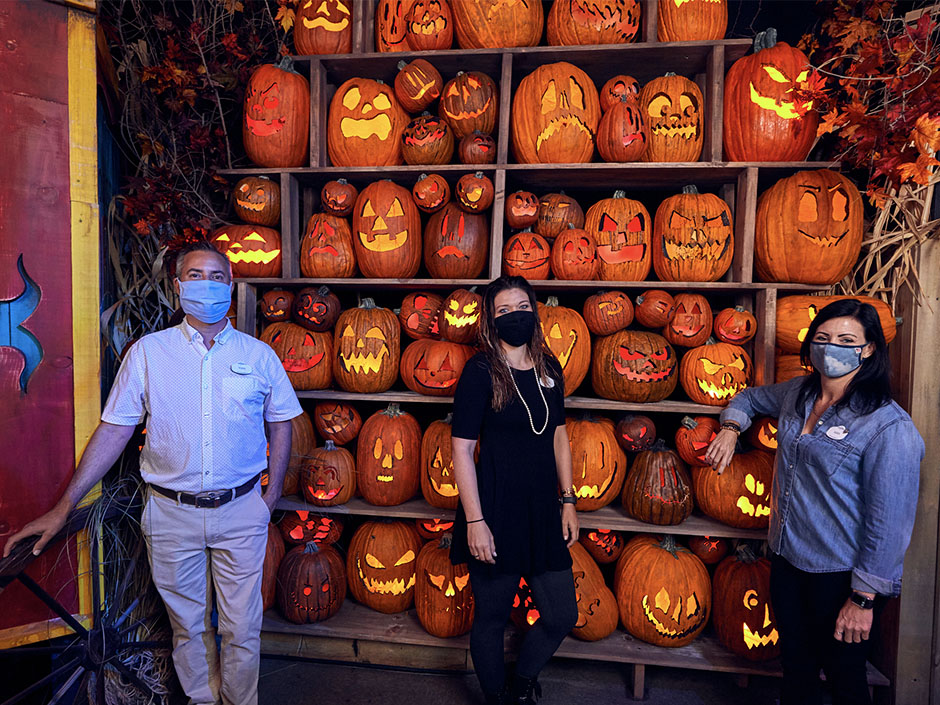 To this day, Scaracters remain the most desired jobs at Universal. Workers love throwing on a scary costume and putting on a show for strangers.
In 1994, Universal took a more professional approach to Scaracter training. The park hosted the first Ghoul School, a training system for employees.
Experienced pros from Bill & Ted's Excellent Halloween Adventure I and II trained others for the third show.
Others learned how to play Rat Lady, Robosaurus, Psycho Path, and other ghouls, ghosts, and gremlins.
Whether an employee received a starring role or a wordless part, they still received enough training to put on an entertaining, albeit terrifying show.
Ghoul School remains a thing to this day, although many Scaracters don't need it. They've played the same roles for years.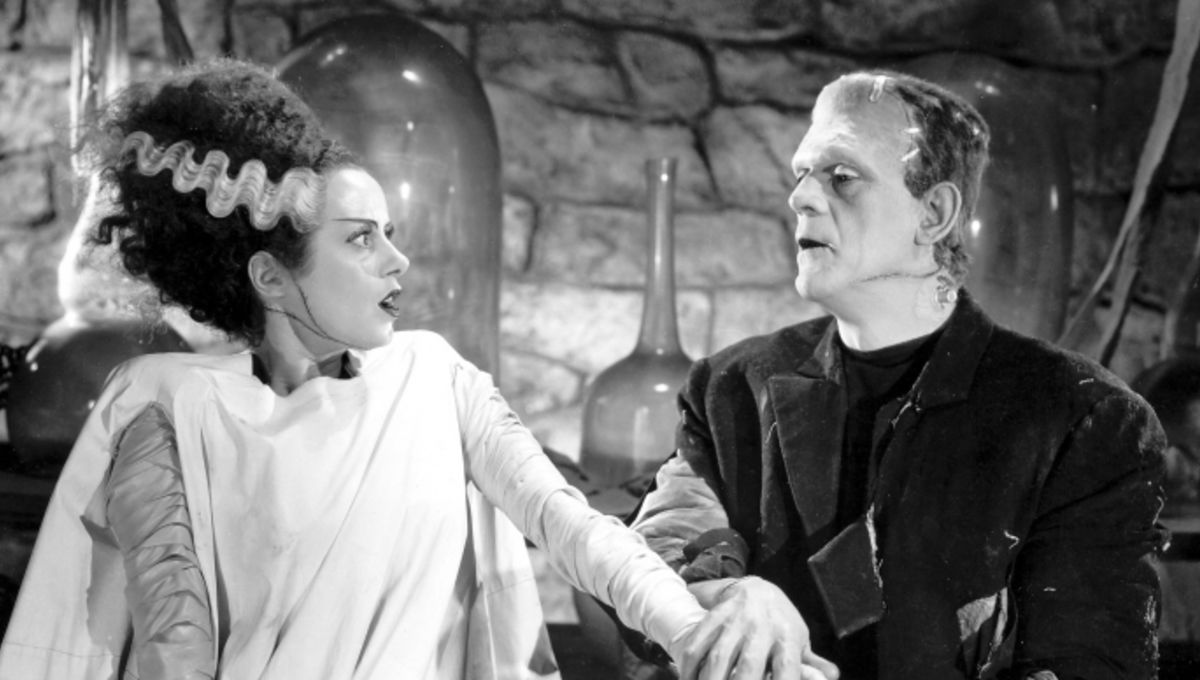 Some Universal workers find a niche and keep it, while others try to play a new part every HHN.
Whatever they do, they begin Ghoul School by taking one of the pledges.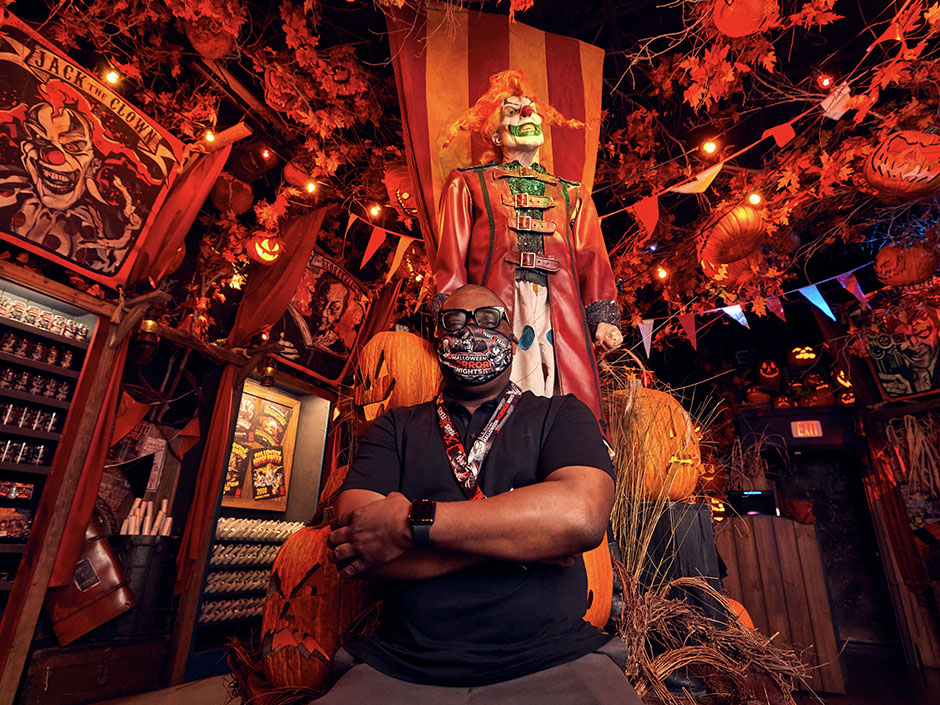 The 1994 one started: "I Pledge Allegiance to the Hag and to the Mayhem for Which She Stands." Yeah, it's that kind of job.
The Expansion Era
The fifth HHN outing started a new tradition. The entire affair centered on a single character, The Crypt Keeper.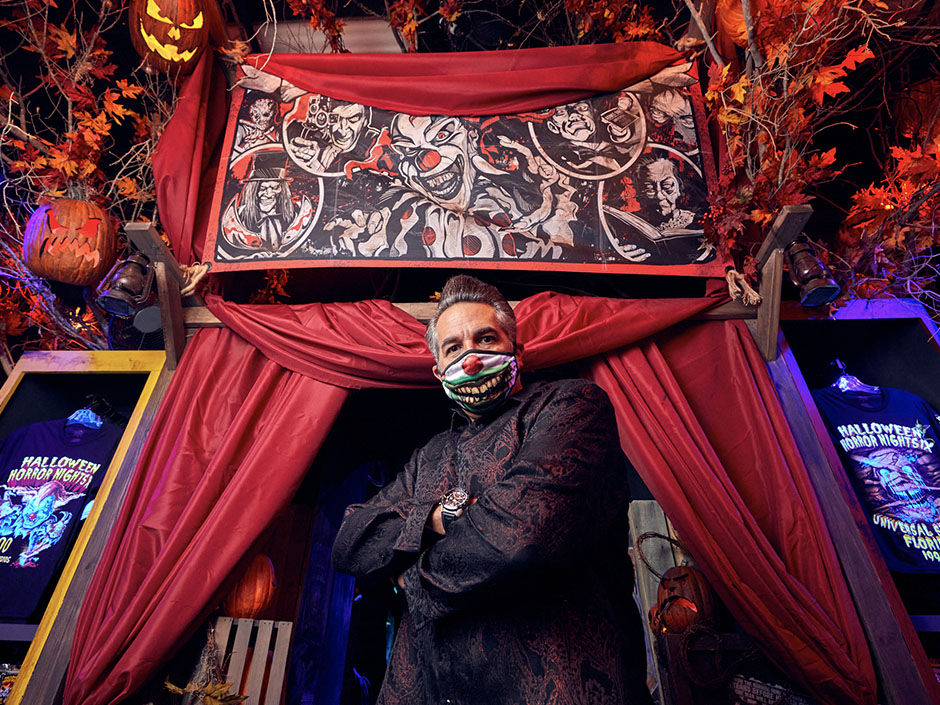 More importantly, 1995 stands out as the first HHN to have a theme, which was The Curse of the Crypt Keeper.
HHN has featured a theme for most of the events that have followed, and the titles are always great. Here are a few of my favorites:
Frightmares
Last Gasp
Carnival of Carnage
Maximum Screamage
The theme for 2020 was simple but profound: "30 Years…30 Fears." Alas, the 30th anniversary celebration feels muted.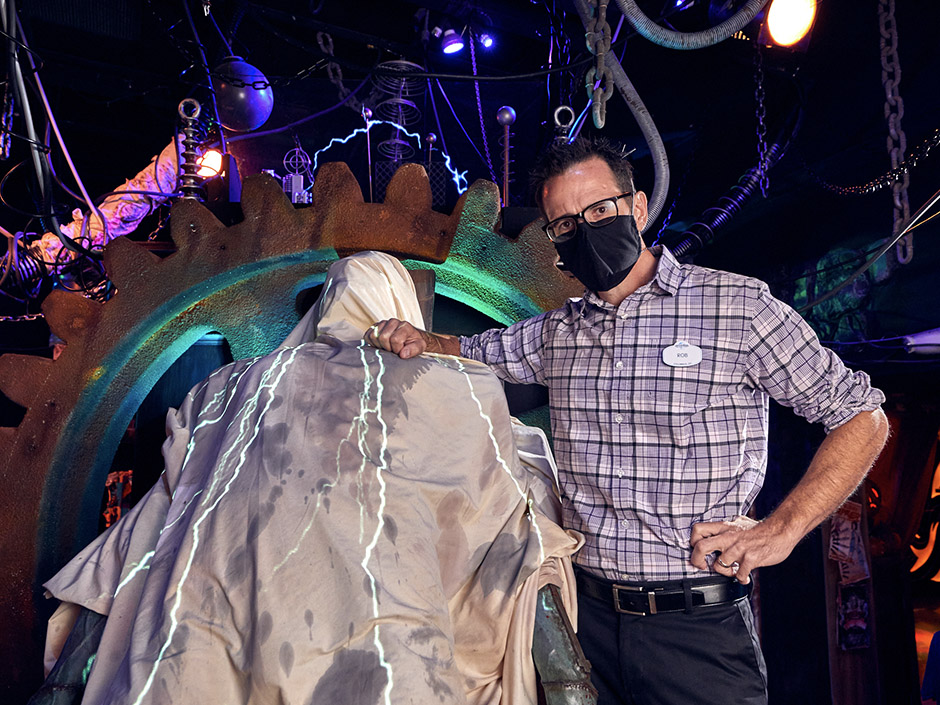 The other remarkable part of the mid-1990s involved the expansion of HHN. By 1996, Universal threw this party on 15 nights, nearly half of October.
In 2000, that number increased again to 19. Ticket prices similarly spiked. The cost of admission increased to $44 in 1999, more than triple the original price.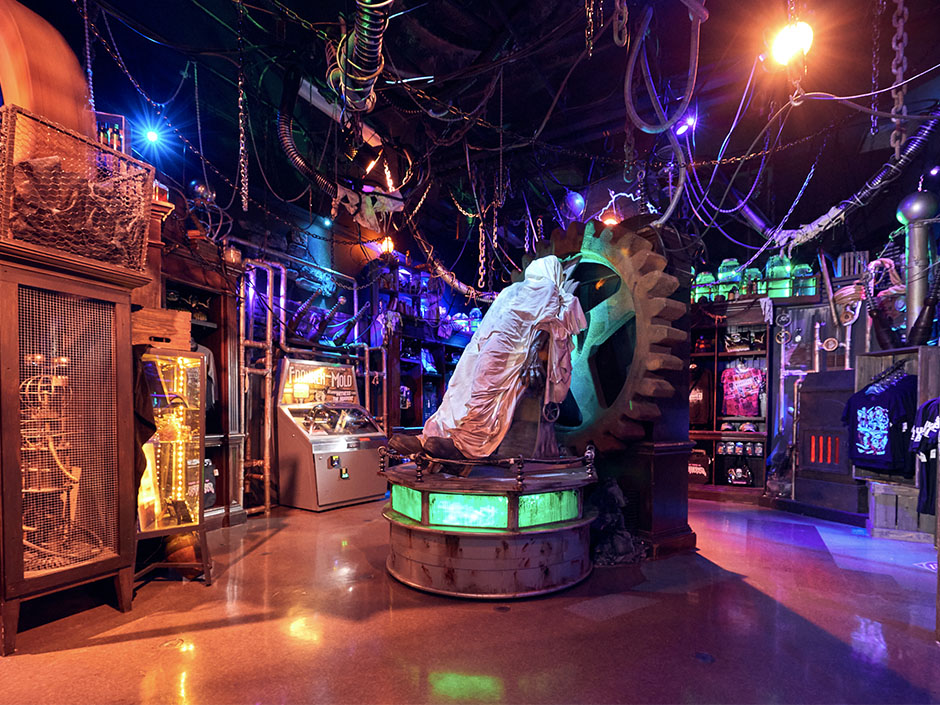 Universal officials also grew more confident in their storytelling ability.
By 2000, they had created a character named Jack the Clown exclusively for the event.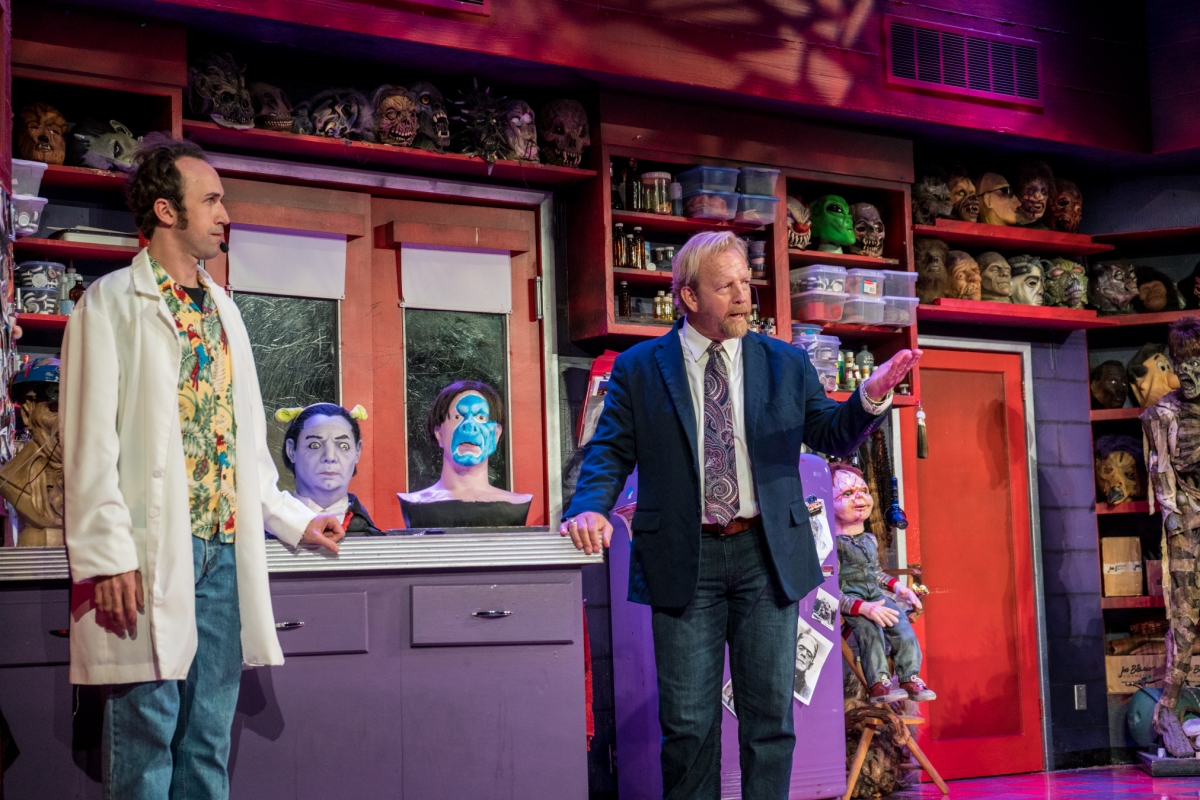 Notably, the number of houses didn't increase much during this timeframe.
HHN introduced the concept of dual paths at houses, giving park guests freedom of choice.
you can hear this, can't you? pic.twitter.com/HJwKM4ZCBx

— Halloween Horror Nights (@HorrorNightsORL) October 12, 2020
Overall, the total number of houses remained at five or less for many years, though.
In 2002, pragmatism caused a different approach. Universal's Islands of Adventure had opened to little fanfare.
Then, the events of 9/11 caused an overall decline in park attendance for quite some time.
your friend that "doesn't get scared" pic.twitter.com/wEom48YpCr

— Halloween Horror Nights (@HorrorNightsORL) October 10, 2020
So, Universal switched HHN from USF to Islands of Adventure.
This change lasted only four years before the extra space at this park didn't make up for the lack of mystique.
three hops this time pic.twitter.com/4UuABMUlsD

— Halloween Horror Nights (@HorrorNightsORL) October 9, 2020
Everyone realizes now that Halloween Horror Nights should reside at Universal Studios Florida. Otherwise, what's the point?
Modern Horror
After the earliest years of HHN, licensing rights became an issue for a while. Universal didn't want to pay for characters it didn't own for a time.
#hhnforever 𝖋𝖗𝖎𝖌𝖍𝖙𝖊𝖓𝖎𝖓𝖌 flashback to 2019 pic.twitter.com/YbYfEK1umI

— Halloween Horror Nights (@HorrorNightsORL) October 2, 2020
In 2007, the company switched positions and licensed Freddy Krueger, Jason Voorhees, and Leatherface.
This approach has proven successful, with other hugely popular intellectual properties like Scream, The Walking Dead, and Rocky Horror Picture Show appearing.
throwback to 2019. out of sight, out of mind? you wish. 😈 #hhnforever pic.twitter.com/vRozGUL5TH

— Halloween Horror Nights (@HorrorNightsORL) October 1, 2020
As HHN has grown in pop cultural awareness, the number of houses has increased, too.
In the early 2000s, guests could expect seven or eight of them. Last year, Universal offered ten and had promised 12 for 2020.
all my true #hhn followers will remember throwback. 🎃 🖤 #hhnforever pic.twitter.com/A4ibQd6Zz9

— Halloween Horror Nights (@HorrorNightsORL) September 25, 2020
Thankfully, a couple of housing ideas proved feasible during a pandemic.
For 2020, you can visit Revenge of the Tooth Fairy and Bride of Frankenstein Returns.
throwback to 2018. hope they didn't hold a grudge. #hhnforever pic.twitter.com/6NPnvKHUx9

— Halloween Horror Nights (@HorrorNightsORL) September 24, 2020
The other significant changes involve the dates and the cost. By 2015, HHN was running for 30 nights.
Meanwhile, the admission price had risen to $101.99, which makes that $12.95 look like a steal, right?
Not all changes are good, though. During Halloween Horror Nights 27 in 2017, Universal retired Bill and Ted from the show.
#tbt to 2016. long time no scream. #hhnforever pic.twitter.com/p8kDx1cS9z

— Halloween Horror Nights (@HorrorNightsORL) September 10, 2020
The world's sweetest, dumbest time travelers had been an integral part of HHN since year two.
Now that the movie sequel has done well on digital, I'm hopeful that they'll make a most triumphant return in 2021.
mentally you are 𝖍𝖊𝖗𝖊 pic.twitter.com/bWyEHakz3Z

— Halloween Horror Nights (@HorrorNightsORL) August 28, 2020
Speaking of which, you should know that Universal has already announced many of its plans for next year.
This marketing reveal proved simple, as it's most of the stuff initially scheduled for 2020. The pandemic delayed everything for a year.
#tbt to 2014. you can't outrun the past. #hhnforever pic.twitter.com/z5tuQ3d4Lv

— Halloween Horror Nights (@HorrorNightsORL) August 27, 2020
Those who want to know more about Halloween Horror Nights should visit the crypt. Also, you'll find videos of several old houses on YouTube.
Thanks for visiting MarvelBlog.com! Want to go to Disney? For a FREE quote on your next Disney vacation, please fill out the form below and one of the agents from MickeyTravels, a Platinum level Authorized Disney Vacation Planner, will be in touch soon!