UniversalParksBlog News for September 6th, 2022
Halloween Horror Nights starts this week! Folks, this is NOT a drill! It's go-time, people!
Let's talk about all the updates in the latest edition of UniversalParksBlog News.
HHN Updates
Obviously, most of this week's news centers on Halloween Horror Nights, which debuted on September 2nd.
Universal officials have since clarified some of the lingering questions regarding the event.
For starters, we now know what we'd hoped for/expected anyway. The operating hours for HHN will last from 6:30 p.m. until 2 a.m.
HHN has lasted until 2 a.m. previously. However, that practice had stayed primarily on weekends and during the run-up to Halloween Night.
For 2022, EVERY night of HHN will last through 2 a.m. So, you'll enjoy seven and a half hours of exclusive access to Universal Studios Florida!
Speaking of which, some rides will remain open during the event. Universal has announced the list as:
Harry Potter and the Escape from Gringotts
Hollywood Rip Ride Rockit
MEN IN BLACK Alien Attack
Revenge of the Mummy
TRANSFORMERS: The Ride 3D
Ordinarily, I recommend to friends that they skip the rides during HHN. After all, you can experience the attractions during regular park hours.
The HHN stuff is only available when you pay for the exclusive ticketed event. Still, I know that mine is a minority opinion here.
Should you want to visit The Wizarding World of Harry Potter and ride Escape from Gringotts, the lines will be comically small.
More HHN News
While you're at The Wizarding World at Universal Studios Hollywood, you may notice something new.
Death Eaters are swarming the place! For the time ever at HHN, Voldemort's crew will run around and show off their ugly tattoos.
They'll probably wave their wands in menacing fashion and let you know that you're not welcome here, too!
Meanwhile, Dark Arts at Hogwarts Castle will return to Universal's Islands of Adventure. We've seen Death Eaters here before as well.
The shows run twice an hour, giving you plenty of time to talk smack to Slytherins! Be careful, though. They're not especially receptive to teasing.
Speaking of Universal Studios Hollywood, park officials have confirmed what we had long expected.
The Terror Tram will return, and it'll feature a complete immersive walkthrough at the end. Yes, it's the Nope themed area we'd previously discussed!
Universal's social media has been wildly active in promoting this year's event. Here's a one-minute video that includes some Nope footage:
#universalhhn's terror tram is back and taking a disturbing new turn. you'll journey into some very dark halloween traditions before ending with a walk-through visit to @JordanPeele's terrifying films @nopemovie and Us. get ur tickets now: https://t.co/CQZi5EcBey pic.twitter.com/B1f4eWvADq

— Horror Nights (@HorrorNights) August 18, 2022
That woman…probably doesn't want a lift. Also, I hope you noticed the scissors and paid attention to the narration. Us is a part of this year's proceedings!
There's also a full-length video that is more of a promotional clip:
never go alone 😈 summon your scream squad to #universalhhn with 8 haunted houses, the Terror Tram, scare zones, a live show and exciting attractions. https://t.co/IngMyYFfDo

— Horror Nights (@HorrorNights) August 19, 2022
I'll say what we're all thinking. Those people deserve to die. Anyway, here's another reveal about some of this year's goodies:
u want more? share the scares in these #universalhhn original haunted houses:
😈: La Llorona: The Weeping Woman
😈: Scarecrow: The Reaping
😈: Universal Horror Hotel
get tickets and details here: https://t.co/gPkdN2vol5 pic.twitter.com/AlmGgJtsya

— Horror Nights (@HorrorNights) August 18, 2022
La Llorona: The Weeping Widow was a rumor we covered a while ago. I'm not surprised by its presence here. It's a visually stunning villain archetype.
Meanwhile, this one sounds like an idea whose time has come:
in this haunted house, a 1920s Hollywood hotel owned by an infamous serial killer is now a modern-day haunted hotel. ur first stay will be your last.

check-in for this original haunted house starts sept 8 only at #universalhhn https://t.co/Mfy6Hnx1y8 pic.twitter.com/gbkJnVDwlN

— Horror Nights (@HorrorNights) August 25, 2022
Seriously, if they built this hotel as a permanent place at Universal's Epic Universe, I'd pick it over Hard Rock Hotel! But, of course, I wouldn't mind it as a theme park attraction, either.
Still More HHN News!
We also learned a bit about the layout of this year's event. You may find this helpful:
never go alone into these scream-filled scare zones. face nightmarish creatures prowling the streets of #universalhhn, appearing where u least expect. get tickets now: https://t.co/lnthfmCrCN

— Horror Nights (@HorrorNights) August 21, 2022
Oh, and these guys (things?) are back for 2022:
We're happy to announce that we will be BACK at @HorrorNights this year‼️ | ENTER THE JABBA-VERSE! It's time to take a Journey Into Sound… pic.twitter.com/YjnOXGOKWO

— JABBAWOCKEEZ (@JABBAWOCKEEZ) August 20, 2022
If someone wearing this sort of hockey mask approaches you, I'd suggest walking the other way…even if you're playing hockey at the time.
By the way, the HHN merchandise has arrived. Yes, I know we've had some for a while. However, I'm talking about the good stuff.
These are the items that will remain in stock throughout the event. I presume we'll have some exclusives for HHN visitors as well.
You'll want to track down the Day of the Dead shirts, the black cats, and anything with Lil' Boo on it.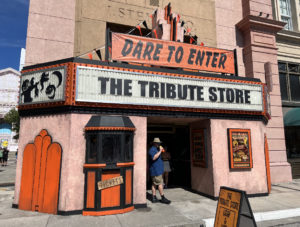 In fact, the Orlando Sentinel interviewed the transgender woman who created Lil' Boo.
The menus are also available for HHN 2022. We'll do a deep dive on them later this week on the blog!
Universal Park News
We've got a few other stories to cover. The first one is the persistent mystery surrounding Revenge of the Mummy.
As I mentioned last time, Universal has allowed its employees to ride on a series of trial runs.
The documentation referred to the roller coaster's status as "technical rehearsal." While it went well enough, we're two weeks past that now.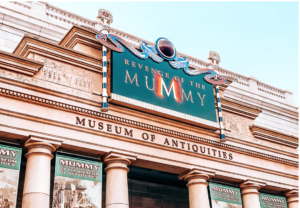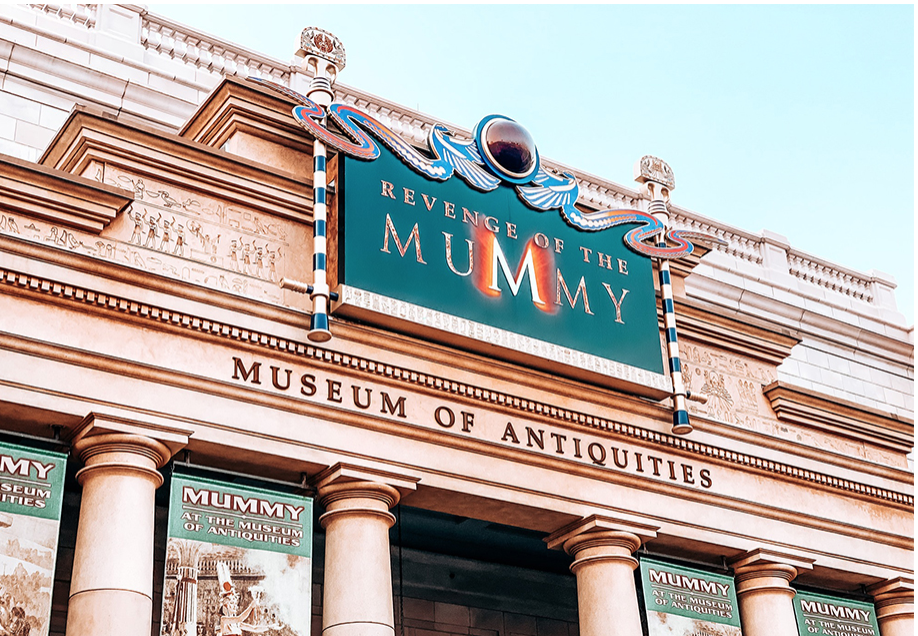 Since the ride remains closed, we can infer that the ride sensors remain problematic.
I still believe the ride will open in time for HHN, but it's no longer a slam dunk.
Perhaps the best news this week applies to Harry Potter fans.
We've all bought our wands over the years – my wife and I have got ours sitting on display in our library – but they're imperfect.
Sure, the wands are spectacular, but they're impersonal. Universal has finally acknowledged this flaw and given would-be wizards what we want.
You can now engrave your name (or whatever you like) on your wand, at least at one location at Universal Studios Hollywood.
Head to Gladrags Wizardwear to become a named wizard. Ordinarily, you'll pay $20 for this service. However, on Pass Member Appreciation Days, it's free to annual passholders!
Speaking of which, you can get a free Minions magnet at Universal Studios Hollywood throughout Pass Member Appreciation Days. Just head to the Universal Studios Store!
In less happy Hollywood news, the Poké Bar has closed permanently at Universal CityWalk Hollywood. Since it's LA, you can find poke plenty of other places, though.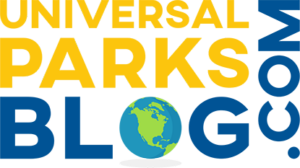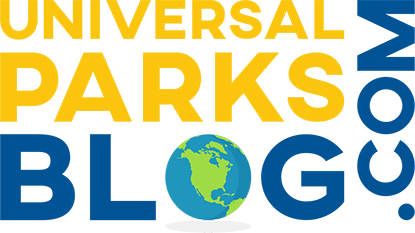 Thanks for visiting UniversalParksBlog.com! Want to go to Universal? For a FREE quote on your next Universal vacation, please fill out the form below and one of the agents from Let's Adventure Travel will be in touch soon!
Feature Photo: Universal