UniversalParksBlog News for March 26th, 2023
We're not quite halfway to Halloween yet, but Universal Studios is really for the holidays!
You're gonna love the latest UniversalParksBlog News.
Halloween Horror Nights Tickets on Sale!
Well, that happened fast. Last week, I posted the list of potential Houses for Halloween Horror Nights 2023.
Ten days later, Universal Orlando Resort didn't merely announce the dates for this year's event. Tickets already went on sale!
Here's what we just learned about this year's event. Halloween Horror Nights (HHN) 2023 will debut on September 1st and end on October 31st.
Even better, the 2023 version of HHN will run for 44 nights! That's more than ever before!
Also, HHN is starting earlier than in 2022. So, it's coming sooner and will last longer. I've got nothing but good news for you today!
While discussing last year's HHN fun, I mentioned how the 2022 version would be a recent first in that it wouldn't include any pandemic restraints.
Now that the pandemic is in the rear-view mirror, Universal is really ready to cut loose for 2023. It'll be the biggest event ever.
In a press release, park officials promised "a new slate of horrifying haunted houses and scare zones filled with menacing creatures."
We'll also have 10 Houses, five Scare Zones, and live entertainment for 2023. Here's a promotional video the HHN account posted:
share legendary scares with 10 terrifying haunted houses, 5 sinister scare zones and live entertainment. select nights sept.1 – oct 31.

tickets on sale now https://t.co/3xMmtD7n21

ready? 😈 pic.twitter.com/bYHEaJn1zL

— Halloween Horror Nights (@HorrorNightsORL) March 23, 2023
Based on that clip, this year's marketing slogan is "The legend is real" or something based on that premise.
Then again, the slogan could be "See you in the fog!" That's what is showing on early merchandise for HHN 2023.
As usual, the official site indicates exclusive menu items the parks will serve during HHN. You may remember that last year's selection was incredible.
More about HHN 2023
Tickets have increased a bit from 2022. Then again, what hasn't?
Base tickets on the cheapest nights last year cost $73.99. For 2023, prices start at $79.99 and go up from there, depending on the date of your visit.
I'm pleased to report that some other favorite ticket options will be available as well.
Universal has already confirmed the return of the Express Pass, the R.I.P. Tour, and Behind the Screams: Unmasking the Horror.
The Express Pass works similarly to a Universal Express Pass, but it's exclusively for HHN Houses.
With this pass, you can skip the longer line for the 10 Houses. Please understand that you may only do this once per House, though.
Usually, the Express Pass costs about $30-$50 more than the regular HHN ticket for that night.
Behind the Screams: Unmasking the Horror is a guided walking tour of HHN 2023. It'll take place during the day so you can see what the stuff looks like in daylight.
I've always wondered whether this means the vampires turn to dust. Anyway, the cost for 2023 starts at $119.99 per person.
Even MORE about HHN 2023!
Finally, the R.I.P. Tour is a wordplay thing. It's really a V.I.P. Tour for the after-hours event of HHN.
You and up to nine friends will have a Universal tour guide chauffeuring you around the park, taking you to the front of the line for any attraction or House you want.
These tours are quite expensive, so much so that Universal doesn't even list a price for them.
However, non-private tours are also available. It's kind of the same thing, but you don't have a host for your party.
Instead, you skip the line as much as you want at the park. The price of these starts at $299.99 per person.
You'll definitely want to attend this year's HHN. Otherwise, you'll have to answer to this thing:
Park Miscellany
Let's start with a subject that will only impact a few years, but it's REALLY important to them.
Universal Orlando Resort has hosted All Elite Wrestling (AEW) and, more recently, Ring of Honor (ROH) matches on some weekends.
Until now, guests could attend these events for free. Universal would hand out tickets on a first-come, first-served basis.
AEW fans, who are a passionate group, complained that many of the people attending the events couldn't have cared less. It was just parents looking to sit down for a while.
So, Universal has started charging $20 per ticket for its wrestling shows. I highly recommend this as a one-time activity you may enjoy.
AEW presents a much different product than what you've known with WWE for a generation. It's not for everyone, but it's extremely popular with diehards. Here's a sample if you're curious:
In other news, Spring has officially arrived, and that's got to be a relief to Volcano Bay's management.
The water park has already closed several times this year due to inclement weather, including March 15th and March 20th.
Finally, development continues on Illumination's Villain-Con Minion Blast. When you're at the park now, you can't help but notice the attraction.
The signage is up, and it looks like this new experience could debut within the next three months.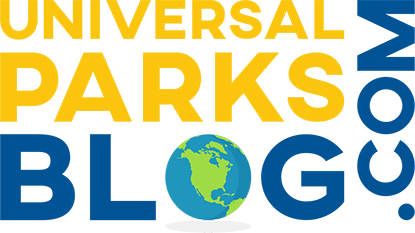 Thanks for visiting UniversalParksBlog.com! Want to go to Universal? For a FREE quote on your next Universal vacation, please fill out the form below and one of the agents from Let's Adventure Travel will be in touch soon!